Full Site Editing came with WordPress version 5.9 but quickly gained ground with WordPress 6, which launched a few months after.
FSE is a powerful set of features that empowers users to create stunning websites using blocks rather than diving into your website's code or using tools from third-party developers. While they're helpful, sometimes you need a native solution for compatibility reasons.
The good news is that a wide range of WordPress block themes are available and can be easily selected and switched to from the dashboard.
These themes enable you to effortlessly design your website and customize each page according to your preferences. And what's more interesting is that you can do that without the need for developer assistance or coding knowledge. But if you really want to, there're always ways we can design and build your next website without you needing to lift a finger – quite literally!
But here, we have just another option.
In this blog post, we will delve into the exciting world of WordPress block themes and uncover the limitless creative potential they bring to the table. We'll introduce block themes and emphasize their significance within the WordPress ecosystem. From there, we will embark on a journey to explore the numerous benefits and advantages of utilizing block themes for your website.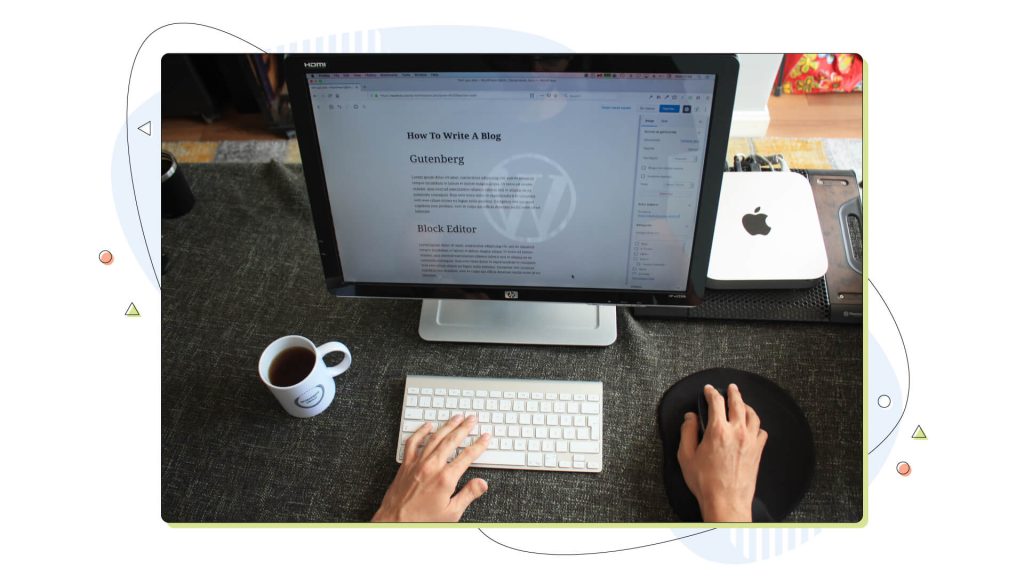 A Few Words on The Site Editor
The Site Editor and Block Editor on WordPress aren't the same, but they're both part of the Full Site Editor experience.
The WordPress Site Editor, or simply Site Editor, is the tool you'll use when editing entire pages or posts, and it uses blocks to do so. The block editor, on the other hand, is used for more granular edits within a post or page and allows you to customize individual blocks within a page or post.
Benefits and Advantages of Block Themes
The Block Editor, also known as WordPress Editor, allows users to create pages and posts by inserting modular blocks for different elements such as text, images, videos, headers, and footers. This evolved from the classic editor, which focused on entering content in a predefined layout. It's worth noting that the classic editor for posts can be installed as a separate plugin if you want the classic look from older versions of WordPress.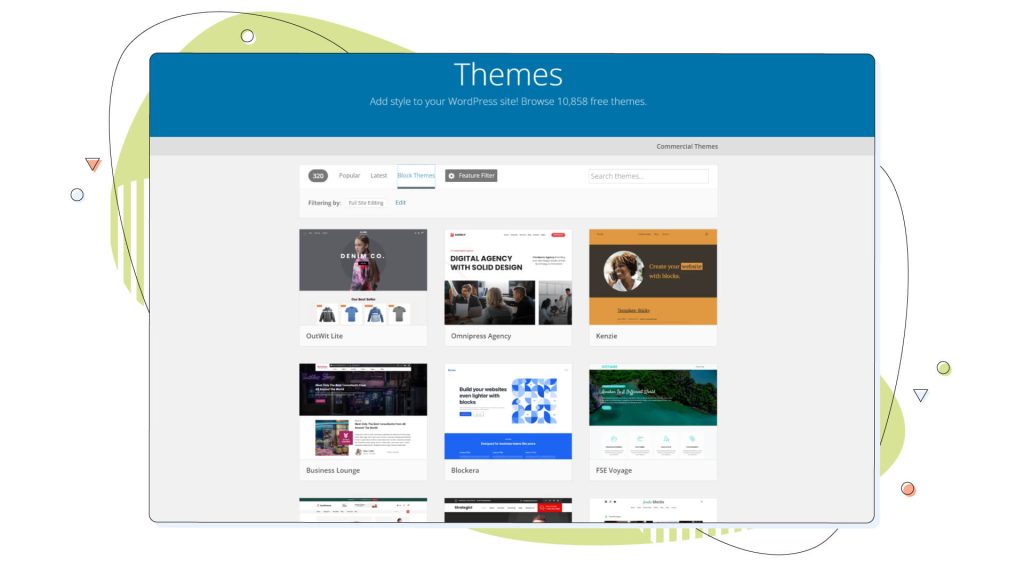 As defined in the WordPress documentation, a block theme is a WordPress theme composed entirely of blocks. Unlike traditional themes that rely on PHP files (most third-party ones), block themes utilize block-based HTML templates and a theme.json file for global styling tokens. The block editor enables users to edit various areas of their site, including headers, footers, and sidebars.
Before we dive into more, let's check out some of the benefits you get with block themes below:
Easy to customize: With block themes, you can easily customize the design of your website without writing a single line of code. All it takes is dragging and dropping pre-built blocks from the library and customizing them to fit your needs.
Increased performance and speed: Block themes are typically much faster than traditional WordPress themes since they don't rely on large and complex PHP files. This makes your website load quicker and increases its ranking in search engine results pages.
Εnhanced accessibility: By utilizing block themes, you can ensure your website complies with the latest web accessibility guidelines. As blocks are more tied into the WordPress core, you can expect them to be consistently updated to ensure compliance.
Streamlined workflow: Using the same block set across different pages allows you to maintain a unified design and speed up your website's development time. It also helps streamline your workflow as all your content is housed in one place (the block editor).
The Top WordPress Block Themes
Now that we know some of the benefits of using block themes – let's look at some of the best WordPress block themes available.
Pro tip: You can search for "Block Themes" by selecting the same-named option in the official WordPress themes site.
Tove
Available through the official repository, Tove is a powerful block theme for creative professionals, cafes and restaurants. It's designed with fun and colourful graphics. It has plenty of page templates and over 40 pre-made block patterns, allowing you to easily customize your website according to your needs.
The theme comes with support for Full Site Editing, and you can modify and adjust the colour scheme and typography. This theme is made by the Swedish designer and developer Anders Norén, and his work involves many other block-based themes for the popular WordPress platform.
Twenty Twenty-Three
The official theme from WordPress. It takes its name from the year it was released, and Twenty Twenty-Three is designed with a modern, minimalistic aesthetic. The theme features global styles and colours as well as an intuitive block-based layout, allowing you to customize your site's look without the need for any coding knowledge.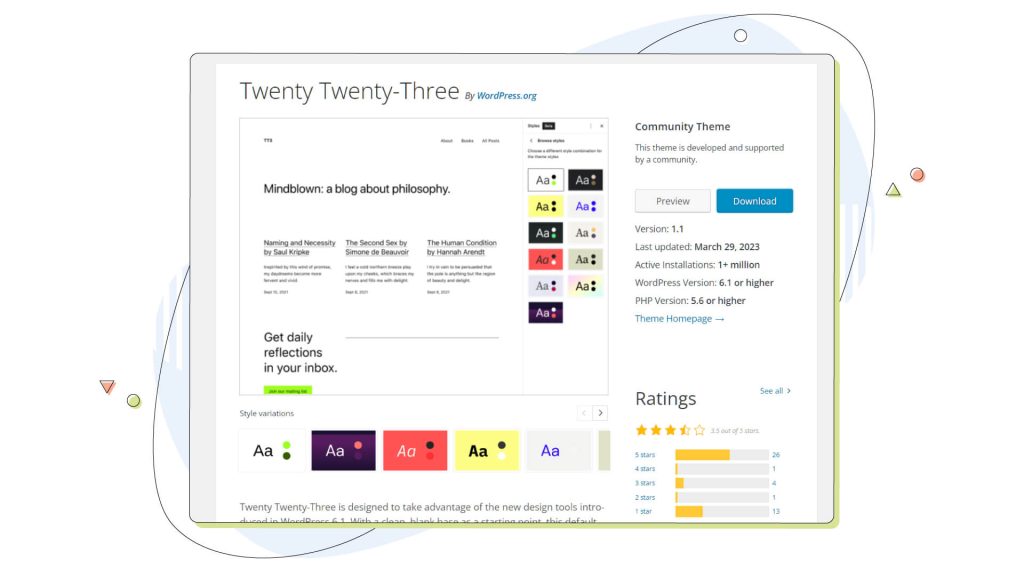 The theme also comes with full support for dark mode and RTL (right to left) languages such as Arabic and Hebrew.
Twenty Twenty-Two
We have to also include last year's version of this WordPress theme. Twenty Twenty-Two offers users the most modern WordPress experience with its block editor optimized for speed and performance, just like any other block-based theme.'
The theme features a new collection of block patterns that will help you build complex layouts quickly, and it comes pre-packaged with custom collections of blocks that allow you to organize them however you want.
The good thing is that this and the above themes now come pre-installed with your WordPress core files, so it's possible to start working on your new site without installing another theme from the repository.
GeneratePress
GeneratePress is a popular WordPress theme focusing on performance and ease of use. This block-based theme comes packed with more than 25 pre-made demos, allowing you to launch your website in no time.
The theme also has full support for the latest WordPress editor (Gutenberg) and features some of the most advanced customization options.
The developers also offer GeneratePress in a pro version, which comes with 1 year of updates, premium support and added functionality.
Neve FSE
The classic Neve theme now comes with Full Site Editing support. Themeisle, the developer of the theme, brings style variations, theme templates and a speedy and responsive theme for free.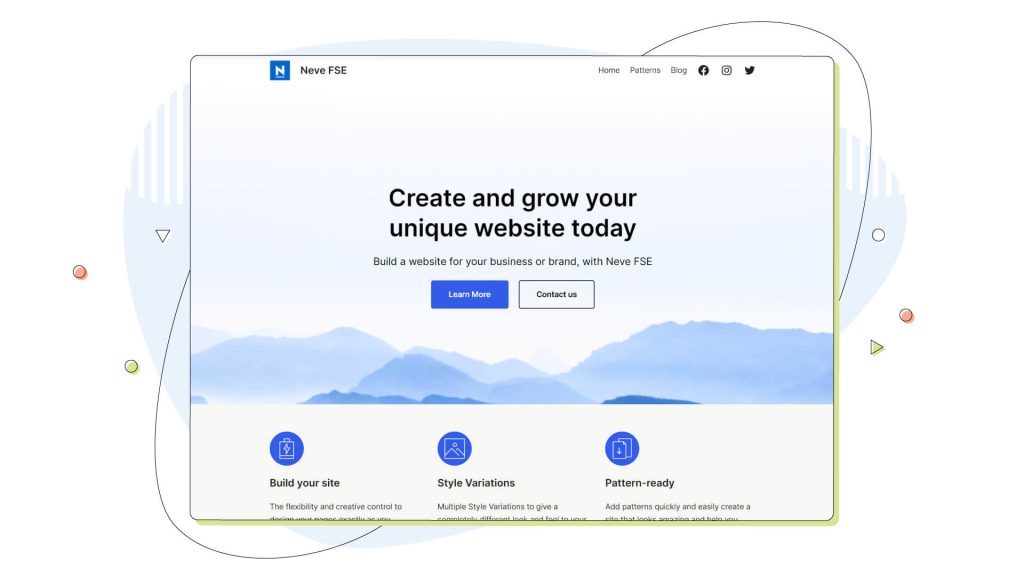 You can easily adjust the typography and colours of the theme, and it has been tested with several major WordPress versions and plugins. It also continues the trend of being very lightweight and performance-focused, which is critical for optimizing your website.
Omnipress Magazine
Since a block theme has so many advantages, it was a matter of time before we saw a complete version made for magazines or more content-rich blogs. Omnipress is exactly that.
It comes with at least 11 block patterns, which essentially count as page templates like the 404 page, ad banners, the hero section, footer and header.
The theme is simple and supports light mode and dark mode, making it ideal for any project.
Blockpress
When looking for a modern and sleek WordPress block theme, Blockpress surely needs a mention. With this, you can control your site from the Site Editor – right from the front end.
There's support for plenty of fonts (Google Fonts, too), plus you can customize the colours and backgrounds to your liking. Additionally, Blockpress comes with four pre-made demos for you to work with, and dark mode is there.
Its developer also mentions the theme's speed on the official website, saying it passes Google's Core Web Vitals.
SwiftStore
Made by Firefly Themes, SwiftStore really shows what you can achieve by working with block-based themes on WordPress.
It is designed with an eCommerce style layout and features a block-based page builder that allows you to create stunning product pages. The theme also supports WooCommerce and the Gutenberg editor, making it easier for users to set up their online stores.
SwiftStore offers a few block patterns as a starting point, but if you need a complete eCommerce experience, this theme might not be what you're looking for. The pro versions come with more features and sample pages, offering a headstart if you want results faster.
Ona
A minimal but highly functional theme that supports full site editing. Ona has 13 custom child themes available, and 5 of them are free. Also, it comes with a sizable selection of templates readily available to be used inside your projects.
It's suitable for blogs and brings custom tiles, hero sections and parallax to unleash your creativity. It even has a pro version with more styles and features available from Deothemes.
Aino
Aino is a multipurpose WordPress block theme that comes with some of the most advanced features on the market. The theme allows you to create stunning designs for any type of website, be it a business or blog, but it's mostly suited for portfolios.
Their developer has some powerful customization options and a big list of patterns available on their website. You can choose to have a dark appearance or any other colour combination.
For more features, you can always opt for any of the other paid versions to make your WordPress even better.
OutWit Lite
It's a relatively new eCommerce WordPress block theme for online stores and small businesses that need a quick way to get online. OutWit Lite, as the name suggests, has a pro sibling, which costs a whopping $59.99 per year, but the free version brings some exciting features.
Inside, we find 15 total templates, 17+ block patterns, and 7 template parts for your site. You can insert hero sections, have a best-seller carousel, and a blog – all for free!
Foodie Blocks
An excellent block theme designed around food bloggers. Like any other block-based theme from prominent developers, Foodie Blocks aims to offer many features, even in the free version. This allows you to jump into the paid version whenever you want for additional functionality.
It supports Full Site Editing, and you can easily change global elements such as colour schemes, header and footer for quick results. Another advantage is how lightweight this theme is. With fewer files than a full third-party theme, the developer aims for top performance in PageSpeed Insights.
Bricksy
With clever naming, Bricksy is a free WordPress theme that genuinely shines regarding block-based website design. It's part of the WordPress ecosystem, so you can expect some good features.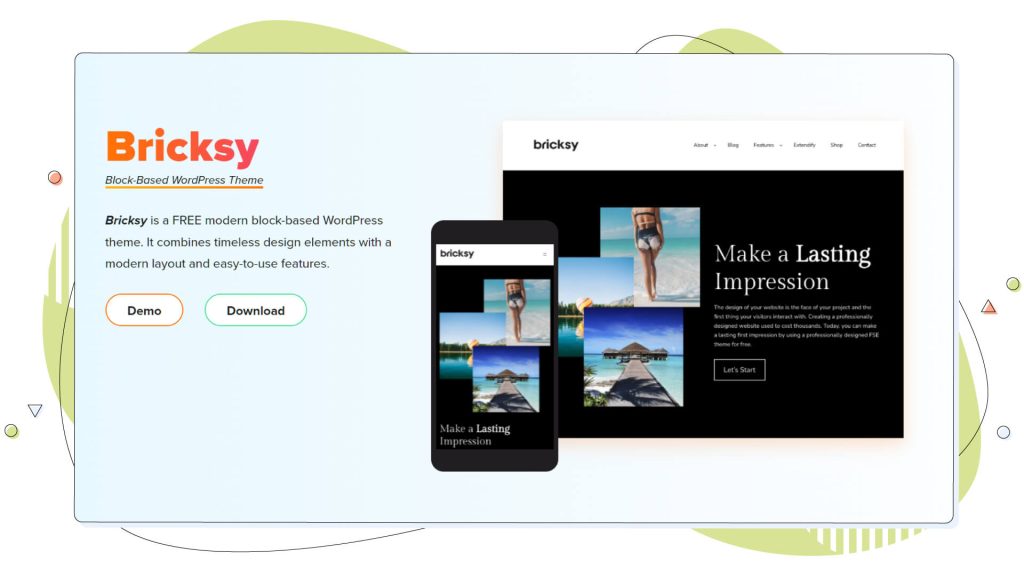 The theme works with the full site editor with options for customizing global elements like fonts, colours and backgrounds.
The drag-and-drop block patterns make things simple to design a website. And where customization might feel limiting, like in typography, there's Bricksy Pro, and the full feature set is available on their website.
Blockbase
Another one is Blockbase. It's a free WordPress block theme that comes with everything you need to create a modern website in no time. Plus, it's free and minimalistic to the core – because simplicity works almost every time!
You'll find an abundance of different block patterns for any type of project. The patterns range from simple homepages and post archives to more complex blog posts and search blocks to make navigation a breeze.
MrWriter
For those wanting a portfolio or are casual bloggers and writers, Mr. Writer is a great, minimalistic option.
The website offers a dark mode and a variety of colourful options while also enabling full site editing. Its patterns consist of a blog archive, custom footer, post metadata, and contact page.
Alara
The Alara theme by UXL Themes is a perfect blend of modern and vintage styles, offering an array of patterns that cater to various types of websites.
In addition, it provides several alternative styles and colour palettes to choose from. There are two versions, and it's completely free without any paid version, but the developer has a few other options for you to choose from.
Catch FSE
Catch FSE is a free WordPress block theme designed for Full Site Editing. This theme features a minimal responsive design and allows you to select a Dark or Light colour scheme using the Global Styles feature introduced in WordPress 6.0.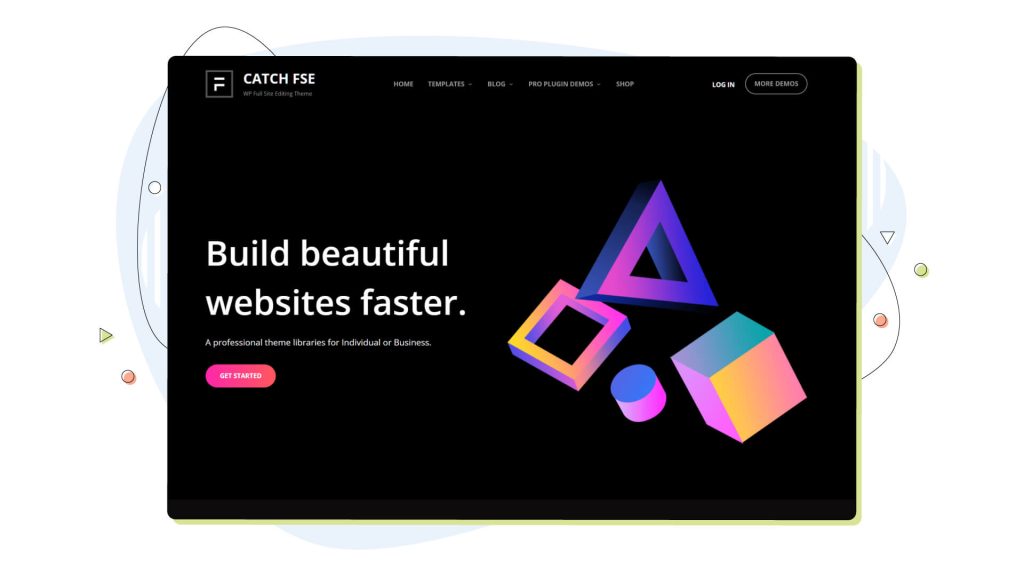 This theme was created with the assistance of Twenty Twenty-Two. Building your content is a breeze with an intuitive drag-and-drop interface and block patterns. As a block-based theme, Catch FSE was built with Full Site Editing features in mind.
With 15 different block patterns, 15 FSE templates, and 9 template parts available, you have the flexibility to create a custom corporate site that reflects your unique vision.
X3P0 – Reflections
This free theme is ideal for all of you who want to create your own "link in bio" page for your website.
It's made to be used for creating profiles with links, and it's essentially a one-page theme with plenty of designs.
It's the perfect choice for those seeking a creative way to showcase their work while getting more followers through social media, and the best part is that it's open-source, with the source code available on GitHub.
Avant-Garde
Avant-Garde is a free WordPress theme that offers a great selection of block patterns, from full-width photos to galleries. You can view the posts in list mode and have the tags on the right for a comfortable viewing experience.
The Avant-Garde theme is coupled with a few patterns like portfolios, services, newsletters and generic landing pages. And these are just a matter of dragging and dropping to your site.
Automattic's Themes
The developer who contributes to WordPress has their own list of block-supported themes for the popular CMS. So here's a short list of some you should check out for your site.
Quick Guide: Using A WordPress Block Theme
Using a block theme for your WordPress website is an easy process. Here's what you need to do:
Step 1: Select the block theme that best suits your needs. We'll go with Twenty Twenty-Three, which is the latest official block-based theme for our demo WordPress website – and it's already pre-installed with our CMS.

Step 2: Activate the block theme and begin customizing it. You must go into the WordPress dashboard and select "Themes" from the left-hand menu.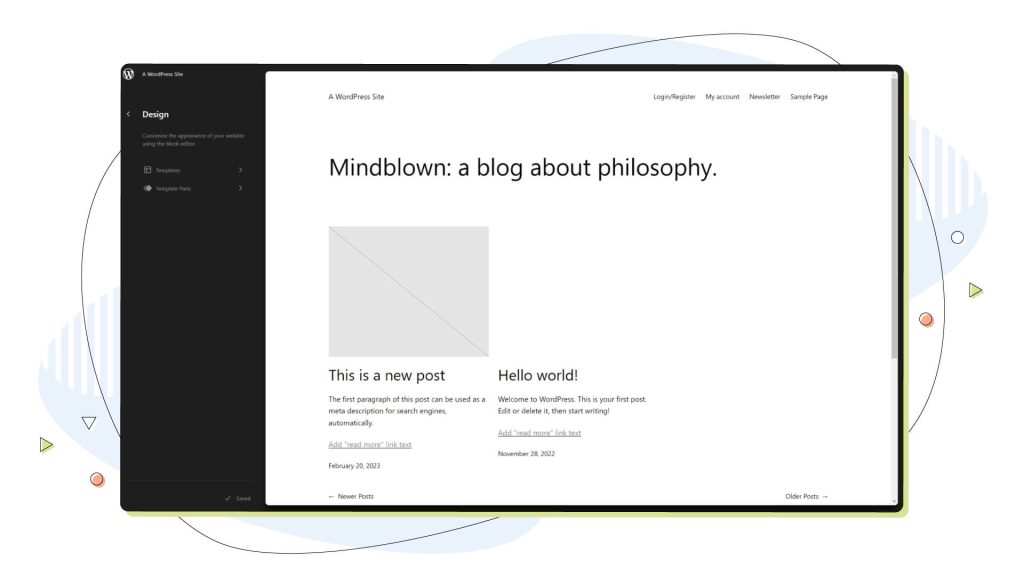 Step 3: Once activated, you can start personalizing your website with blocks, patterns, and the global styles feature. With blocks, you can easily create custom layouts without writing any code.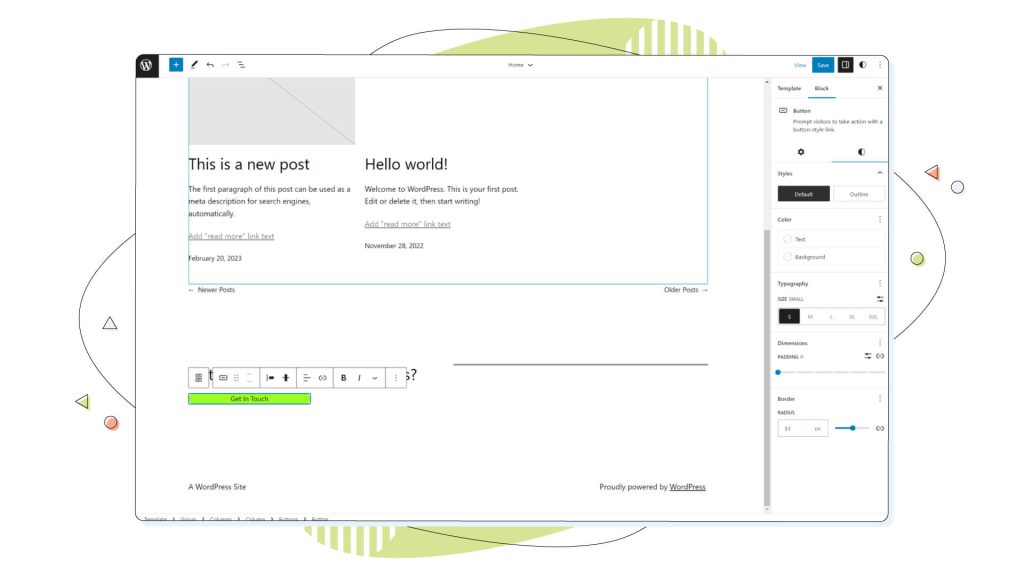 Then, by clicking customize, you're presented with multiple options regarding each of your pages: 404, archive, home, search, single, among many more.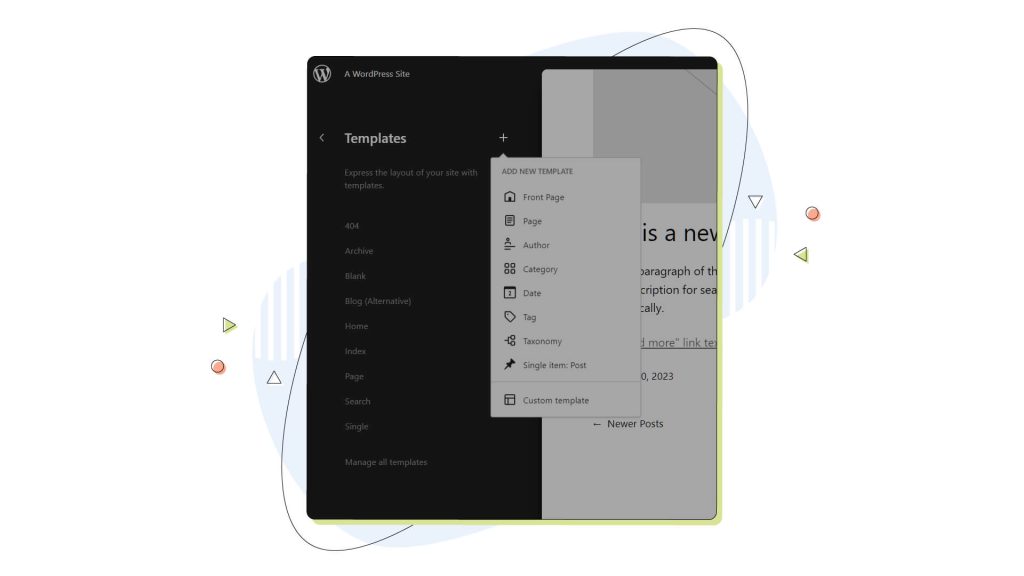 Conclusion: Most Block-Based Themes Are Free!
As you can see, there are plenty of excellent options when it comes to WordPress block themes. But, we have just scratched the surface of what block-based themes can do and how much they can help you customize your WordPress website with ease and without needing additional help.
Some of these featured themes also come with pro versions, which may not be based on WordPress blocks. Instead, they might offer some third-party plugins allowing for a more complete experience.
But one thing that all users should keep in mind is that most block themes are free! So, if you are looking for an economical way to quickly create a great-looking website, block themes are the way to go.
The future of block themes is also bright, with many new features and innovations. With the WordPress core continuing to be updated more often, expect block-based themes to improve performance, security, and overall usability. If you are looking for an easy and economical way to create a great-looking website, then WordPress block themes are the way to go.
Enjoyed this post? Then hop to our HostPapa Blog to read more exciting topics like this one!