WordPress is the most used CMS globally, and now, version 6 is available to everyone, bringing some fantastic new features. In this blog post, we'll check out the most noteworthy features WordPress 6 brings to the table, as noted by leading developer Matt Mullenweg.
WordPress 6 is codenamed "Arturo," inspired by Grammy-winning Latin Jazz musician Arturo O'Farrill, who has influenced the genre with more than 15 albums. The anticipation for the next big WordPress update has excited web developers, and it's finally available for free use.
Being one of the most substantial updates in a while, WordPress 6 brings a total of 900 enhancements and bug fixes in several areas of the CMS, with tons of performance and usability improvements along the way. This means your Optimized WordPress web hosting plan can get even better, ensuring your business website always runs at peak performance.
This year's release schedule was packed for the WordPress development team. Having started in early April with the introduction of the first beta version, the devs brought substantial updates to the 6th version of the CMS on May 24th, 2022. which was the official public release of the software.
There are writing improvements in the Gutenberg editor, further style switching, and more template choices among the new additions. The editor is getting more action as it helps edit the site's front end. So with these in mind, let's check out the new additions that came with WordPress 6.
General Improvements in Writing and Site Editor
Gutenberg is further enhanced with WordPress 6.0, and it's also capable of editing the front end of the website. That's a big step for WordPress and makes site editing a breeze with the help of Gutenberg's long-awaited update.
Selecting and transforming blocks while editing a post is much easier now than before. When you change the block type, it now retains the source style. For example, if you have a specific colour on your H2 header, changing it to H3 will keep the same colour while adjusting the font size only. Block selection is also more precise when selecting text across multiple blocks.
With Gutenberg now working in the front end with Full Site Editing, you can have blocks on every pixel of your WordPress website.
Here are other notable improvements from the latest version of Gutenberg:
Select text across blocks
Show the featured image in the Cover block
Build responsive Groups, Rows, and Stacks
Make your blocks stand out with customizable borders
Control the whitespace around the Columns
Build beautiful pages in no time using Patterns
Enjoy the improved Navigation Block
Style Switching
WordPress 6 now allows us to switch the global theme's style with just a few clicks. This feature came with WordPress 5.9, but now it is expanding in other areas. You can customize your site from the front end as much as you like with different colours, typography, and layouts. At the same time, you can adjust your blocks, ensuring a cohesive experience across your website.
Clicking the Style button on the top right will allow you to browse for available styles. This will come in handy for theme developers who can now easily add multiple styles to their themes, configurable from this little menu. One noteworthy example is implementing a dark mode on the theme without much hassle. Then you can select it with one click over the Styles menu.
The all-new Full Site Editor lets you create your own templates and export your themes' updated templates and styles to store them offline. It creates a .zip file with the theme and its styles.css and lets you download it to your computer. This is very helpful if you're trying new things on your site and need a quick backup of your visual changes.
The Full Site Editing experience works only on Block themes, and you can find more compatible ones in the theme directory while searching "Full Site Editing."
To explain Block themes a little more, think of them as parts of a website made from blocks. The navigation menus, the header, the page content, and the footer are some examples. These themes are built with the new WordPress features in mind, allowing you to edit and customize your site's parts.
This feature comes in at a great time, reducing the reliance on page builders for creating content. The feature unlocks when you create a theme.json file inside your theme's styles folder. While this is still in beta, it will be a popular WordPress addition in the coming months.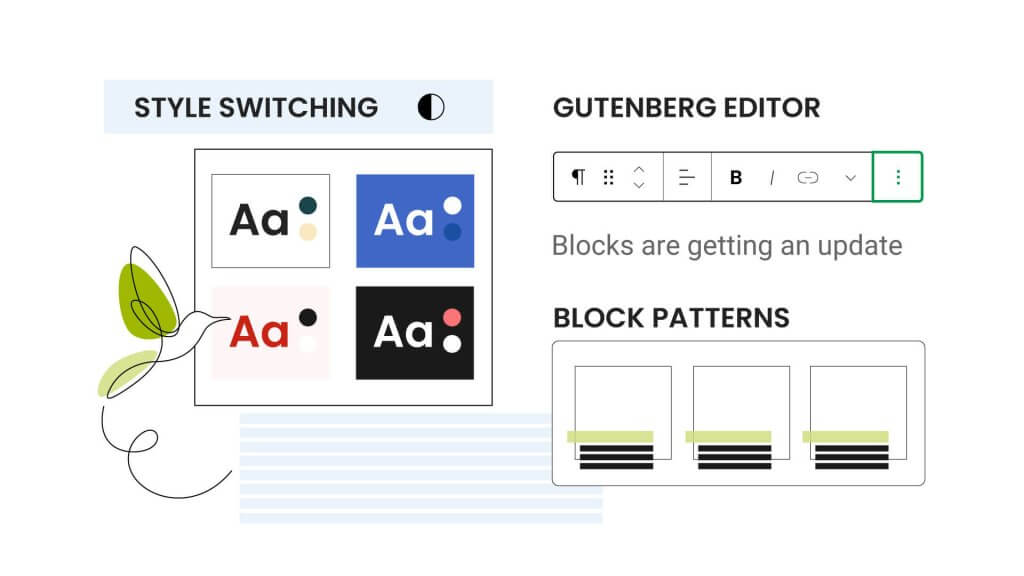 Blocks are WordPress' most prestigious feature to date. At first, they appeared on Gutenberg's post-editing screen and helped get embeds and common actions faster than ever.
In WordPress 6, blocks are getting an update, and they're coming to the Full Site Editor on compatible themes – also called block themes.
On a theme that supports blocks, you can use the Gutenberg editor (also called block editor) to create pages, navigation menus, the page's content, and the footer.
There's also a menu to add template parts to your theme, for example, an Author page, a Category page, Taxonomies and many more. To learn more about WordPress Themes, you can visit our Knowledge Base or check out our Ultimate Guide to Choosing and Installing Your WordPress Theme.
New types of blocks are coming our way, including Comment, "Read More," Query Loop, Author biography, and Avatar, to further enhance your website. The addition doesn't stop here, as there's a block lock option to protect blocks from accidental edits.
This move is a step toward reducing the need to download a separate theme for your website. The developers of the well-known CMS will bring more updates on blocks in the future.
Another great thing WordPress 6 brings is Block Patterns. These are a series of blocks glued together, acting as a template or pattern for your site.
The patterns directory launched almost half a year ago. There, you can find new block patterns from other WordPress users, and you can also create your own and share them with the world.
The all-new Pattern Creator allows the creation of such layouts and use them in your creations or upload them to be used by others. The submission process may take a while since a team validates every new entry for copyrighted content and other infringements.
The New Webfonts API
Apart from countless enhancements, the Webfonts API is probably something that requires mentioning.
The API is a more standard way of loading fonts in WordPress 6 while ensuring the best performance, security, and user privacy. With this underlying feature, performance and user privacy can be further improved in the future, as the site loads only the fonts it needs for rendering.
The theme.json file is the one you should edit first and then copy your web font to the correct theme directory in /assets/fonts. Then it's easy to add web fonts to your global styles interface and use them on your website.
What's New for Developers in WordPress 6?
Performance is a big part of WordPress 6, and the new version goes the extra mile with caching improvements in the WordPress caching API. WordPress developers implemented the Batch API functions for Cache Operations in version 5.5 and now have expanded with more functions to complete the API, boosting overall performance.
Taxonomy query caching is another crucial factor that helps performance, and WordPress' performance team has been hard at work improving the performance of term queries for the CMS.
Multiuser websites with well over 10.000 users will also see a noticeable improvement in performance because of the different handling techniques that the developers have implemented in WordPress 6.
Also, there are improvements in simple queries. The do_parse_request removes unnecessary SQL queries running on these requests that previously impacted performance on older versions.
How to Update to WordPress 6
Once you make sure all your other third-party plugins are compatible with the new version and updated, it's pretty much just a matter of clicking update in the back-end of WordPress.
Although this is a pretty straightforward procedure, there's always a possibility that something could go wrong. So you should check the compatibility of your plugins with the new version before you update your CMS.
Breaking your site is not something you want to happen, so you can trust a Managed WordPress plan to update safely in the future. Experts from HostPapa can help optimize your WordPress website in the best way possible, allowing you to focus on what matters the most, your business.
Final Thoughts
WordPress 6 is a fantastic update bringing handy new features for developers and inexperienced users. WordPress is rightfully one of the best CMS platforms along with great documentation and support sites. The latest update becomes even easier to use and configure, leaving you with loads of options to create unique and beautiful websites.