Enthusiastic entrepreneurs are continuously looking for new choices to help them establish the best possible marketplace for their clients. Multi-vendor marketplaces such as Amazon, Alibaba, and eBay have completely transformed the way people shop online. Because of this, they've sparked interest in developing similar multi-vendor websites to serve a broader range of customers.
Multi-vendor markets, such as those powered by the WordPress platform, are a common sight these days. They bring together several vendors on the same platform, allowing buyers to select offerings from a variety of suppliers. Following the success of large marketplaces, this business model is becoming increasingly popular.
In this article, we'll share everything you need to know about the best WooCommerce multi-vendor plugins.
What Are WooCommerce Multi-Vendor Plugins?
Launching an online store has been made easier thanks to WooCommerce. It enables you to handle your store products, payments, shipping, tax administration, and other aspects of your business efficiently. There are hundreds of WooCommerce extensions available to help you improve the functionality of your online store.
The word "multi-vendor" means a site has several sellers. Multiple vendors offer their products from a single website or online marketplace, known as a marketplace. Essentially, a centralized system manages all shopping and commercial transactions in similar marketplaces.
Your store will benefit when a powerful WooCommerce multi-vendor plugin is used in conjunction with a lightning-fast WooCommerce theme. The WooCommerce multi-vendor plugin's major goal is to facilitate the connection of many customers and sellers through your online marketplace. In the same way, it delegates responsibility for each transaction to the suppliers while generating commissions for you on each sale.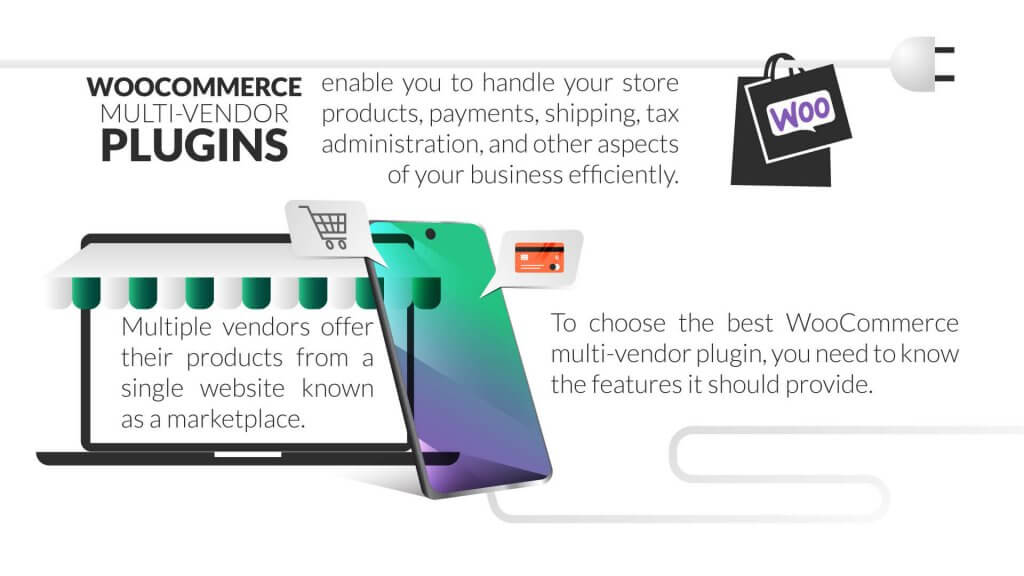 Why Should You Use a WooCommerce Multi-Vendor Plugin?
Customer satisfaction, vendor satisfaction, and marketplace owner satisfaction are all enhanced by the Amazon business model, which is gaining widespread acceptance.
You'll need a WordPress multi-vendor marketplace plugin to easily set up your multi-vendor WooCommerce store. They're simple add-ons that provide powerful functionality to develop a professional marketplace without complexity.
You can create and maintain your multi-vendor website with ease with these plugins, allowing numerous sellers to sell various commodities to huge clients while saving time and money. As a result, your website will receive more traffic, and you'll earn a substantial commission from the transactions.
What to Look for in WooCommerce Multi-Vendor Plugins
To choose the best WooCommerce multi-vendor plugin, you need to know the features it should provide. Most plugins on the market offer an identical set of features with minor aspects distinguishing them from each other.
A multi-vendor plugin contains many functionalities and different dashboards, which can be overwhelming to a newcomer. You can easily navigate these with a user-friendly front-end design. On the other hand, a user-friendly vendor dashboard may help vendors perform duties such as uploading a product, coupon administration, and order management more conveniently.
Every multi-vendor platform depends on the commission structure and payment terms agreed upon between the owner and sellers in the marketplace. WooCommerce multi-vendor plugins should provide merchants with flexible options for determining these commission terms, as well as the ability to easily withdraw funds.
The key element will always be price. When running a profitable online business, the cost of the multi-vendor plugin you select for your store will significantly impact your overall expenses. A variety of plugins are available in a freemium or lite version to help you get started and experiment with their features. On the other hand, these plans won't have the advanced features you'll need later on. Most plugins have a money-back guarantee, allowing you to test the waters before diving deep.
You need active assistance to maintain a successful WooCommerce multi-vendor business. When selecting the proper plugin, be sure to look at the customer support options and customer reviews. Plugin developers should release timely updates to resolve any issues.
The Best WooCommerce Multi-Vendor Plugins For WordPress
WooCommerce multi-vendor plugins have impacted the WordPress market, and several more are on the way. Each of these plugins is distinctive in its own way and offers its own set of capabilities. We've listed below the most dependable WooCommerce multi-vendor plugins available.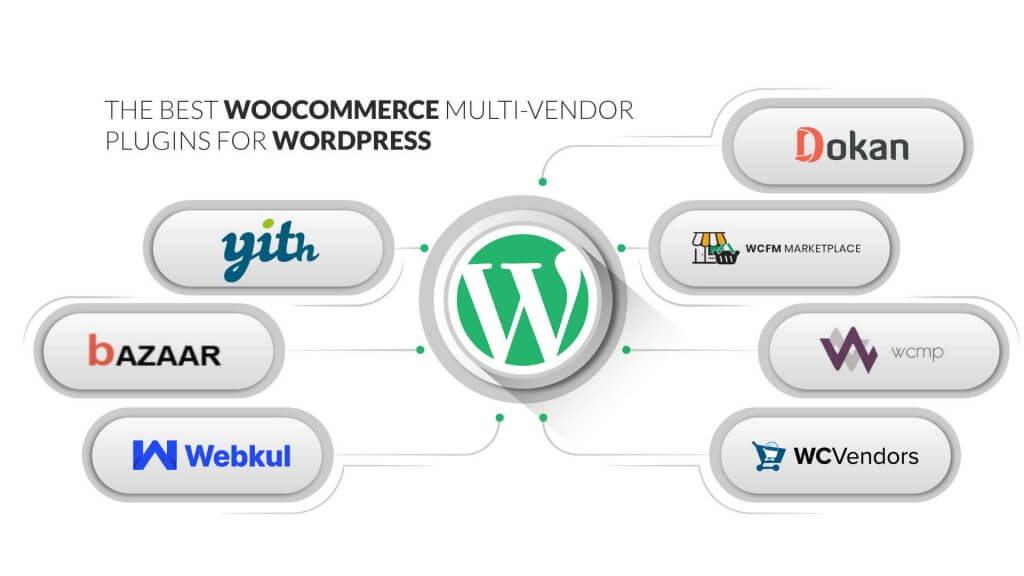 Dokan
Want to create a marketplace similar to Amazon or eBay in less than 30 minutes? It's possible thanks to Dokan, a fantastic WooCommerce marketplace plugin. This plugin can help you create a marketplace for various product types, such as physical goods, downloadable goods, and bookable goods.
Dokan comes with a comprehensive one-of-a-kind front-end for vendors, unlike any other WooCommerce multi-vendor plugin. Every vendor has access to a dashboard that monitors and maintains their operations precisely.
Dokan Multivendor gives you control over everything that happens in your marketplace with manually rerouting vendor registration, product publishing, subscription renewal, and other processes if necessary.
Features
Each vendor can customize their store and make it more attractive
Vendors can track everything from sales to generating reports on their dashboards
Global commission scheme and specific commission rates for different vendors, so the admin can profit from every trade
Vendors can keep track of their store's performance by looking at their sales data on the vendor dashboard
Admin is in charge of everything that happens in the marketplace
Vendors can manage and customize both their store and their public profile
Vendors have complete control over their stores' shipping
Integrates seamlessly with all WooCommerce themes
Pros
Add unlimited vendors/sellers
Seller can easily manage their store
Compatible with all WordPress themes
Ajax live search feature
Easily extend your store
Cons
Plugin might get heavy for your website
Customer support is inconvenient
Pricing
Dokan is available in five different pricing tiers:
Starter – $149/year (or a $596 lifetime payment)
Professional – $249/year (or a $933 lifetime payment)
Business – $499/year (or a $1746 lifetime payment)
Enterprise – $999/year (or a $3246 lifetime payment)
WCFM Marketplace
When it comes to managing your online marketplace, the WCFM marketplace plugin is incomparable. It includes an extensive set of features that give you complete control over your online marketplace. It's the best choice for those who value a high degree of freedom and flexibility.
WCFM provides each vendor with a Vendor Mobile App with monitoring and customization capabilities over their products, bookings, inquiries, reporting, and analytics. For example, if a vendor needs to make changes to the name, price, stock, or image of a product, they can use the app.
Along with tracking their commissions, refunds, and withdrawals, vendors can also keep an eye on their ledger book, store invoices, and shipment tracking.
Features
The best and most user-friendly dashboard with all vendor-specific functionalities pre-installed
A mobile app with customization options allows vendors to manage their stores from anywhere
Flexible shipping management tracking
Commission system that can be customized (fixed, variable, vendor-wise, product-wise, membership)
Real-time shipment status updates for products
Global percentages or specific rates for different vendors in the commission schemes, which are both flexible options
Access to straightforward refund, withdrawal, and reverse withdrawal systems
Pros
Compatible with mobile
Complete customer support provided
Live chat option
Sellers can write blogs
Verify your seller through a seller verification system
Cons
Users frequently complain about support not responding on time
Add-ons come with premium packages
Pricing
The core plugin is free for all users with no time restriction or usage. For additional extensions or add-ons, you need to pay for the premium as per your business needs. You can choose from a single-year plan to a lifetime plan.
Ultimate – Starts at $49/year (or $299 one time payment)
Group & Staff – Starts at $39/year (or $249 one time payment)
Affiliate – Starts at $29/year (or $149 one time payment)
Delivery – Starts at $29/year (or $149 one time payment)
Product Hub – Starts at $11/year (or $99 one time payment)
Analytics – Starts at $11/year (or $99 one time payment)
MultiVendorX
In terms of reliability, MultiVendorX is a solid multi-vendor extension. In mid-2022, WC Marketplace was rebranded as MultiVendorX while maintaining its previous operational trajectory. It has a simple installation procedure, which is especially impressive when you consider the number of features it offers.
MultiVendorX provides the administrator with control over the marketplace, including the views, sales, sales reports, and commission sections. You can select from a number of commission structures that give you greater flexibility.
In addition to these features, this plugin offers convenience in vendor tracking and a consolidated order and refund manager. By providing a variety of payment processing options, it allows visitors to pay in their preferred manner.
Features
User-friendly and personalized dashboard to help vendors run their company
Vendor registration made simple by the plugin's user-friendly interface
Customizable global commission system provided by the plugin
Enables the functionality of "Single Product Multiple Vendors"
Receive detailed analytics of sales reports, which you can use to improve the marketplace
Along with a shipping tracker, the plugin provides an adjustable shipping rate (based on weight, country, or product category), as well as a shipping calculator
Product management tools that assist vendors in listing their products and exporting and importing the information
Built-in order manager
Pros
Product review management system with a universal messaging system
Different dashboards available for commissions, coupons, reports, payments, and other activities
Accepts a variety of payment methods
Cons
Doesn't have a trusted seller's label on its packaging
Various glitches have been found
Pricing
You can use the core plugin if you want to test it for free. The premium plan (Growth) starts at $399/year – the pricing model depends on the features you want to add to your eCommerce store.
WC Vendors
The WC Vendors Marketplace multi-vendor plugin for WooCommerce is focused on expanding your marketplace's functionality by including a variety of features and functionality. The ease with which WC Vendors can be configured makes it simple to get started. It has numerous customization options, including shortcodes, widgets, and storefront options, to help you create a stunning design for your store.
With the WC Vendors Membership option, it's possible to create and sell a membership plan to your customers. You can easily set limits for your vendors' products, categories, files, and storage space using the Vendor Management System. Additionally, its sophisticated commission system allows you to customize commission rates for each product or vendor.
Features
Individual front-end dashboards for vendors to manage their products, sales, shipping, and other aspects of their business
You have complete control over your marketplace and everything that takes place within it, including the products and vendors that sell them
Vendors can customize their storefronts
Products of all kinds are available (physical, digital, subscriptions, variable, and auction)
Variety of commission systems (variable, fee, fixed, sales by vendor/product) to choose from
Customers can get help from the plugin's live support features while shopping online
Vendors themselves can create and manage different discount coupons for a variety of products
Comprehensive shipping system enables vendors to conduct their shipping and set up shipping rates with the assistance of the system (table rate, flat rate)
Pros
Customizable templates for storefronts
Vendors can enable vacation mode to let customers know that they're not selling at the moment
Vendors have complete access to the front-end dashboard
Various payment gateways for the vendor store SEO
Cons
Basic vendor dashboard
Poor customer support
Less customization feature
Pricing
WC Vendors is available in three different packages:
WC Vendors – Free
WC Vendors Pro – $199/year
WC Vendors Lifetime – $599 Lifetime Payment
YITH WooCommerce
Recently, the YITH WooCommerce Multi-Vendor plugin has emerged as one of the most widely used WooCommerce multi-vendor plugins.
Your site can earn passive income from the sales of users who publish their products on your site, thanks to the YITH marketplace. You can select multiple administrators, create product catalogues, and set up specific marketing campaigns using the YITH Multi-Vendor plugin.
You can set up a primary multi-vendor store with global commission rates, gain access to super admin, and generate automated reports for your sales and commissions. The super admin feature, in particular, allows you to manage the accounts and sales of vendors.
When you use the YITH WooCommerce multi-vendor plugin, you'll be able to take advantage of a variety of additional features such as individual commission rates, advanced report management, order management, refunds, and other similar functionalities.
Features
Enables each vendor of the store to have their own order management system controlled by the plugin
Sales can be enabled or disabled for each vendor by the super admin from a central location
The marketplace administrator can set a minimum commission threshold
Vendors can create coupons and manage their products within the marketplace
Customers can use the refund management system, which is also available to vendors
Website administrators can access vendor profiles through User Switch options, and add products for a single vendor to the website
Vendors can create product catalogues, track orders, income, and product reviews without the approval of an administrator
Vendors can use the advanced shipping module to create shipping zones, calculate shipping costs, include additional charges, and set refund and shipping policies
Pros
Vendors can sell their digital products
Admin has complete control over all vendors, including their products, sales, and other activities
Seller verification is permitted
A commission system that is extremely reliable and advanced
Cons
Vendors don't have access to a front-end dashboard
Returns information from the single product multiple seller configuration
Pricing
You can download the free version of the plugin for the trial or pay $99.99/year for the full version with advanced features.
Product Vendors
Product Vendors is ideal for converting your WooCommerce store into a multi-vendor website. This plugin enables multiple vendors to sell a variety of products at once. You'll be able to generate a substantial amount of income in accordance with the agreement you have with your vendors.
Product Vendors enables vendors to manage their public profile, products, shipments, customer notes, and other aspects of their business in order to reduce workload. As an administrator, you'll have the ability to accept and approve vendor applications, manage information, set up vendor commissions, and perform other tasks as necessary.
Features
You can enable or disable specific commission and payout rates for various vendors
You can include vendors in addition to your own products
The plugin can be used in conjunction with the WooCommerce Bookings plugin to let vendors schedule appointments
Vendors can manage their own product and shipping rules on their own time
You can choose to have specific vendors' products added to the marketplace after your approval
Make payments to vendors instantly, manually, bi-weekly, or monthly, depending on your company's needs and financial situation
Vendors can be designated as administrators or managers to assist you in overseeing sales, tax orders, and other administrative tasks
Pros
Perfect for the sale and purchase of tangible and intangible goods
The marketplace owner has complete control over the marketplace
A system for managing multiple vendors
The public profile of every vendor is available on the internet
The ability to withdraw funds automatically and manually
Cons
There is no front-end dashboard
There are significantly fewer features than competitors
Order management is lacking
Pricing
With their 30-day money-back guarantee, you can buy this plugin for $79/year.
Vendor Pro
VendorPro is a multi-functional plugin that transforms your eCommerce site into a long-term affiliate business with multiple sellers through affiliate marketing. As a result, affiliate vendors can easily sell a variety of products from your store, allowing you to earn a substantial amount of commission.
With VendorPro, you can define a customizable base commission rate for different vendors and manually modify the rate if necessary. In addition, the commission setting tab allows you to view a detailed analysis of commissions earned as well as outstanding dues.
Features
Manually configure vendor commission rates to select a different commission rate for specific vendors using the plugin
Extremely useful for affiliate businesses because it allows them to invite vendors and manage affiliate marketing all from within the plugin
Editing and removing published products, Show/Hide products, and enabling Order management are all options available to vendors
Vendors can write and publish blogs about their products in order to improve SEO and organic search results
Vendors can control whether their seller information is displayed or hidden on the individual product pages of the online store
Pros
Designed for the sale of digital products
Produced specifically to look and function like digital products
Affiliate marketing is encouraged
An integrated PayPal payment gateway processor ensures a smooth and secure payment process
Application forms and sales logs are both supported by shortcodes
Will increase the number of visitors to your eCommerce website
Cons
Not as beneficial for general use as it could be (focuses on affiliate business)
Doesn't have a vendor dashboard
Designed specifically for digital products
The features provided are minimal
Pricing
With customer support and other money-back guarantee advantages, you can buy this plugin for $97/year.
Webkul
The Webkul WordPress WooCommerce Multi-Vendor plugin can help you realize your vision of a fully functional and visually appealing marketplace. Vendors can search for, add, and delete products from the seller panel, accessible via the WordPress marketplace plugin. In addition, each vendor has the ability to edit and view their own profile on the platform.
Vendors and their products may be approved automatically if you own a marketplace. Additionally, you can organize the seller list and product listing and set different commission rates for each seller. This plugin can also help you convert your existing customers into sellers.
Features
Integrates with the WooCommerce plugin, which allows it to support any tradable physical or digital products
Users can provide feedback on the product quality and customer service provided by the vendor through the use of Ratings and Reviews – sellers who have more positive testimonials generate more sales
Marketplace Seller Central option makes it easier for users to register as sellers on the marketplace
Administrative settings include the ability to set a global commission rate that applies to all vendors equally, as well as the ability to set different commission rates for different vendors based on their sales volume
Administrators can set up an Auto Approve option for new seller sanctions, as well as approve or disapprove any product from any seller in order to prevent product repetition
Both administrators and vendors can monitor the Order Management functionality and generate invoices for the sale of goods
Admin can quickly and easily convert an existing user into a vendor directly from the admin panel, without the need for the user to submit a request for vendor registration
Vendors can manage their shipping from their dashboard panel, which allows them to create new shipping zones and add shipping methods for the zones they have created
Pros
Remote management via a mobile app
The administrative and vendor responsibilities are fairly distributed
Sellers can manage their orders and shipping
A URL structure that is SEO-friendly will improve results in the SERP
Users and customers can vote for their favourite sellers
Admin has complete control over which sellers receive which products
Cons
Customers complain that refunds are not processed
Basic dashboard for the vendors
Pricing
The plugin offers two licenses available for a one-time fee:
Regular license – $99
Extended license – $499
bAZAAR
In the WooCommerce multi-vendor world, the bAZAAR WooCommerce Multi-Vendor Marketplace plugin stands out. Despite the fact that it's a newer plugin, it offers some excellent features.
The plugin provides each vendor with a unique dashboard, as well as complete control over how their dashboard and its functionalities are displayed. The dashboard provides vendors with the ability to quickly create, edit, and manage a variety of product types. When choosing a retail software development services provider, you have to be sure it has a proven record of creating retail software solutions. After all, you want your customers to easily find what they need, get an exceptional shopping experience, and stay loyal to your brand.
As an added bonus, vendors can continue selling without waiting for administration approval, and both administrators and vendors have access to detailed analytics on orders placed through the system. Additionally, the administrator can create an announcement shown to the vendors at the conclusion of the sale.
Features
A visually appealing front-end dashboard is provided for each vendor to manage their products, sales, shipping, and any other aspects of their business
Provides predefined product categories for the primary outcomes, with the ability to create additional product categories as needed
Vendors and customers can access the store by logging in with their social media accounts
Admin can enable vendors to store updates and perform regular management by creating a Vendor Management Interface
The plugin provides a graphical and analytical report on sales, products, orders, commissions, earnings, and other metrics for both administrators and vendors
With the help of a point-to-point track system, vendors can keep track of their earnings and withdraw their profits
Vendors who want to sell only one product can take advantage of the single product multi-vendor option
To maintain the stability of the sales, the administrator can implement special commissions for different vendors, products, or categories
Users can place multiple orders with different sellers in the same order
Pros
Centralized controls so that the administrator can manage anything (products, settings, analytics)
All of the statistics and analytics can be exported in CSV format
With the help of Ajax, you can perform more advanced searches, filtering, and sorting
You can switch the themes from light to dark with just a single click
Email confirmation for each order placed
Cons
New plugin that will require time to develop and establish itself among its competitors
There are no user testimonials
Pricing
This plugin offers three annual and lifetime packages:
Annual Pricing
Starter – $19/year
Business – $89/year
Developer – $189/ year
Lifetime Plan
Starter – $39
Business – $179
Developer – $319
Mercado Pro
Use Mercado Pro if you want to convert your existing WooCommerce store into a multi-vendor marketplace without having to start from scratch. With this dynamic WooCommerce marketplace plugin, you can easily sell multiple product types from a single platform.
Vendors can access their dashboard to manage and track their products, orders, sales reports, and other information with ease. Site administrators can make good money implementing a variety of commission structures.
Features
Powerful and centralized administration panel to control and manage anything on the site
Both the administration and the vendors benefit from powerful statistical analytics about sales, earnings, and market growth
All of the vendors receive their own dashboard panel so they can track their products in real-time
Administrators can set global commission rates as well as specific commission rates for different vendors based on their product and sales volume
Vendors can create a variety of products directly from their vendor's dashboards
Vendors can organize their products into categories based on the type of product they're selling
Users can log in through social media platforms or email
One vendor is unable to access the files of another vendor to maintain privacy
Administrators can create announcements for all of the vendors or for a specific vendor
Coupon and discount prospects can be generated by vendors in order to increase sales
Pros
Front-end dashboard that updates in real-time without the need to reload the page
WPML integration
Live chatting between administrators and vendors
Intelligent privacy mechanism
Vendors' invoice and receipt generation system
Sales reports and statements that are updated in real-time
Ajax search capabilities for faster query processing
Cons
If you need a refund, you'll have to go through manual processing that increases the processing time
It's a new plugin, so certain adjustments are still essential
Pricing
There are two licenses available for the plugin available for a one time fee:
Regular license – $99
Extended license – $999
Key Features of Top WooCommerce Multi-Vendor Plugins
In this article, we've discussed some of the most popular WooCommerce multi-vendor plugins available today. Each of these plugins is loaded with powerful features to assist you in accomplishing whatever you set out to do for your marketplace.
The following are the essential WooCommerce multi-vendor features compiled after a significant amount of research.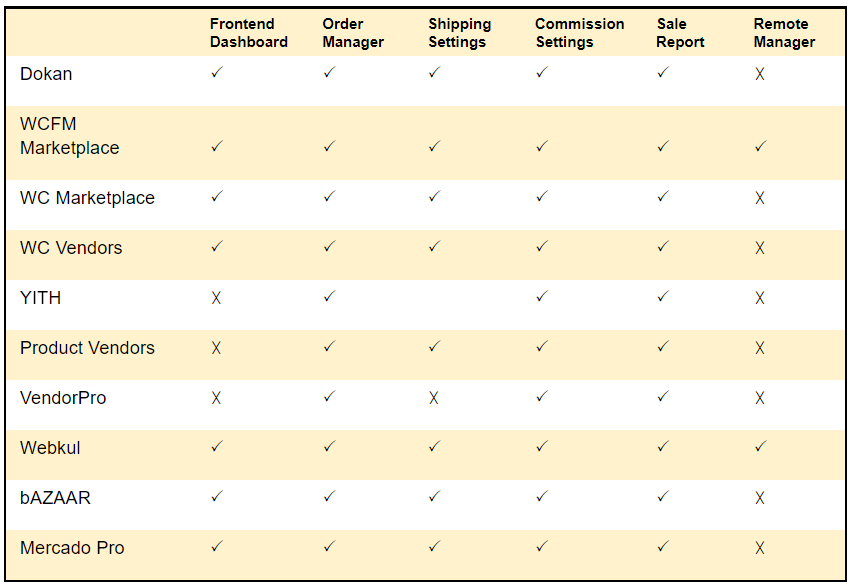 Which WooCommerce Multi-Vendor Plugin Should You Use?
Websites with multiple vendors are becoming increasingly popular because of the ease of use and convenience they provide to both sellers and customers. In addition, it's a great source of passive income for the marketplace's proprietors.
Every user has their own unique interests and preferences when it comes to their eCommerce marketplaces. If you're planning to start an online marketplace with WooCommerce, consider seeking eCommerce consulting to ensure you choose the best multi-vendor plugin for your needs.
Every plugin has its own set of features to be taken into consideration when attempting to make your marketplace successful, and each one has its own set of limitations.
The WooCommerce multi-vendor plugin that includes all of the necessary features and functionalities, benefiting your business, is the one best for you. Primary concerns when selecting a WooCommerce multi-vendor plugin will be its features, usability, UI, and price.
Multi-vendor plugins, which allow you to offer coupon codes to your customers, are widely available. They make it possible for all of your vendors to be doing the same thing. This indicates that each seller has the ability to market their brands by providing their customers with coupon codes generated by them. With the perfect plugin, you can reward the vendors selling more and meeting the target, which encourages them to sell more through your store.
A WooCommerce multi-vendor store that stands out from the crowd will require the best WooCommerce marketplace plugin. Consider your multi-vendor shop's needs before making a final decision on a plugin for your website and take a look at your price range and the customization options you require.