Having a successful food blog is easier than you may think. A talented cook with a laser focus on the right food niche can attract a lot of loyal followers and make money sharing their passion for food.
If you're interested in starting a food blog, this article will put you on the right track. It covers the importance of finding your food niche, addresses how you'll get your recipes on the internet, goes over blog promotion strategies, and more. If you're excited about sharing your food passion with the world, read on!
What Is a Food Blog?
A food blog is a website with food-related posts, typically recipes, published to address the interests of a specific audience. Food blogs usually focus on a narrow slice of the food world.
A great food blog fully explores its niche, offering visitors searched-for recipes and drawing readers in so they explore related posts. With effective visitor engagement and a moderate amount of promotion, a food blog can gain a large number of loyal readers, and that can lead to monetization opportunities.
There are thousands of food blogs covering almost every food-related topic you can think of. One trait they share is that they're run by a subject matter expert who is enthusiastic about their chosen niche. Running a food blog can be greatly rewarding for the content creator, as we'll discuss in the next section.
Why Should You Start a Food Blog?
When you're passionate about a certain type of cooking or cuisine, there's a strong impulse to share your enthusiasm with others, and a food blog is a perfect platform to do that. By sharing recipes, you can delight interested readers and bring attention to your favourite food niche.
A food blog allows you to explore the type of food you love and take your readers along for the adventure. Abundant, high-quality content will earn you loyal readers, and you can choose to make money off your blog or simply enjoy the opportunity to share your food passion.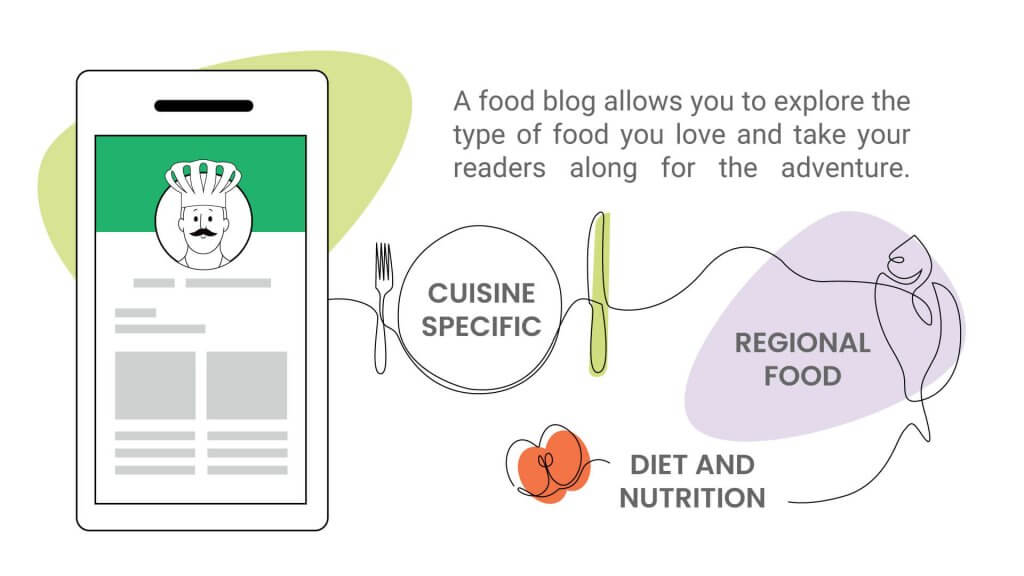 Types of Food Blogs
Most successful food blogs offer unique recipes that were created by the blogger. Enticing photos accompany complete ingredient lists and cooking instructions.
Food blogs typically cover a specific niche. Here are some common, high-level categories that popular food blogs fall into:
Cuisine-specific blogs: Posting about food from a specific country helps you narrow your target audience and focus on a manageable set of recipes. A blog might offer Italian food recipes, for example, covering cuisine-specific salads, entrees, and desserts. People searching for the ultimate lasagna recipe will be happy to find a helpful blog post that provides exactly what they're after.

Regional food blogs: Texas has its own kind of barbecue, and so do Saint Louis and the Carolinas. Clam chowder and a lobster roll in Maine are must-have regional delicacies. Visitors to The Windy City are likely to be offered a slice of deep-dish pizza or a fully dressed Chicago-style hot dog. Regional food favourites tend to inspire a lot of passion, and enthusiasm for those recipes spreads far and wide. A blog focusing on a popular regional cuisine is likely to find a large audience of highly engaged foodies.
Diet and nutrition-focused blogs: Many people seek information on the internet about healthy eating, for example, there's a booming interest in vegetarian and vegan cooking. Bloggers have a chance to captivate people with original recipes, healthy eating advice, tips about meal planning, and information about specialty diets. Bloggers can explore one of many niches and find an eager audience. For example, a topic as fresh and popular as the new plant-based meat substitutes could bring a lot of traffic to a food blog that fully explores it.
Within one of these high-level categories is a narrow subcategory that your food blog will fall into. Covering a specific food topic is the key to attracting readers and it's crucial when your goal is to build a following of loyal readers.
Choosing Your Food Blog Niche
How do you find your food blog niche? It exists in the exact spot where your primary food interest intersects with popular food trends.
As an avid foodie, you may focus on a wide range of niches at the same time, but it's important to realize that only some of them will be interesting to others. For example, you may have perfect Japanese cooking techniques and have created a collection of mind-blowing ramen recipes. That's something a lot of people can get into, and it would make an excellent topic for a food blog. Your fascination with Icelandic fermented shark meat, on the other hand, wouldn't be blog-worthy, simply because very few people would share your interest.
The best method for deciding on your food blog niche is to do exhaustive research into current food trends. That sounds like work, but it's really just reading a lot of food blogs, which is undeniably fun. Targeted searches and a survey of ten to twenty popular blogs should give you a good idea of what food-focus blog readers are currently interested in.
Once you know about a dozen popular food blog genres, all you have to do is choose the one that best aligns with your primary food interest. When you've done that, you'll have found your food blog niche.
What Should Be Included in a Food Blog?
Your content should include perfect photos and engaging descriptions of your food, with detailed, step-by-step cooking instructions. Posts should contain internal links, guiding readers to related recipes on your blog. These links can be included in the body of your post, or they may be accessible via tags you've assigned to the post.
What readers will expect most from your blog is fully documented recipes published on a consistent schedule. Complete coverage of your niche topic is not an initial requirement – you'll grow your content over time. Provided you stick to a plan for consistent weekly posts, you can start with just a handful of relevant recipes, as we'll discuss in the next section.
How Many Recipes Do You Need to Start a Food Blog?
When someone comes to your blog through a keyword search, they'll be happy to find the information they were searching for, but if you don't engage them with additional content, that may be the only time they visit your site. Likewise, when you drive people to your blog through social media, if visitors don't find a content-rich site, they'll quickly move on.
Before you launch your blog, you should have about one month's worth of content ready to go. Even your earliest visitors should have plenty to explore. If you plan to post two recipes per week, at launch, your blog should feature at least eight recipes.
Even with this initial content in place, shortly after you launch, you should begin publishing new recipes. For that reason, it's smart to have some content written and ready to publish. Regularly publishing new content is crucial, and later in this article, we'll discuss how creating a content plan will help you stick to a publishing schedule.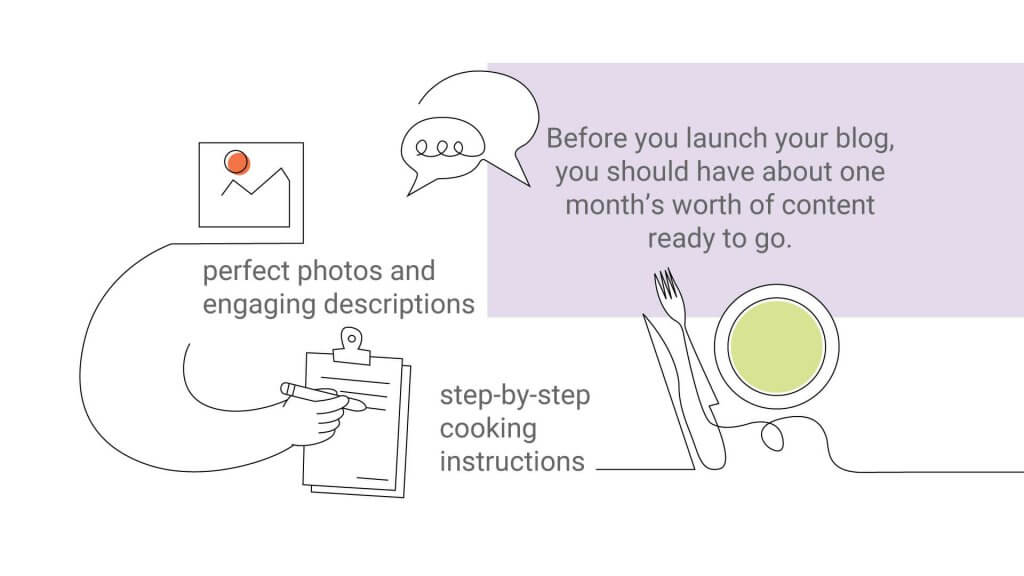 Setting Up Your Food Blog
Popular blogging platforms and affordable web hosting makes setting up a blog easy. The following sections describe the steps you'll need to take.
Choosing a Blogging Platform
When you look at the wide range of blogging platforms available, you find a common feature set that includes a content editor, design templates or support for themes, SEO tools, and ways to extend your blog's features with third-party apps. What makes some blogging platforms better than others is their approach to providing those features.
Some platforms limit your flexibility, lack useful capabilities, or cost too much. The most turn-key solutions, which include hosting services and provide preconfigured website designs, may seem attractive, but they aren't cost-effective in the long run, and those platforms can lead you to create a cookie-cutter blog site. The best option for bloggers who want the right combination of flexibility, simplicity, and low cost is WordPress.org. This solution doesn't include hosting or a domain, but the wide availability of WordPress web hosting makes that a nonissue.
WordPress is the world's most popular content management system (CMS), providing a simple framework to design, publish, and manage a website. It supports thousands of professionally created themes, many of which are designed specifically for blog sites.
As a web-based CMS, WordPress allows you to manage your site from anywhere. WordPress offers a variety of site-building options, with sophisticated drag and drop tools that require no coding experience, plus there are numerous plugins and integration options. WordPress is the perfect blogging platform for users with any level of web design experience.
Finding a Web Hosting Provider
While some blogging platforms include web hosting, the best choice, WordPress.org, does not. When you create your blog using WordPress, to publish the contents, you'll need a hosting provider. Due to the CMS's popularity, many hosting providers have full-featured service offerings built around WordPress.
HostPapa, for example, offers low-priced hosting plans that feature a one-click WordPress setup and include free domain registration, a free standard SSL certificate, unmetered bandwidth, and ample resources. Perfect for bloggers, HostPapa's lowest-priced plan also includes world-class support, free training, and a collection of features that make creating and managing a blog easy.
Selecting a Hosting Plan
When you explore the web hosting market, you'll find low-cost shared hosting plans, where one computer runs many websites. It's the most affordable type of hosting and ideal for your blog. The best shared hosting plans are built around WordPress.
WordPress hosting providers are competitive, offering low pricing and generous feature sets designed to attract new customers. Low introductory rates are limited to the first year only, as are offers of a free domain and SSL certificate.
Look for a provider that offers a rate that's initially under $5 per month and renews for between $10 and $15 per month. The plan you select should include free domain registration, a free SSL certificate, and web space and bandwidth allotments that support your blog content and traffic. In the field of good WordPress hosting providers, some are great, offering everything described above, plus world-class support and free training.
Naming Your Food Blog
Like the engaging content you post, the name you choose for your blog will make it stand out and will help define your brand. Your blog name should be short, niche-specific, and reflect your unique approach. Since it's best to use your blog name, or some form of it, as your domain name, be sure to pick a blog name that works as a domain name.
Brainstorm blog name ideas and come up with three or four names that meet the above criteria. Mull them over and discuss them with friends. Soon you'll settle on the right name – one that's unique, memorable, and perfectly captures what your blog is about.
Buying a Domain Name for Your Food Blog
Choosing the right domain name is important for creating a memorable online presence. Ideally, your domain name will be the same as your blog name. When you have a short, niche-specific name for your blog, you can use that name as your domain name to create a consistent brand identity.
You can get your domain name registration through your hosting provider. While you'll probably get the first year of domain registration for free, there's an annual fee you'll have to pay to keep your domain name. Expect to pay between $10 and $15 a year.
Selecting Your Food Blog Theme
There are hundreds of WordPress themes that were designed specifically for blogs, so finding the right one for your food blog should be easy. You should check out the themes featured on WordPress.org, many of which are free. You can also find great food blog themes on the ThemeForest website.
Below is a small sampling of food blog themes to give you a sense of what's available.
The Neptune theme, licensed at $69, features a responsive layout that looks great on any device. You can choose from seven site designs and three recipe page layouts. This theme offers user-friendly navigation and helpful features that make it easy to include nutritional data, steps, photos, and serving suggestions with every recipe.
In addition to having an eye-pleasing layout great for food images, the Braise theme includes recipe card templates and loads of features that make managing your recipes easy. A $69 license gets you regular updates and six months of support.
Blog Foodie has an easy-to-navigate layout that's perfect for sharing recipes. It looks great on mobile devices and it's SEO optimized. There's a feature-rich free version of this theme, and you can get the Pro version for $59 to gain access to a specialized header menu, a dark and light version, multiple homepage designs, and more.
The Foodielicious Blog theme looks great, and the Lite version is free. It's designed to enhance your blog's SEO, featuring a responsive layout that makes your pages load fast and give readers a wonderful experience. This theme was created with marketing in mind, providing advertisement space that will get your ads noticed without overshadowing your content.
With a license priced at $69, Lahanna is not cheap, but this theme's eye-pleasing design can really make your food blog stand out. It features a recipe management system, a filterable recipe index page, and many more food-blog-friendly features.
A minimalist approach sets the Elegant Recipe Blog apart from the crowd. Licensed at $49, this theme will give your site a simple, effective layout. The Elegant Recipe Blog integrates with the WP Recipe Maker Plugin, which makes a food blogger's job easy and presents recipes in a format that readers love.
The Food Blogger theme, licensed at $57, features a minimalistic style that's great for presenting recipes and food photos. The menu bar simplifies the task of breaking your recipes into categories and readers will love the simple navigation.
Rebecca Food is an awesome free theme that has a subtle design and presents food photos and recipes in a pleasing way. There are customizable advertising boxes, three blog layouts, an Instagram feed widget, and multiple ways to personalize the look of your site.
The TinySalt theme has a fresh look that will get your food blog noticed, and a license only costs $54. TinySalt allows bloggers to choose from multiple layouts and it makes recipe management a breeze. This theme plays nicely with WooCommerce, MailChimp, and other popular WordPress plugins.
Foodicious has a clean, dynamic grid layout and a highly customizable design. The license to use this theme is $30. There's a widget to add social profile links and share buttons, plus a lot of other features food bloggers love.
Nutmeg is a free, mobile-friendly theme that's perfect for food blogs. It integrates seamlessly with WordPress's built-in editor, and it is compatible with bloggers' favourite plug-ins, like WP Recipe Maker and Delicious Recipes. The efficient design of this theme will make your pages load fast, pleasing search engines and visitors alike.
Launching Your Food Blog with WordPress
After you've taken the required planning steps, you're ready to launch your blog. If you choose a great hosting provider, the process should be painless. Using the premier provider HostPapa as an example, here's how easy it can be to roll out your food blog:
Select your hosting plan. When you access the HostPapa website, you'll see a range of competitively priced hosting plans. The Starter plan lets users run a single website and comes with free domain registration, a free standard SSL certificate, and 100 GB of storage. That's a perfect hosting plan for food bloggers.
Enter the domain you decided on. This happens very early in the signup process – the provider needs to validate your selected domain name. You'll get the chance to verify that the domain name is available and see the price.
Enter personal information and billing details. You'll see the total price for the selected service period, plus what you'll pay for domain registration, an SSL certificate, and any selected add-ons, as applicable.
Access WordPress. HostPapa's Starter plan offers a one-click WordPress setup, so getting your WordPress workspace up and running is incredibly easy.
Install your WordPress theme. With your selected theme installed, you'll see your blog come to life. You will be able to explore how recipes are managed and you can begin tweaking the layout, so your blog looks exactly how you want it to.
Install WordPress plugins. Extend the functionality of your blog with WordPress plugins like Yoast SEO. Consider Jetpack, which enables social media sharing and provides site performance statistics. There's also Contact Form 7, which makes it easy to create a form that encourages visitors to become followers.
Set up Google tools. Google Analytics Dashboard tracks useful site statistics, and the Google Search Console is a must-have tool for keyword research.
Publish your initial content and promote your blog. With your website set up and ready for content, you can publish your initial set of recipes and start letting the world know about your new food blog.
Managing Your Food Blog
Keeping your content fresh, maximizing reader engagement and tracking blog performance stats are all part of managing your blog. The sections below cover some of the basics of blog maintenance.
Create a Food Blog Content Plan
Posting regularly is an absolute requirement for food blogs. If your posts are infrequent and sporadic, repeat visits to your site will be rare and you'll have trouble gaining loyal readers.
Here are some tips for creating a solid content plan for your food blog.
Set a publishing schedule: Your readers will appreciate seeing a new post from you on the same day every week. A predictable flow of content engages visitors and keeps them interested in what you'll publish next.
Plan a couple of months out: A one- or two-month content schedule will keep you aware of all the new content you have to create and help you stay ahead of the game.
Plan for required images and video: All your posts will require photos, and you may want to post some of your recipes with instructional videos. Having pictures and videos ready on the day you want to publish requires foresight, so it's smart to capture those requirements for all planned posts.
Post recipes your readers will like: After your blog has been up for a while, you can gather data about which recipes are most popular among your readers and use that information to decide on recipes to include in your content plan. In the early days, right after starting your blog, you may consider creating a poll or a survey to learn about your readers' food preferences.
Get inspiration from other blogs: If you follow other food blogs, they can be a great source for ideas about what to post on your blog. The content of especially popular or high-profile blogs can reveal a lot about food trends in your niche.
Plan social media posts: For every new post you have scheduled, you should write a related social media post. Giving your social media followers a heads-up about your new post will help drive them to your blog.
Creating a content plan is the best way to stick to a publishing schedule. Working on your content plan will also spur you to consider what your readers will want to see in the coming months and remind you to plan for seasonal shifts in the types of recipes you publish.
What's in a Food Blogger's Bio?
Your bio is how visitors will learn about you and your connection to the food you write about. It's a part of your website that can have a huge impact on reader engagement and help you promote your blog.
Here's an example bio of a fictional food blogger, followed by a few tips for writing a great bio for your blog.
I'm Sandy Bakewell – I love cooking, serving, and eating French food! I started cooking when I was young, helping my mother in the kitchen, and like her, I was drawn to French cuisine. Twenty years and a BA in Culinary Arts later, my connection to French food has gotten stronger and I'm loving life running a successful brasserie in Salt Lake City, Utah. With this blog, I'm overjoyed to be able to share my recipes and food stories with you. Please try my recipes and share the results! Follow me on Instagram for updates, readers' food pics, and more!
Be brief: Your bio shouldn't exceed 100 words. You can accomplish what you need to with a few carefully worded sentences.
Consider using a 3rd person perspective: While the example above is written in the 1st person, you may feel more comfortable bragging about yourself in the 3rd person, as in "Sandy Bakewell graduated at the top of her class from the Le Cordon Bleu."
Prove you're a credible source: You don't have to have a degree or run a restaurant to prove you know your food niche. Your bio should explain how you got into the type of food you post about and mention the level of knowledge you have on the subject.
Offer authentic details about yourself: You want your bio to feel personal and give readers a real sense of who you are. Include something that reflects your personality.
Link to a social media channel: Pick your most effective social media platform and let readers know you're eager to engage.
If you create a short bio that explains your connection to your niche and genuinely reflects your personality, readers will feel more engaged with your content.
Can You Post Someone Else's Recipes?
While your blog posts should be original recipes that you have created and perfected, there are cases when you may want to post another cook's recipe.
Posting other people's recipes is OK if you give the creator credit, and there's a way to handle it that can be beneficial for your blog. Having another food blogger contribute to your blog in a guest post, where you get to post on their blog too, will help expand the reach of both blogs.
Use Google Tools Early and Often
Google Analytics and Google Search Console are vital tools for attracting new visitors to your blog.
Use Google Analytics to track blog traffic. You can see which posts get the most views, find out the average amount of time readers spend on your pages and examine data about how many people came to a page from outside of your site. You can use the information provided by Google Analytics to adjust your content plan so you're publishing the kinds of recipes readers are most interested in.
Use Google Search Console to monitor and maintain your blog site's presence in Google Search results. Search Console enables you to verify that Google can find your site and crawl its contents. It identifies and helps you fix indexing problems that can hurt your SEO, examine traffic data for your site, and get alerts when there are spam attacks or other site problems. You can also get a list of websites that link to your blog, troubleshoot responsive design issues, and more.
Every blogger should get familiar with these Google tools and use them frequently to ensure their blog delivers an awesome user experience and is attracting as many people as possible.
Promoting Your Food Blog
The best way to promote your food blog is through social media. You'll find a community of people who love the type of food you blog about, and by actively engaging them, you'll create a compelling online presence for your blog. In this section, we'll look at six great ways to promote your blog.
Social media: By managing an account on Facebook, Instagram, and Pinterest, all representing your food blog, you'll define a unified brand image that sticks in the mind of readers. Establishing such an image gives your blog a strong online identity and lends legitimacy to your content. Posts should highlight your most popular recipes and enthusiastically encourage people to visit your blog. You should post regularly and respond to all comments.

SEO: Search engine optimization ensures that, when people search using keywords related to your content, their search results will include a link to your blog. Tools like Yoast SEO, an easy-to-use WordPress plug-in, help with keyword research and effective keyword usage. Your recipe titles and topic headings should contain keywords that aren't too generic. People who search for "ramen" will get a lot of search results, and your blog probably won't be one of them. However, if your keywords are "vegan buckwheat ramen for four," the most interested people will find your recipe.

Share buttons: Your blog should make it extremely easy for readers to share your recipes. By prominently displaying a share button on recipe pages, you'll encourage visitors to send a link to one of their friends, and in the process, promote your food blog to a potential new follower.

Email outreach: Followers and new readers should be encouraged to sign up for your email newsletter. Make your emails as beautiful as your recipe pages and social media posts. Avid followers will appreciate your content in email form and readers who may have forgotten about you will get a gentle reminder that they should regularly check in with your blog.

Guest blog posts: Reciprocal guests posting with a fellow food blogger works out for everyone involved. Both bloggers get one of their recipes in front of a new audience, and the followers of both blogs are treated to a new food perspective. Try to swap guest posts with a blogger whose niche is related to your but not an exact match – you want your guest posts to be complementary, not competitive.

YouTube channel: A series of cooking tutorials, where you prepare your recipes for viewers, explaining every ingredient and cooking step as you go, can earn you a lot of new blog followers. By creating a YouTube channel and regularly posting new videos, you can boost your food blog's visibility and increase opportunities to generate income through ads.
With active social media engagement, you can reach out to an interested community, attract new readers, and encourage current followers to visit your blog frequently. If you also pay attention to SEO, focus on email marketing, and encourage readers to share your recipes, your blog will gain a lot of loyal readers fast.
Monetizing Your Food Blog
Do you want to make money with your food blog? There are several ways to do it.
Sell ad space: Google AdSense lets you identify ads that are related to your content or will be of interest to your audience and display them in your blog's ad space. This can be a nice source of passive income.
Charge for premium membership: If you have a large library of recipes that you're slowly publishing according to your content schedule, some readers may want early access. By opening your recipe vault, making recipes searchable, and allowing users to mark favourites and save notes, you can add enough value to justify charging a small fee for premium membership.
Publish a cookbook: When you've posted enough recipes and have a reasonable number of loyal readers, you may decide to create and sell a cookbook. A nicely compiled collection of your most popular recipes can delight readers and make you money. Self-publishing is an affordable option if you want to order a small batch of physical books, or you can easily create a professional-looking eBook.
Offer online cooking lessons: You can run a Zoom session and walk students through the process of making your recipes. It's a premium add-on that you can gently sell to readers throughout your content and in social media posts.
Try affiliate marketing: Affiliate marketing is a way to make money by including links in your posts to promote someone else's product or service – a line of chef's knives or a niche-related cooking school, for example. The affiliate handles the marketing – all you have to do is encourage your readers to click the link. You'll make money for every new customer you help the affiliate get.
Use your email list: Any monetization strategy you pursue will benefit from a large audience that you can connect with regularly. Sending a monthly newsletter gives you a chance to highlight your offers outside the context of a blog post. By using an opt-in tool to gather a list of subscribers, you'll be able to reach out to a subset of your readers who are most likely to buy what you're selling or promoting.
While it's not something you can do in the beginning, there are great ways to make money from your blog after you have some traction. You can write about the food you love and get paid to do it!
Start Your Food Blog Today!
As you can see, starting a food blog is not that complicated. Finding your food niche might take some effort, and there's a lot of recipe planning and photography in your immediate future, but if you're dealing with a food niche you love, it won't feel like work.
The technical side of getting on the internet shouldn't intimate you at all. A top-level hosting provider will have a plan that's perfectly suited to blog websites, and WordPress will make creating your site easy. If you choose HostPapa's Startup plan, for example, you'll get a great deal, incredible plan features, and a free training session that's ideal for beginning bloggers.
You have the recipes. You have the passion. The steps are laid out and very doable – start your food blog today!