Consistently ranking high in search results is crucial for your online business, and savvy website owners know that high-speed web hosting is an essential element of any SEO strategy.
Experienced website owners don't just fix their slow websites, but improve them on so many levels – one of which is choosing web hosting services that cater to all their needs.
Google uses page speed as a metric in ranking your website. A webpage's load time affects user engagement, so a sluggish performance leads to a high bounce rate. Pages that load fast are easier for search engines to discover and index.
at the impact page speed has on SEO. We'll discuss how opting for a provider specializing in SEO web hosting is a way for small business owners to ensure fast page speed and take control of their SEO strategy.
The Impact of Page Speed on SEO
A page load time is the amount of time required for it to load in a user's browser, and it's a crucial factor in SEO.
Are you wondering what your most active web page's speed is? You can find out using Google's PageSpeed Insights, a free tool that provides a detailed speed report based on the same metrics Google uses to analyze your website performance.
If your website speed optimization isn't great and you want to improve it, you must understand how page speed affects your SEO.
Google Measures Page Speed & Uses It to Rank Your Site
The most significant impact of page speed on SEO is tied to the fact that Google uses page speed as a ranking factor. Google measures how long it takes your page to load, assigns your site a speed score, and then uses that score as part of the criteria to determine your position in search results.
Google is transparent about many details of its ranking algorithm, publishing SEO guidelines to help site owners maximize traffic. Google's ability to find and index your content includes several factors related to page speed, including how your site is structured, if your images are optimized, and how mobile-friendly your site is.
The connection between page speed and search rankings shows that high-speed web hosting should be part of your SEO plan, but let's dig deeper.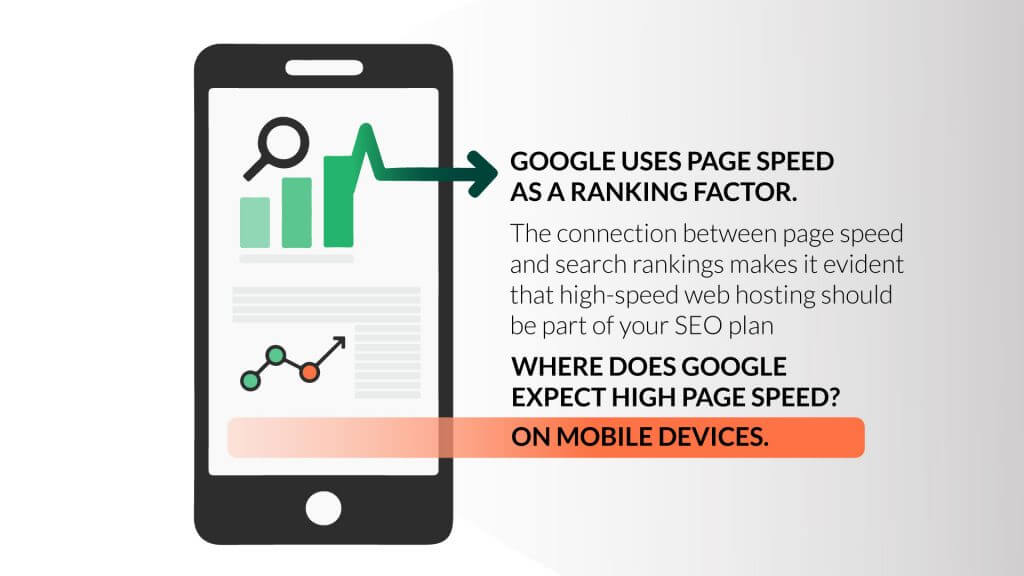 Fast-Loading Pages Engage Users, Lowering Your Bounce Rate
Google's ranking algorithm includes many factors, but when viewed as a whole, its approach centers around one priority: to optimize the user experience.
Pages with a short load time are more likely to engage users, which results in a lower bounce rate and a higher average dwell time. Both factors are ranking signals, so if many people leave your site because of slow-loading pages, it'll negatively impact your SEO.
Where does Google expect high page speed? On mobile devices.
Google has been ranking sites based on mobile-friendliness for a while, but it's about to get serious. In March 2021, the company will finalize a long-term effort to implement mobile-first indexing. This means their algorithm will ignore the desktop version of a page's content when evaluating relevance. You should ensure your content is the same in the desktop and mobile versions by the time this change kicks in.
To fully address user experience as part of your SEO strategy, seek SEO-focused web hosting to help you ensure high page speed, with a laser focus on how your site performs on mobile devices.
High Page Speed Makes Your Site More Crawlable
When your web pages load quickly, search engines' web crawlers can easily find them and discover and index your content. Google can't return search results for content it's never seen, so ensuring your site is crawlable should be at the top of your SEO to-do list.
If a search engine finds slow-loading pages or errors while trying to index your content, it moves on. This happens even if some of your content still needs to be indexed. If it happens repeatedly, your site could be flagged as unreliable, pushing it out of top search results.
An SEO-focused web hosting provider will make your site easier for search engines to crawl. They'll offer hands-on help in addressing common technical issues related to web page speed, like optimizing images, ensuring a simple URL structure, and making your links crawlable.
Overseas Page Speed Matters
How your website performs for users in other countries greatly affects your SEO.
Search engine results are localized – using the same set of keywords, the listings in one country will differ from those in another. Your ranking in other countries will be based on how fast your web pages load there. If you end up with a slow website, your bounce rate will increase. And if web crawlers experience the same slowness, your search rankings will suffer.
SEO-focused hosting providers control this by using a content delivery network (CDN). It's a network of servers in different locations worldwide that send content to users near those servers. The main copy of your content is stored on a primary host server, and remote servers keep a cached copy.
CDNs enable fast data delivery regardless of a user's location, an SEO web hosting factor you should pay attention to.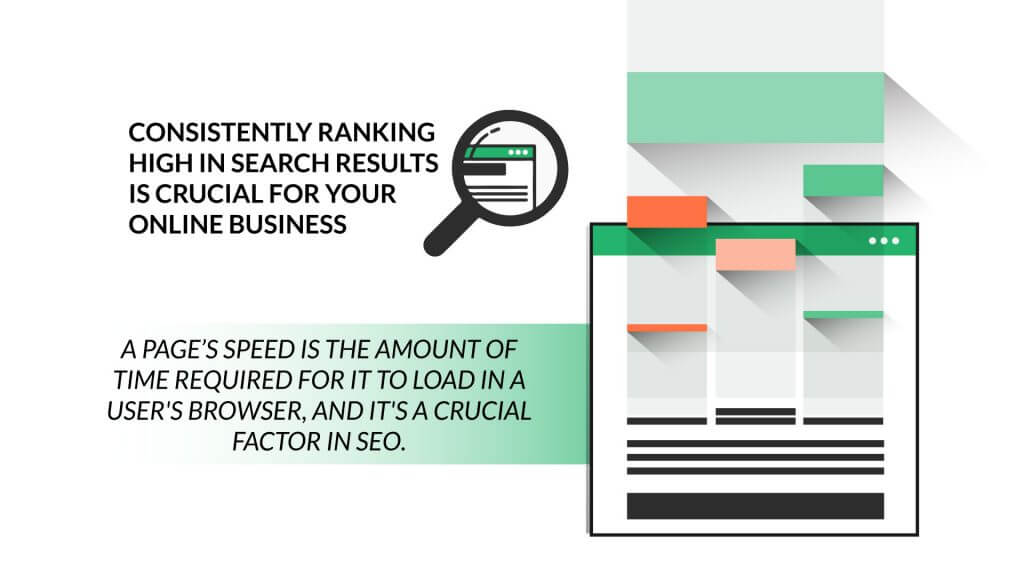 Factors That Affect Website Performance
Whether you're building on our WordPress hosting plan or using a website builder for this process, focusing on the site's performance is a win-win-win scenario!
A website builder, such as the one by HostPapa, is designed to bring you online in just a few clicks and has great SEO compared to other similar solutions.
In the section above, we focused on the impact of page speeds on SEO, but you have to be aware of all the other elements that come into play. Here are a few key factors to remember:
Web hosting: The tip of the iceberg! Your web hosting provider plays a significant role in website performance. A slow, unreliable hosting service can cause your site to load slowly, leading to frustrated users and lost revenue, especially for eCommerce stores.
Website design: The design of your website can also impact its performance. Websites that are overly complex or use too many large images or videos can take longer to load, which can lead to higher bounce rates and lower user engagement.
Content optimization: The content on your website can also affect its performance. Large or uncompressed images, poorly optimized code, and excessive scripts or plugins can all slow down your site and cause performance issues. Also, remember to write quality content!
User location: Finally, the location of your users can also impact website performance. If your website is hosted in a different country from your target audience, it may take longer to load for users farther away.
How Web Hosting SEO Ensures Fast Page Speed
Small business owners can benefit from working with a hosting provider that maintains high-performance servers and uses a CDN to ensure a great user experience, regardless of a user's location. With the consistently high page speed these providers can deliver, one of the most important parts of your SEO will be taken care of.
An SEO hosting provider will help you address all SEO aspects of your website. In addition to web hosting features such as fast page speed and a 99.9% uptime guarantee, the best providers offer SEO tools, help customers with site optimization, and include SEO-boosting security features.
SEO-focused providers offer managed WordPress hosting plans that address everything we mentioned above and more. WordPress web servers are lightning-fast and optimized with enhanced content caching. Search engines look for a fast server response time, and you can get that if your CMS helps you with image compression, optimized HTML, and lightweight themes.
Taking managed WordPress hosting to another level, HostPapa also offers Optimized WordPress Hosting. Plans include the latest WordPress version and access to more than 100 free professional themes. Your site will live on a web server optimized for WordPress, ensuring enhanced speed, reliability, stability, and security.
As your business becomes more popular, you'll need more resources from your hosting services. Here's where a virtual private server or dedicated hosting service comes into play. VPS is a highly affordable alternative to dedicated servers that can be costly for small businesses. For growing businesses, a VPS hosting plan offers additional, dedicated resources that scale accordingly, offering excellent page load times in the process.
Dedicated server resources are significantly increased compared to shared hosting plans, giving your website a strong boost in performance. Plus, VPS hosting can work wonders if you have multiple sites and need extra headroom.
Conclusion: The Web Hosting Service Is Half Your Website Speed Optimization
Thanks to the Cloudflare Content Delivery Network integration, performance is guaranteed, regardless of your users' or web developers' location. A reliable and fast web host will definitely make your website shine, especially if you follow all the best practices to improve your site's performance.
HostPapa's Optimized WordPress Hosting is a service that considers every part of the SEO picture to let customers enjoy the benefits of consistently high web traffic. This hosting package also offers built-in WordPress security features plus a free SSL certificate.
The fact that Google uses page speed as a ranking signal is a compelling reason to prioritize high-speed web hosting when implementing your SEO strategy. In this article, we've explored this and other factors, like the impact of page load times on user engagement, site crawlability, and long-distance performance.
We hope we've put you on the right track to leverage SEO-focused web hosting and grow your small business!
Enjoyed this post? Hop onto the HostPapa Blog to find more exciting topics about web hosting!