Getting a website online can be a complex process, and much of the work, functionality, and final design hinge on the type of web hosting you choose, and the technology (servers) used by the provider.
Technically, you don't need a hosting provider to host a website. Any computer can act as a web server. But, setting up a server is complicated, and there's a lot to account for. That's why most businesses work with web hosting providers, who use dedicated machines capable of offering the best performance and highest security.
At a glance, many web hosts may seem to offer similar service with slight variations in price. But look closer, and you'll see significant differences. Not all hosting providers offer the same levels of service, storage, features, stability, protection, and scalability.
Each of those can have a significant impact on business. For example:
Choosing the right web host is critical in protecting the scalability and revenue of your business. In this guide, we'll cover everything you need to know to make a confident, informed decisions when choosing the web host to use for your next website.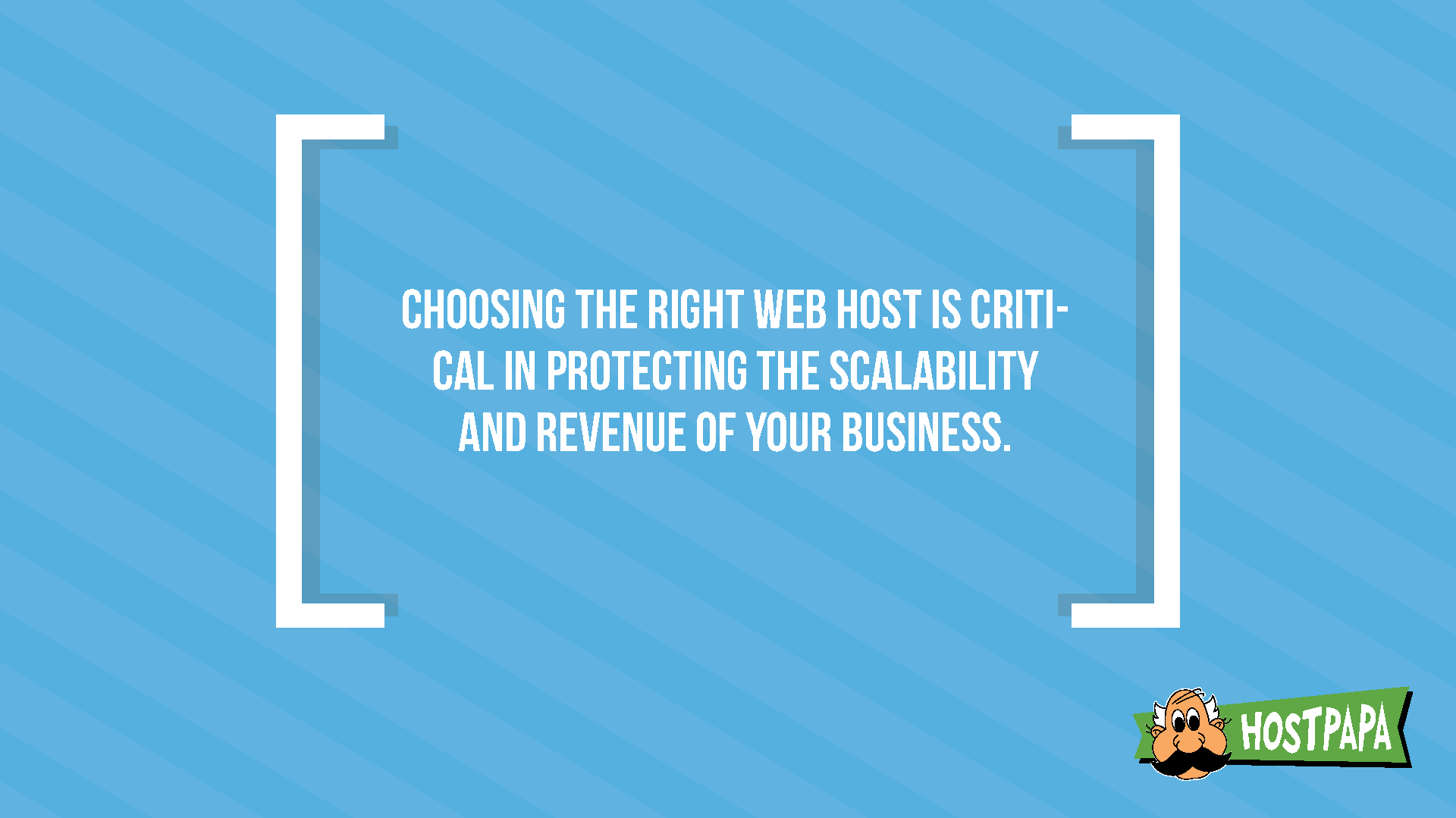 Define Your Goals and Hosting Needs
Before you can select a web hosting company, you need to identify what your hosting needs are and the goals of your business in the coming months/years. Consider long-term goals, because while you may not have a high-traffic website as a startup, a significant level of growth could force you into a costly migration to maintain service levels.
To determine your hosting needs and the type of servers, services, and site architecture you'll require, ask yourself the following questions:
What kind of website are you building – will it be primarily a source of company information or will it require more interactive elements?

What functionality will your site include – will you have a customer database, and will there be a transfer of private and secure information?

What kind of traffic growth is expected – will it be a blog that sees steadily growing traffic over time, or an eCommerce site that can experience intense traffic spikes?

Will you need to host multiple websites at multiple subdomains for your site?

Do you plan to scale up and add new functionality as the business grows?

Will you require software integration now or in the future, with 3rd party software (think accounting software, customer relationship management software, ERP, etc.)

Do you anticipate any special coding needs for your site (php, java, .net, etc.)?

What kind of content is being served – will you need a significant amount of reliable bandwidth for an ever-growing audience?

How many pages will your site have – some providers limit the number of pages permitted with value/economic hosting plans.

Is your site critical to the success and growth of your business – how will downtime impact your revenue? Is uptime a critical factor?

Will you need email hosting with your site?
Take the time to answer these questions while making note of your technical and growth requirements for the future. That makes it far easier to determine the features you need and the ideals hosting plans for your site.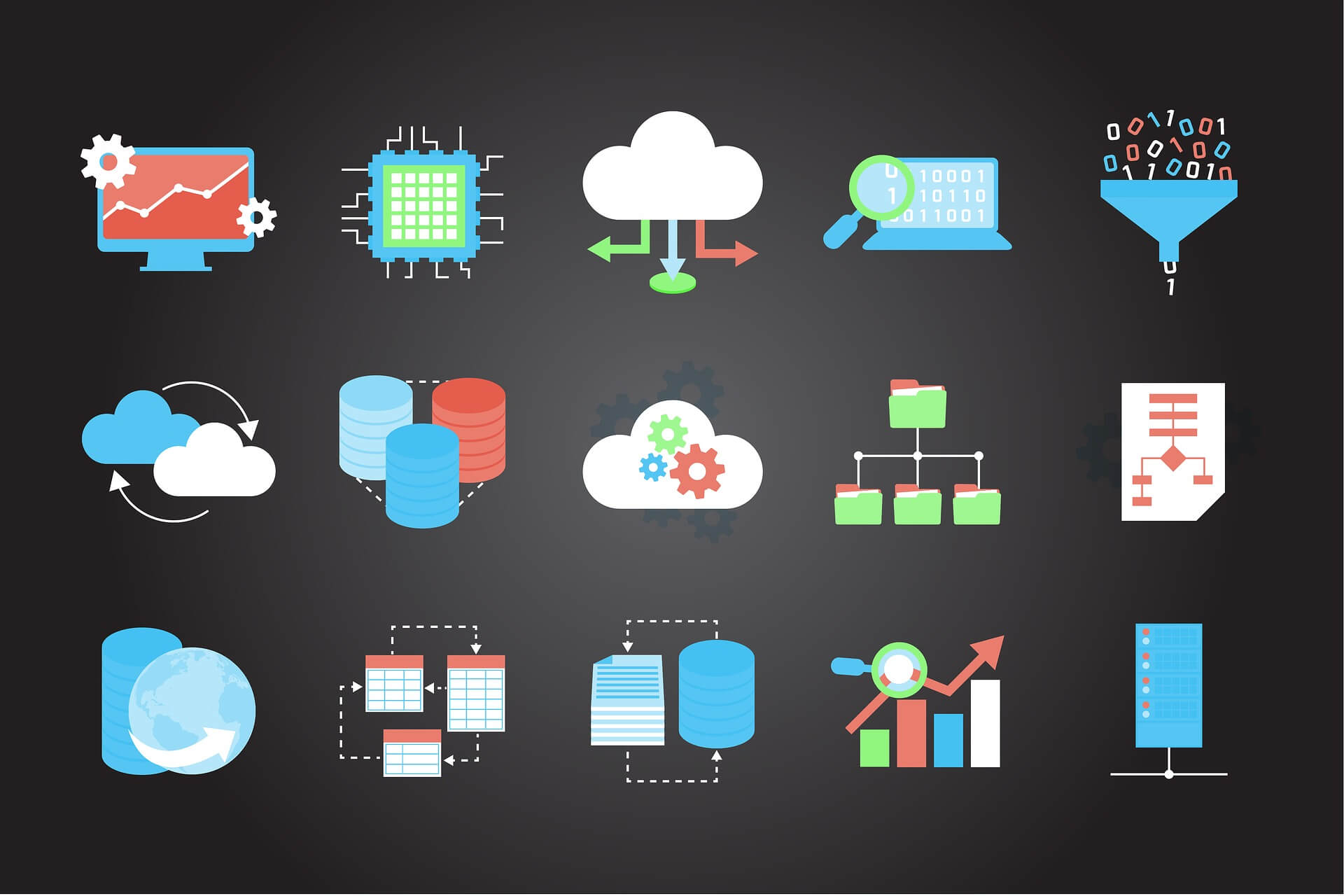 Hosting Plans to Choose From
Web hosting companies typically offer one or more different types of hosting plans, based on the technology or servers they operate and the scale of the infrastructure, often with consideration for the audiences they intend to serve.
For example, some of the world's largest web hosting companies provide complex dedicated and private hosting plans geared toward massive enterprises with expansive website needs.
The benefit to this level of website hosting is the servers aren't shared with anyone, so activity and traffic to other sites will never impact your own performance. That means performance is predictable and consistent.
The downside to this level of hosting is, the cost of dedicated hosting and server rental quickly exceed the cost of hardware purchases, especially for larger enterprise sites that require more storage space and/or memory. There are significant upfront costs with this level of hosting, and you'll need a much higher level of technical knowledge.
For startups and small to mid-sized businesses, shared web hosting is the most popular and commonly chosen type of hosting plan.

What is Shared Hosting
With shared hosting, your website shares a server with several other websites, securely isolated in their own sectors of the server. All the software resources and server hardware are shared among the sites hosted on that server.
The Benefits of Shared Hosting
Since the hosting provider fully maintains shared servers, and all you have, as the customer, is the monthly hosting fee, there are quite a few benefits to setting up and running your website on a shared hosting plan.
Shared hosting is affordable
Because the resources of a server are shared among customers, shared hosting is the most cost-effective and affordable hosting plan. Startups and growing businesses can get a new site online with minimal expense.
Shared hosting is easy to manage
Shared hosting plans offer access to a standard control panel, that makes it easy to manage all aspects of your hosting account from files to email accounts, sub-domains and more. The rest, from hardware maintenance to software and operating systems, is all managed by your hosting provider, so you have worry-free hosting.
Shared hosting offers simple integration
Hosting providers using an administrative control panel like cPanel, include features like one-click install for popular software integrations. If you plan to use a content management system like WordPress, for example, a single click will install WordPress in your hosting account and have it ready for customization.
Shared hosting is scalable
While shared hosting is ideal for smaller websites and new site launches, the nature of the service makes it an ideal option for scaling and growth. As traffic volume and the need for more resources increases, your website can upgrade to the next tier in shared hosting. This allows you to draw more bandwidth and storage without worrying about migrating your website to another service or web hosting provider to meet business needs.
The most scalable hosting providers offer virtual private servers (VPS) in addition to shared hosting. So, when your business finally reaches that point where you're outgrowing a shared hosting plan, you've got another alternative to move to without having to find a new hosting provider.
VPS is a step up from a shared server that offers some key benefits you don't get with traditional shared hosting; mainly better performance guarantees, since you get dedicated resources, better site security, since you have a dedicated environment, and more control at a root access level.
Even though virtual private servers still exist on shared server specifically for VPS accounts, each VPS has its own dedicated, allocated resources and the performance of one will never impact the performance of another.
While this may not be the hosting plan of choice for a startup, that ultimately depends on your business goals. Overall, VPS hosting is a great balance of price, performance, security, and privacy, if a business needs it.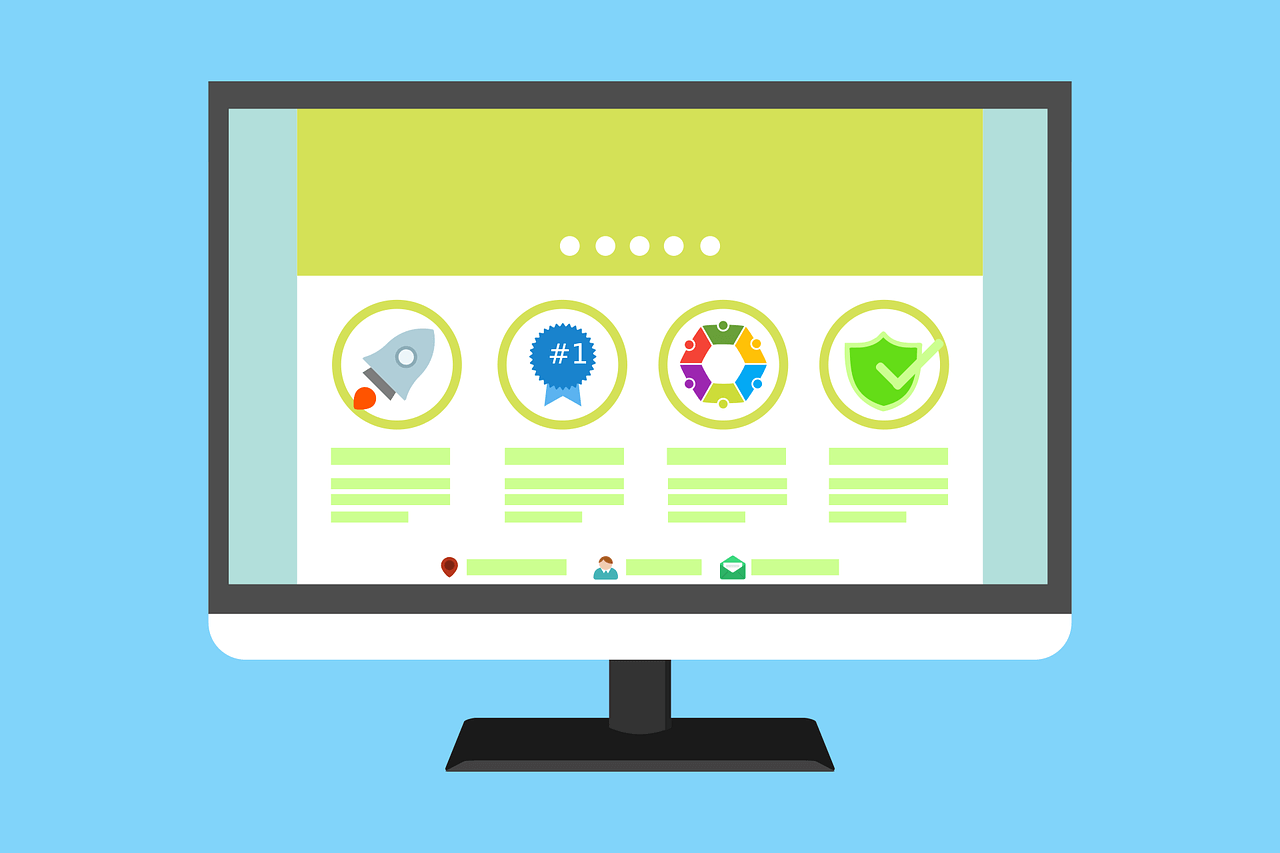 Understanding Functionality to Choose the Right Web Hosting Company
When choosing a hosting plan, you'll want to review the functionality and features offered by a web host, often in tiered plans, to ensure the features you need are available. Here's some of the most common functionality you can expect with most hosting plans.
eCommerce Options
eCommerce isn't a critical feature unless you plan on selling products, be they virtual/digital products available for download, or physical products that you'll sell online and ship to customers (or allow them to pickup at your store or facility).
Good eCommerce integration includes more than just the ability to sell products, and should include the ability to manage multiple payment options, automatic taxes, shipping management options, and secure processing and encryption of customer data.
Email Options
Email is an essential element of any business, especially those intent on growing a significant online presence. Choose a shared hosting platform that gives you control over your email, while also providing scalable options to pick up email enhancements and add more users as your company grows.
For assessing email options, pay attention to the number of email accounts or user accounts you can create, the cost per additional user, webmail access, email storage and archive storage, email aliases, and limitations on file attachments.
The Control Panel
Hosting providers don't typically program their own backend/administrative areas. Instead, they use existing software platforms, that allow customers to manage the various aspects and features of their hosting accounts.
The benefit to these interfaces is that most are designed to be user friendly, making it easy to adjust things like email, FTP, or manage databases and applications through a single user interface.
cPanel and Plesk are two of the most commonly used control panels in web hosting and the learning curve isn't steep at all, so even if you're not tech savvy, it won't take long to learn your way around.
Supported Scripting Languages
Websites and custom functionality are all done using scripting languages, and there are plenty of choices outside the norm (HTML5) that most people recognize. The type of scripting language supported will vary depending on the operating systems or server types a hosting company uses.
For example, a Windows-based hosting might support ASP, Active PERL, PHP, Python, SSI, Apache Tomcat, and some others.
A Linux-based hosting might support the same or similar languages, like PHP, but may not support JAVA, ASP, or JSP or specific components related to Windows.
Determine the language your site will be built with and verify that language is supported by your web host.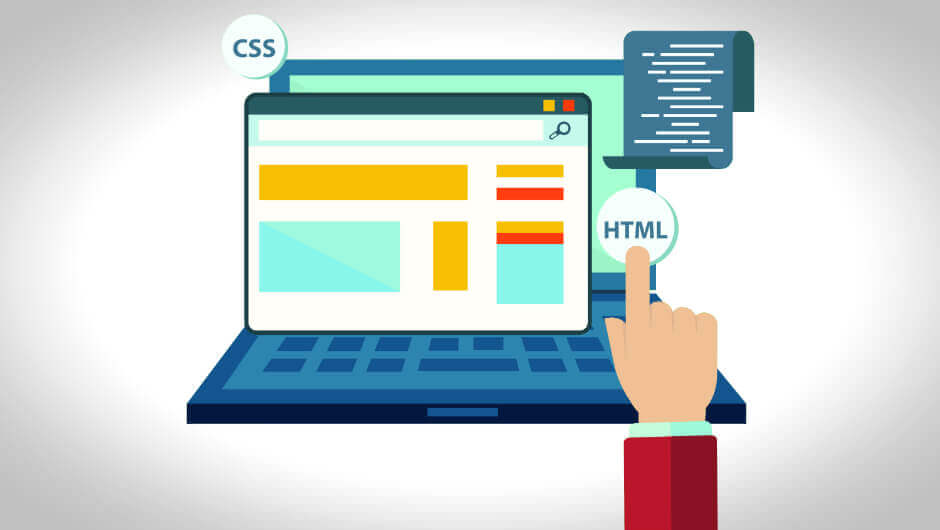 Website Builders
Building a website once your hosting account is configured is no small feat. For those who aren't technically savvy or familiar with coding and scripting languages, it might feel like the only option to developing a website is hiring a costly designer to build something from scratch.
Some hosting providers give you bonus tools, like website builders, making it easy to get your site online without any knowledge of languages like HTML or PHP.
What makes website builders so popular is the easy-to-use interface designed to function as a drag-and-drop environment. They're a lot like working within a Word document and are the fastest means to getting a site online.
A good website builder will even come loaded with professionally designed templates to give you a starting point. All you have to do is customize the template with your logo, images, and content to make it your own.
If you need a website builder with your hosting account, there are a few things to consider and watch for when comparing web hosting providers:
Tiered services are ideal – you may not need all the features and functionality when first getting started, so you don't want to pay for more than you need. Choose a host with a website builder using tiered services with different prices, so you can start small and scale up as needed.

Know your page requirements – some website builders limit the number of pages you can create using the platform. If you know you'll need 10+ pages for your site, you don't want to be limited by a website builder that stops you at 3 or 5 pages.

Look for templates – website builders make the whole process easier, but it's nice when you don't have to start from scratch. Ideally, find a builder that comes with a mix of premium and free professionally designed templates.

Customization – you might not need it early on, but at some point, you may want to dig deeper with customization, like editing the CSS of your site. Look for a website builder that provides access to advanced editing, so you can take control of the HTML and CSS, or even JavaScript, if you so choose.

A good support system – they're intended to be user-friendly, but you might still get stuck. Check into the kind of support offered for a website builder. Ideally, you want something that offers training and extended customer support, while also offering up a knowledgebase and self-help tutorials.
Scalability
Scalability is a major concern, and should be one of the key things you consider when choosing a hosting provider. As your business grows, you'll see a consistent and steady increase in website traffic, purchases, and queries on your website.
You'll also find over time that new features and functionality may be required to maintain the same level of service or to offer new services to your customers.
It's important to know that the web hosting company you choose is capable of scaling with your business. Here's what you should consider when comparing hosting plans and web hosting companies: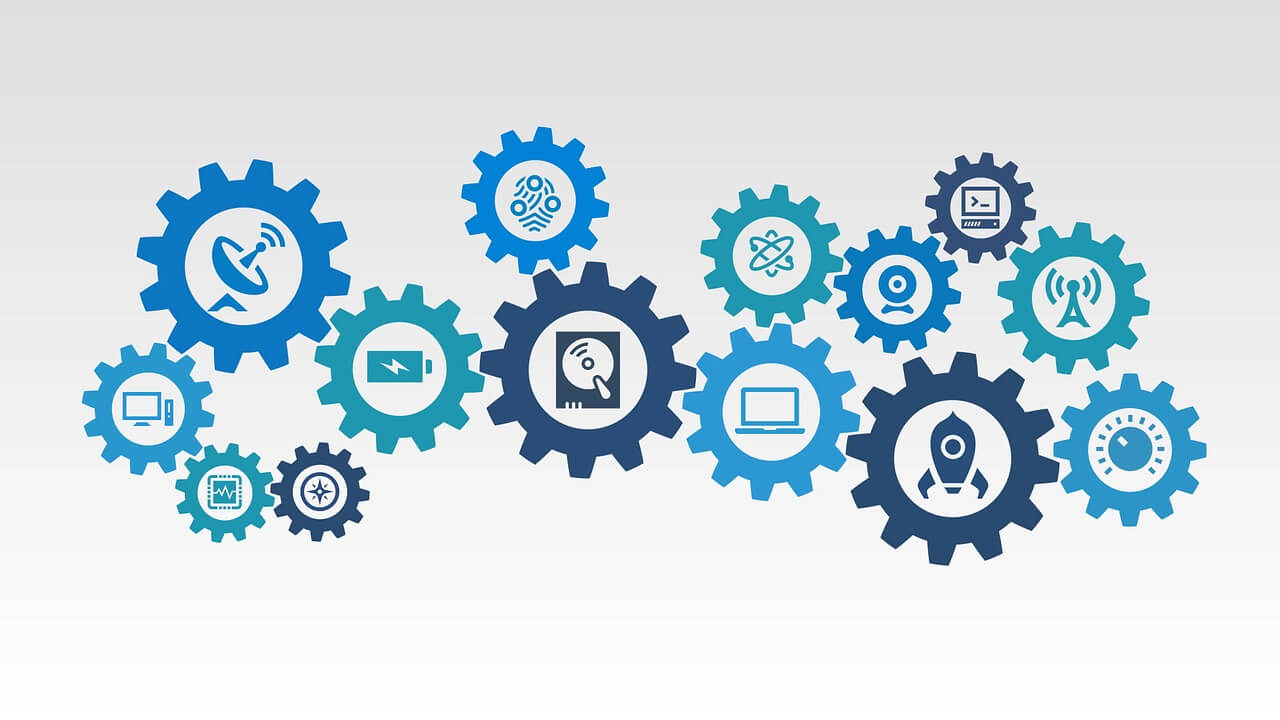 Variety in Hosting Plans
A scalable website host will offer a range of hosting plans from those with simplified features to more expensive plans that include a wider range of advanced features and functionality. A new website, especially for a small to mid-sized business in the early stages of online growth, isn't likely to need advanced functions and features like unlimited disk space and performance enhancements (like faster CPUs and more server memory).
Choosing a lower-tier reduces overhead costs and, with a variety of hosting plans in place, it's clear that as business grows, you'll be able to transition to a higher tier with more functionality. Most importantly, scaling up to a higher tier won't require any kind of server or host migration. You'll never have to take your site offline when scaling up with the same website host.
Data Storage
When comparing hosting plans you'll likely see lower-tier plans with limitations on disk space increasing incrementally to the top tiers offering unlimited disk space. Don't let storage limitations dissuade you from starting with a lower tier.
A starter tier with a storage limit of 50-100GB is plenty of data for most consumer and business websites.
Bandwidth
Bandwidth is the measure of the amount of data that can be transmitted in a fixed amount of time. This is usually expressed in bits or bytes per second for traditional consumer internet connections. For example, a home internet connection may connect at 60 Mbps. Bandwidth for your website is typically measured on a month by month basis.
Most modern hosting plans provide a lot of bandwidth, even at lower level or entry-level shared hosting plans. Be wary of any hosting provider that puts limits on bandwidth. While you're not likely to exceed bandwidth caps for average use, a sudden spike in popularity and site traffic could result in excessive overage charges for exceeding bandwidth caps.
In a situation where bandwidth limitations are present, it's a good idea to understand the cost of exceeding limitations, and what happens to your site once that cap is reached for the billing period – do you pay excess bandwidth fees, purchase additional bandwidth in blocks, or is your site forced offline?
Host and Server Reliability
Speed and performance are a major concern when it comes to scalability. While you're not likely to see any performance issues when you first launch your site, it's possible to see service and reliability falter as your business grows.
There's also the possibility for outages and network issues that could cause your site to drop.
When reviewing a website hosting company, look for information on its data centers, the equipment they use, and their uptime guarantees.
HostPapa, for example, works only with servers obtained through first-grade suppliers including HP and SuperMicro. The newest servers employed include 32 cores with a minimum of 128GB of RAM along with solid state drives. Our investment in cutting-edge hardware along with residing in a powerful and trusted data center (shared by over 150 major telecommunication companies) ensures customers always get blazing performance.
It also allows us to offer a 99.9% uptime guarantee.
This is the type of web hosting reliability you need – so no matter how rapidly your business is growing, there's never a performance issue interrupting your revenue stream.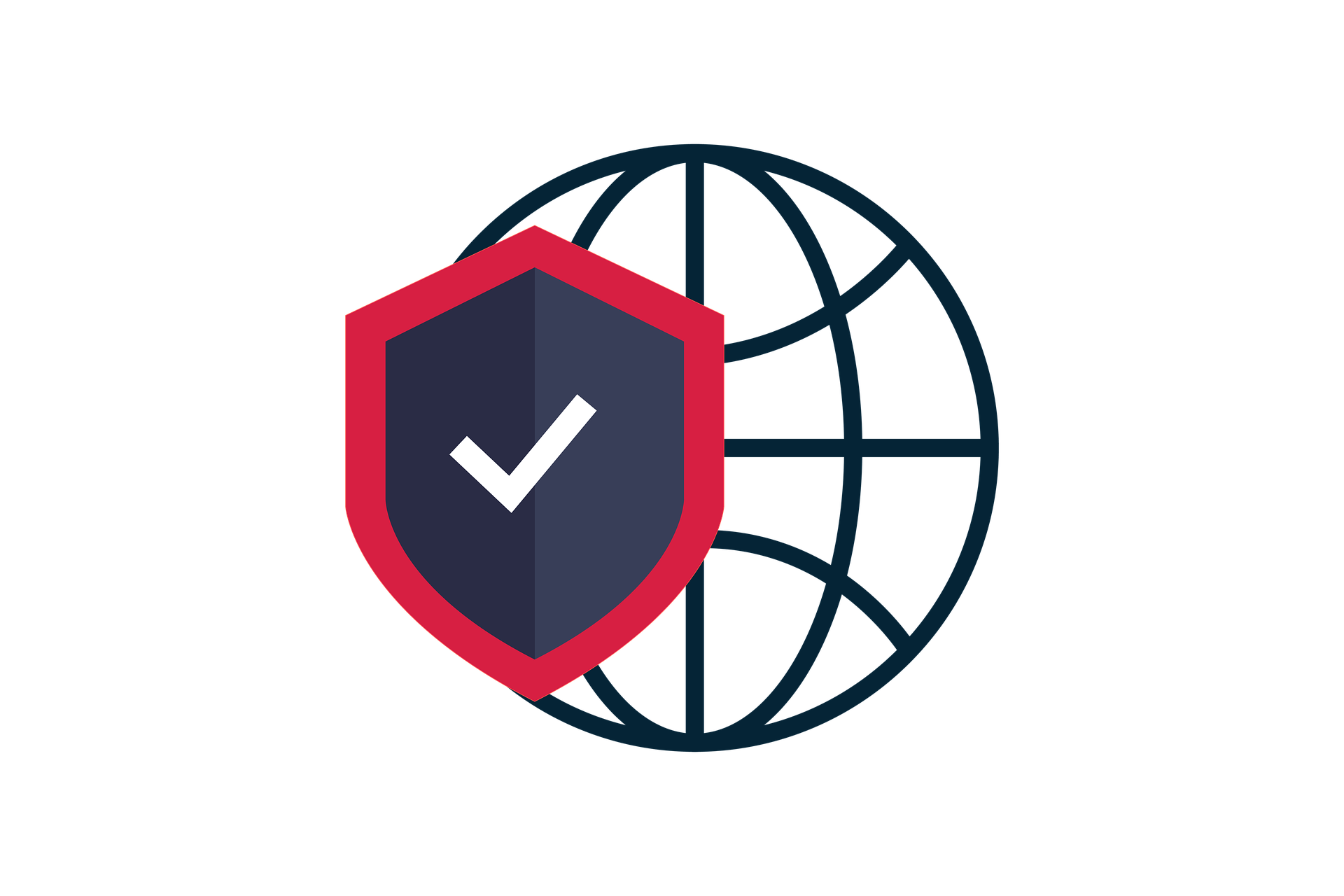 Assess the Security of a Web Hosting Provider
According to data shared by Forbes, some 30,000 websites are hacked on a daily basis. Likewise, 84% of online shoppers would abandon a purchase if they find themselves connected via an unsecure connection when shopping online.
Security should be one of your top concerns when choosing a website host, so your proprietary info, as well as customer data, is fully protected.
When you're comparing the security offering of a website host, look at things like:
Backups

– your hosting provider should provide regular, daily backups, in addition to giving you the ability to manually backup your entire site (and configurations) at will.

DDoS Protection

– does your hosting provider offer specific protection for Denial of Service attacks that can take a site and server offline?

Security

– critical security aspects to consider from protecting proprietary info to protecting customer data around breaches, why they're important to a business, and how they can impact growth, revenue, customer service, etc.

When you're trying to assess the security offering from your potential provider, it would be also worth looking into the type of hosting (Linux or Windows based) they offer and what covers better your security needs. As an open-source operating system, Linux has a very large network of developers that are part of an active support community—which makes a huge difference in identifying and solving specific system challenges. Look into the specifics of each company as HostPapa, for example, has in-house Linux experts that have seen and solved all of the most common hosting issues. That's why this might easily be the

best Linux web hosting

and the way to go forward for your business.

Redundancy

– a good web hosting provider will have multiple levels of redundancy. Don't be afraid to speak with a representative to ask if they use multiple levels of redundancy, such as network redundancy (maintaining multiple active connections to keep servers online), power redundancy (to ensure servers always have backup power), and hardware redundancy (so even if a drive in a server fails the websites won't go offline).

Monitoring

– verify that a web hosting provider uses active and automated monitoring. For example, HostPapa uses SiteLock to actively scan websites for potential malware and threats from hackers.

Data Encryption – all information should be kept safe. All sites, eCommerce or not, can benefit from Wildcard SSL certificates and domain privacy protection. Check the levels of encryption offered with a hosting plan.
Review the Customer Service and Support Offered by a Hosting Company
Something every business should keep in mind, is the level of customer service offered with a hosting account. Whenever there's an issue with your site, you want to know your hosting provider can be reached to fix the issue.
And the issue isn't always that a website goes offline. Any number of issues can impact your business:
Email connectivity

Slow load times

Errors with scripts and pages loading
No hosting provider can guarantee 100% uptime and error free hosting. When a problem occurs, it's not just a matter of being able to reach customer support – it's how you can reach them, and the solutions available to fix an issue.
Here are things to consider when assessing the customer service and support of a hosting provider:
Does service change with the hosting plan
It's not uncommon for some hosting providers to change the level of support offered based on the subscription model you choose. Some providers may limit the support of an entry level or lower-tier hosting plan in order to encourage customers to switch to a mid- to upper-tier plan for better support that's available around the clock.
Be wary of hosting providers who limit customer service based on how much you pay, or those who treat customer service as if it's another product or feature to upsell.
Customer support should never be a premium addon.
Availability
Availability of customer service is a big deal when you're running your business online. Unlike a brick and mortar store with operating hours, your website is online 24/7. Since your business is running around the clock, it's ideal to find a hosting provider who can match that with the availability of its customer service.
Because if your site goes offline late at night, or on a weekend, you should be able to reach a support representative immediately to report (and quickly resolve) the issue.
Methods of Contact
Readily available customer service doesn't mean a whole lot if you're not able to reach them. When setting up web hosting, pay close attention to the methods of contact a company allows for connecting with customer service.
A provider with multiple contact points is ideal. You may not be in a situation where you can make a phone call and need to send a form or open a ticket. Likewise, you could be without web access and the only available method of contact is a phone call.
The gold standard of customer service is a hosting provider who can be reached, and provides customer service via live chat, phone, social media, and email any time day or night.
Additional Training Services
Training shouldn't be a mandatory item where customer service is concerned. A hosting provider offering training and direct support, is going the extra mile to make sure, you know the essentials to make running your online business and managing your website a success.
Training can come in a variety of forms from direct, one-on-one training sessions, to training videos and webinars, teleconferences, and even on-site training.
Knowledge Base and DIY information
Sometimes what feels like a complex issue with a website is often a minor problem that can be fixed easily – often by you without having to wait for customer service to get involved.
The best hosting providers will have a knowledge base packed with DIY tips, video tutorials, and troubleshooting for common issues, that can arise during setup and operation of a website. In some cases, these knowledge bases are further enhanced by creating community segments where site owners and community members volunteer their time to help other customers with issues or questions.
This type of customer service is typically free and offers a lot of value, if you're not afraid of a little DIY and doing your own troubleshooting before reaching out to customer service.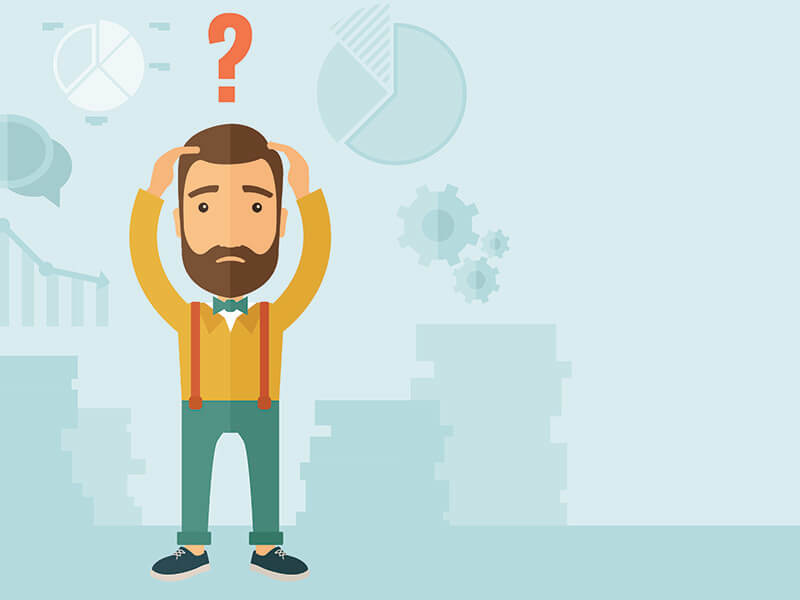 Common Mistakes to Avoid When Choosing a Hosting Provider
Choosing the right hosting provider plays a big part in the success of your business, so keep these tips in mind to avoid some common pitfalls when creating a website and setting up your first hosting account.
Don't Choose a Free Hosting Account
While free hosting accounts might be functionally 'alright' for a hobbyist, or someone starting a personal blog, they're a poor choice if you're launching a website used for professional purposes.
Free hosting accounts can come with a wealth of issues that impact the professionalism of your business and your brand, and could also impact your business in other ways, including:
Forced or required ads and scripts running on your site, that send your traffic outside your funnel

Slow load times and page load speeds impacting conversions and forcing customers to exit

Limitations on scripts and integrations, page counts, or number of products

Limitations on optimization and potential negative SEO that could impact your search visibility
Not Checking Customer Reviews
Always do your due diligence. No matter how good a hosting service looks you should always check online for client/customer reviews to see if others are satisfied with operating business sites with the hosting provider.
Try to find reviews from those using the same services you're interested in, reviews containing security concerns, and any reviews containing information about downtime and load speed – but take all reviews into account when making a decision.
Not Reviewing Restrictions on Plan Features
When comparing the features that come with hosting plans, pay attention to fine print and asterisks (*) next to line items. Finding out about restrictions well after your site has launched can have a significant impact on revenue, especially if the restriction can hurt your business and forces a costly migration to a new hosting provider.
Signing Up on Price Alone
A new business or startup must keep careful control over its budget, but choosing the first place that comes along based solely on the price can lead to unexpected costs down the road, when you discover unforeseen limitations, restrictions, or a hosting plan that's just not as scalable as you expected.
What's worse, you might discover that the super-cheap hosting plans you thought were saving you money actually required an annual contract that you can't get out of.
Always weigh your options and know the ins and outs of every hosting plan before you sign up.
Conclusion
Due diligence might be time-consuming, but when you take the time to establish your business goals and hosting needs, you'll be in a much better position to choose the most appropriate hosting plan to meet those goals and needs.
The success of your website is partially dependent on finding a dependable hosting provider, so use this list of criteria to help you find a reliable, affordable service with scalable hosting that will support you as your business grows.
Are you looking for a new hosting provider? We'd love to know what your experience has been like so far?