Nearly 1.9 billion records containing personal data were compromised between January 2017 and March 2018. 75% of data breaches occur due to external hackers and data attackers. More importantly, the average cost of a single data breach can be as high as $3.62 million.
If you're a website owner and still wondering, "do I need domain privacy?" then you have some serious implementations to make.
Given how damaging data breaches can be, you need to take domain privacy protection seriously and learn how to protect a domain name. Keep reading!
What is Full Domain Privacy and Protection?
Private domain registration is an 'add-on' service you buy to protect your data and keep it hidden from the rest of the world. If your website's information is available for anyone to see on the internet, then it's obvious that your business can be in harm's way if that information falls into the wrong hands.
To rid your digital platform of such risks, privacy protection is necessary. It can also serve as good protection for the entire IoT platform, helping to keep all the data safe since the protection of the entire network of users is also an important and integral part of the platform.
Can Everyone See My Information?
If your website domain is not privacy protected, everyone can see your information. When you register your domain on the world wide web, it becomes a part of the global directory, called WHOIS, that makes your domain's all registered information available to the public.
If you had integrated privacy protection when creating the website domain, your information would not be visible to everyone. However, if privacy is not protected, then your information is just a couple of clicks away from the rest of the world.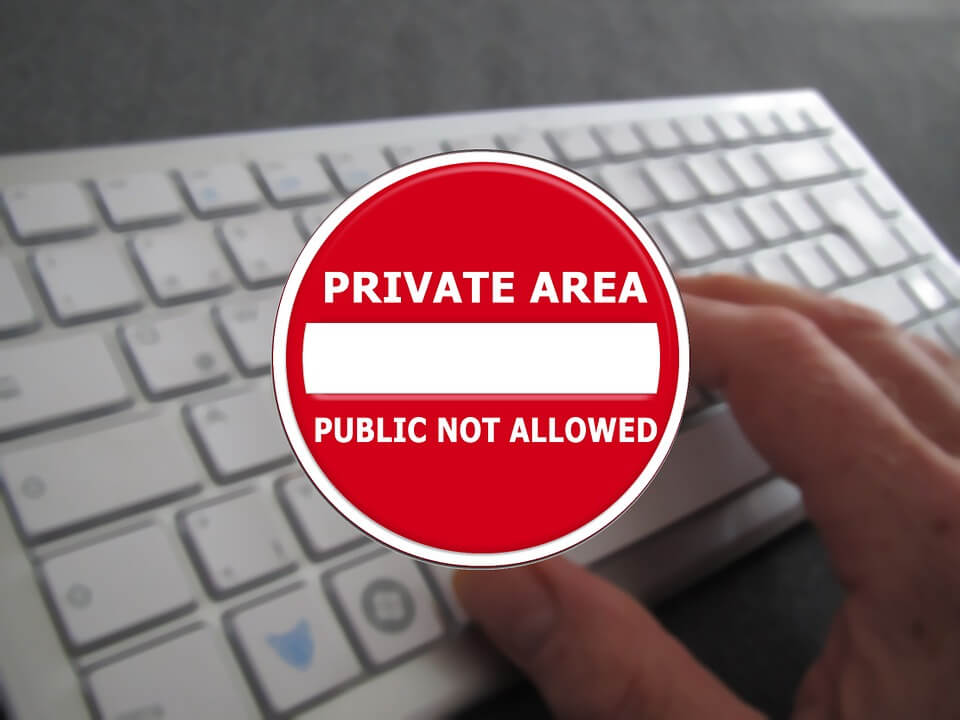 What's in the WHOIS Directory?
The public WHOIS database is a public directory that maintains a record of all domain registrations online. This includes domain registrant details, verifications, expiry, renewal dates, and more.
It's very similar to how an asset you own is registered under a governing authority or register. Think about your car or your house; you would've registered it under a governing authority that records ownership, its start date, and duration.
However, what would happen if this information became available to the rest of the world? For an average user, this can create a big problem.
The main benefits of privacy protection are providing you privacy and protecting your data. But you do get many benefits from purchasing the service, such as a lock icon on web links, complete encryption on the transfer of information, rid of spam calls and emails, and much more.
If you do not have privacy protection on your domain, the ownership of any domain on the internet can be traced using the WHOIS lookup feature.
What is a WHOIS Lookup?
As explained above, WHOIS is a public directory that holds all the records and personal information of all registered domains. Since it is a public directory, it can be seen and viewed by everyone in the world.
The WHOIS Lookup is a feature in the WHOIS directory that, if you type the website's name on, will reveal who owns and manages the domain name, including their names, contact information, address, etc., that they initially provided while registering for the domain.
Although the WHOIS lookup feature is an easy way to find relevant information on the Public WHOIS database, it can sometimes be used against you or harm you if your personal information is just a "lookup away" from literally everyone in the world.
For example, we search the domain registrant details for 'nike.com' in the following screenshot.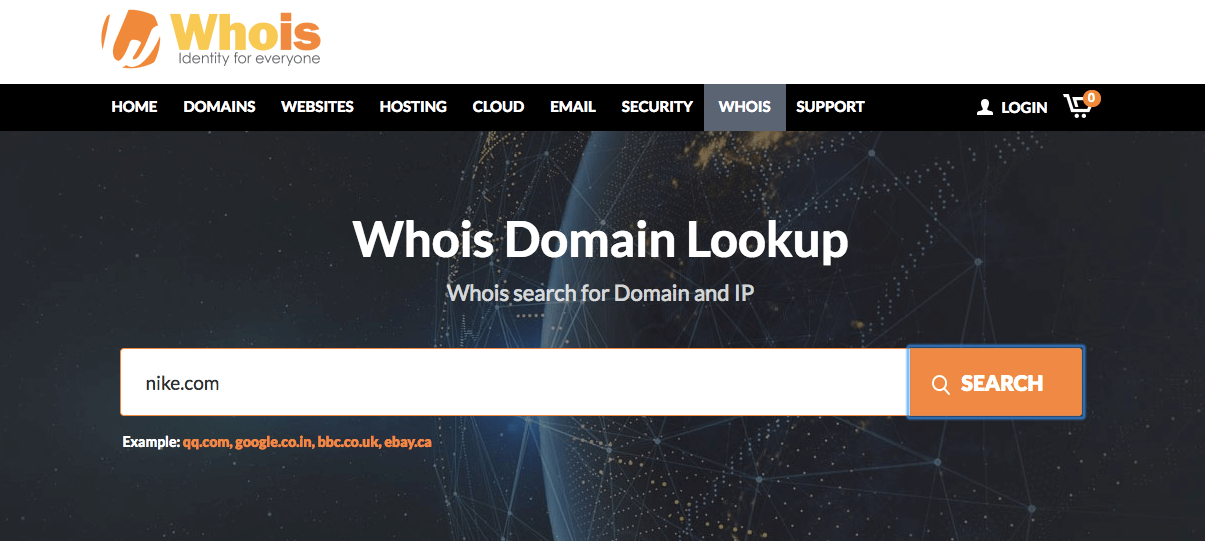 Below, we can see who the domain registrar is, when the registration expires, and when it was last updated.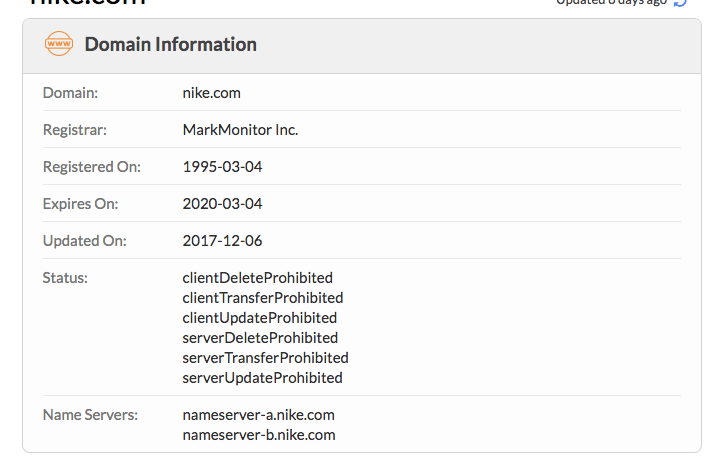 Scrolling further down, we can see the registrant's name, which city they're located in, and even access their phone number and email address.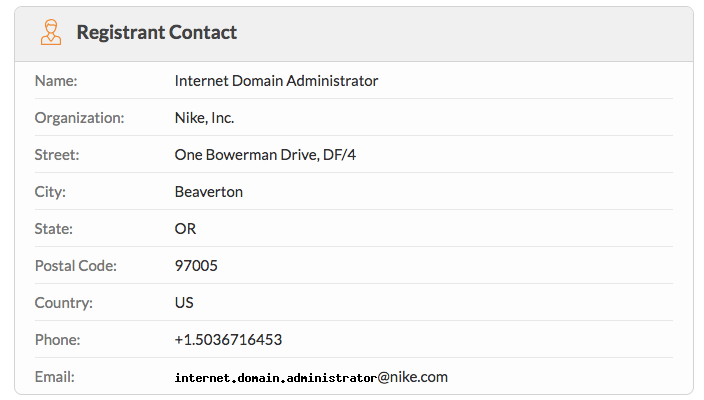 Now, it's not a big deal for a large company like Nike to make this information available publicly. However, if you're a small business owner, you need to be careful with the accessible information about your business, where it's available, and why. And that is exactly why you need to hide domain information of your website from the public's eye.
If you want to ensure that this information doesn't become publicly available, you need to register for private domain registration.
How Does Protection Privacy Work?
When you register a domain name, your personal details are saved in WHOIS. If you opt not to buy domain privacy protection, you're choosing to expose your personal information on the WHOIS directory, so anyone can see your contact details (assuming you're the domain registrant).
Upon purchasing the privacy protection service, you get multiple advantages, such as complete security over the web, privacy in the WHOIS directory, and more.
How Much Does Domain Privacy Protection Protect Site Owners?
An unprotected and public domain leaves all of the domain's information, including the registrar's personal and sensitive information, available to the public. Many people might not care that their deeply personal information is open to the public, but that is because they haven't yet experienced its risks.
First of all, loose-on-the-internet information can lead anyone to send you spam and inappropriate messages and emails, which no one would appreciate. Secondly, your house address is visible to everyone, which means anyone can practically walk outside your door and contact you there. Third, your domain's expiration and renewal date are also available for public view on an unprotected site, which your competitors and new entrants could use to steal your domain.
How Much Does WHOIS Protection Cost?
You can get domain privacy protection while registering a new domain name with your domain registrar (or your hosting provider). They tend to offer it as an extra feature, usually priced between $2 and $20 a year. That's a reasonable cost when you think about the extent of the risk it mitigates!
But do you really need domain privacy protection? Let's look at the reasons why it makes sense to get it.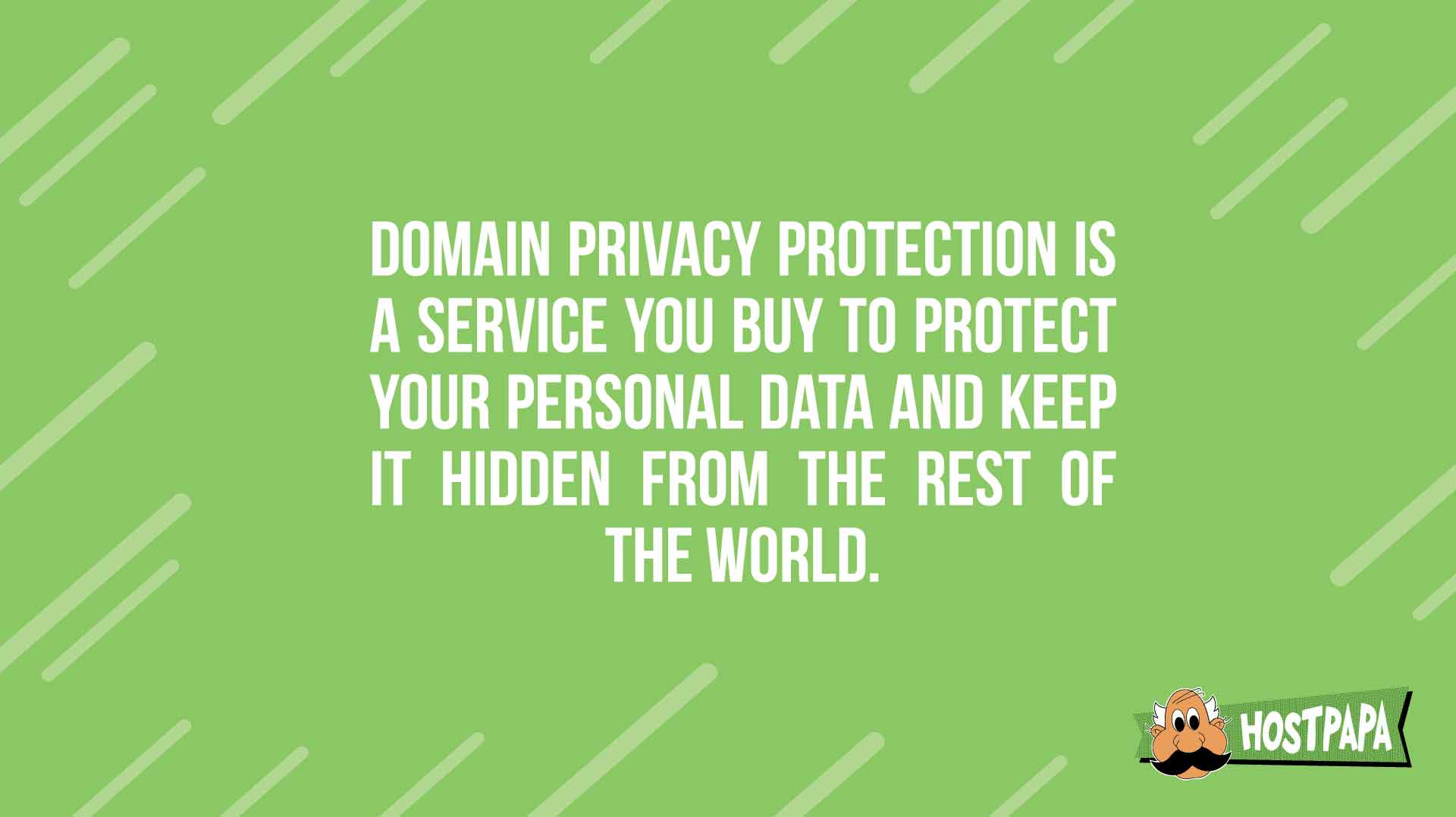 What are the Benefits of Domain Privacy Protection?
You might be asking yourself and other people, is the domain privacy worth it? What will I get? Why exactly should I get it?
Well, first and foremost, if you don't want your personal data, like your address and phone number, to be available to the world, that should be the reason enough to get domain privacy protection.
When information about your business is out there in the digital space, it is always vulnerable. If it falls into the wrong hands, it can become a problem for you; for instance, domain hacking.
A whole range of things can go wrong if you don't mask your personal data with domain privacy protection. And that's precisely why you should know what can happen to understand the actual value of domain privacy protection.
#1: Your personal data can be accessed by anyone.
Domain hacking can be done in different ways, usually through unauthorized access. Hackers hijack the domain to explore how vulnerable the domain name registrar's system is. Another way to hack the domain name is through social engineering; it can also be hacked by hacking first into the domain owner's email account integrated with the domain registration.
Due to such risks, it's necessary to add a layer of domain protection privacy. It adds multiple safety and security methods to preserve your business's private and confidential information and data. Without these layers, your data, such as exclusive customer data, can be stolen by, to say, your competitors.
If your private information is available on the WHOIS directory, just about ANYONE can access it. This includes people you don't want to expose yourself to, like hackers, competitors, jealous acquaintances, and anyone else with bad intentions.
This is a massive risk, especially if you're in the middle of inventing a new concept, or building a website for a project you'd like to keep in stealth mode, or if you just don't want people to know who you are!
Your personal details can get hacked by not purchasing, and you're exposed to identity theft. What's worse, if your website is hacked, your customers' data gets compromised along with it, and you risk losing the trust you've built with them over time in an instant. A problem like that can quickly destroy a small business.
#2: You might get bombarded with unwanted sales calls and even get scammed.
Now, if your personal information is out there for the world to see, there's nothing stopping pushy marketers from getting hold of your details and trying to reach you. You could get many calls from anyone wanting to sell you something.
On top of that, you risk getting scammed. If these sales folks know your details, they could potentially scam you into buying things you don't need.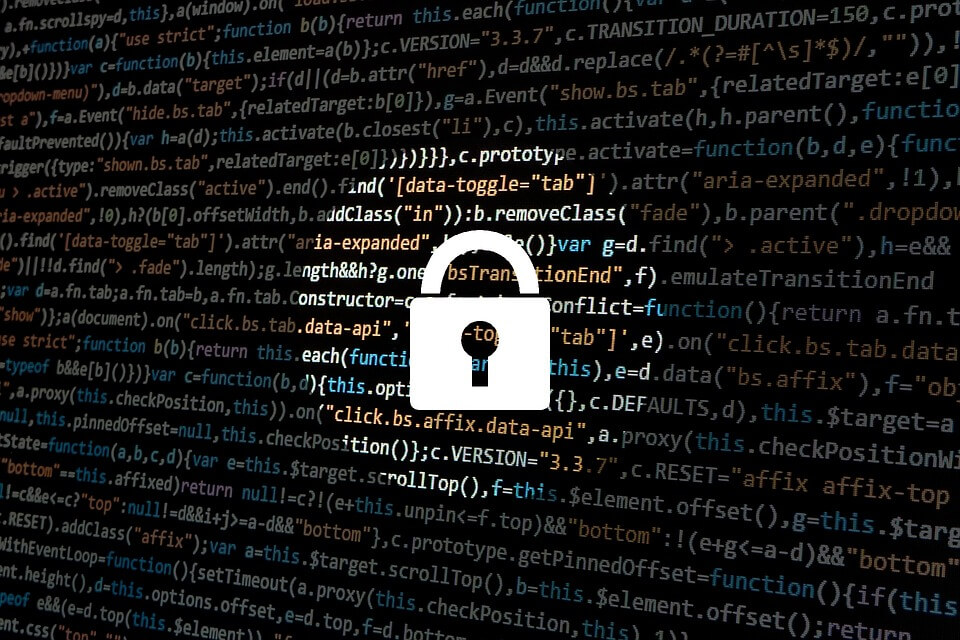 #3: Your website and other online assets can get hacked.
Your website took time to build. It's almost like building a house. And if it's not fully protected, there's a slight chance it could fall prey to a fraudulent domain transfer. That means that someone else could break into your domain control panel and transfer your website to their name without your consent.
If you tend to keep your house locked to protect yourself and your family, it's common sense to protect your domain from strangers on the internet, i.e., hackers. It's like leaving your house open for strangers to come to have a look at who's inside it. Domain privacy protection shields you from such dangers by masking critically confidential information.
#4: Your personal data can be sold.
What's even more dangerous is when other companies engage in something called 'data scraping' to collect personal data from publicly available sources like WHOIS to sell it to third parties.
Perhaps the latest, most relevant example is the allegations against Facebook for selling personal details to advertisers.
Clearly, this is not some trivial issue to be overlooked, and you should always pay attention to your cyber security. If you get privacy protection for your website domain, you will get WHOIS privacy, which means your data would be hidden from the public view. Cybersecurity consulting works with businesses to prevent the hacking, theft, or damage of data, software, and hardware.
#5: You will get a ton of spam emails.
It's not just sales calls you can get. It's also a ton of spam emails you open yourself up to by leaving your personal data exposed. Every spammer out there knows how to find personal data on public directories, and email is the most accessible channel to target small business owners.
Are you already receiving a ton of spam you haven't subscribed to? Have a look at your spam inbox and count the number of emails you get and from where. If you're receiving junk emails, it's because your details are lying exposed for spammers to use. With WHOIS protection, these details can become "only for your eyes" and not for everyone.
#6: Your competition will know a LOT about you.
It's easier for your competition to stalk you if your personal information is easily accessible. They'll know who you are, where you are, and how to get in contact with you.
As a small business owner, when you're working with limited resources, any information you leak out to competitors can prove to be very expensive, especially if you're offering something unique to the marketplace. So, hedge your risk, don't show all your cards and prevent competitors from stalking you with domain privacy protection.
#7: You can't register a domain without providing authentic information.
You're probably wondering if there's a way around registering a domain with fake data. Why provide your details to your domain registrar and get listed on WHOIS in the first place?
The reality is that you can only register a domain with authentic information. All of the information you provide is verified. Again, very similar to registering any asset with the governing authority. Moreover, authenticity is a must as a small business owner to win the respect and trust of your audience from the start. You can't afford to look fake in front of your audience.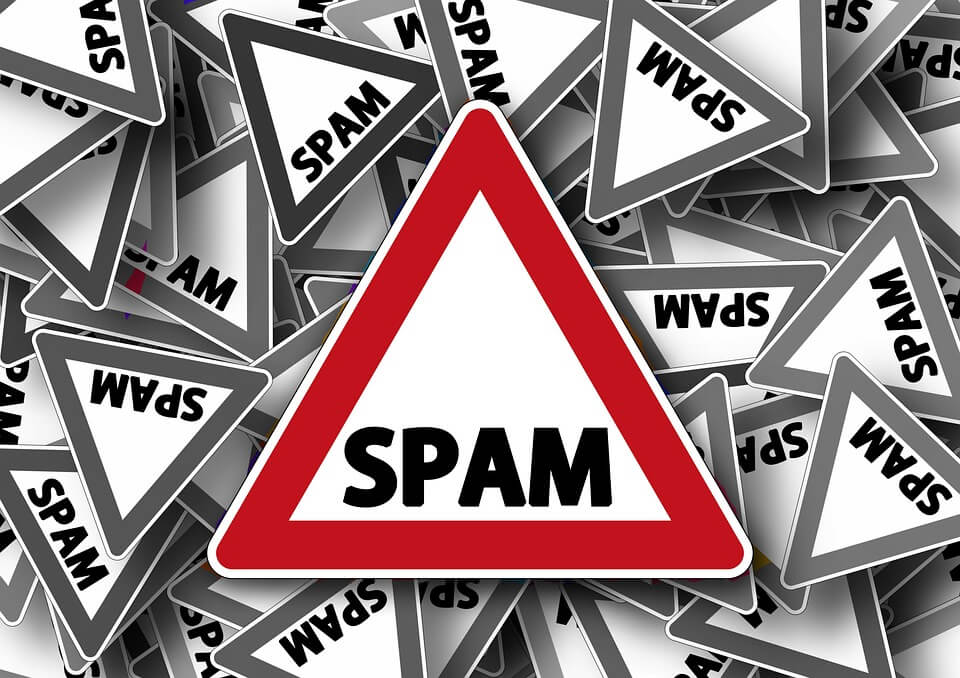 List of Privacy Protection Features for Websites
If you register your website for domain protection, you will get significant features to help your website stay secure and safe from unauthorized access. These features are necessary for a website domain that works effectively without any risks.
#1: Protection of domain registration information
As explained above, a domain name's registration allows the public to view your personal information. By running a quick WHOIS domain name search, you can see anyone's domain's information. This could be used for not-good purposes.
However, the main feature of privacy protection is domain protection after private domain registration. Instead of your personal contact information, like first and last name, contact number, address, being available for the public to view, it becomes confidential and private.
#2: Regular backups
One essential feature of privacy protection that we simply cannot underestimate is regular backups. In today's world, a good backup is everything. It is a reliable method to keep your website's data and information safe, critical because nothing is ever 100% secured.
Whether building your site from scratch or using management systems like WordPress, there are multiple ways to backup and safeguard files. And the best part, a lot of these features are free.
#3: SSL Certificate
SSL stands for "Secure Sockets Layer," which provides security when your site is open on the web. Most browsers display a lock right before the web address bar when viewing a site, which means that the link you have opened is SSL protected.
Whenever you are passing information, it's better to use SSL-protected links. If you are not doing that, it is possible that people could steal that information and use it for wrongdoings. For website protection, a site holder should purchase SSL certificate as it secures the data between the server and the user. SSL certificates can be purchased from resellers or direct certificate authorities.
#4: Up-to-Date Software
Although it's very common to make sure that software is updated, it's still important to mention that software updates should not be overlooked at any cost. Not all web scripts are designed for automatic updates – even the most popular ones like WordPress need updates from time to time.
Using the current version of the site platform plays an essential role in the website's security. It's better to ensure that updates are automatic, so you never accidentally miss them.
A privacy protection add-on would come with automatic updates, but a quick tip: make sure that other add-ons and plugins are also set to auto-update.
How Do I Get Domain Privacy Protection?
It's worthwhile to check if you have domain privacy protection already by calling your domain registrar or hosting provider's customer support. Many small businesses don't even know if they have it, as they're usually rushing through the process of the domain registration; so, if you're reading this, make sure to check it out!
If you don't have domain privacy protection already, here are some of your options:
Option 1: Buy domain ownership protection while registering a new domain name and get WHOIS domain privacy availability. This is a great time to do it – you might as well get it from the start.
Option 2: Add domain privacy to an existing domain name. If you just checked your domain privacy and realized it's not protected, you can add it at any time. Contact your domain registrar or hosting provider to purchase it today.
Getting domain privacy protection is easy, inexpensive, and can save you a lot of trouble. Is your domain protection intact?