What's the best web hosting for small business? Many entrepreneurs seeking to answer that question find it depends on the type of business they're running. The best web hosting for small business eCommerce, for example, may not be the right choice for a company that doesn't sell anything online.
READ MORE: [Full Guide] SEO Web Hosting
In this article, we'll examine the features you should expect in a web hosting plan regardless of the type of business you're in. Then we'll help you narrow down your selection criteria by looking at four types of businesses and the kind of web hosting that's most suited to each one.
The four pillars of great web hosting
Let's start by looking at the four most important factors you should consider when selecting a web hosting plan.
Performance
A fast page load time is crucial for a positive user experience. If your site loads slowly, users will move on, which means a loss of business. Website performance also has a major impact on SEO. Google's algorithm penalizes slow-loading sites, lowering their ranking in search results.
A great web host employs carefully managed high-speed servers, making website speed and availability their top priority. A 99.9% uptime guarantee has become the service quality standard among better hosting providers.
When you select a hosting provider for your small business website, verify that the company uses state-of-the-art servers and a robust content delivery network. The best providers offer several performance tiers to choose from, including a VPS (virtual private server) hosting option.
Ease of use
A superior hosting provider includes tools to help you create and manage your website. You should have access to a website builder as part of your plan, and the provider should offer access to the latest version of WordPress.
Communicating with customers and employees is a critical part of business success. It should be easy and affordable to add email hosting to your plan, enabling you to use your domain as part of your business email address, as in yourname@yourcompany.com. The option to augment your hosting plan with an office tools suite is another feature that better hosting providers offer.
Low cost
Web hosting is a competitive marketplace, giving small business owners an advantage as they choose among an array of differently priced service offerings.
Web hosting does not have to be expensive if you choose the right plan and provider. With one computer running many websites, the shared hosting service model has become standard across the industry and is the most affordable choice for small business owners. Shared hosting is secure, reliable, and scalable, with plans geared toward budget-conscious entrepreneurs. After a period of growth, hosting needs change, but a full-service provider will have VPS hosting options and affordable plans featuring dedicated server resources.
Security
A small business's website must be secure to protect the company's data and its customers. Quality hosting companies prioritize security and offer plan features that will help you prevent your website from being hacked.
Site security is also crucial for SEO – Google's site ranking algorithm favours HTTPS sites. The best hosting companies offer plans that include access to affordable SSL certificates.
Business owners who chose a shared WordPress hosting plan will have the added benefit of WordPress's robust security features, plus available plug-in security tools for malware scanning, spam filtering, and protection from brute force attacks.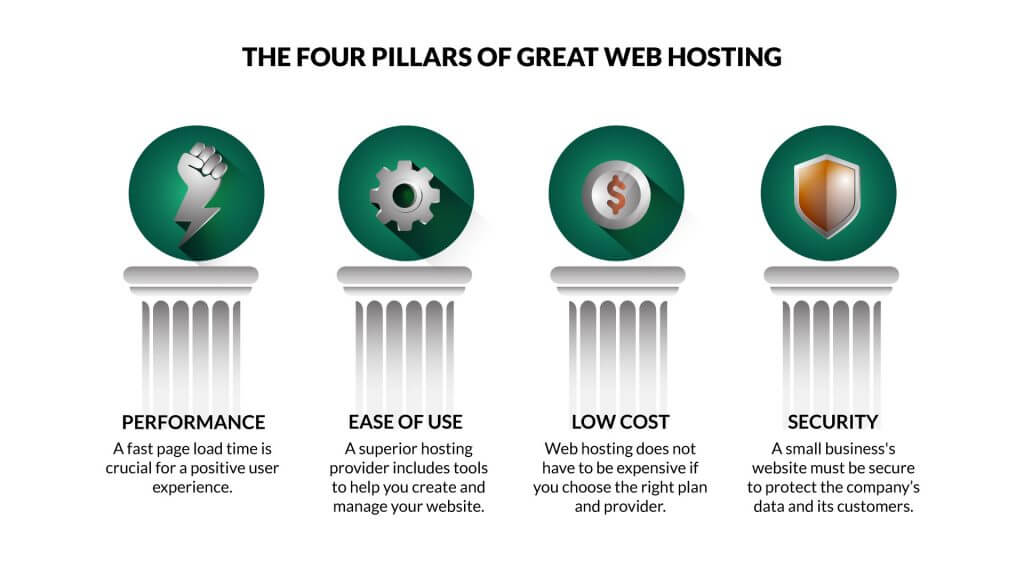 What's the best kind of hosting for your business?
Different businesses have different web hosting needs. For example, if a small brick-and-mortar business requires a basic website with just a promotional landing page, the hosting requirements will be minimal compared to those of a business engaged in eCommerce with thousands of customers.
In the sections below, we'll present a set of examples as a means of exploring the best web hosting for small business. We'll look at four types of businesses, focusing on the kind of hosting most suited to each niche.
Best web hosting for coaching and consulting businesses
If you run a coaching or consulting business, you need an engaging website that describes your experience and credentials, with a domain name that reflects your professionalism. Your website will be a powerful marketing tool and a core part of your service delivery. It's where prospects will learn about your service, and it will function as an access portal for service-related content.
Your hosting provider should offer plans that include free or low-cost domain registration and access to website building tools and WordPress. There are hundreds of WordPress themes that have been created for the online coaching niche. A full-featured shared hosting plan is a perfect match for the typical coaching or consulting business's moderate web hosting needs. On the other hand, to run an e-learning site that serves hundreds of concurrent users, a more scalable VPS hosting plan would be needed.
Best eCommerce web hosting for small business
A business owner engaged in eCommerce, such as an online boutique operator, has specialized hosting requirements. Not only will the website play a pivotal role in marketing, but it will also support the primary business function – the selling of products. Marketing efforts will drive customers from social media and online ads to an engaging landing page, and the next step is conversion.
For an online store, the most basic shared hosting plan may not be sufficient. You should choose a top- or mid-tier shared hosting plan that's optimized for eCommerce. WordPress hosting would be an excellent choice, as online store owners can choose from hundreds of professionally designed eCommerce themes, like Pasal Ecommerce and Unos Store Bell, for example.
With the right hosting plan, an entrepreneur can easily create an eCommerce website that presents their products the best way and makes it easy for customers to buy.
Best web hosting for brick-and-mortar businesses
Does a brick-and-mortar business even need a website? Yes. The internet is how people find goods and services, including those sold by brick-and-mortar businesses. A website gives businesses an online presence with a professional domain name. It creates a destination to send people who respond to PPC advertising, social media outreach, and email offers.
A basic shared hosting plan will probably suffice for a small business that isn't selling anything online.
When your provider offers website building tools and access to the design flexibility that comes with WordPress hosting, it's easy to create an excellent looking 2 or 3-page website that meets all your marketing needs. Due to the minimal server resource required, a brick-and-mortar business owner can take advantage of a provider's lowest-priced WordPress hosting plan and still create a professional online presence to grow their business.
Best web hosting for photography businesses
A photography business has unique hosting requirements, with higher-than-normal storage and bandwidth demands, plus the need to sell work online.
Photography business owners should look for a high-performance hosting plan with massive storage, unlimited bandwidth, and eCommerce functionality support. WordPress hosting is well suited to photography businesses because of the many professional themes that have been created specifically for photography sites.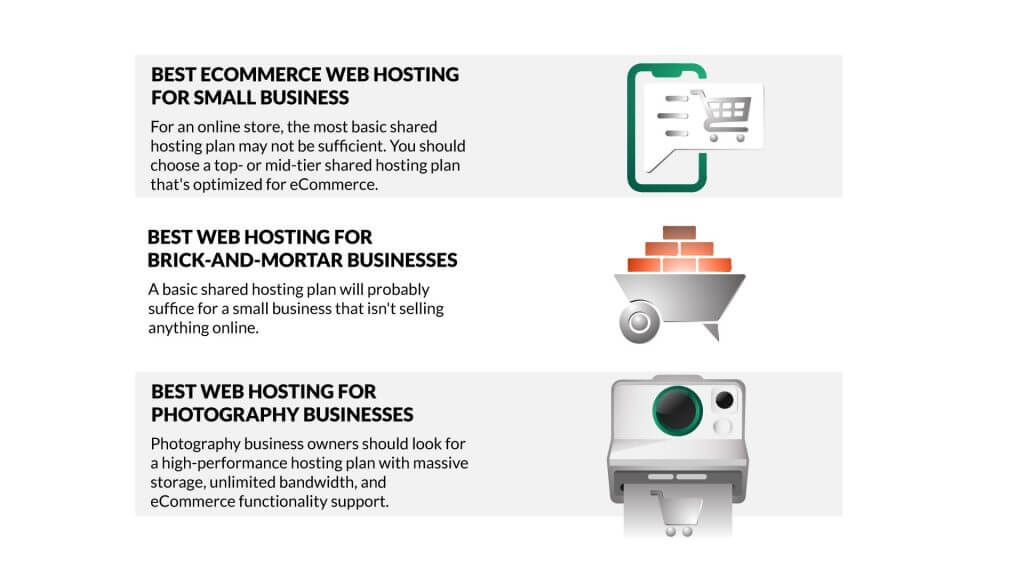 Look for a complete hosting plan at an affordable price
We hope this quick look at web hosting for small business helps you make an informed choice when selecting a hosting provider. There are features you should expect from any provider, but some web hosting plans stand out for being comprehensive without costing a lot. That's the sort of plan you should look for.
Ultimately, choosing the best web hosting for small business depends on the business you're in, but the availability of full-featured, low-cost hosting plans means you can lock in the perfect solution for your business.