In this article, we're going to go over the 6 main photography website design tips – from choosing the right images, to SEO optimization.
As a photographer, you're bound to have an impressive portfolio of photos that you can't wait to display to the world. Creating your own photography website is a great way to get your work out there and to attract clients. It's a cost-effective and simple solution for marketing your photography business.
You don't need to be an expert at website design to create a site that beautifully showcases your portfolio. In this article, we'll discuss the benefits of having a photography site, then you'll find six photography website design tips that will put you on the path to creating a great looking website.
Read More: How to Start a Photography Business Online
Why You Need a Photography Website
Before you jump into creating your website, it's worth understanding why, as a photographer, you need a website. Having a website is crucial for many reasons.
It establishes you as a credible professional.
You have complete ownership and control over your website.
People will see your business in search results.
You can earn revenue through advertising or affiliate marketing.
It's a great platform for self-promotion.
You can set up an online store and sell stock photos.
You can create an emailing list and attract clients.
Knowing why you need a website can help you make decisions when you're designing your site. Your business goals and the role you want your website to play will dictate the content and features of the site.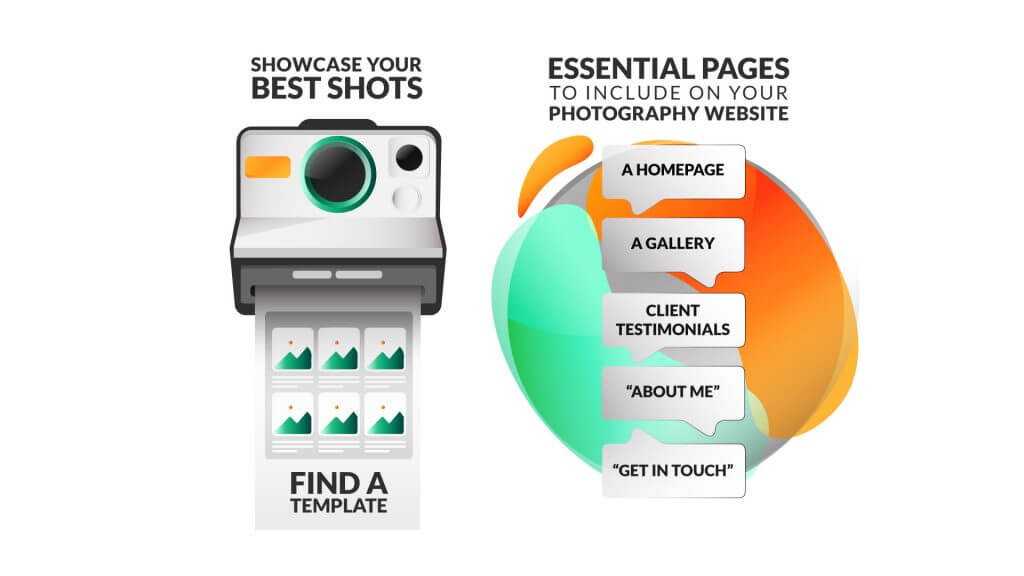 Photography Website Design Tips
Once you have a firm idea about how you'll use your website to run your photography business, it's time to start building an engaging site that showcases your portfolio. Whether you have a bit of experience with website creation or you're a complete novice, following the six tips below will get you headed in the right direction.
Tip 1. Showcase Your Best Shots
It might seem obvious, but you should only display your best work on your website. The photos you included on your site will be your client's first impression of your work, so you should show a range of images from different projects and use the shots that are the best examples of your talent.
If you're struggling to choose the right photos, consider incorporating a theme in your gallery. Having a theme will tie your portfolio together and will let potential clients see the kinds of pictures you specialize in.
Don't bombard website visitors with too many photos as this can look unprofessional. Less is more—between 20 and 30 photos is usually enough for your website.
Tip 2. Find a Beautiful Template
It's not just your photos that need to look great, the layout and design of your website should look great too. You don't have to be an expert in photography website design to achieve a professional look for your site. You can use a ready-made photography template to personalize your site and perfect your portfolio.
There are many free photography website templates available to help with the website design process. If you're building your site from scratch, or if you just need help achieving the professional look you're after, using a template is a great way to easily add sections and get the most out of your theme.
You can download free UX kits that include photography website templates, all of which are fully customizable and prototyped for your convenience. These kits typically come with a variety of helpful tools and include features that are optimized for photography portfolios.
Tip 3. Add Supporting Web Pages
Your gallery is important, but it shouldn't be the only content of your website. To turn your site into a tool for converting prospects into paying clients, you should make your portfolio interactive, give visitors the option to find out more about you and your services, and tell them how to get in touch.
Here are some essential pages to include on your photography website:
Homepage
Gallery
Testimonials
Client Showcases
About Me
Contact Me
Including all these pages will create a more engaging experience for your visitors, plus, it will give you more places to add the keywords you'll need to get your site ranking high in search results, which is our next topic.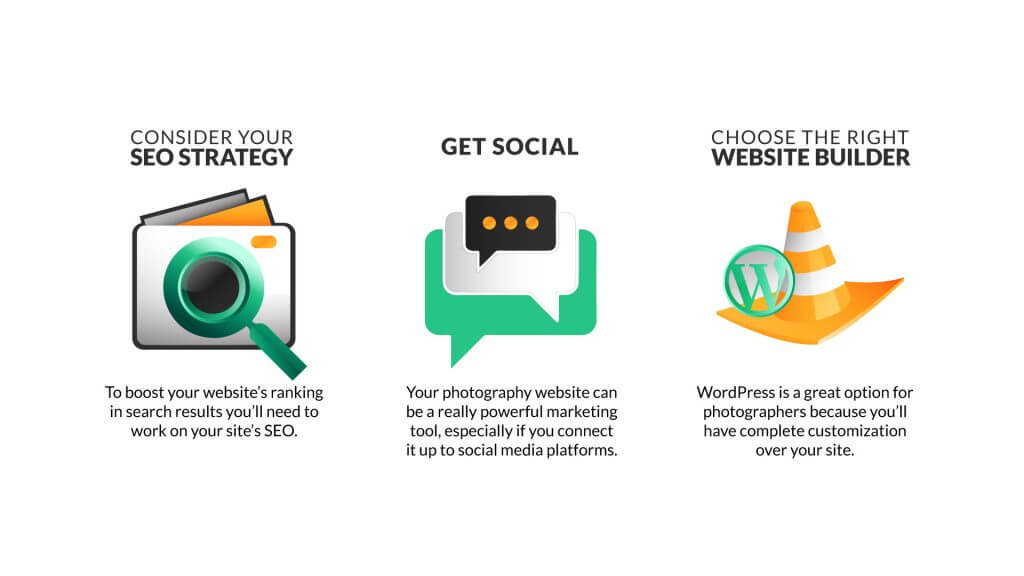 Tip 4. Consider Your SEO Strategy
It's crucial that you boost your photography website's ranking in search results. When your business appears near the top of the results page, you'll see increased traffic to your site, and that will lead to more clients. All that's possible if you focus on your site's SEO.
Search engines are designed to detect keywords, not images, so your photos alone won't be enough to get your website on the first page of search results. You'll need to add text to optimize your website's visibility. One way to do this is by adding a title and description to each photo in your image gallery. Keep your captions simple and precise, briefly describing what's in the shot. This will help search engines detect your content and will boost your website's ranking in search results, plus it will get your photos to appear in search engine image results.
Tip 5. Create a Social Media Presence
Social media can help you reach your target audience, and you can use your photography website to advance your social media presence. Include links to all your social media profiles in a highly visible place on your website, for example, at the top of each page or in the footer. This is a great way to create brand awareness for your business and it can give site visitors the chance to explore more of your work on your other platforms.
You should also include links to your website on all your social profiles. This will drive traffic between all your digital platforms and build your online community. It may help to follow people who match your customer profile so you can learn about the posts they like and the hashtags they use.
Don't just connect your social media profiles to your website, give site visitors the option to share your work on their profiles, too. Many website builders give you the option to add a "share" button to images in your website gallery, which can help get your work seen by more people.
Tip 6. Choose the Right Website Builder
Lastly, you must choose the right website builder and web host for your photography site. There are many website hosting platforms available, so select your hosting company wisely. Each provider offers different features, performance speeds, levels of support, and security guarantees.
WordPress hosting is an extremely popular option among photographers and non-photographers alike because the web platform offers enhanced security and performance, full ownership over your site, and a huge range of easy-to-install tools and plugins.
WordPress is a great option for photographers because it provides the ability to easily customize your site. You'll be able to choose from numerous photography-specific themes and templates. It's easy to create a website with no prior design experience, and you won't have to enter a single line of code.
Make Your Photography Website Stand Out
The most important thing to remember when it comes to photography website design is that your website will only be as strong as the content you post on it.
If you use your best photos, a template that enhances your portfolio, and a reliable web host, you'll have a great looking photography website up and running in no time. You should optimize your site with the best keywords for your target customer and stay active on social media to expand your online presence.
If you follow all these tips, you'll drive traffic to your site. More people will see your pictures, and the result will be more customers for your photography business!