In this guide, we're going to cover every major aspect of how to start an online boutique.
An online boutique is an eCommerce business that sells a curated product line targeted at a well-defined audience. A boutique can sell products created by the business owner or that were sourced from a supplier. Most online boutiques will be focused on fashion-oriented product lines and, in many cases, have a largely female target audience.
If you're interested in starting your own online boutique, keep reading. This article will discuss why it's a great idea, then give you a 10-step guide on how to start an online boutique. There's also a section about how to run a successful online boutique by taking a growth-oriented approach. We'll wrap up with some advice that's specific to clothing and jewelry boutiques.
Let's get started!
Why You Should Start an Online Boutique
Style—some people have it, and some don't. Luckily, for those in need, there's a style source that's always at their disposal—online boutiques!
A creative person with a flair for fashion can capitalize on their talent by sharing their style with others. By applying your unique sensibilities to product selection and outfit assembly, you'll be able to offer your site visitors access to a new style they can make their own.
Then there's the money, of course. Your boutique can be a steady source of income. It takes ongoing effort to keep your target audience engaged and attract new customers, but wonderful things can happen if you do. For example, you can attract a customer base that's loyal and active enough to make your revenue predictable and sustainable. Using social media, you could hit just the right audience at just the right moment and see your business explode—viral attention for your store can mean a massive spike in sales.
Once you're open for business, with diligent work and non-stop focus on customer engagement, you can take your boutique to the highest levels of success.
A 10-Step Guide to Starting an Online Boutique
There's planning to be done before you launch an online store and many important decisions to make. If you take the required actions in the right order, you'll streamline the process and launch your store faster. This section will cover how to start an online boutique, detailing the ten steps that are required.
Step 1. Lock in Your Look, and Your Target Audience
What kind of items will you be selling? You should have a fairly narrow definition of your style—a core design concept from which you can expand into complementary accessories.
By establishing a one-of-a-kind, cohesive look for your product line, you'll be able to differentiate your brand by offering visitors a style that no one else has.
With your look defined, it's time to delve deep into your target audience. Who will be interested in your products? It's the baseline demographics you need to decide on first: gender, age, and income level. Then, drill down on the personality of the people you see as your customers. Use all that intel to create a customer profile. It can be helpful to imagine a single target customer that meets all the criteria you came up with.
Step 2. Name Your Online Boutique
You can only name your business once.
Seriously. Starting over after a few months with a new name would cost a lot of money and be a major roadblock to success.
Think about the name of your boutique carefully, focusing on words that accurately represent what you'll sell and project the identity you want for your brand.
Step 3. Secure Your Domain and Social Media
With your name of the online boutique determined, you can purchase your domain name, which should be yourboutiquename.com. Using an alternative domain extension like .biz or .shop is an option; consider your brand image to decide if that's the right move for your business.
Create an Instagram account using the name of your boutique, likewise for Twitter, Facebook, and all the social media channels you plan to use for marketing purposes.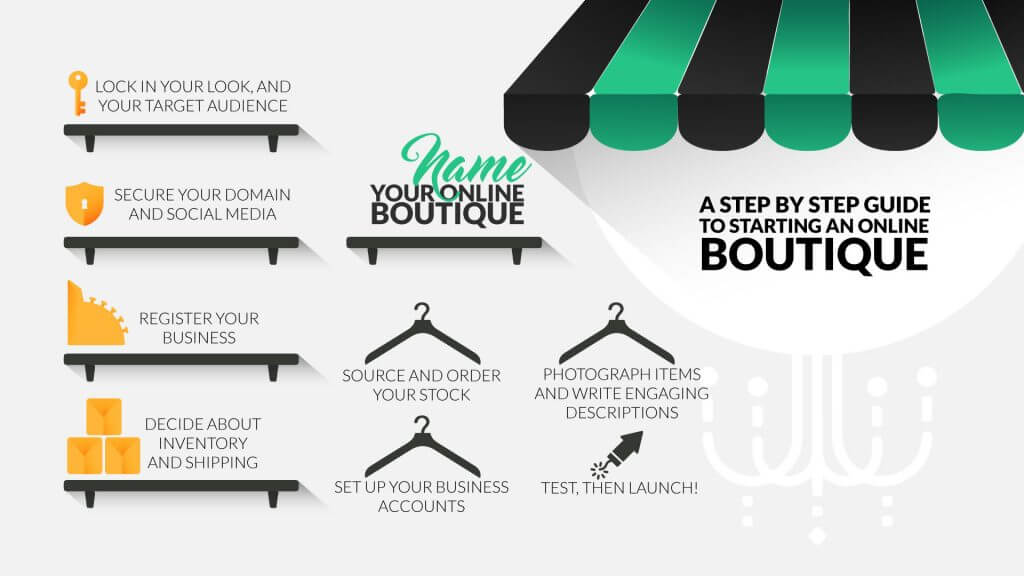 Step 4. Register Your Business
The state from which you run your boutique will have laws about registering your business. You can choose to operate as a sole proprietorship, in which case you'll be personally liable for the business' debts, or as a limited liability company (LLC), a classification that offers your business greater protection and helps to separate its finances from yours. You'll have to file paperwork with your state and pay a filing fee.
Step 5. Decide About Inventory and Shipping
Will you run your boutique using the stock-on-hand model, or will you rely on drop-shipping? If you'll be storing products until they're sold, do you have the needed space?
If you're selling handmade items, will those be made-to-order, or will you keep some in stock?
On the other hand, if you'll be working with one or more suppliers, can those businesses meet your needs in terms of product delivery?
These are questions you should answer early, as they pertain to the everyday operation of the boutique. The decisions you make on these topics should be part of your overall business plan. 
Step 6. Design an Online Boutique Website
You'll need an online store that catches the eye and draws visitors in, promoting them to explore your entire product line.
If you're considering a shopping platform like Shopify or Etsy, don't do it. You'll end up with less control over your online store, and you'll give up precious profits to a service that's not adding any value.
Using a website builder or working with the hundreds of available WordPress themes made for online stores, you can create an engaging website that shows off your products in the best way and makes it easy for customers to purchase items.
Product photos and descriptions will comprise the bulk of your content, but you also need a web page that explains your shipping and return policies. You'll need a contact form, and if you're selling clothes, a size guide.
As for website hosting, you can find affordable shared hosting that will meet all your needs, including turn-key access to WordPress and integrated eCommerce functionality as standard features. We put together a special offer for you.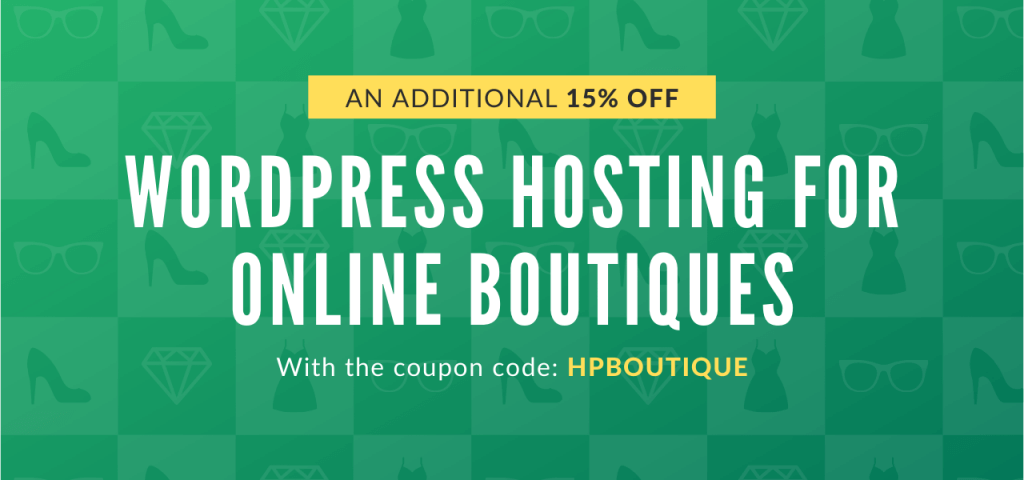 Step 7. Source and Order Your Stock
Unless you are selling handcrafted goods that you make yourself, you must decide on the independent labels or wholesalers you plan to work with.
Finding the suppliers that are right for your brand will take a lot of work, but the required research bears a striking resemblance to shopping, so you probably won't mind at all!
Use Google search results and Instagram to find products that align perfectly with your brand and unique style.
If you will follow the stock-on-hand model, have your adequate storage space lined up, then order your initial stock. Limit your order until you have confirmed that customers will buy the product.
If you're drop-shipping, you must sample each product before you sell it in your store. This is important. It's crucial that you inspect the merchandise you're selling; it's the only way you can ensure that you're offering high-quality products and know what will be shipped to customers.
Step 8. Set Up Your Business Accounts
It's important to use a separate bank account for your boutique—the goal is to keep your business finances separate from your personal finances. You'll also need a P.O. box, as it's not wise to use your personal address for boutique business.
Step 9. Photograph Items and Write Engaging Descriptions
People will be buying items from your boutique based solely on the photos. Your product descriptions will fill in the blanks and help seal the deal, but it's the images that will catch and hold a visitor's interest.
Use photographs that look like they were done professionally, even if you have to hire a professional to accomplish that.
When selling clothes and jewelry, pictures of a product laying flat are OK, but most of your images should show the product on a model. Customers need to see what the product looks like on a person's body.
Step 10. Test, Then Launch
Take care of the last few tasks that need to be done before you launch. Specifically, you should have all packing and shipping materials on hand, including a promo business card to add to every package. Test your site, and when everything is ready to go, make a Grand Opening announcement that your target audience can't miss, utilizing email outreach and all your social media channels.
How to Start an Online Boutique: A Growth-Oriented Approach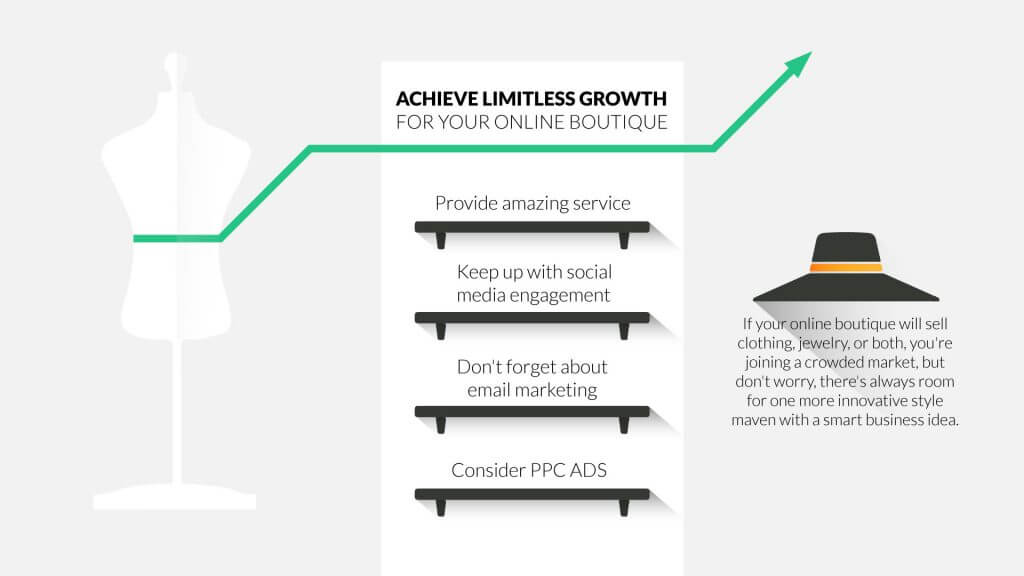 A growth-oriented approach is what separates successful online boutiques from those that fall by the wayside. You can never take your foot off the gas pedal—stagnation in your customer outreach or a stale product line will spell doom for your business.
Here are a few steps you can take to ensure your customer base and revenue continue an endless, upward trajectory.
Provide Amazing Service—Be awesome to your customers. When people receive customer service that's so good that they have to tell their friends about it, you'll be on track to gain new customers.
Keep Up with Social Media Engagement—Post regularly on all your social channels and always respond to customers who reach out via social media. Social sharing among customers and creating a sense of community are what builds your audience at the fastest rate.
Don't Forget Email Marketing—An email newsletter is a powerful marketing tool that allows you to announce sales and highlight hot products. Collect customers email addresses with contests, by encouraging subscriptions via social media, and as part of sales transactions.
Consider PPC Ads—Though expensive, pay-per-click ads can be a great way for a new business to hit the ground running. Facebook and Google ads are especially effective and have incredible ROI. You can see an average of $2 in revenue for every $1 spent on Google Ads!
Special Considerations for Clothing and Jewelry Sellers
If your online boutique will sell clothing, jewelry, or both, you're joining a crowded market, but don't worry, there's always room for one more innovative style maven with a smart business idea.
Keep the following factors in mind and you'll do great!
It's all about your brand. You have to differentiate yourself from other boutiques, so your brand will have to be undeniably unique. Establish a voice that represents your personality and values. Design a logo that will stick in people's minds. Consistently display trustworthiness—aim for 100% satisfaction when handling returns, respond to negative reviews quickly, and be transparent about your pricing.
For total control, don't drop-ship, use a wholesaler instead. Working with a wholesaler requires you to store and ship everything yourself, but that's the best way to maintain control over your business operations and ensure consistent product quality.
Choose only qualified suppliers. Your vetting process for suppliers should be stringent. You should request samples, make sure you'll have a reliable point-of-contact, and look into the supplier's reputation.
Limit initial orders. Let your customers tell you what to stock up on. Until you start to see proof that a particular item will sell well, keep your stock to a minimum.
On your website, don't just show your products, sell them. Use images that highlight your products' best features. Models should look exactly like your target audience. In product descriptions, employ creative writing to build excitement about the product and compel visitors to buy.
Find a brand ambassador—The ultimate way to market your online boutique using social media is to get an influencer on board. Reach out to bloggers focused on your niche and try to earn a mention from them in their content. You may be able to grease the wheels by sending the person a sample of your product.
Start Your Online Boutique Today!
Owning an online boutique that's a perfect reflection of their style—that's the dream of many fashionable, business-savvy people. If you're one of those people, you should know that the dream is well within reach.
In this article, our goal was to help you learn how to start an online boutique. The process can be intimidating, but if you break it into steps and accomplish those steps in the right order, your online boutique will be up and running in no time!