Are you an old-school photographer or a passionate photography hobbyist? If the answer is yes, have you ever considered monetizing your work? Maybe you could create a photography website and start advertising your services. But you'll need far more than a website to earn money from photography online. For starters, there are many potential monetization channels. And you shouldn't overlook factors like your social media presence or your branding.
The online market is continuously evolving and offers a wide variety of choices for aspiring photographers. Whether you'll serve large corporations, government agencies, small local businesses, or graphic designers, the demand for photos, courses, and stock material is huge. But each niche requires you to master specific techniques as well as different ways to advertise your work.
In this post, we'll take an in-depth look at how to start an online photography business and how you can make money from your photographs online. We'll cover five monetization channels for your photography practice and what each of them will involve.
Before we begin, let's review some key elements of starting a business.
Make a Business Plan
Regardless of what path you choose, there are some key traits that all successful online businesses have.
A business plan is essential. Especially if you're an artist, having a method other than spontaneity may be challenging. But when you're looking to build a business, you need to have a clear vision and a systematic approach to executing it.
How will you make money? What problem will you solve? And why will customers pick you to solve it? Especially if you want your photography business to be more than a side gig, having a clear vision of your business will be very important. While you may need to become a business expert overnight, you don't need to be one right now. A lean business model could be more than enough, especially if you'd like to test the waters before focusing 100% on your photography business.
A business plan is not written in stone. It works as long as it works. If you need to adjust to get the results you want, you shouldn't hesitate to do so. The ability to adapt, especially in creative businesses, is priceless. Being responsive and having a growth mentality is key. If something is not working, adjust. If there's a new trend in your discipline, see if there's a genuine and valuable way for you to capitalize on it. And always listen to your customer.
A brand isn't just a logo. It's a set of visual cues representing you and setting you apart as much as it's a voice tone. More abstractly, we could say that a brand is "a way of doing things." Having a brand, being yourself, and owning up to a distinctive identity are vital in the overcrowded digital world.
What Type of Photos Sell Best Online
Stock Photos
News portals, corporations, and online content creators constantly use stock photos to complement their content. Stock photography is used on various sites, and you can produce a wide array of material to be uploaded to stock photo sites or platforms like Shutterstock, Alamy, or AdobePhoto.
What kind of photos can you sell? Almost anything. From street photography to photos that represent a certain situation (such as a marriage ceremony), pictures that allude to emotions, pictures of animals, food photography and even pictures of mundane objects. All of them can be uploaded and sold.
While stock photography could be an effective way of making money through photography, it has some downsides. For instance, it's highly competitive. Shutterstock alone has over 300 million photos in its catalogue. And don't forget that these platforms are online marketplaces, so they aren't predisposed to favouring you specifically. On the other hand, to create pictures that sell, you'll need to address certain market needs and create pictures that feel relevant and new. You'll also need to spend some time optimizing each post with the proper keywords.
Even stock photography experts who sell thousands of pictures report a yearly revenue below four digits. Selling stock photography is unlikely to provide you with a full-time income. But the greatest pro of selling stock photography is that it is passive income. That's why you could still give it a shot.
Prints & Products
Especially if you use photography to communicate interesting ideas in a very stylized and characteristic way, selling prints and products with your photos could be a viable revenue stream. Finding a printer or a manufacturing partner can be a time-consuming and expensive process. On the other hand, unless you already have an audience with willing customers, producing and holding a stock can be a risky and taxative investment. Websites such as Society6 or RedBubble free artists from these concerns by allowing them to open shop and print upon request. The artist faces no upfront costs, the platform simply takes a cut from every sale.
While there's far less competition than in stock photography, and your revenue per sale will likely be higher, if you don't have a platform of your own and a preexisting audience, standing out from the competition could be challenging. It's also worth mentioning that by delegating the manufacturing process to a third party, you're giving up control over the quality of the final product. Regardless, selling prints and products is a note-worthy passive income stream. 
How Can You Make Money From Your Photographs Online
If you have great photography skills, you can monetize them in several ways online.
Selling Stock Photos and Prints
As we mentioned above, selling stock photos is the most popular monetizing method both amateur and professional photographers are using nowadays. There are no limitations to the type and amount of photographs you can put up on stock photography websites like Shutterstock. You can make good money selling these to customers. Stock photos have a large customer base, including companies, businesses, media houses, as well as independent content creators. This makes the demand for stock photos really high. Besides, selling prints of your photography on an online platform is another viable option.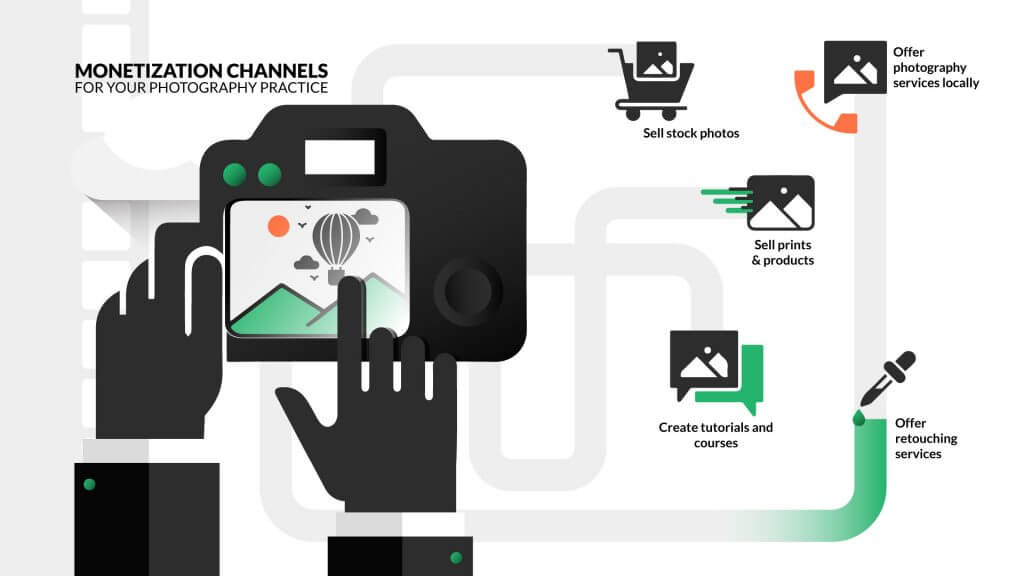 Retouching Work
Photographers know how tedious photo editing and retouching can be. It requires time, concentration, and a certain level of skill that may take years to develop. Especially if your work is characterized by a very unique and precise retouching style, offering your photo editing services can be a great way to start an online photography business.
Which marketing channels will benefit you the most will depend on several factors. Some editors may join platforms such as Fiverr or Upwork to make their photo editing services accessible to potential clients. But being on a freelancing platform could force you to compete on price.
If you want to take a more artisanal approach, you could use social media in your favour. You could become a freelance photographer, offering your services across different channels. For instance, you could post your work and introduce yourself in photography-related Facebook groups. Similarly, you could join exclusive groups meant for travel photographers, and advertise your travel photos there.
If you're very serious regarding your online photography business, you should play the long game. Craft an engaging social media presence and build an audience to whom you can sell your services. Being an active and vibrant voice in social media can bring an incredible stream of clients into your business.
Photography Tutorials and Courses
If you feel as comfortable in front of the camera as you do behind it, you may try your luck on YouTube. Your YouTube channel could be a platform to advertise your work, generate engagement, and build an audience. While YouTube's advertising revenue isn't what it used to be, content creators with broad audiences usually have other monetization channels available. Sponsorships and affiliate links, for instance.
Of course, becoming a content creator requires lots of planning, dedication, and wise social media management. You will want to create content regularly and ensure that it is well-produced, relevant, and up-to-par. Consider investing a few bucks in good equipment, although you undoubtedly already have a set of lights, reflectors, and tripods.
What kind of content should you make? Anything from basic photography or retouching tutorials to specific tips on your area of interest, be it landscape photography, product photography, or fashion. Making YouTube tutorials is a good way to share your experience while learning how to communicate your knowledge.
Establishing a solid YouTube presence could also be a preliminary step to selling ebooks, photo books, guides, and in-depth online courses. The main downside of this monetization channel is how resource-intensive and time-consuming it can be. But if you succeed, the sky's the limit.
Creating and selling educational material is a great way to get a passive income stream while doing what you love and growing your brand. But when you're crafting an online course, you'll soon find yourself wondering how this course will be accessed. While platforms like Udacity allow third-party creators to post and sell their courses, there's a lot more to be gained from hosting your courses on your own website. This can be completely possible, even with a frugal budget, if you pick the right Content Management System.
Grow Your Photography Practice Locally
Aside from selling stock pictures, editing services, or content, you can go down a more predictable (but equally interesting) path. If you want to provide photography services within your city or area, the Internet can be your competitive advantage.
You can get great results by winning the local social media game. You can focus on targeting people in your area, and you'll have far fewer competitors than those who sell digital products. But you'll eventually need a key asset: You'll need to create your own photography website.
By having your own website, you have somewhere to take your customers to learn more about your practice. You could also make smart content and design decisions to optimize conversions, so the highest possible number of visitors turn into customers. On your own website, you're in control and you can connect to your customers on your own terms.
A website is also an opportunity to be on more channels, more intelligently. It's somewhere you can take users to after they've clicked on your paid ad. Or it's the place they could be led to after finding you organically through search results. Local SEO techniques can make a world of difference for small businesses. But they're useless without a website.
How Much Money Can You Make From Photographs Online?
How much in numbers you can make from photography depends on several factors and considerations. For instance, the type of photos you sell, (stock photos, prints, real-life shoots, etc.), is a major factor linked to how much money you can make. There's more money in some photography types than others. Coverage of live events such as weddings and commercial photography is more costly than other types.
Full-time photographers can make between $20,000 to $80,000 a year. It all depends on individual circumstances such as competition in the area and saturation in the market of competition for a particular type of photography, e.g., real estate or fashion photography. When starting out afresh, we advise you to keep your prices low and invest time in building a client base and marketing your work. A couple of months or a year or two down the road, and with a bigger portfolio, you may have the option of raising your fee.
What is important is to keep your head low and keep busy clicking that camera. Whatever you choose to sell, whether it's stock photos or prints, real-life shoots, or content for your photography course/blog, never stop the flow of new photos coming.
How Much Does Shutterstock Pay for Photos?
Shutterstock has a policy of 'sell more, earn more'. This roughly means that the amount of your earnings increases as more customers licence your photos. So for instance, if in one year you sell up to a hundred image licences, you earn 15% of the cost. If you sell more than a hundred, your earning rate increases up to 20% and keeps increasing 5% each time with an increase of 250 image licences sold.
Websites That Pay You For Your Photos
The internet is filled with numerous websites that provide a platform for you to monetize your photos. Instead of getting confused by sheer numbers, have a look at our list of some of the most credible websites which have a good track record of making your selling process an easier and more efficient one.
Shutterstock
Alamy
Smugmug Pro
iStock Photo
Getty Images
Etsy
Stocksy
500px
Adobe Stock
Twenty20
Dreamstime
How Will I Be Paid For Selling Photographs Online
The internet is a great place to advertise your photography skills and make money selling your photos. Most of the websites that allow you to sell your photos on their platform make the buying and getting paid process simple and efficient.
There are a few things you need to keep in mind though if you want your photos to be approved by a website. First of all, you'd be required to have your photos approved by the site. Secondly, you'll have to sell each photo at the price the site's policy dictates. Often it's not as simple as uploading your photo on the shop section of the website with a price tag of your choice and selling it right away.
An essential point to consider is the commission structure of each photography website. What percentage of the profit the site gets to keep varies across different websites. It's a good idea to research the commission policies of several online photography stores before you decide to partner with one.
Then sometimes there are clauses of exclusivity on certain photos (where you may not be allowed to sell a particular photo on another website), and royalty-free licence. A royalty-free licence means that even though you retain copyrights to your photos, your customer can use the image according to their requirement.
5 Monetization Channels, Pros & Cons
We've covered five monetization channels for online photography businesses. In this section, we'll sum up the pros and cons of each option.
The biggest pro of selling stock photos is that it is a passive income stream. The most significant downside is how competitive it is, and how low your revenues are likely to be.
Selling prints & products could be a great alternative to selling stock photos since it's also a passive income stream. But if you delegate the production process to an on-demand service, you'll be giving up control over the final product.
Offering retouching services requires less effort overall, although it can prevent you from developing professionally the way you want. A portfolio of great retouching projects isn't the same as a great photography portfolio.
Creating tutorials and courses can help you develop a reputation, business, and community, but it requires lots of time and effort, making it hard to reach profitability.
Offering local photography services is a good choice if you want a more "hands-on" way of working in photography. It's a solid way to establish a reputation and gain experience. The drawback, if there's any, is that scaling may be far more costly than scaling a business that only sells digital products.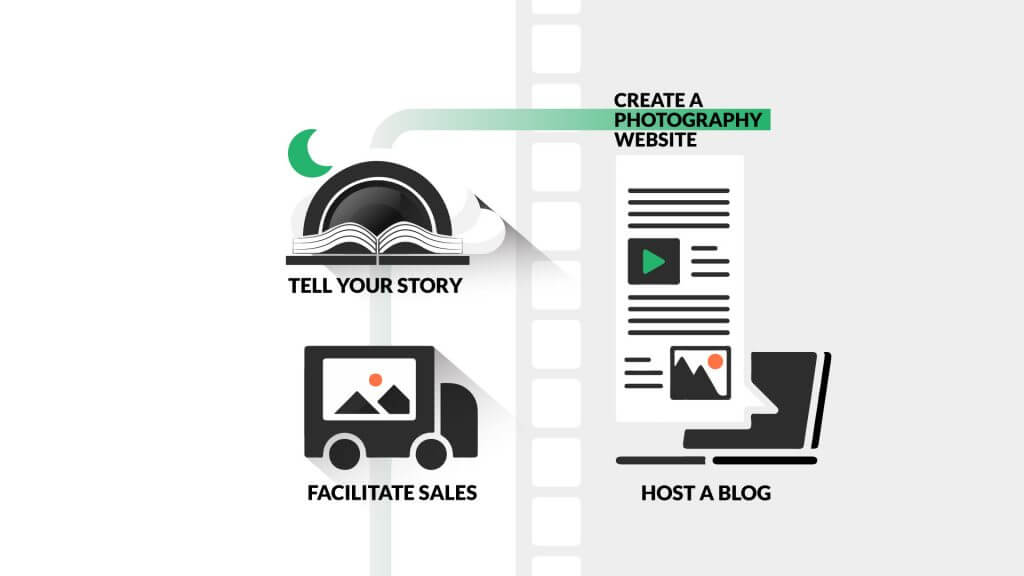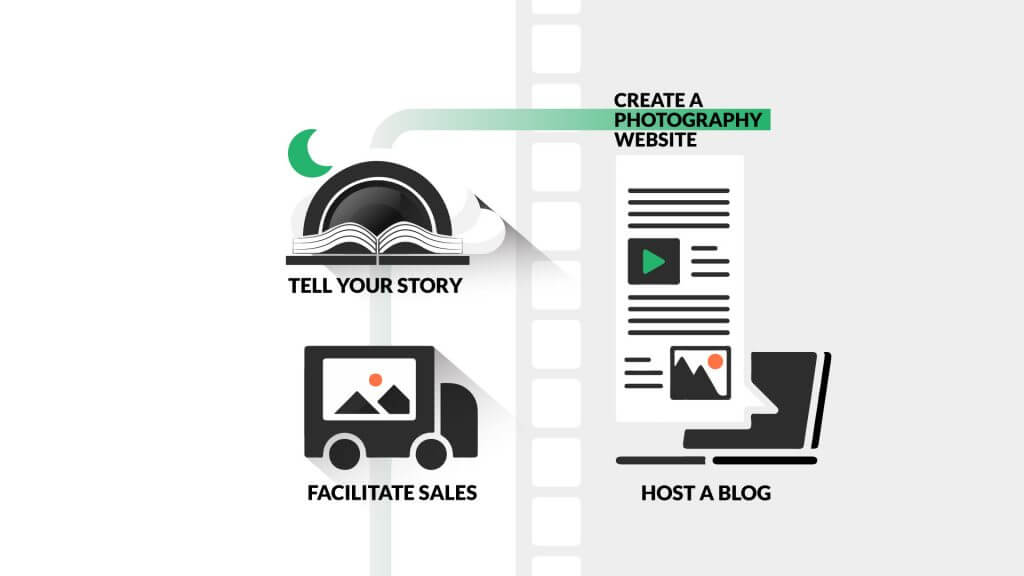 Take It to the Next Level: Create a Photography Website
Regardless of the monetization channel you choose, if things go well, you'll eventually want to centralize your online presence in a platform that's fully yours.
A website of your own can be a key asset. Aside from showing your best work, your website could:
Tell your story and explain your professional merits to clients.
Facilitate sales, either through a shop or an integrated eLearning platform, if you're selling courses.
Host a blog that's full of tips, stories, and interesting content so you can connect with your audience
Having a website with all these features can seem costly. But it doesn't have to be. There are several options to choose from when setting up a portfolio website. You should gravitate towards those that give you the most autonomy at the lowest price. That's why many photographers choose WordPress. It is always important to have a long-term vision when you start a business. Understand that your needs today aren't going to be your needs in five years. So it's always preferable to build your business with versatile tools. WordPress is a very flexible Content Management System. You can add everything from an online store to an eLearning platform to your WordPress website at no extra cost through plugins. Working with an efficient WordPress hosting service specializing in small and growing businesses can also make a significant difference when scaling. It has many personalization options to help you establish your unique style and brand identity. You can choose from a range of WordPress themes and plugins for the optimum eCommerce functionality of your website.
HostPapa's shared hosting plan will provide your photography website with a balanced service package with all the essential tools necessary to thrive online. Enjoy high server speed and fast page load times, in addition to optimum storage, enhanced SSL certificate and daily backups. Furthermore, get started with your WordPress photography website through HostPapa's user-friendly website building tools.
So are you ready to start your photography business?