Are you looking for inspiration for your new website? Then you've come to the right place, we have the best small business design examples for you.
In this post, we'll go over eight small business website design examples that check all the boxes. They're easy-to-use, memorable, and mobile-ready, and they're all WordPress themes. So, if you find a design that can be the foundation of your site, you can just download it, install it on your website, customize it and go live.
READ MORE: [Full Guide] Web Design for Small Business
We'll be sharing:
Design examples and tips for businesses with physical stores
Design examples and tips for fully online stores
Examples and tips on how to design coaching/consultancy websites
Examples and tips for designing an agency website
Let's dive in.
Physical Stores Website Design Examples & Tips
Visits to some stores are a full experience, with beautiful architecture and attentive sales representatives who always go the extra mile. Some small businesses stand out by offering precisely this to their community: a space where customers can always feel welcome.
If this sounds like the business you're running, you'll want your online presence to achieve two things:
Transmitting the same feeling as visiting your physical location
Inviting potential customers to visit you
With this in mind, your website's design should be fully customizable, and it should feature large, high-quality pictures of your store and products.
For reference, take a look at Phenomena by ThemesKingdom. Phenomena is a minimalist theme that encourages calm and enjoyable browsing. It features a full-width slideshow for product pictures, combined with a clean and spacious product grid. Its product pages provide plenty of room for product specifications, and all elements fade in as the page loads.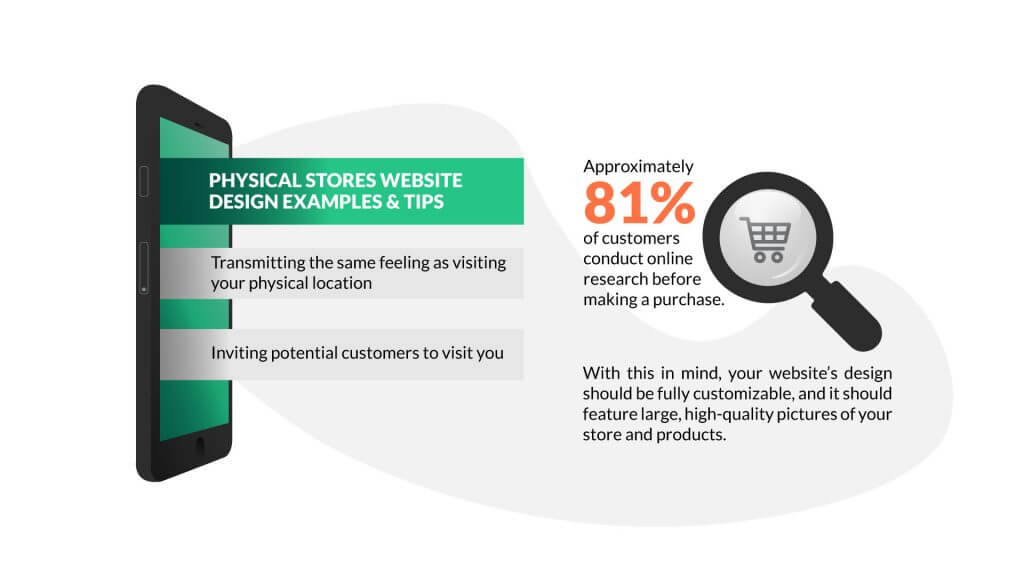 Approximately 81% of customers conduct online research before making a purchase. So, even for hyper-local businesses such as a gym, restaurant, or spa, having an online presence is a brilliant move.
If your business falls into this category, you'll want to make sure that your theme is compatible with appointment booking plugins, so users can sign up and pay for services without leaving your site.
If you're looking for inspiration, check out Rosa Lite by PixelGrade. Rosa Lite is a free theme designed for restaurants; it even has a sample "Menu" page. But you can easily adapt it to your own business, be it a yoga center or a gym. What you can learn from this theme, regardless of the type of business you run, is how to strategically use a few pictures to share a whole experience.
No Physical Store? Check Out These Small Business Website Design Examples.
What's the main message you want to convey to your potential customers? You most likely want them to know that you sell great products worth every penny. How can you get that message across and turn your visitors into customers if they've never seen your product in the real world?
Businesses that sell physical products without a physical location should pay special attention to their product photography and information and pair stunning, high-quality product photos with detailed and accurate information about a product's dimensions and composition.
Pro-tip: If you can go out of your way to produce your product pictures, do it. Even if you're reselling products from a top brand with their high-quality marketing material, creating your own product photos shows potential customers that you're running a legitimate business and that you're a dedicated reseller creating their own brand.
Depending on your niche, you could consider running a company blog, as well as an online store. By creating your own guides on your discipline, you're creating opportunities for potential customers to find you while setting yourself apart from your competitors.
If you're looking for small business website design examples that contain both an online store and a blog, check out these themes:
Techne is a WordPress theme with some exciting quirks. For instance, when you hover on a blog post's preview, a "Read More" sign fades in. The homepage features a full-width slideshow designed for product pictures with light colour backgrounds. The theme also includes "Lightbox," so users can zoom into every product picture's details.
Woostify is a classic theme. It has beautiful details, such as round buttons with subtle shades and other small details that make it different from similar themes. Its structure is very typical of an online store, making it easy to navigate for a wide range of users, and its blog also follows that principle. If there's something you can learn from this free theme, it's that it's important to keep it simple.
Coaches/Consultants Website Design Examples & Tips
Good coaching and consultancy can rarely be shown with a photograph. So, it's key for your website to inspire trust through testimonials, case studies, great content, and an elegant design.
If you're a coach or consultant, your website should tell a story and position you as a partner who will help your clients achieve their goals. When communicating your value, include your clients' voices. Social proof can go a long way, so give it a privileged spot in your design.
As a general rule, keep your sentences short and memorable. End every other section with a clear call-to-action, and make sure buttons can be easily recognized.
Make sure that, on every page, the story you're telling follows a logical progression. For instance, your homepage could be structured as follows:
Hero section: What's your unique value proposition?
Problem statement: What are your customers struggling with?
Your method: What can you do to help them succeed?
Results: Testimonials and case studies
Contact form
For inspiration, check out these two themes:
Excitor is a solid foundation for your consulting website. It's elegant, with colour accents and subtle animations. It includes some of the crucial elements that make up good consulting websites – for example, a testimonials carousel and a pricing table.
Consulting is similar in its strategic use of subtle animations and colour. Its layout is far more predictable than Excitor's, so it could be a better choice for beginners.
Online Agency Website Design Examples & Tips
Your agency's website should strike a balance between style and neutrality. You don't want your site to be generic, but it shouldn't overshadow your client's work. Make sure your menu is always visible, and take the time to plan your Contact page. At the end of the day, that's where you want your users to go.
If you're not sure about which direction to take, check out these very different but beautifully designed examples:
Breton is impactful and bold, with interactive animations and unconventional navigation elements; it's the perfect example of a unique website that doesn't take attention away from the work. This approach is ideal if you want to position yourself as a forward-thinking rulebreaker.
Chaplin is a free theme that perfectly complies with every rule. Its neutral typography and spacious layout communicate efficiency and simplicity. This approach is perfect for an agency that won't try to reinvent the wheel.
Should You Design Your Website Yourself?
In this post, we shared eight small business website design examples to inspire your new site. As a new entrepreneur, you're probably in charge of several dimensions of your business, from human resources to marketing.
While WordPress is notably beginner-friendly, and the themes we shared are as well, sometimes you don't have the time nor the design skill to DIY your site.
Perhaps you're thinking of designing your website because website design can be expensive, with websites costing up to thousands of dollars. But, what if you don't have a lofty design budget? Then, we've got the solution for you.
With Host Papa's Do-It-For-Me services, you can put your site in the hands of design professionals without breaking the bank. The web solution for you is awaiting. Discover our services now, and take your business online.