Ever wondered how much a website costs? From that URL you type when logging on to your favourite website, up until the moment it loads before your eyes? Have you ever wondered about the steps involved in making a website? Well, many factors weigh into it. Allow us to explain.
For practically every business, a website serves as an indispensable marketing platform, and for some, like eCommerce companies, it's an integral part of operations. Creating a website is one of a business owner's first things when starting a new venture. It's best to begin the process with a firm understanding of website costs.
There are many kinds of websites – company websites, news websites, celebrity websites, non-profit organization websites, online portfolio websites, informational websites, agency websites and thousands more. Chances are that your website idea hovers somewhere in these categories.
The World Wide Web is, in fact, an ample space available to everyone and the perfect playground to build your business. But websites cost money to create, so in this blog post, we take a thorough look at the cost of a website and what exactly you need to build one.
How Much Does it Cost to Build a Website?
You might search for ways to create a business or pet project website. Let's clear the air. Online, you'll find free solutions with easy-to-use website builders and paid solutions that give you more control over the look and feel of the website. Also, popular platforms like WordPress can help you achieve good results.
Whatever tool you might end up using, one is for sure. A website's cost isn't fixed and depends on many factors like web hosting cost, the domain name's cost, and the use of other third-party tools. So let's start and break down what is needed to build a website.
Web Hosting Provider
A web hosting provider is where your website lives! Most hosting providers have multiple plans to suit many different needs.
HostPapa has many available plans, from simple web hosting aimed at individuals (WordPress blogs, portfolios etc.) and small businesses while keeping costs ahead of competitors.
At only $3.95/month, you can have a fantastic HostPapa web hosting plan ideal for small business owners, plus you'll get a free domain name registration. While you try to find the best deal out there, we should mention some additional factors. 
Web hosting cost is defined by the services offered as well. The above HostPapa example gives you unlimited SSD storage space and unmetered bandwidth, so you don't have to worry about traffic limiters that can hurt your business.
For 12 months, a high-quality web host should cost around $70.
Extensive Support and Server Uptime
Things to look about in a web hosting provider are their uptime and extra services like domain registration included in the hosting plan. By ensuring that their support is adequate, you also ensure you'll find solutions to your problems when needed. All of the above are things that stand out with HostPapa.
Other Web Hosting Plan Types
Of course, when it comes to web hosting alone, there are multiple web hosting types to satisfy everyone's needs. You might need web hosting and a domain name, but there are more types of hosting than you can imagine, and they can all help bring the website cost down or up!
Managed WordPress Hosting is a plan that brings expert optimization and security, along with all the features of standard web hosting. Starting at only $19.95/month, you get 1 fully managed WordPress site, automatic website backups, and real-time scanning and patching while using one of the market's most secure CDNs and SSL certificates. With all that, you can focus more on growing your business rather than optimization and maintenance.
If you set up a business website, you most likely need eCommerce support to sell your products online. In that case, web hosting companies have specific plans for that purpose. HostPapa's Website Builder plan has a variety of online store templates for you to start your website. Solutions like these tend to have more support and cost a little more than just a usual web hosting plan but give you plenty of features to support your new business endeavours. 
Alternatively, you could try the standard web hosting plan for $3.95/month and use WordPress and WooCommerce to set up your store. This won't cost you as much, but you'll need to be a little more experienced to get it set up correctly.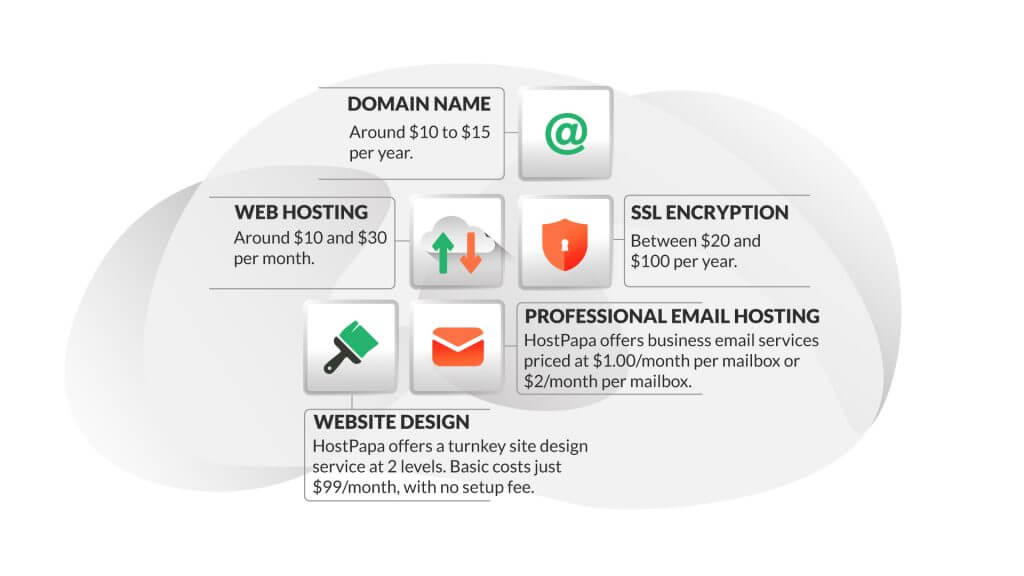 Domain Name Registration
Your domain name refers to the URL your website will appear at. HostPapa.com is a domain name, and it directs us to a specific website.
The internet is connected through IP addresses (also called physical addresses) in the form of numbers like, for example, 198.456.2.115. This address could point to a website. Of course, we picked it randomly, but this terminology is complicated for a human mind to remember.
So instead, the Domain Name System (DNS) was created as a way to interpret these IP addresses into user-friendly names. This way, everyone remembers everything!
Because a domain name is sometimes an unknown territory for many people, some web hosting companies offer a domain name registration service along with a web hosting plan to make the end-users life easier, plus they deal with registering the domain for you.
Domain name pricing has small fluctuations when we are comparing different hosting providers. For a quick example, let's rank the most popular domain names and their regular pricing.
.com – hovers around $5 – $20 depending on where you're buying it
.eu – stays around $5 – $15 depending on where you're buying it
.net – around $10 – $20 for most cases
.org – is common with NGOs (non-government organizations) and other services. Usually, it's sold for around the same prices as all of the above.
Content Management Systems
Some Content Management Systems are free to use, so the initial cost is zero, although there are some one-time fees for add-ons like themes and plugins.
According to official stats, WordPress is a CMS with over 40% market share, making it the most popular software. This translates into better support as more people use it; therefore, more content is available, like WordPress themes and plugins.
With WordPress hosting, you could have the essential software free from WordPress.org and then buy a custom theme for a one-time fee of, let's say, $59, which sometimes comes with premium plugins.
The same applies to other free CMS software like Joomla and Drupal. Custom theme creators charge up to $100 and even more for their packages and support annually or for 6 months.
Security and SSL Certificates
A secure web server is paramount, so you should ensure your hosting provider ticks every box in that area. Using secure passwords and opting for a secure web hosting service with SSL encryption and HTTPS has to be your priority, no matter your website type.
SSL Encryption is a technology that provides secure communication between computers in a network. If your web service doesn't use SSL, then there's a good chance it won't rank high enough on search engines, and web browsers will identify it as insecure.
Web hosts commonly add these services for free in their plan, so consider checking before buying. Does your plan have SSL encryption?
HostPapa offers SSL certificates from GlobalSign, offering excellent security and encryption for only $29.95 per year.
To sum everything up, for a very simple website, your total cost would be from $50 to $110, depending on whether you use just free tools (WordPress plus a free theme) or spend some extra money on a custom theme package with added benefits. The other route is spending up to $50 for Website Builders like Squarespace or Wix, but that creates restrictions on design and expandability.
Of course, there are a few other criteria to consider when building a new website. Upgrades and maintenance, web design and marketing are essential if you have a business website with an e-shop.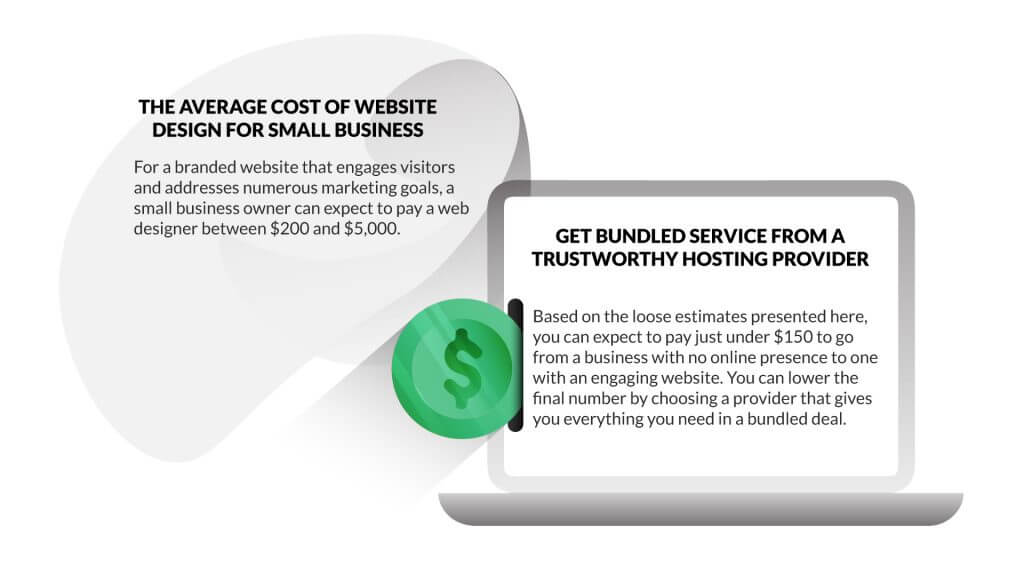 Using Website Builders
Website builders are services that remove all the setup and deployment many custom websites require.
Generally, with a Website Builder, you choose a plan with all the features you'll need and start by creating your website through a neatly designed editor. There's no need to buy a web hosting service or register a domain name because they do that for you. Their goal is to make their services as easy to use as possible to attract people with little or no knowledge of website creation.
Can I Make a Website for Free?
Like everyone else, you might find Google Sites interesting if you have a Google account. And who doesn't have one already!
The service has been updated recently, is free to use, and is good for anyone needing an easy-to-use website builder.
It uses a drag-and-drop interface and supports all the Google Suite tools to create cool static pages. Google Sites is recommended for small businesses and projects, and this is why it offers some relevant templates to give you a headstart.
The above solutions offer an all-in-one package with low pricing, although they are limited in customization and SEO, which you'll probably notice over a while.
The cost of these solutions is as follows.
Squarespace – Starts from 11€ per month for a personal website, while the Business plan costs 17€ per month adding premium blocks, a Google Workspace account, CSS customization and advanced website analytics.
Wix – Has a free option with ads and a fixed yoursite.wixsite.com in the URL. Charges are monthly, and pricing starts from $5.50 per month and $20 per month for business websites with eCommerce functionality.
Google Sites – This option is completely free of charge. It comes with a pre-fixed URL in the form of sites.google.com/yousitetitle. It also has limited customization and no paid version.
So, the cost of using a website builder is sometimes close to none, but it has many limitations. If you use WordPress, you might have to spend from a couple of hundreds or thousands of dollars, depending on the purpose and the functionality you want to have, but these limitations go away, and you're left with a unique website.
Optional steps like a web designer or a design agency are very likely to be needed if you're going for a WordPress website. But remember, you can always purchase HostPapa's Website Builder plan and create your website immediately!
How Much Does Web Design Cost?
So far, we've dived into all the possible costs like web hosting, domain registration and some website builders, but there are a few more things to keep in mind if you're going for the custom website path.
A web developer and designer can help bring your ideas to life. A web designer is responsible for the website's looks, while a web developer maintains the website's core functions and structure. Hiring a professional to help you with the design process might be the right choice if you have high hopes for your WordPress website.
Looking at some data provided by Elementor, a web designer earns on average $24 per hour. This means that if your website requires a week of full-time work, it brings us in the ballpark of $1.000 for one week.
The cost might look substantial, but it's considerably less than spending on a Web Design Agency. Remember that more prominent agencies have steeper prices due to the expertise they bring to the table, and they tend to deliver faster than freelancers.
SEO and Marketing
SEO and marketing costs are unavoidable whether you're building a website for a small business or a big company. Ranking your website higher on search engines is crucial for success, so you have to consider using all the available tools to the maximum. Go through our SEO for Beginners article for more!
WordPress offers support for SEO tasks through additional free or paid plugins like Yoast SEO. Make sure to install it and start optimizing your existing content with the right keywords.
Building a Marketing plan is one more factor you need to consider. While you can do it yourself, more recognized corporations employ a dedicated department to help grow their business.
Closing Thoughts
How much does a website cost? When answering that question for yourself, you'll find a wide range of prices associated with what can be a confusing array of plan features. Take advantage of the competitive hosting market by applying strict criteria; there's no reason to settle for a service that doesn't meet all your needs at a fair price.
Based on the loose estimates presented here, you can expect to pay just under $150 to go from a business with no online presence to one with an engaging website. You can lower the final number by choosing a provider that gives you everything you need in a bundled deal.