All over the Internet, optimized landing pages help websites close sales, get new email subscribers, acquire leads, or simply introduce a testimonial that primes customers for the purchase or furthers your branding. Long story short, landing pages help convert web traffic into business results.
However, these pages can often fall short of expectations. Maybe they don't convert as well as they should, sales don't happen, or other desired business results fail to materialize in the way your business requires because the page's content fails to connect with visitors.
Fortunately, professional video content provides a reliable medium to solve the problems you may find when building your landing pages. But choosing the right video style that can solve these problems and enhance your landing page performance is not always easy!
This piece will go over how video content can make your landing page better and get to know a few styles of videos that can help you enhance your capture pages' performance and boost your sales across all other landing pages.
Let's get to it, shall we?
How Video Enhances Your Landing Page's Performance
Customers today prefer video above every other form of content. It conveys information by combining images, audio, graphics, and animation effortlessly and in a way that most people can easily follow.
A well-developed video shares your brand's message with just one click, using the tone and approach that best fits your goals. As such, video is the go-to content type online as it can be linked to any kind of product, service, or brand and deliver any type of sales message.
Thus, adding video to your landing pages helps you:
Improve engagement rate and dwell times, which benefits SERPs placement
Boost your conversions by delivering your message in the best possible way
Build a community around social platforms
Ramps up brand awareness, discoverability, and customer delight by providing the type of content most audiences prefer
So, adding video content to optimize your landings' performance is a no-brainer, but not all videos work the same with all types of pages. Let's go over three of the most popular types of landing pages, the objectives they are looking to fulfill, and how video content can enhance their performance.
Three Types of Landing Pages that Improve with Video
Home pages, product landing pages, and educational landing pages are frequently integrated with video to provide a reliable way to engage visitors and deliver your message effectively.
Whatever niche you happen to operate in, chances are your site has at least two of these three types of web pages, as they tend to provide the highest returns and are consistent in terms of desired business results. Let's go over what makes them tick and how they can be improved with video content.
Home Pages
Home landing pages help your company showcase your brand, content, product, or service to your target audience. Oftentimes, marketers use them in combination with video and a brief animation sequence to introduce the company's main product or service and deliver the message you want your audience to walk away with.
The videos included on these landing pages should be short and to the point – and be focused on showing the main problem or issue the product solves and how it saves time, money, or produces any other benefits.
Product Landing Pages
A product landing page is usually focused on selling or promoting a particular product or service. It provides a host of information about the product the company is selling, and it's mainly focused on features, benefits, usage, and product opportunities.
These pages include all relevant material like graphics, pictures, infographics, copy, and, of course, videos (often product videos or motion graphics animations) that can dramatically improve conversions. They should be carefully set up within the main website structure and be considered a valuable piece of your sales effort.
Educational Landing Pages
An educational landing page revolves around providing relevant information to your visitors that often ties to your business and their pain points. These usually include longer videos and short texts that introduce important data, potential offerings, or opportunities your audience might be interested in. These pages help people digest information quickly, making these landing pages the perfect spot for complex content or ideas.
Educational landing pages are especially useful if you work with a product, solution, or service that needs careful consideration to generate buy-in. These pages work wonders when bringing in new customers, keeping viewers engaged, facilitating sales, and boosting conversions.
A Few Popular Ways to Use Video on Your Landing Page
There are several ways you can use video to improve a landing page, and they all relate to the goal and function of the video on that particular page and its location on it.
The most common is the "protagonist" page location that replaces the main picture at the top-center of the page. This is the most prominent spot on a landing page, and it gets the most attention from viewers. One way you usually see this is on pages that include a brief animation or a short video that appears right at the top when you load the page. It's most often used in home and lead-generating landing pages to communicate a particular branding message with a CTA that prompts a conversion.
Another common practice is to have support videos appear lower on the page but still at its center. It often takes the form of demo videos or testimonials that support a given sales message conveyed by the landing page's overall design.
Last but certainly not least, another popular way to include video on a landing page is through a pop-up box with related content to the section of the page your visitors are on. Pop-up boxes are usually used for mailing lists or webinar sign-ups and are the highest converting forms. They are more effective when the user is engaged with the content displayed on your landing page, as the pop-up can add value through a new piece of information that synergizes with the rest of the page's info.
However you go about adding video to your landings, it's crucial to keep in mind your primary goal for that page and piece of video content. The action you want your visitors to complete and how it all ties to your overall goals should inform how you go about your video's placement.
Three Types of Videos That Can Enhance Your Landing Page Performance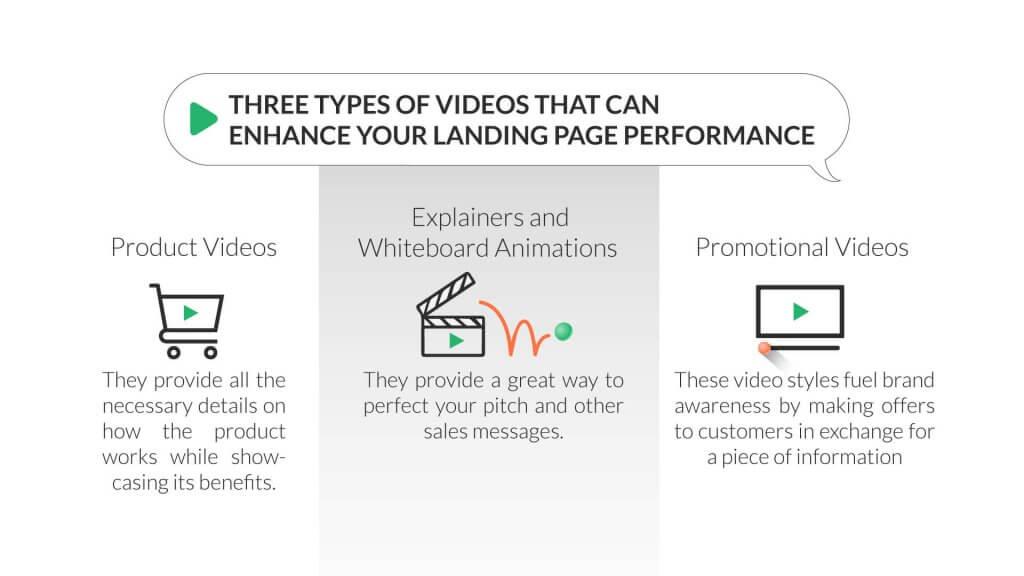 We've already discussed why you'd want video on your landings and a few popular ways to implement them effectively. But different video styles can produce wildly different results, and if you want to get the most out of this synergy, you need to choose the right tool for the job.
Here are a few video styles that synergize well with the most common landing pages styles.
Product Videos
Product videos are the obvious choice for product landing pages as they provide all the necessary details on how the product works while showcasing its benefits. Moreover, product videos provide the information the customer needs to make a purchasing decision, and they are great at closing sales and generating conversions.
Some of the benefits of using product videos on your landing pages include:
Boost engagement and trust around your offerings
Consistently increase conversions, likes, clicks, and shares
Boost your search rankings by possibly appearing themselves on SERPs
Remember, product videos are great to make your product or service known, so make sure you place your video in a prominent position on your landing page to maximize your content's returns.
Explainers and Whiteboard Animations
Explainers clearly communicate your message effectively while boosting your conversions and prompting viewers into action. These videos can describe almost anything, from what your company can do for the customer, convey a powerful branding message, showcase how you can help viewers address their pain points, and do it all in a charming, compelling way.
Whiteboard animation videos are a type of explainers that do a great job sharing your product's key value proposition with customers. These videos are usually found on home landing and product pages and can help introduce your company or your main product and service or deliver complex explanations in simple and charming ways.
Benefits of using whiteboard animation and other explainer videos on your home landing pages include:
Helps improve search engine rankings by nurturing dwell times
They provide a great way to perfect your pitch and other sales messages
They help build a community and buzz around your product, especially if you distribute your landing on social media channels
Keep in mind that all of the benefits you get through the correct use of video on your landing pages will ramp up your ROI.
Promotional Videos
Promotional videos work well on promotional landing pages or pop-ups. They introduce promotions and offers that showcase special or timed opportunities.
Some of the benefits and results of using promo videos include:
Showcase timed incentives and promotions designed to motivate visitors into action
Save sales reps' time and resources
Nurture interest in your offerings and double down on the push your landing page is shooting for
These video styles can also fuel brand awareness by making offers to customers in exchange for a piece of information, such as an email, that will eventually turn into a lead for your sales team.
Parting Thoughts
By and large, enhancing your landing pages performance with high-quality, well-edited videos is a matter of knowing your landing page goal and crafting the right video style to produce the desired business results.
Hopefully, after reading this far, you're better equipped to produce the style of video that will boost your landing page performance.
So, what are you waiting for? It's time to implement some of these video styles on your landing pages and achieve the business results your company needs!
About the Author
Victor Blasco is an audiovisual designer, video marketing expert, and founder/CEO of the explainer video production company Yum Yum Videos. Besides running the business, he's a lifelong student of Chinese philosophy and a passionate geek for all things sci-fi.