Landing pages are critical to the success of an online marketing campaign. Whether you drive traffic via search engines (people find you by searching relevant keywords) or through social media platforms like Facebook, the landing page is your main conversion point.
Landing pages can also be considered the foundation of your relationship with your potential customers and the first place where you can use persuasion to achieve your target, so you'll need to give it your best.
In this article, you'll learn:
What Is a Landing Page and Why Is It so Critical?
Let's say you're getting many visits to your site, but you're not making them go to the next step, buying your product. Having lots of traffic is great, but these visits need to be converted into sales.
When this happens, you need to create a unique page – a landing page – where it will only have the necessary information about your specific product, without any secondary information that will draw the potential customer's attention.
So you can define landing pages as web pages designed specifically for conversion. They are pages usually created for a marketing campaign.
There are several types of landing pages and a specific reason for creating each one.
Types of Landing Pages
There are a few landing pages, each best suited for different marketing strategies. A good landing page can be the differentiator for your business to stand out from the competition and optimize profits.
Let's go to the examples:
Lead capture landing pages
Companies who want to prospect potential consumers need to have this type of landing page on their marketing strategy. 
They are used to obtain valuable information from customers, such as email, phone numbers and names, offering practical and attractive content. The most important thing about this landing page is that you can send promotional emails about a product that may interest them.
As the name implies, this page focuses on product or service sales. These include everything a customer wants to know about a product or a service while they're offering an easy way to purchase that item. You can be straight to the point to avoid making the landing page too long and boring to read.
This page is typically used for the company to pressure a customer to take an action the company needs. You can encourage a user to learn more about a product or service, gain followers on your company's Instagram, access the week's blog posts, or deepen some information.
The most common ones out there. Such a landing page is created whenever a company needs to create an event, lecture, seminar etc. You can put all the useful information regarding the event. For example, you can add the time and date for the event and the speakers and even offer tickets to the public, if applicable.
On top of that, you can still put a button and a form for people to register. You will be able to know how many people will attend the event.
Can I Create a Landing Page Without a Website?
Yes, you have an option just to create a landing page, but if the idea is to have a sales page, you need to direct it to the website that contains the products, don't you think? It's easier if you've already created a website and want to create something specific, be it a product or event.
But let's get back to the topic question.
You can develop a landing page on your website, or if you don't have one, you can use a landing page creation tool with many templates without needing any code skills.
What Is the Difference Between Home Page and Landing Page?
You may wonder how a landing page differs from other website pages. Aren't all the pages on your website landing pages? The answer would be no.
The purpose of a landing page is usually singular: its primary goal is to drive visitors to take a specific action. Whether downloading an eBook, providing information in a capture form, signing up for a preview call, or making a purchase.
In contrast, most web pages are informational and directional in design. Like the home page, which likely has many links pointing to different pages on the website.
On the other hand, landing pages are built to lead to a specific action, hence the higher conversion rate.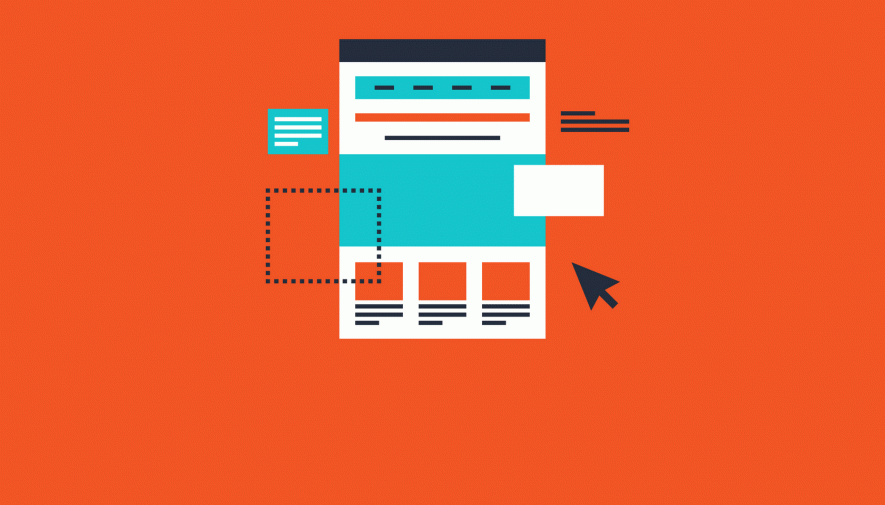 What's a Good Conversion Rate for a Landing Page?
According to Hubspot, the average landing page conversion rate across all industries is 9.7%, and 10% is a benchmark for a reasonable conversion rate.
A reasonable conversion rate places your company in the top 10% of global advertisers, making your conversion rate two to five times better than the average conversion rate.
What Makes a Successful Landing Page?
Some elements are essential to its success when designing a new landing page. Here are just a few.
Unique Selling Proposition (USP)
The unique selling proposition differentiates you from your competitors. A visitor should choose you and your product over anyone else. This is important to a landing page as it is designed specifically for conversion; a USP needs to be communicated clearly on the landing page so that visitors understand why they should take action and take it now.
Compelling Headline
Headlines were a critical part of marketing and copywriting before internet marketing was established to sell products and services.
Headlines are usually the first thing visitors will see on your landing page, so they should be written to grab the visitor's attention and make them want to read more.
Visuals, Colours, and Layout
Words aren't the only important thing on a landing page: visuals, colours, and layout will all impact its conversion rate.
While a headline may be the first thing visitors notice, images and colours provide the emotion of the page. So even before a user reads a headline, the visuals on the page have already communicated a feeling.
Because a landing page is focused on a single CTA (call-to-action), it's vital to keep the layout as simple as possible so you can relay the information quickly and for the visitor to understand and easily take the desired action.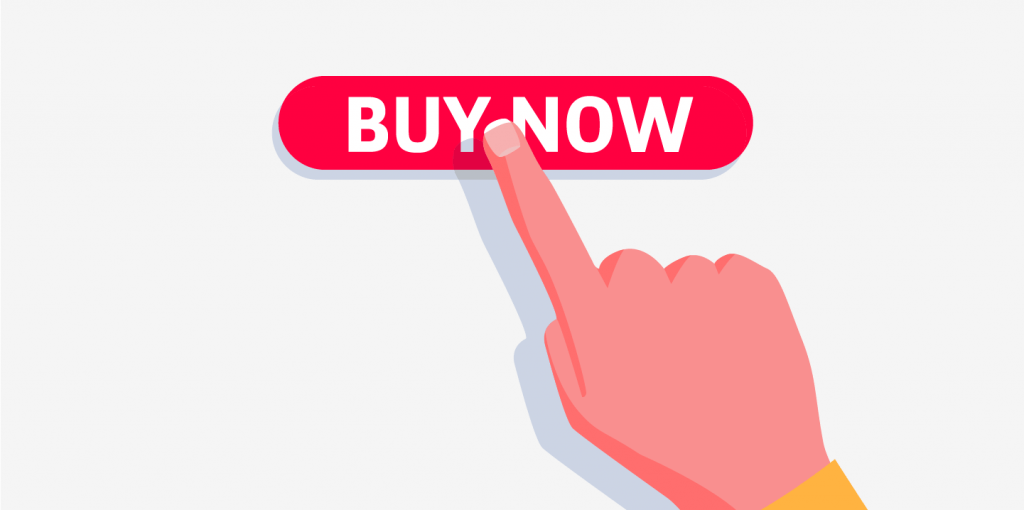 CTA and Offer Details
The call-to-action (CTA) must be straightforward and easy to understand. A landing page with multiple CTAs can be confusing and have lower conversion rates.
Here are some tips for a strong call-to-action:
Use your layout, colours, and visuals as cues to lead visitors to the CTA. For example, use an image of a person looking toward your CTA.
Use a CTA at the top and bottom of the landing page. A CTA at the top is referred to as "above the fold," which dates back to print advertising. While users don't fold web pages like newspapers, they scroll – so you want the CTA to be visible immediately without scrolling. If a visitor is engaged and scrolls to the bottom of the page, you don't want them to have to scroll back up to take action.
Use clear language when describing your call-to-action and ensure the phrases are consistent with the action you want them to take.
Page Speed
Page speed is something most marketers don't consider for landing pages. However, page speed is crucial for user experience. If your landing page takes more than a couple of seconds to load, users are more likely to leave, raising the bounce rate metric.
Google has a great tool called PageSpeed Insights that gives you information about what makes your website slow and provides valuable advice on how to fix it.
If you use PageSpeed Insights and find that your landing pages are still loading slowly, you may need to upgrade your hosting.
If your landing pages are running on shared hosting, consider upgrading to the scalable resources of a VPS hosting plan or a Managed WordPress hosting plan, if you're using this popular CMS.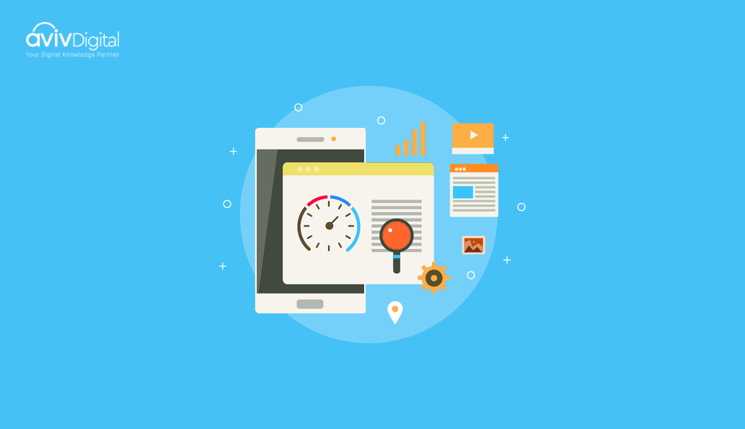 Tracking
There are different ways and multiple tools to track behaviour on a landing page. Google Analytics will provide information on the number of users, sessions, bounce rate, session duration, and conversions.
Google Tag Manager allows you to tag some aspects on a page. For instance, you may want to track someone clicking on a specific link.
Heatmaps are another way to track user behaviour and are great at visually displaying what parts of the page are receiving the most attention. Look into the data gathered from analytics to understand what changes you need to make to your landing page.
Tips for Creating an Effective Landing Page
Building an effective landing page requires effort, but we've got you covered with some additional tips. Take these into account and build a successful landing page for your online business.
The Big Idea
We discussed landing pages and the importance of having a singular focus. This doesn't apply only to your CTA. It also applies to the central message of the page. This means that instead of trying to communicate all the incredible things your product or service can do, choose just one. Uber is great at focusing on one thing: creating income on your own time. There are a lot of different messages Uber could use to attract new drivers, but they focus on one big idea.
Continuity
The landing page is a critical component of the conversion process, but one of the things to consider is the messaging the user sees before arriving on the landing page. Ensure the message at the top of your landing page is consistent with the ad or email that brought visitors to it.
Suppose your ad asks users to click through to the page to download an eBook and, upon arriving on the landing page, ask for a phone number. In that case, this will create confusion. Keep your messaging consistent and ensure continuity throughout the campaign.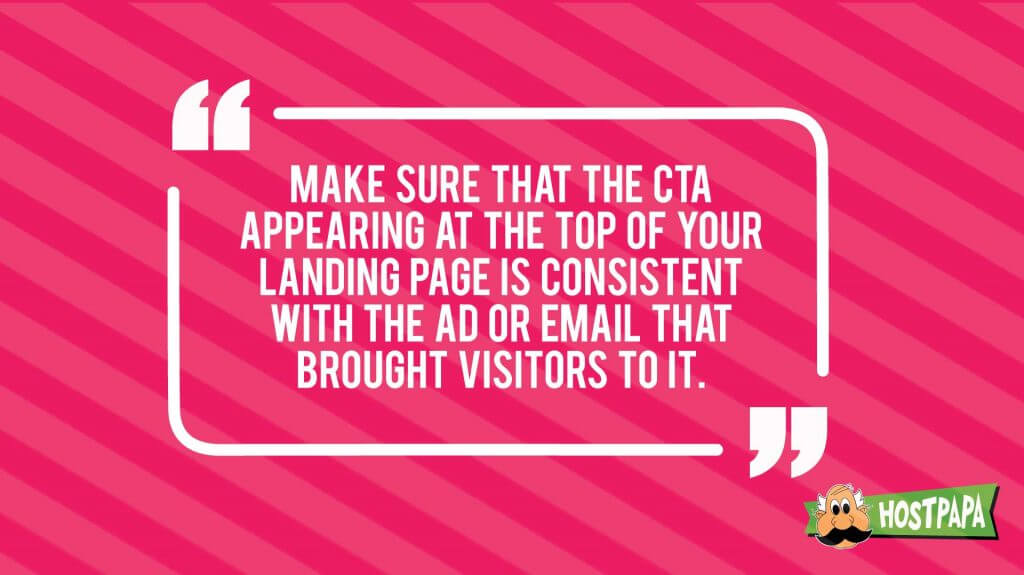 Social Proof
The term "social proof," popularized by Robert Cialdini in his book Influence, is a concept where other people's actions influence people. Landing pages typically display forms of social proof like testimonials, and case studies, so make sure you add these to your page.
Testing Landing Pages
Almost each of the critical elements mentioned above can be split tested. It would be best to keep your KPIs in mind; testing these essential elements over the campaign's life will almost always improve ROI.
Examples of High Converting Landing Pages
Creating highly converting landing pages is difficult, especially when you don't have much experience. We've rounded up a few examples to make things easier. Check at what they did right, and apply it to your own landing pages.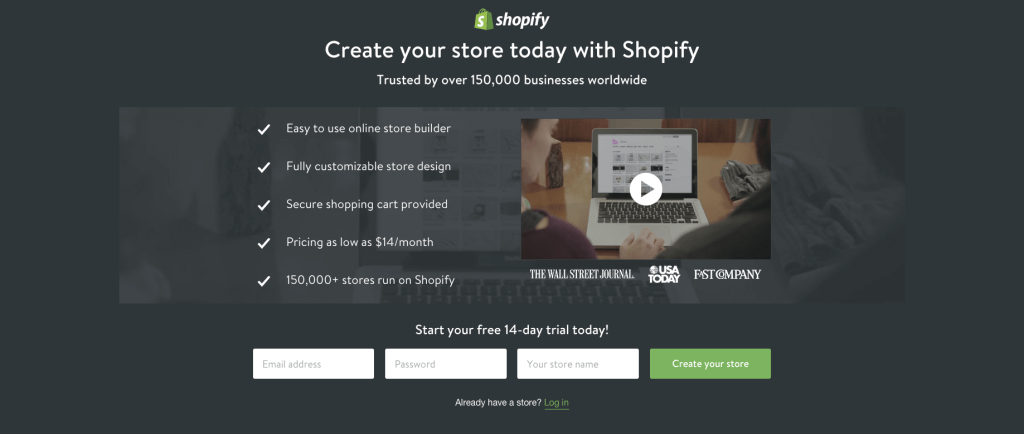 Shopify
This is an excellent example of communicating a lot of information concisely. Shopify uses all of the critical elements of a landing page but manages to keep the page clean and simple.
Things that stand out on the page include:
Clear CTA: Start your free 14-day trial;
Simple but compelling headline: Create Your Store Today with Shopify;
Strong use of social proof: The Wall Street Journal, USA Today, 150,000 stores are running Shopify.
Groupon
Groupon built its business on great offers and strong landing pages. The Groupon homepage welcomes all visitors with a pop-up acting as the landing page. What works on the landing page:
The offer is location-specific (based on the visitor's location)
One clear CTA, asking for an email address
Compelling headline: Save up to 70% on 1000s of awesome Phoenix deals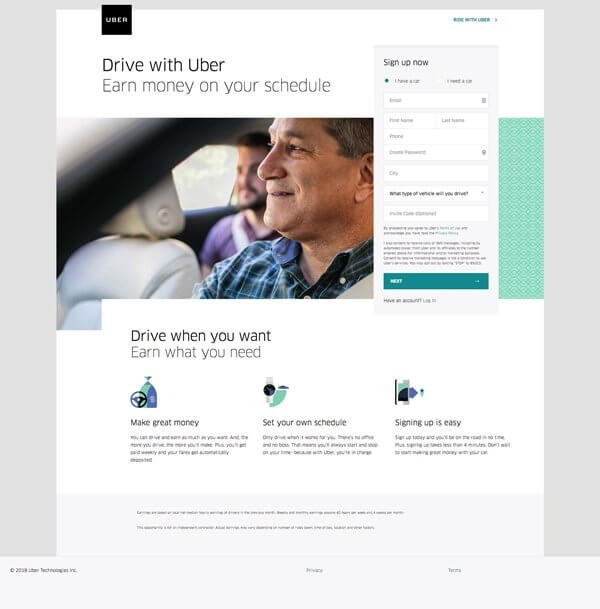 Uber
This is a perfect example of a terrific landing page. With one glance, visitors know what's on offer, what needs the product will fill, and what to do next: need extra cash but already on a tight schedule? Define your own schedule and drive on your own time to earn the money you need.
What stands out about the page:
Good use of imagery. Uber uses a photo to show the person's actions in the future.
CTA is above the fold, and the button has a contrasting colour to draw attention.
The layout is simple and helps communicate the big idea: earn money on your own terms.
Landing Pages Drive Conversions
Landing pages can differentiate between a successful campaign and one that fails. Always remember to keep things simple, focus on one big idea, and have a single CTA. By following best practices and A/B testing your landing pages, you'll start seeing your landing page drive more and more conversions!