It's always a good time to start selling online. However, we understand that starting an online business can be a terrifying prospect, especially if you're not technically savvy.
Thanks to content management systems, all you need to get started is:
A domain (this will be the business name of your online store)
A web hosting account that allows you to host websites on the internet
And a focused mind to create your online website
For beginners, experts recommend using WordPress hosting. WordPress is the most straightforward content management system to start your website without a developer.
What is a Content Management System (CMS)?
Content management systems (also known as CMS) allow users to create, manage, and modify website content easily. This software makes it possible to develop a website from scratch without coding.
Instead of developing your own system for creating web pages, storing images, and performing other functions, a content management system takes care of the backend infrastructure for you, allowing you to concentrate on the more forward-looking aspects of your site.
How Content Management Systems Works
WordPress, Shopify, and Drupal are all different CMS platforms with unique user interfaces and features, allowing multiple users to contribute, create, edit, and publish content without relying on a developer for assistance.
A content management system will enable you to streamline developing and publishing a website. In addition to minimizing the need to code, they simplify the process of uploading content.
With the help of the user-friendly content editor, you can quickly and easily create content such as blog posts and pages. In addition to organizing PDF documents, the content editor software helps organize web content, images, video files, text and audio files, and many other file types. Also included are tools for configuring your website's settings, as well as tools for setting up permission systems. 
What Makes up the Content Management System?
If you look at a content management system in more detail, two primary components contribute to the creation of your website.
CMA stands for a content management application, and it's the component that allows you to add and organize content on your website.
A content delivery application (CDA) is a backend, behind-the-scenes process that takes the information you enter into the CMA, stores it effectively, and makes it noticeable to your visitors on your website.
These two components make it simple to keep your website up to date when used together.
The Benefits of Using CMS
CMS software facilitates the creation of websites for those who are new to the field. Users who are not technically savvy can customize their own web pages, publish material on the web, and start online businesses without hiring web designers or developers.
Site administrators can publish content with the click of a button with convenient content scheduling. To meet scheduled timeframes, corporate events, or product launches, you can plan posts to be published on specific dates and times.
A content management system can develop a website for a well-known brand or launch a new business. You can create various websites using the CMS and website hosting bundle.
Changing your website's design or personalizing it with your logo, colours, and styles is simple with a CMS. You can also use several plugins to extend the functionality of your website.
Cost of a CMS Platform
Some content management systems can be costly, based on your selected options. Their subscription fees can cost hundreds of dollars per year. WordPress, on the other hand, is entirely free and open source.
However, while the software is free, you'll need to purchase web hosting and a domain name to use it. Web hosting is the home of your website, where your site data is kept safe. Your domain is the name of your website and where your site logs are kept secure.
You could spend as little as $100 to launch a WordPress website, or as much as $10,000 or more, based on the nature of your business.
If you're thinking about setting up an online business, your requirements will vary. You'll need to process transactions and keep your customers' data secure, as well as the ability to add more features to your site to increase sales.
Popular Content Management Systems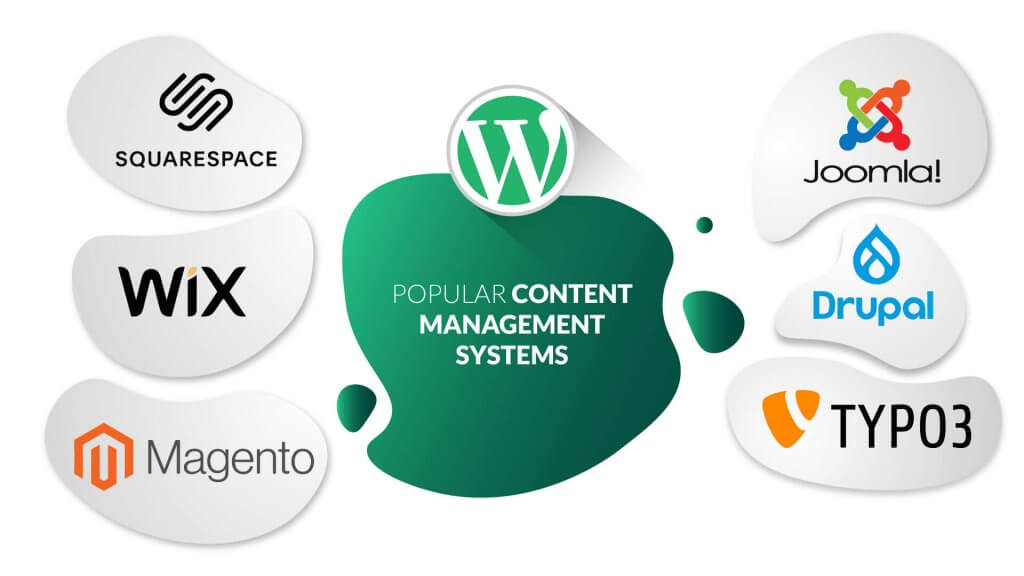 WordPress, a free and open-source technology, is the most popular content management system on the market.
In addition to the self-hosted WordPress software, other content management systems include:
Joomla
Joomla is an excellent open-source content management system. Joomla, like WordPress, is free and can be used for both personal and business websites.
Drupal
There are few web content management systems that can match Drupal's flexibility. Several large corporations and government agencies, including NASA, Tesla, Sony Music, and Nokia, rely on Drupal to manage their online content.
Magento (for eCommerce stores)
When it comes to large and medium-sized online businesses, Magento is a popular choice. Magento's is adaptable and has advanced customization options, and is used by large corporations like Samsung, Nike, and Ford.
Squarespace
You can use pre-built website layouts and drag-and-drop components to create and edit web pages with Squarespace.
Wix
Using Wix, you can create a website from scratch and have it hosted and designed by the company. Wix allows users to develop their websites without hiring web developers.
TYPO3
Code and content can be managed independently in TYPO3, making it a highly customizable platform. It's possible to add new features without having to write any code.
Types of Websites You Can Develop with Content Management Systems
Nowadays, most content management systems are highly adaptable. While some content management systems are tailored to a specific purpose – such as Magento and eCommerce – most popular content management systems could be used to develop nearly any type of website. These include:
Static websites
Blogs
eCommerce stores
Forums
Social networks
Online courses
Membership sites
Portfolios
And much more
What is the Best CMS Platform?
If you're thinking about developing an online store or upgrading an existing one, you should consider your content management system's cost, ease of use, versatility, and expandability.
There are countless CMS options available for building a website, but WordPress is the most widely used on the internet. WordPress powers over 38% of all websites globally, and we believe it's the best content management system available.
Because WordPress is used by more than a third of the internet, there are many resources available to assist you in creating your website. WordPress offers the best selection of drag-and-drop page builders, as well as free and premium plugins, integration with hundreds of other apps, and hundreds and thousands of freemium themes to choose from.
You can't go wrong with WordPress, whether you're looking for a straightforward website builder or the best blogging platform available. It can be used for various websites, including blogs, small business websites, enterprise websites, and even online stores (eCommerce).
How to Build a Website With a Content Management System
Do you want to create your website with CMS? Follow these general steps:
Purchase web hosting services and a domain name.
Install your preferred CMS on your website's web server.
Make changes to the content management system to dictate how your website looks and operates.
Begin creating content by navigating through the interface of the content management system.
That's it! Some hosts, such as HostPapa, will even assist you in installing the content management system (in this case, WordPress), allowing you to get right to work on building your site without having to worry about technical setup.
Summing It Up
Before a firm decides to invest in a content management system, many factors must be considered, such as an easy-to-use editor interface and intelligent search capabilities. For some organizations, their software is dictated by more specific requirements than others.
Using a CMS to build and manage your website can help you grow over time. In addition to storing all of your web content in a single location, CMS encourages teamwork, provides quick and easy updates, and offers templates and extensions to customize your site.
WordPress is the best choice for users looking to develop a website. Just purchase a domain and managed WordPress hosting to get started right away.