WordPress, Joomla!, and Drupal — these are three of the most popular tools you can use to build and run your own website.
But of the three, which one should you choose — and does it really matter?
If you choose the wrong CMS, i.e., one that's too simple or too complex for you, you'll get stuck and have a hard time moving your website over to another CMS.
That's because each CMS has its own set of themes and extensions which your website runs, making it incompatible with the others. This makes migrating your whole website, especially the layout and functionality, to another CMS next to impossible.
Keeping this in mind, you can see why it is important to know the strengths and weaknesses of WordPress, Joomla!, and Drupal before you build your website.
But before we start, let's take a look at what these three tools actually are and what they do.
Content Management Systems: A Brief Introduction
In the olden days, you had to hire a web developer to build a website for you. And that took time and was really expensive.
Web developers used to build single static pages and tie them together to build your website. Each page had its own code, images, links, and functionality tied to it.
This was a problem.
Say you wanted to replace your website's old logo with a new one, or update its design. To do that, your web developer would have to visit each individual page and make the changes on all of them.
There was no 'center' for managing things.
Content management systems (CMS) changed that. They divided a website into three basic parts:
Content: In a CMS, images, text, videos, or other content files are stored separately from the website's code and layout. With a click of a button, you can add any kind of content to as many pages as you want without changing the core code of your website. It's as simple as dragging and dropping.
Code: A CMS stores the core code, which makes your website run independently from the content. This makes it easy for you to add security patches and new functionality to your website without making changes to the content and layout. It's as simple as updating an app with a click of a button.
Layout: With a CMS, you get themes which you can apply to change the look of your website. They work separately from the content and code — which means you can change your website's design in one click without messing up any of the content or plugins on your website. It's like changing your PC's wallpaper.
By separating a website into these three parts (and giving you easy tools to manage them), a CMS makes it possible for you to create world class websites without extensive technical know-how.
Now that it's clear what a CMS is, let's start our comparison of WordPress, Drupal, and Joomla! — and figure out which one would the best for you to run your website on.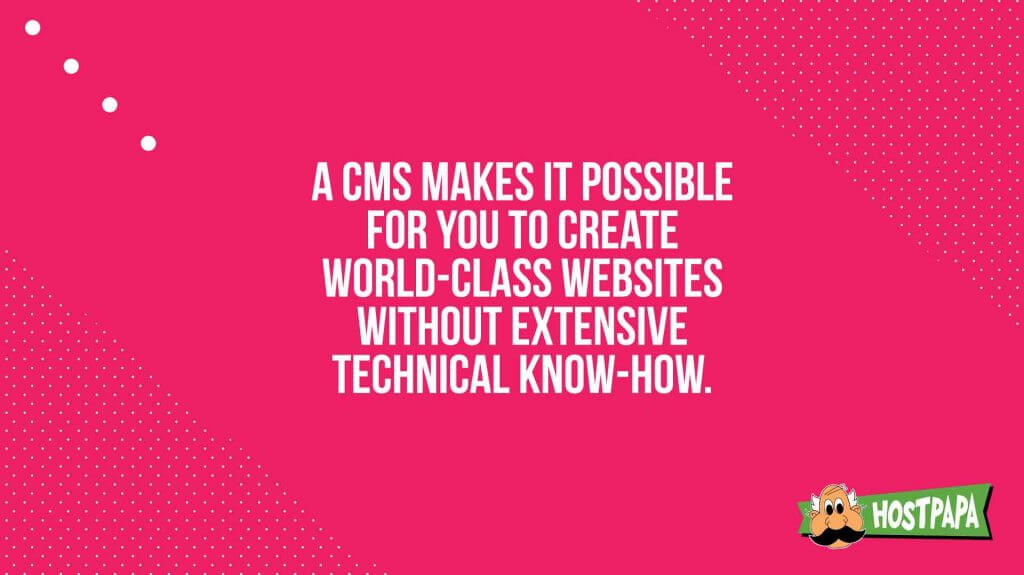 WordPress, Joomla!, and Drupal: Which One's the Best?
There's no "one size fits all" solution. All three CMS's have their own pros and cons and are built for widely different audiences (even if it doesn't look like it). For this reason, our comparison will focus on highlighting which CMS is best for you based on your unique situation.
Let's start this showdown with the CMS you're most likely to be familiar with: WordPress.
WordPress: a Content Management System for the People
WordPress is the successor to b2/cafelog, a weblog tool installed on an estimated 2,000 blogs. This is where WordPress started, and now, it powers approximately 30% of the world's top 10 million websites.
It's highly popular among bloggers, content creators, and small business owners. But large companies and publishers such as CNN, Time Magazine, and Spotify also use WordPress for their content needs.
Pros of Using WordPress
The main reason why WordPress is such a popular choice as a CMS is because of three things:
1. WordPress is user-friendly.
WordPress is extremely easy to use. This is the main reason why it's preferred by everyone from bloggers to big media houses. Here's what makes WordPress so user-friendly:
The WordPress dashboard is easy to understand: It has a simple menu on the left hand side where you can clearly access different parts of your website and make changes. Creating a new post, adding a new plugin, and changing the theme is an easy process on WordPress.
It's easy to update WordPress to the next version: Any time a new version comes along, you'll get a notification on top of your dashboard. You can simply click on it to update WordPress.
There is almost no learning curve: WordPress makes it easy for you to add new themes, provides settings for each plugin you install in individual windows, and doesn't require you to manage databases. This means you can to understand and use WordPress with no technical knowledge.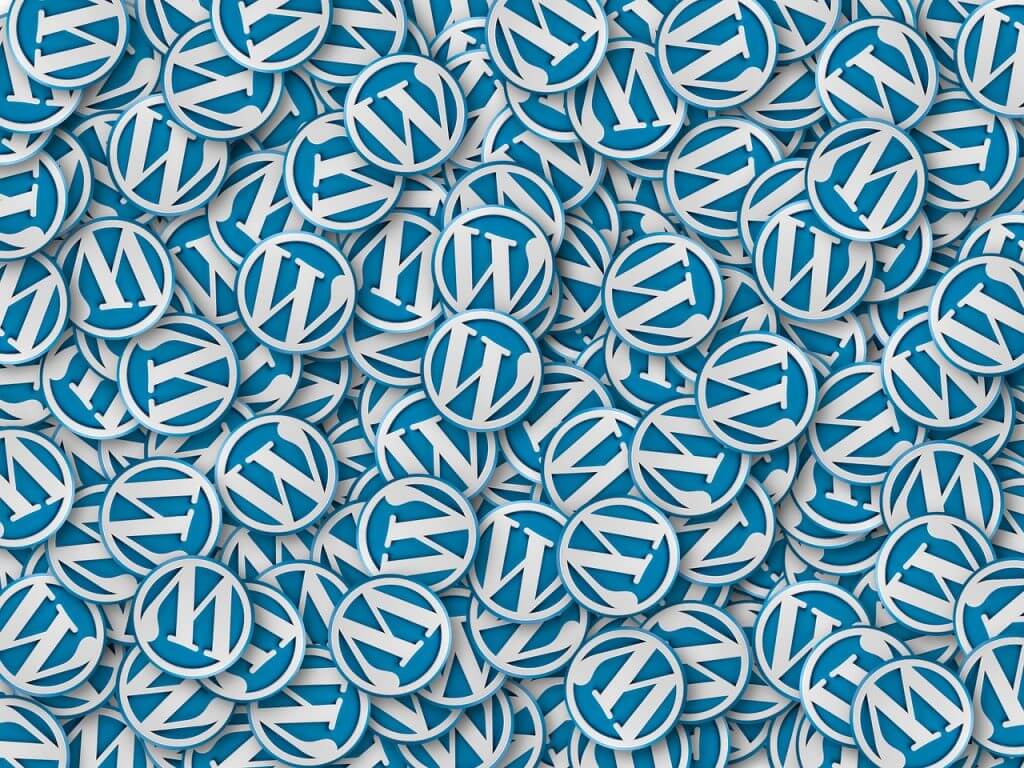 2. WordPress has robust community support.
Used by millions of websites worldwide, it's no surprise it has a strong and vibrant user and developer community. There are hundreds of thousands of blogs which teach tips and tricks about WordPress, and as many books, videos, and courses which you can buy to become a WordPress pro.
In addition to that, WordPress has a strong developer community which contributes two things that are the backbone of WordPress:
Themes: Right now, you can find thousands of WordPress themes designed for all kinds of businesses. There are restaurant themes, tech themes, travel themes, and more you can use on your website.
Plugins: WordPress has nearly 35,000+ plugins you can use to extend the functionality of your website. This includes everything from security services to customization tools, which are necessary for a website's performance.
Plus, everything is located in the WP store managed by WordPress themselves. This makes it easy for you to find and install secure plugins and themes on your website.
3. There is little-to-no learning curve.
With WordPress, managing your themes, installing the latest security patches, and updating plugins happens in one click. You don't have to 'learn' how to do these things.
Cons of Using WordPress
The simplicity and user-friendliness of WordPress is its strength. But, like a double-edged sword, this can also become WordPress' weakness. Here's why:
1. Out of the box, WordPress is not very functional.
In WordPress, there is no proper system for organizing huge amounts of content. You can only create a single category for content and tag it. In addition, you cannot create custom views on the dashboard and are unable to easily change parts of a theme without changing the code.
2. You are extremely reliant on plugins.
Since WordPress has such a simple dashboard and low amount of functionality, you need plugins for nearly everything. This can crowd your dashboard — and increase your cost of running a website since many of the plugins are paid.
3. WordPress keeps everything tightly integrated.
If you want to change a part of your theme to another, you don't have that functionality. In addition, if you want to apply plugins to different parts of your websites, you can't.

Conclusion
WordPress is an excellent CMS for those building a website for the first time. It's also a great solution for content creators and publishers.
But for businesses who want to build more complex websites — like a community forum — WordPress can feel exceedingly limiting, even with the presence of plugins. For them, a better choice lies in either Joomla! or Drupal.

(Joomla! logo from joomla.org)
Joomla!: The CMS That's Everybody's Friend
WordPress is loved by nearly everyone because it's so easy to use, simple to manage, and has minimalistic UI. But not everyone is looking for an easy way out.
Web developers, for example, need more flexibility when it comes to building and managing websites. And for that, Joomla! is a good choice. It is said to be downloaded more than 90 million times and is the most used CMS after WordPress.
Pros of Using Joomla!
Here are some significant advantages of using Joomla! CMS for your website:
1: Joomla! comes with a lot of functionality out of the box:
When you install Joomla!, you get a lot of built-in functionality right at the start. Two examples of this include:
Search engine optimization: With Joomla!, you get the ability to add metadata and tags to your content. Each piece of content will have its own meta description, keywords, and more. Plus, when you create menu items, an SEO-friendly link for that is automatically created as well.
Language packs: You don't need to hire translators for your website. Joomla! will automatically translate it to the language of your choice from over 70 language packs it offers.
In addition to this, you can manage your users, cache your site from speed, and extend the functionality of your website even more with extensions. There are over 8,000+ free and paid extensions for Joomla!, which, although are less than WordPress' 35,000+ plugins, provide all the functionality you need to take your website to the next level.
2. Joomla! provides powerful customizations.
Joomla! gives you many types of extensions that let you change the look and functionality of your website. As an example, here are three types of extensions (there are more, though) you get to customize your website:
Components: These are the biggest form of extensions, which have both a site part and admin part. Examples of components are the article posts and news feeds.
Plugins: These extensions are responsible for triggering events on your website. Examples include 'load more articles' and 'read more…' buttons.
Modules: Modules are the smaller parts, which make up the components and are rendered on the page. Examples include menu items and banners.
In addition, Joomla! allows you to mix and match different templates on the same page. For example, your menu bar and footer can have styles from different templates. This is possible because Joomla! lets you override layouts, templates, and code your own custom CSS.
3. Joomla! gives web developers a solid framework.
Joomla! doesn't just give you the tools to build and run your website. It provides a full-fledged framework for you to use Joomla's core code to build your own web apps and command line applications.
For that, Joomla! offers extended documentation, an active community forum, and a full routing system to get developers started.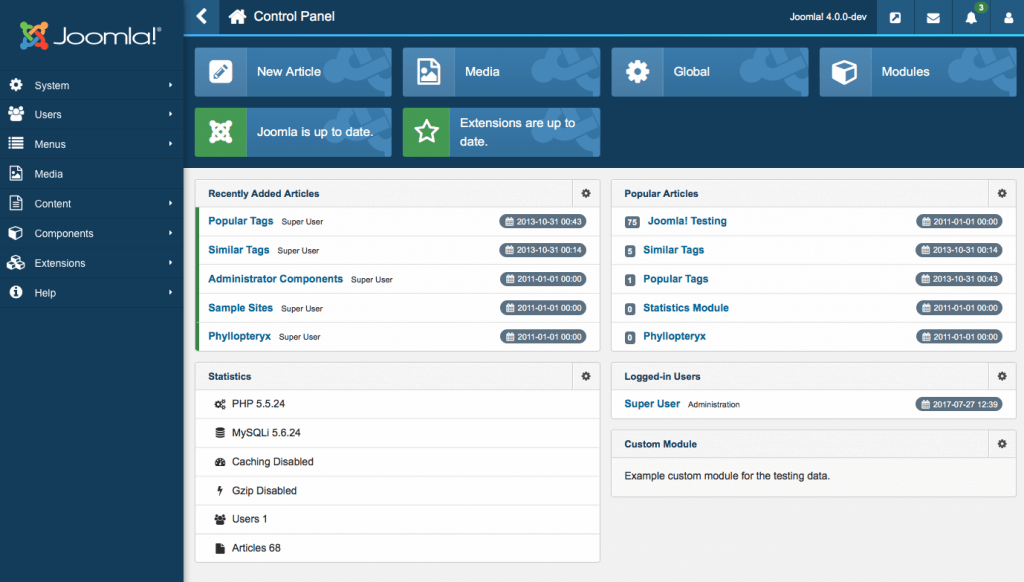 (Joomla! 4 screenshot from joomlashack.com)
Cons of Using Joomla!
The powerful functionality and flexibility of Joomla! is its source of strength — but also the reason why it might be not the right fit for you. Here's why:
1. Joomla! has a significant learning curve.
All the powerful features Joomla! provides aren't easy to figure out. For less experienced users, finding the right options and making use of the extensions can take some time to get used to, just because there are so many options available right from the get-go.
But once you get a slight hang of things, it becomes easier to get a grip on how Joomla! works.
2. There is no centralized store for themes.
There are thousands of themes available for Joomla!. But there is no official store where the themes are offered. This makes it more likely that you might install a theme that's not completely stable or that doesn't work properly. Plus, if you run into problems, consulting a Joomla! expert can be costly and take time to find.
3. You need basic coding knowledge to use Joomla!.
Joomla! offers its users the ability to override the themes with their own CSS and provides a framework to build your own web apps using PHP. To make the most of these two features, you'll need to have coding knowledge.

Conclusion
Joomla! is a great choice for expert web developers, companies looking to build complex sites like online stores, and agencies.
While it doesn't have the robust community WordPress enjoys, its official forum, documentation, and tutorials are great places to find support.
However, if you're thinking of building a website for the first time and will be looking to do simple blogging, WordPress will be a better choice for you.
(Drupal logo from drupal.org)
Drupal: The CMS of Choice for Professional Users
We started our comparison with WordPress, which we found out wasn't as flexible as one might want it to be, yet popular due to its simplicity.
Then we discussed Joomla!, which is somewhat more advanced than WordPress, offering more powerful customisations, functionality, and even a framework.
But Drupal? In our review, we can conclusively say this is the most flexible, functional, and reliable CMS of all three.
Pros of Using Drupal
In listing the advantages of Drupal, you might find them to be too generic. Don't let that fool you. These basic advantages are exactly why top government organizations like The White House and leading corporations like Tesla Inc. use it.
1. Drupal is extremely secure.
The list of government organizations using Drupal is too long. Why do they use it? Because Drupal is constantly being kept secure by the world's leading security experts who are part of a team bigger than Drupal itself.
2. Drupal offers powerful modules.
Even though it's the least popular CMS in terms of users, Drupal offers the most amount of modules (plugins). And here's the thing: Drupal modules are like lego bricks, meaning each module performs one functionality. You can install multiple modules and mix and match functionalities to get the exactly what you want. It's a big step ahead of WordPress and Joomla!, whose plugins are pretty much a done deal and can't be modified.
3. Drupal offers powerful sorting abilities.
In Drupal, you can have an unlimited number of content types. Each content type can have its own terms — and each term can have its own piece of content in it.
For example, an event is a content type with date, location, and time being its terms. Similarly, an article is also a content type with the content, author name, and publication date as its terms.
Once you create content types, you can create custom views based on them and add the exact type of content you want to show on your website.
4. You can publish content anywhere from Drupal.
Drupal doesn't just limit you to your own website. With it, you can publish content anywhere you want, including emails, smartwatches, and even billboards.
5. Drupal can handle heavy loads of traffic.
Drupal has an excellent cache management system — plus offers reliable hosting partners. This guarantees that, no matter how much of a spike in traffic you get, your website will never crash.
(Drupal 8 screenshot from drupal.org)
Cons of Using Drupal
The cons of using Drupal are the same as those of Joomla! — but to an even bigger extent. Because of its powerful features, Drupal:
Has a steep learning curve.
Requires you to have knowledge in front-end frameworks.
Can take a long time to set up your website with the proper functionality.
Has a lot more outdated modules than either WordPress or Joomla!.

Conclusion
Drupal is an excellent CMS for enterprise-level companies. It provides a highly powerful content publishing and assortment system. In addition, the security team working on it is extremely dedicated, making this the most secure platform for websites with tons of sensitive data.
It's a great choice if you want to build a high-level eCommerce store, a community forum site like Reddit, or an organizational site, which requires enhanced security measures.
This was our comparison of three main CMS's out there. Which one do you prefer and why?