Setting up your WordPress website can seem like a daunting task if you've never done anything like it before. Fortunately, one of the best things about WordPress is that it's so user-friendly and intuitive. Just about anyone can do it!
While the technical part of setting up a WordPress website isn't complicated, knowing what to put on your website and how to make it work for you can be.
However, before we get to the steps, let's clarify what a WordPress website is, why to choose it, and what to consider before you start building a website using WordPress.
What is a WordPress Website?
WordPress is a free and open-source CMS (content management system) written in PHP and paired with a MySQL/MariaDB database. In simplest terms, WordPress is a free and open platform, a website builder, where you can make simple and easy websites for your businesses and blogs.
There are a lot of features on WordPress, including the templates where you can just plug in your information and create a website, plugins, add-ons, different themes, and much more.
There are other ways to make websites, but WordPress has always been the most popular and most used open-source platform for creating websites. Wondering why so many people choose WordPress over any other platform?
Why Choose WordPress to Make a Website?
Although WordPress was first designed as a platform for blogging and related publishing, it is now a platform on which one-third of all internet sites are based. This is thanks to the multitude of advantages WordPress has for website owners, such as:
Flexibility and Adaptability
You can do almost anything on WordPress, ranging from small businesses to eCommerce stores. Whatever you choose to do, WordPress will be adaptable to it.
User-Friendly
A WordPress site can be up and running in a matter of a few minutes, even if you don't have any technical expertise. All you need is a domain name and web hosting account.
Themes and Plugins
While WordPress themes offer you a wide range of choices in the appearance and functions of your site, plugins are the specialized functions that cater to specific needs of your website, such as shopping carts, contact forms, galleries, social media feeds, and more.
High Ranking
Since WordPress sites are so great in numbers and regularly update content, they include plugins and a variety of tools that help them create scheduled and optimized content – they often rank higher than websites that aren't made on WordPress.
Apart from these advantages, people have even more reasons to choose WordPress, including the fact that WordPress sites are mobile-responsive, have a built-in blog, and offer great customer service.
Now that you're familiar with the advantages of a WordPress website, you should also know not to mistake WordPress.com with WordPress.org – both are different. Learn more below.
WordPress.org vs WordPress.com – Which One to Choose?
People often mistakenly believe that .org and .com are the same WordPress.
WordPress.org is when you host your site on WordPress, which means you have complete freedom of change and customization of web design – it's recommended if you are familiar with how WordPress works. You can get the most customizable website builder when hosting your own site.
On the other hand, WordPress.com is when WordPress.com takes care of your website for you, including the hosting. That way, you have less freedom in your web design. However, it is easier and simpler – recommended if you're a newbie.
Now that you know the background of WordPress and how easy it can be for you to make a website, let's learn how to build a WordPress website.
How to Build a WordPress Website
There are ten easy steps to getting started on WordPress. Simply follow these, and you'll be up and running in no time at all.
Step 1: Define your site.
Before you do anything involving WordPress, you need to pick your niche. Trying to develop a WordPress website about something that's been done 10,000 times isn't going to be beneficial. If your WordPress site isn't for an existing business, make sure you pick a topic that genuinely interests you so it won't feel like a chore to update your site now or months down the road.
Step 2: Choose a domain name.
Your domain name should relate directly to the niche you chose in step 1, and it should be a name that's so easy for users to remember that they never forget it. Doing some keyword research can also be helpful. Stuck on a particular name, but .com is taken? Try .net or .co.
Step 3: Get web hosting.
Your next step is to find a reliable web host to handle your site. Here at HostPapa, we offer industry-leading servers and infrastructure. Our multilingual customer support is available via chat, email, and telephone; we also maintain an extensive knowledge base and video tutorials. What about a shared vs. dedicated server?
Shared web hosting will be just fine in most cases, and it's very popular with WordPress users. Learn more about types of web hosting below.
Shared Hosting
Shared hosting is the most basic type of web hosting. It is like renting a home with one or more roommates – in the case of web hosting, the number of sharers is up to a few thousand. When you buy shared hosting, your business's domain will be housed on the server and all the websites that have shared the same hosting as you.
The most significant advantage of shared hosting is cost. Since the same web hosting service is being offered to thousands of parties, the cost of the server gets split, and service providers can offer very affordable rates. Secondly, shared hosting is very easy and simple, best for beginners.
While shared hosting is good, sometimes it can get a bad neighbour effect, causing slow speed or downtime. Even the customer service line gets jammed. Another drawback is that you cannot customize your web environment, which would affect other websites. Overall, shared hosting is good.
VPS Hosting
While shared hosting is like renting an apartment with roommates, VPS hosting is more like renting a unit in an apartment building.
VPS hosting is far more desirable than shared hosting because of its multiple advantages, including reliability, better and even resource allocation, flexibility, and the ability to increase the number of resources available to you.
That being said, VPS hosting can be much more expensive than shared hosting, depending on the web hosting provider.
Dedicated Hosting
Dedicated hosting is usually chosen by large-scale companies with multiple websites. In dedicated hosting, you have your separate server, and you enjoy all of its advantages. There are no bad neighbours, no security risk, and total freedom of customization.
If you're new at this, dedicated hosting is not for you – there's a massive jump in price and technicality that's not worth it unless you have substantial know-how. Secondly, since you are putting all your eggs in one basket, a minor security crash on your server could damage the whole server, including all of your website and information. VPN service can help you out by increasing your overall security.
Apart from these three basic hosting types, there are others, including cloud hosting, reseller hosting, and self-serve hosting. A tip: if you're creating a website from scratch for your new business, you should use shared hosting and go from there.
Step 4: Install WordPress.
At the risk of stating the obvious, once you've found your web host and domain name, it's time to install WordPress and get up and running. At HostPapa, installing WordPress is incredibly easy and takes just minutes with our Softaculous script installer.
Step 5: Choose your WordPress theme.
Next, you need to decide on a design theme for your WordPress site. Thousands upon thousands of themes are available, ranging from absolutely free to upwards of hundreds of dollars. When selecting your theme, try to ensure that it makes sense for both the topic of your site and the layout and content you plan to publish.
Among WordPress theme premium WordPress theme choices, you'll find a set of ready-made options for various topics. These include business, services, beauty, fashion, photography, education, food, and many others. Each of them can become an excellent base for the site that you have always dreamed about.
Astra is a great choice if you're looking for a multipurpose WordPress theme that delivers an awesome user experience. It has 240 readymade templates covering most industries and is incredibly easy to use.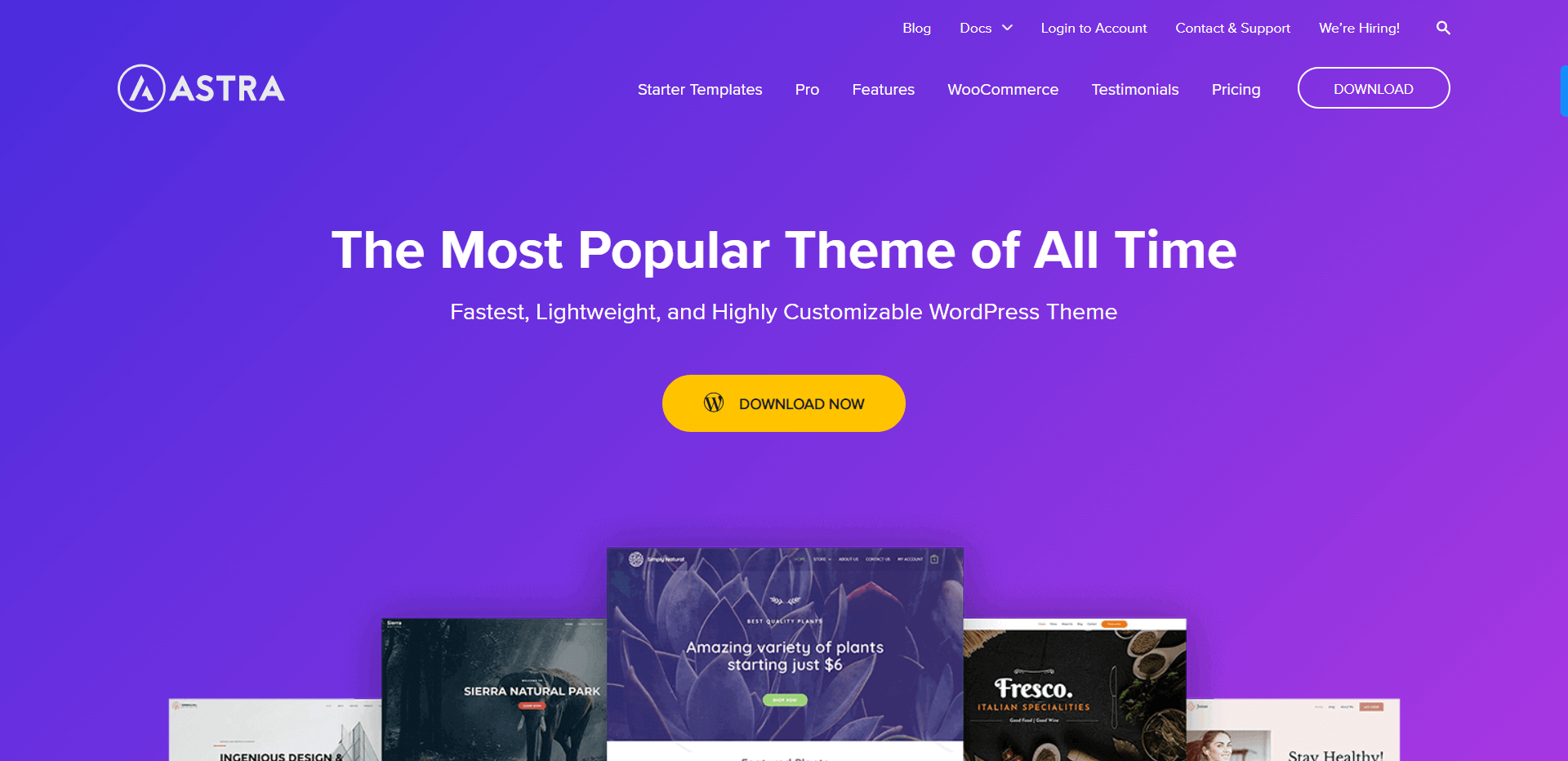 Furthermore, another popular WordPress premium theme is Monstroid2 – a very lightweight multipurpose theme with a drag-and-drop builder.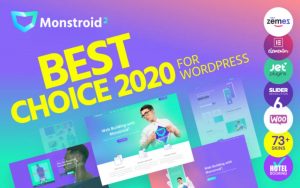 Step 6: Install WordPress plugins.
A WordPress Plugin is a program written in the PHP scripting language that adds specific features or services to a WordPress website. WordPress plugins provide a great deal of customization and flexibility to your WordPress site, as well as valuable features and tools for your visitors such as adding live chat or an Instagram feed.
You may not start with many plugins, but the longer you use WordPress, the more you'll find to benefit your site. Some of our favourites include JetPack and Yoast SEO. You can find the option of Plugins from your WordPress admin dashboard.
Step 7: Complete your administrative pages.
Important pages include your contact page, about page, privacy, and disclaimer page. Get these out of the way before you focus on adding content to your site – after all, it's easier to add them now than later, when you're done publishing all of the other, more exciting stuff! These pages also serve to protect both you and your site visitors.
Step 8: Publish your WordPress site.
After you get the important administrative pages published, it's time to start adding interesting content. Whatever your niche, you want to make sure you include plenty of quality content for your readers. Make your pages visually rich, and further, make it a priority to keep adding new content regularly. If blogging, add at least one image to every post. Not only does this give your readers something to share on social media, but it also makes your content more appealing. Whether you decide to add content daily, weekly, or monthly, creating a content calendar will help keep you on the right track.
Step 9: Don't forget marketing!
Marketing your new site is a two-fold endeavour. First, SEO (search engine optimization): make sure your pages have relevant keywords in the title, description, and body text. Second, take the time to promote your site in any way possible. Free options include using social media sites forums and emailing a regular newsletter. In order to make your audience pay more attention to the news and information you want to share, you can use an interactive newsletter where you can add images, videos, buttons, and links. You may also consider guest posting and commenting on blogs, forums, and communities to build your social connections and link popularity.
Step 10: Back up your site.
Your content is your most valuable asset, so make sure you back up your site! For your blog, that means backing up your content in case of a crash, so you won't have to start all over again. If you don't back up posts, plugins, and affiliate links, it might take you a while before getting back on your feet. If you don't have time to back up your site regularly, your web host should offer an alternative. HostPapa, for example, offers a terrific automated website backup service that takes just a few minutes to set up – no need to worry about backing up your site ever again! Having a backup copy of your website ensures that you can quickly recover and restore your data without losing critical information.
Apart from that, costing is one factor that keeps many people on the fence about creating a website. Although we initially mentioned creating a website on WordPress – which is true because WordPress is free if you don't opt for additional premium services.
There you have it – WordPress in ten easy steps!