Shared hosting, virtual private hosting, dedicated hosting, managed WordPress hosting – there are tons of options available when it comes to selecting your hosting plan. How do you know which one is right for you? If you have a WordPress website, it's important to choose a plan that enhances the incredible features of WordPress, in addition to increasing speed and security.
In this article, we explain what managed WordPress is, who it's best for, and the key features of this hosting service that can make your life easier.
What is Managed WordPress Hosting?
Choosing your hosting plan is one of the most important decisions you have to make when building a website. If you're using WordPress, a managed WordPress hosting provider can simplify many tasks for you.
In essence, managed WordPress hosting is a type of hosting plan where the hosting provider manages your site and your server for you. This includes automatic WordPress updates, automatic backups, monitoring website traffic for malicious code and many more.
An unmanaged hosting plan means you need to oversee maintaining your own websites, such as your security and performance details. For beginner WordPress users, this is a huge time-saver. Managed hosting is available in other solutions, such as VPS, but this type of hosting generally requires more technical knowledge from end users to set up and use. VPS has been a topic of discussion before, and we even have a complete guide to help you choose.
Managed WordPress hosting companies add many important features to your plan so that you can take a more hands-off approach to site management and maintenance – and concentrate on other essential tasks. Managed WordPress hosting includes:
Performance optimization for website speed and reliability
A single, easy-to-use dashboard for all your site settings and updates
Free SSL certificate and free domain included
Scanning for potential security threats so you can keep your data safe
Regular WordPress site updates to ensure robust functionality
Frequent site backups in case anything goes wrong
Staging sites so you can test out any major changes before going live
Customer support for when you need a helping hand
With HostPapa as your managed hosting provider, you can get managed WordPress hosting that's a cut above the rest.
In addition to the common managed WordPress hosting features, HostPapa delivers it all through Cloudflare Enterprise, the world's fastest CDN. This means you can create, edit, optimize, and launch your WordPress website in a record amount of time with just a few clicks.
Do You Need Managed WordPress Hosting?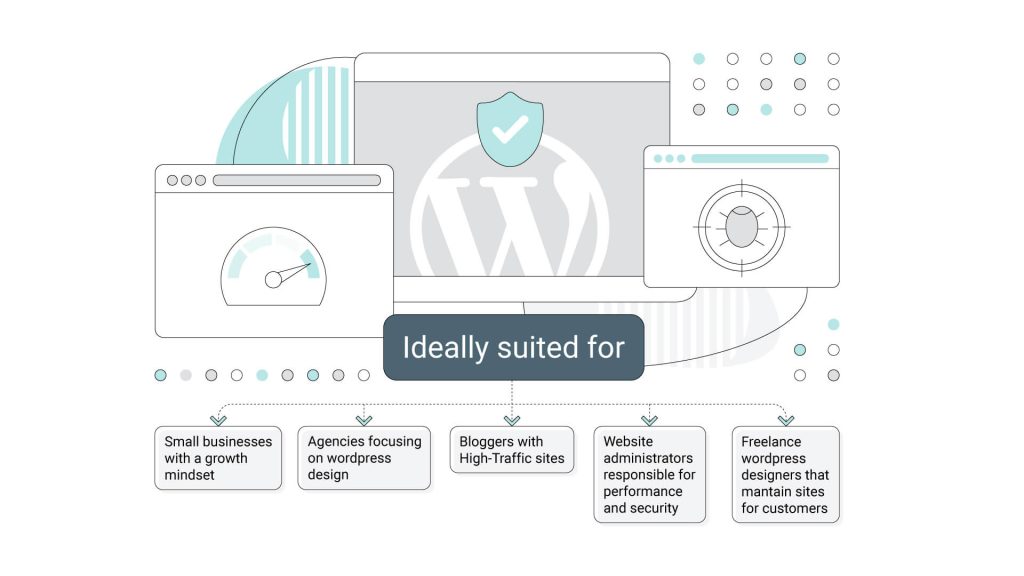 All these additional benefits contribute to the Managed WordPress hosting cost. That's another reason why this hosting solution isn't for everyone.
Managed WordPress hosting is ideally best for:
Small businesses with a growth mindset: If you get steady traffic to your website, have a consistent revenue stream, and feel like you're outgrowing your current shared hosting plan, it's time to invest in the further growth of your business with managed WordPress hosting. eCommerce sites with elevated traffic can have major benefits from Managed WordPress hosting. With managed WordPress hosting, you can get more site traffic through better SEO rankings while minimizing performance issues and downtime. It also gives you more time to focus on other elements of your business.
Agencies focusing on WordPress design: Slow websites that don't rank well can negatively impact your agency's reputation. If you're managing dozens or even hundreds of websites, managed WordPress hosting can help you provide your customers with a top-performing website that doesn't require a lot of maintenance. Growing site traffic, maximizing SEO search rankings, minimizing technical issues and upkeep, and ensuring security are all things an agency can achieve with managed WordPress hosting. 
Bloggers with high-traffic sites: For-profit bloggers who know how to actively build an audience and publish content to generate a steady income require managed WordPress hosting. You can improve your SEO search ranking for higher visibility, which brings value to the advertisers on the blog. Managed WordPress hosting also saves professional bloggers time on plugin and theme updates, day-to-day site maintenance, and security updates so they can focus on generating high-quality content audiences love.
Inexperienced website owners who can't hire website administrators: Many businesses hire web admins to oversee their website's overall performance and troubleshoot security issues. However, managed WordPress hosting may be right for you if you don't know how to configure security for a WordPress site or don't want to spend all your time updating plugins. Ensuring the website runs smoothly, maintaining security updates, and supporting your client can become much easier and more streamlined with managed WordPress hosting.
Freelance WordPress designers that maintain sites for customers: Offering a fast, secure website for your customers is key. Still, you also need to have minimal maintenance on your end – otherwise, you won't be able to spend time designing new sites. Managed WordPress hosting enables freelancers to sell websites that rank well in SEO and are highly secure, matching what their agency competitors offer.
Remember that managed WordPress hosting is not for you if you have a website that doesn't get a lot of daily traffic and have no interest in growing your audience.
On the other hand, if you need any custom software beyond WordPress, need a virtual private server or dedicated environment, or have highly advanced website requirements, managed WordPress hosting won't solve your problems. It's also not for those looking for a cheap hosting provider without any bells and whistles. For that, there's the highly acclaimed shared hosting.
One of the most common questions people have is whether they should choose shared hosting or VPS hosting instead of managed WordPress hosting. If you get significant traffic on your website, want to grow your audience, and need strong site performance and speed, then shared hosting isn't going to cut it.
In addition, if you focus on your business instead of website maintenance and configuring technology, VPS will take up too much time and effort.
If you think that Managed WordPress hosting isn't right for you, check out these other great offerings from HostPapa:
5 Benefits of Managed WordPress That Make Your Life Easier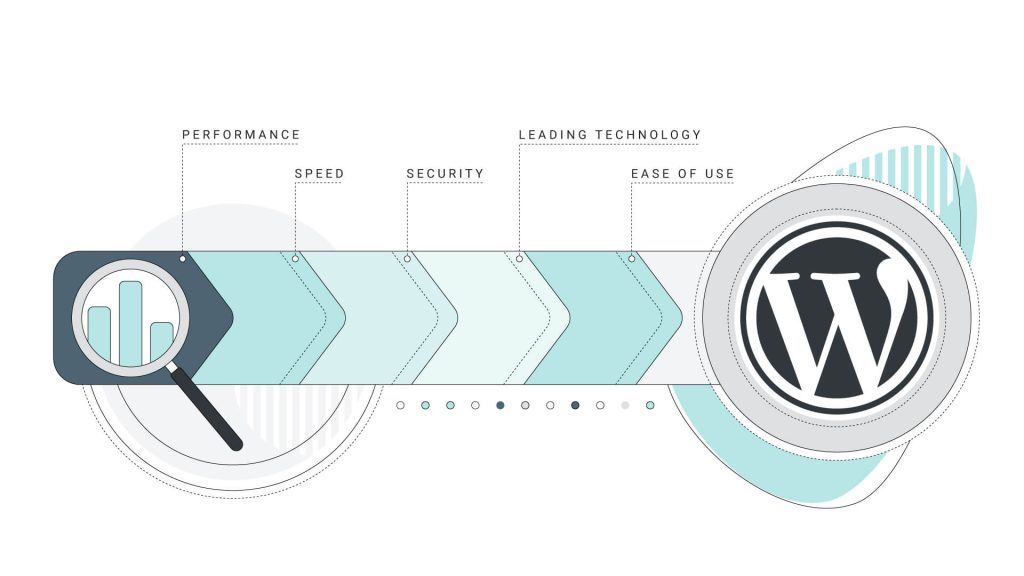 Now that you know what managed WordPress hosting is and who it's best for, it's time to understand how this service can enhance your website. After all, whether you're a business owner, agency, or professional blogger, everyone is looking to make their lives a little easier. Here are five key elements of managed WordPress hosting that truly stand out when you choose HostPapa as your managed WordPress hosting provider.
1. Increased Performance
How well your WordPress runs on a day-to-day basis affects how your audience interacts with it.
If you have a low SEO ranking, your audience may have trouble finding you through a search engine. If your website takes more than a few seconds to load, your audience may get tired of waiting and moving on.
Managed WordPress hosting with HostPapa is the fastest way to deliver WordPress because we use Cloudflare Enterprise, the world's fastest CDN. Not only that, everything for the website is perfectly optimized and configured for WordPress, so those without technical knowledge don't have to worry about the nitty-gritty details.
2. Speed
In today's world, time is more than just money – time is convenience, too. It's important to serve your website to your audience in as little time as possible because people don't have time to wait for it to load. With HostPapa's managed WordPress hosting, there are over 20+ Edge locations around the world.
This means that your WordPress install is located at the Edge of the network, as close as possible to your visitors. With an Edge-optimized connection to the world's fastest CDN, you can boost your performance with incredible speed. In addition, you also get faster TTFB, full-page caching, Brotli compression, image optimization, and SSD drives for increased speed.
3. Security
As your website gets more traffic, you open it up to additional security threats. Today's security issues are sophisticated and complex – and you can't spot them with an untrained eye. Having the latest security measures, such as a web application firewall, malware protection, advanced WordPress WAF, and Brute Force Attack Protection, is key.
All of these features are available with HostPapa's Managed WordPress hosting, so you can rest easy knowing your site is protected from any external security threats.
4. Leading Server Technology
Websites are a tool to earn revenue for small business owners, agencies, freelancers, professional bloggers, and other audiences. You don't want to put that important task in the hands of subpar technology that can't handle your requirements.
When you use managed WordPress hosting with HostPapa, you can ensure you get leading-class applications such as Cloudflare Enterprise, the world's fastest CDN. Not only that, but you also get powerful reporting tools for CDN and WAF at your fingertips. HostPapa also has consistent uptime monitoring, so your website never goes down.
5. Ease of Use
Whether you lack technical expertise or have years of website management experience, simplicity is vital. When you use managed WordPress with HostPapa, getting started is incredibly easy and stress-free.
The ready-to-go platform has all the features you need to go fast and stay secure. No configuration is required, so you can create, edit, optimize, and launch your WordPress website more quickly than if you use any other hosting provider. Everything is done through a centralized dashboard that puts all your websites before your eyes. HostPapa's revamped Managed WordPress hosting plans support up to 25 websites from a single account, giving you one of the best managed WordPress hosting around.
Plus, experienced customer support is at your fingertips, so you can ask questions to get unstuck. HostPapa offers free migrations, one-click staging, single-click site cloning, and SSH access as well. You can also eliminate costly plugins when you use HostPapa Managed WordPress because it has built-in features.
Explore HostPapa's Managed WordPress Hosting!
Ready to Team Up with The Best Managed WordPress Provider Around?
If you want to invest in the future of your website, ensure it's reliable and secure, prioritize speed, and guarantee your revenue-generator is in good hands, it's essential to be choosy about your managed WordPress hosting provider. With years of experience as a leading hosting provider, we have won numerous awards for our technology, service, and support, making us the best WordPress provider around.
Whether you're new to managed WordPress hosting or familiar with all of the details, we want you to research your options carefully. Take a look at the features we offer and get in touch with us to ask questions or bounce ideas. Choosing your hosting provider is a big decision and an important responsibility – and we're here to help you get all the information you need.
Grow your company and website with confidence. Managed WordPress provides peace of mind with premium performance and security, without the usual WordPress maintenance.
Managed WordPress comes with the following features and more:
Full-page caching (over 200 locations worldwide)
Automated backups and updates
One-click staging website
One-click restore and recovery
Website Security Suite
Website Application Firewall
WAF/CDN analytics and reporting
24/7 expert WordPress support
Ready to jump to Managed WordPress?
Already a HostPapa customer? Contact our solutions@hostpapa.com today to upgrade to Managed WordPress!
For more exciting topics like this one, check out our HostPapa Blog.