As a WordPress user, you probably know the importance of securing your website. There are many ways to do this, but one of the most important is installing WordPress security plugins to secure your website from prying eyes.
No one thinks it will happen to them, but the reality of it is that WordPress websites do get hacked. And when this happens, website owners – especially those who haven't taken proper security measures – lose valuable data and, in some cases, even access to their websites.
If you don't own a personal website, you might have designed a website for a client. In that case, security must also be high on your list, so installing a security plugin is considered a must and a logical thing to do.
That's not all, as plenty of things can go wrong if malicious code reaches your web server. The good news is there are tons of WordPress security plugins to protect your site.
If your website gets hacked or infected with malware, Google can actively block your website from appearing on its search engine – and can even go as far as to label your site "unsafe" for your visitors. Statistics show that Google sends over three million warnings to users every week to protect them from visiting a potentially harmful website.
Getting hacked is one thing, although going through heavier, brute force attacks is another, and with a massive list of global threats, you must strengthen your security to its core. WordPress is a very secure platform for publishing, but security plugins exist to protect it even further, adding security layers, spam protection, and preventing brute-force attacks.
It's like having a WordPress security specialist at your disposal, protecting every single one of the WordPress core files.
This makes it a no-brainer to take your website's security seriously.
This blog post will share the six best WordPress security plugins you can add to your site to protect it from being hacked or infected with malware. Each security plugin has different features, pros and cons, which we'll explore in detail below.
Calling Jetpack a security plugin would be an understatement because it's really so much more.
Besides monitoring your website for security threats, Jetpack can provide analytics on your website traffic, optimize its performance, and let you customize its look and feel.
But since we're covering security in this article, let's look at Jetpack's security features:
Website backup: Jetpack can backup your website's crucial data in the cloud. This way, even if your website is hacked, you won't lose your data since it's stored in a remote location. This functionality, however, is only available in one of the paid plans. And depending on which paid plan you are on; Jetpack will either backup your website's data daily or in real-time.
Brute-force protection: Many hackers try to force access to your website by constantly attempting to log in using different username/password combinations via automated bots. Jetpack blocks such brute-force attacks and the IP addresses from which the attacks are coming. This is one of Jetpack's standard features, meaning you get it regardless of whether you're on a paid or free plan.
Downtime monitoring: In the rare case your website is down (i.e. offline), Jetpack will notify you via email that people can't access your website. This is a standard feature available in all Jetpack's plans, including the free plan.
Anti-spam filtering: Jetpack can scan and remove harmful spam messages and links posted by bots or visitors on your website. This feature is only available in the paid plans.
Automatic malware scanning and security fixes: Jetpack can automatically scan your website and notify you if it finds malicious code and activity without you having to lift a finger. Also, Jetpack will automatically resolve common threats by itself. But note that you can only get this functionality if you're on a paid plan.
In addition to all these security features, Jetpack also provides you with stats regarding your website, lets you automate sharing of your website posts to your social media accounts and allows you to collect PayPal payments and run ads.
Through Jetpack, you'll also get a video hosting ability to view your website's activity, priority support for your website, and a way to lazy load images on WordPress. If you choose to go with Jetpack, check out our WordPress plans with this plugin preinstalled.
Jetpack Pros and Cons
Pros:
There's a lot of flexibility in terms of plans. This can be an advantage if you're on a budget.
Since Jetpack is an 'all-in-one' tool, it has the potential to provide the functionality of multiple plugins.
It offers a lot of value for the money through an extensive feature set, unlimited media hosting, and free paid themes.
Cons:
Jetpack only offers basic-level security, with many advanced security features requiring you to buy a premium plan.
The additional features provided are fundamental and don't compare to advanced alternatives.
While Jetpack has the plus of providing more than one capability, the Sucuri security plugin takes the opposite path. Sucuri is focused on getting one job done – providing website security for your WordPress site – and it does that exceptionally well. It's a premium set of solutions for web admins who want complete website security.
It does everything you expect from a brilliant security service, such as scanning your website for malware, protecting from hacking attempts and more. But it stands out from other security plugins on how comprehensively it covers anyone's security needs.
The stand-out features it comes with are:
SiteCheck & Integrity Scanner: This tool scans and reports any modifications to your core WordPress files. These are the necessary files for the WordPress installation, and as such, they're the most susceptible to attacks. In addition, Sucuri also comes with an Integrity Diff Utility, which can compare the modified files with the original's to paint a clearer picture of what changes were made.
Audit Logs and Malware Scanner: Sucuri provides a complete report of all the activities happening on your website. It will alert you if it detects suspicious logins to your WordPress dashboard and if any harmful code is added.
Firewall: Brute force attacks aren't the only method hackers use. They also execute DDoS Attacks, SQL injections, and other similar methods to gain entry into websites. Sucuri protects websites from these attacks with its cloud-based firewall and then backlists the IPs from which the attacks are coming.
In addition to these features, you also get to see the complete list of login attempts to access your WordPress site (both successful and failed). It will also tell you if any notable search engine (Google, Yahoo, Yandex, etc.) has blocked and blocklisted your website. Depending on the plan you choose, the feature list varies.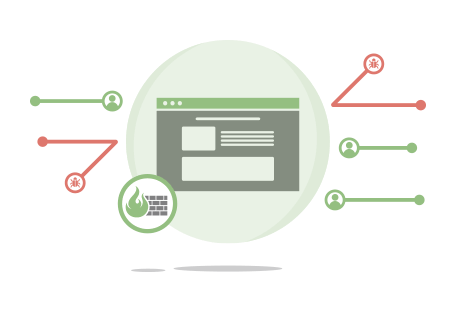 Sucuri Pros and Cons
Pros:
Every feature is robust and offers in-depth functionality.
The malware scanning tool and firewall are powerful and up-to-date, offering comprehensive protection from various attacks.
The free plan offers multiple ranges of tools at zero cost.
Cons:
It only includes a limited number of features.
It's missing backup/restore functionally.
Wordfence is the most downloaded WordPress security plugin, and that's due to its solid data-powered security service.
Because it's already installed on multiple WordPress sites, the Wordfence security plugin has the most up-to-date information on the new types of malware and hacking attempts made to websites daily.
Armed with this information, it regularly updates its scanning tool and firewall with the latest security measures and rules to help protect websites against the latest hacks and malware. Along with the premium version, Wordfence comes in a free version covering some basic functionality like the malware scanner and a plugin/theme vulnerability monitor.
Here are its top features:
Wordfence Firewall: The firewall is the biggest reason you should get Wordfence. As we mentioned above, its security is constantly being updated, keeping up with the latest hacking methods and malware. And the cherry on top is that it's an end-point firewall – meaning it operates directly from the server on which your website exists. This makes it even harder for hackers to bypass your website's security.
Security Scanner: Like other security plugins, Wordfence has its own security scanner that checks all your website files for potential anomalies, malicious code, and suspicious changes. It also helps you repair any infected WordPress core files with clean, original versions. Plus, it alerts you when a search engine blocklists you and even shows you a list of potential vulnerabilities for which your site may have been blocked.
Login Security: This is one of Wordfence's underrated features. Login Security lets you add an additional layer of security to your WordPress login page via two options: Two-Factor Authentication and Captcha. You can block administrators with compromised passwords from logging in as well.
Wordfence Central: If you have multiple websites, you can check the complete security status of each one of them on the Wordfence Central Dashboard. You can get a comprehensive report on your website's notable security events: hacking attempts, blocklisted IPs, and malware removals. The dashboard will also notify you (via email, Slack or text) about any particular event happening on your website in real-time.
Security Tools: Wordfence offers many tools to customize the security of your website. For example, you can block attackers based on geography, IP address, and referrer. You can also scan the content posted on your website (either by you or other users) for viruses or spam.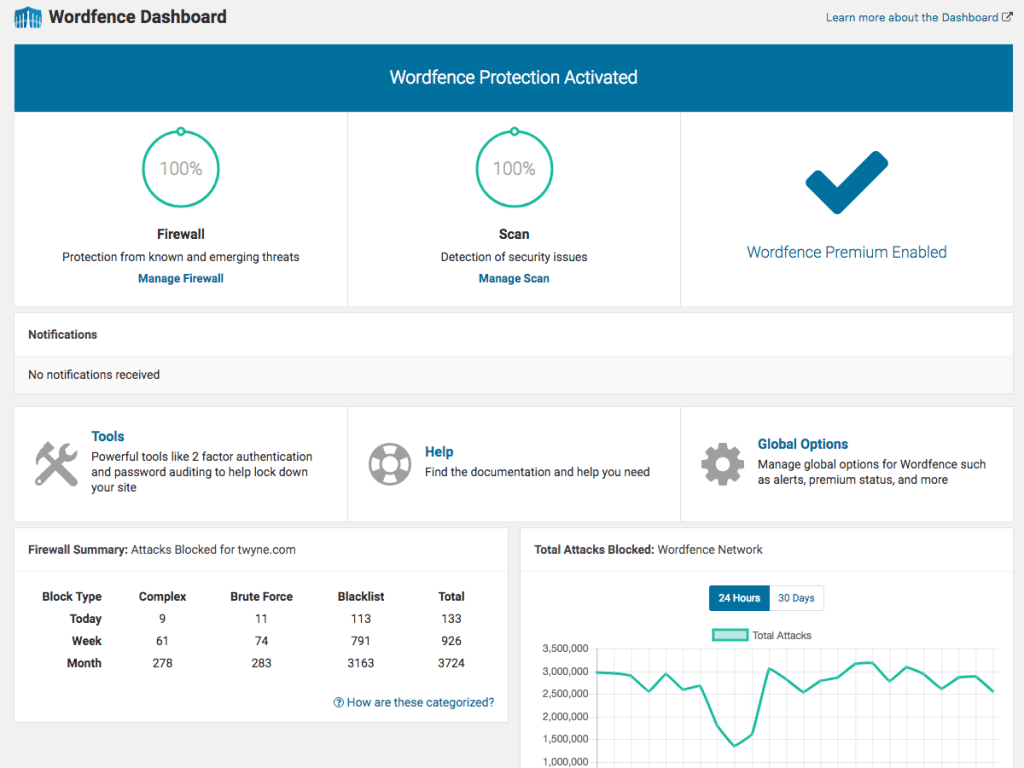 Wordfence Pros and Cons
Pros:
Its Threat Defense Feed is one-of-a-kind and delivers rapid, real-time firewall and malware scanner updates.
The server-side protection it offers is better than the cloud-based protection of other security tools.
Cons:
The Wordfence Threat Defense Feed, responsible for updating your firewall and scanner with the latest malware signatures and security rules, will only provide real-time updates if you subscribe to the premium plan. For the free version, you'll still get the updates to your firewall and scanner – but with a 30-day delay. This can reduce its ability to detect the latest malware and hacking attempts immediately.
Note: To install the paid plugin, you must get the .zip file, and install it manually on your WordPress site. Later in this blog, we'll go through the installation process you'll need to follow for plugins in .zip format.
iThemes Security
Finding a good WordPress security plugin can become time-consuming, especially for a non-technical person. The advanced features can get really hard to make sense of, but this is an aspect that differentiates iThemes Security.
Like the other security plugins on our list, the iThemes Security plugin provides an impressive number of security features – but unlike other tools, it makes it easy for people to understand what each feature does and how to implement it.
On its dashboard, you'll find each iThemes Security feature represented in its module with a clear description of what it does.
Since there are 30+ features, we're only going to refer to the top ones here:
Site Scanner with Automatic Vulnerability Patching: This feature scans your websites for vulnerabilities and presents a list of the malicious files. It also keeps your plugins and themes up to date and scans them for malware.
Two-Factor Authentication: The best way to secure your website is by making sure the login is as safe as possible. With the help of TFA, users can use an authenticator app like Google Authenticator to keep security at maximum.
Breached Password Protection: This will sync data from the Have I Been Pwned database to detect whether your passwords have appeared on any data breaches. Plus, it allows you to strengthen your password even more.
Bot Traffic Protection with reCAPTCHA: Everyone knows the URL of your WordPress website, but that doesn't stop bad actors and bots from behaving malevolently. Enable reCAPTCHA for new user registration, logins, and comments to keep your website safe from such abusive behaviour.
Temporary Privilege Escalation: With this feature, you can grant any admin of your WordPress password with high-level access as set by you, for a specific period of time. Once the time expires, they'll lose high-level access.
Passwordless Logins: When activated, this module lets people log in without a password. It does so by sending the user a link via email to their associated email address. The user has to click that link in order to log in.
You'll also get access to the standard security tools, such as WordPress tweaks, firewall, spam detector, and more.

iThemes Security Pros and Cons
Pros:
30+ security tools mean you get access to a massive range of functionality, reducing the need for a companion security plugin.
The interface is divided into modules, making the discoverability of each feature easy.
The ability to backup your website's data and copy/paste your WordPress settings.
You get access to a support team should you encounter a problem or have questions.
Cons:
It doesn't have real-time malware scanning functionality.
It relies on an external security provider (Sucuri) for website scanning functionality.
The plugin comes with great support and features from the WordPress repository, and most importantly, it's completely free.
It offers user account security for changing things like the default "admin" username to whichever you like and suggests stronger passwords with the password strength tool.
User security is the top priority for the All In One WP Security & Firewall plugin, providing features like safer user registration and login by protecting the login pages and using reCAPTCHA patterns.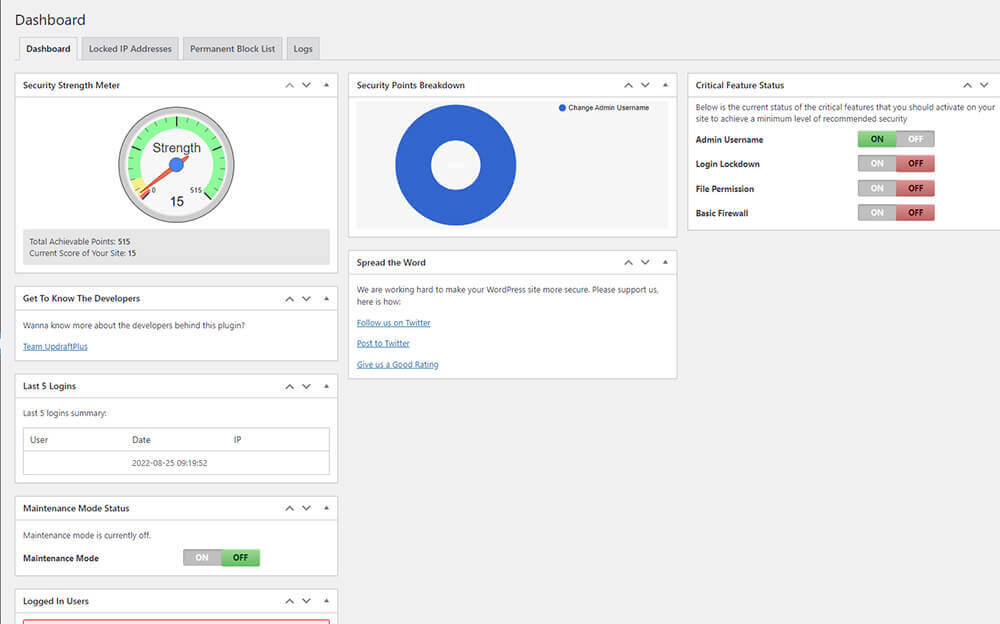 All In One WP Security & Firewall Pros and Cons
Pros:
It's free and with great features.
Great user login security features.
Comment spam monitoring and prevention.
WordPress-specific tweaks for the front end.
Ability to change the .htaccess file.
Cons:
The interface might feel laggy at times.
The free and paid version of this plugin suggests many features to be discovered.
This plugin has two simple security pillars, the prevention process for detecting bots, intrusions and hacks, and the "cure" stage is taking actions to block these threats.
The free version comes with these features:
Antibot Detection Engine (ADE): It identifies bots automatically and presents captchas to the users that seem suspicious.
Restricted Security Admin Access: This prevents unauthorized access to the WordPress backend by locking it with an additional PIN and hiding the original WordPress login page.
Automatic IP blocking: Shield Security will actively block IPs that threaten your website
Embedded Firewall: The included firewall can detect and block malicious data from getting into your WordPress files.
The pro version adds tons more features like WordPress user suspension and the ability to trust certain commenters on your website, among many others.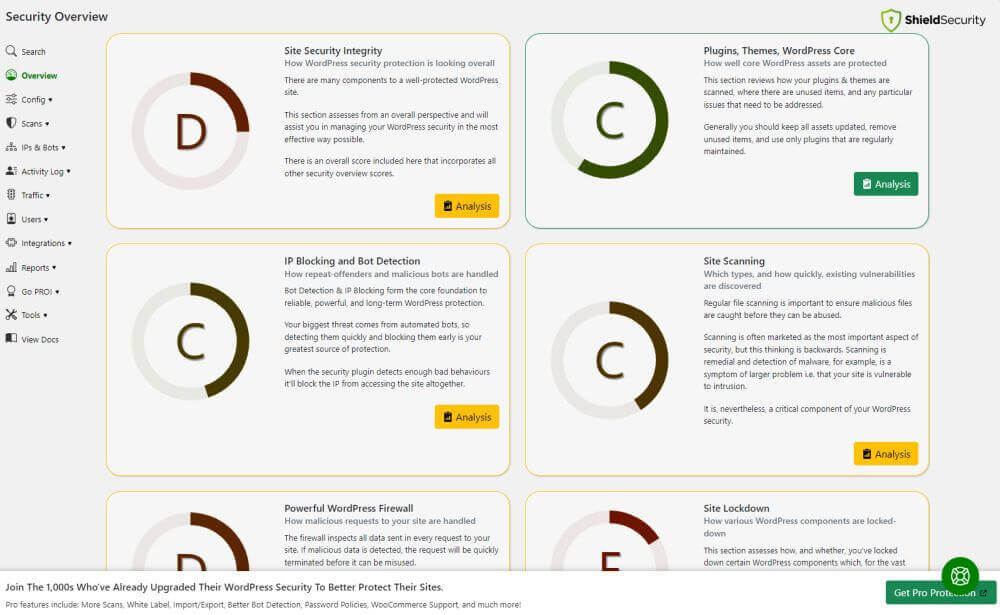 Shield Security Free Pros and Cons
Pros:
Hides the WordPress login page
Automatic IP blocking
Embedded firewall
Protection against a wide range of attacks like ClickJacking, Cross-Site Scripting and Cross-Site Injection
Cons:
Limited features in the free version
How to Install a Paid WordPress Plugin
Many of the plugins on our list offer free versions, but some are paid. You can't install paid plugins directly from the online WordPress repository inside the dashboard.
Instead, you will have to go to the plugin's website, pay for the plugin and then download the .zip file. Some plugins might even come with unique activation codes or demand to register with your email. All these prevent you or someone else from distributing the plugin for free afterwards.
So, to install a paid plugin, follow these steps:
Login to your WordPress dashboard.
Click on Plugins.
Click the Add New button from the top.
Click the Upload Plugin button from the top.
Click the Choose File button and select the .zip archive from your computer.
Click the Install Now button.
Once installed, click the Activate Plugin button.
Then locate the plugin by clicking Plugins on the left-hand sidebar or clicking its dedicated button, if any.
That's it. Your WordPress plugin will be installed and ready to use.
Do you need complete security and active protection from spam and countless other malicious code? Then check out our Managed WordPress hosting plan to keep your website updated and with real‑time malware scanning and patching. 
These plans come with super-fast Content Delivery Networks (CDNs), unparalleled total protection giving you true peace of mind.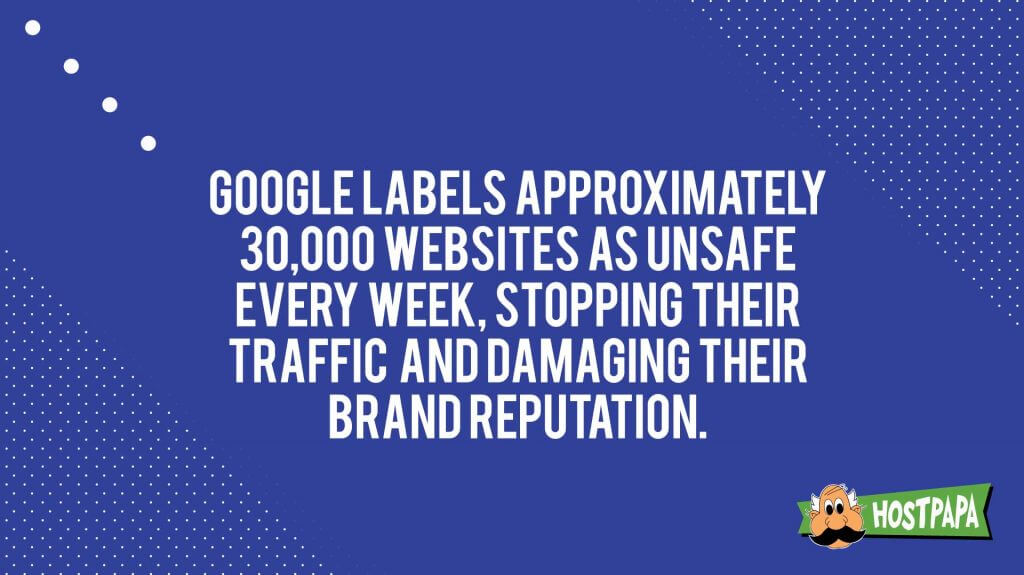 Bonus Tip: Get A Good Hosting Provider
WordPress itself is a very secure platform to run your website. Hundreds of developers are working hard to fix bugs and patch their vulnerabilities while adding new features with every new version. If WordPress wasn't secure, why would a quarter of websites on the internet run on it?
That being said, other factors come into play that can strengthen (or compromise) your WordPress website's security, such as your hosting provider and the security level it provides.
If you choose a renowned hosting provider, they'll keep it safe from hackers and protect it from getting infected from their end. In addition, they'll also provide you with high-quality support in case you mess up on your side (by installing an outdated theme or a vulnerable plugin). This is important as server-side security is something you don't control.
What Do You Need Most?
It all comes down to your needs. If you're just starting and don't have the budget, you can go for a free plugin and update as you grow. Look at what your web hosting provider is also covering, as this can help shield you from hacking attacks.
Enjoyed this post? Head over to HostPapa Blog to read more exciting topics like this and get all the latest web hosting tips for your website!