Web design and SEO are more closely related than many website owners realize. When trying to get their site to the top of search results, most tend to focus on keyword research, creating stellar content, and getting backlinks from high-authority websites, often ignoring website design as an SEO factor.
Web design affects your site's speed, appearance, usability, and accessibility on mobile devices. A good design is flexible and easy to update for SEO purposes, while a poor design can make content changes difficult. These factors impact your search engine ranking and your ability to execute an effective SEO strategy.
In this article, we'll explore the ways your website's design can help or hurt your search engine ranking. We'll wrap up with a look at one simple decision that could make your SEO web development much more manageable.
Read on to learn how optimizing your website design will improve your SEO.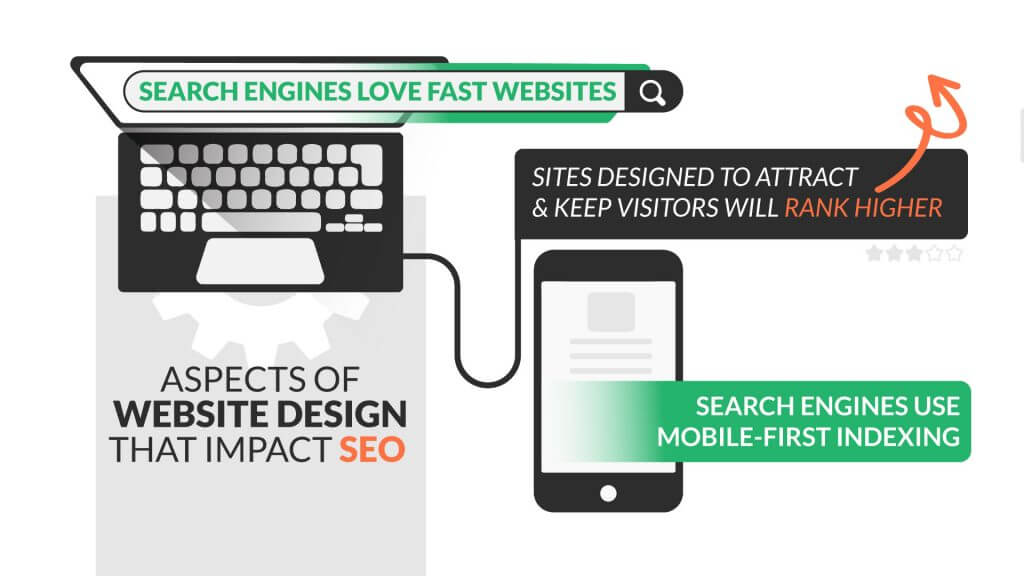 5 Ways Web Design Affects SEO
When you understand how web design and SEO overlap, it's easy to avoid mistakes that lead to a slow start or an unexpected lull in website traffic. This section will examine the five aspects of website design that impact SEO.
Search Engines Love Fast Websites
Your website design impacts your page's speed, which is important for two reasons: the user experience and SEO.
User expectations are high when it comes to websites. Data indicates that 47% of consumers expect a web page to load in two seconds or less. If people leave your site because pages load too slowly, it'll weaken your SEO. Your bounce rate will increase, sending a negative ranking signal to search engines.
Slow websites are harder for search engines to crawl. Search engines use automated processes that attempt to access your site several times a day. If web crawlers encounter slow pages, some of your content may not be indexed. If it happens often, your site could be flagged as unreliable.
Disappointing users and confounding web crawlers are SEO mistakes you shouldn't make. To avoid this, make sure your site is designed with performance in mind.
Sites Designed to Attract & Keep Visitors Will Rank Higher
A visually-appealing site that compels visitors to explore content will have a low bounce rate and rank higher.
A common web design mistake is failing to strike a balance between form and function. With little attention paid to appearance, a website that's all business can drive users away. On the other hand, a design that stresses looks over utility can have the same effect.
When web design focuses on SEO, readability is prioritized. This ensures that white space and images are being used properly. Content is categorized to make navigating easy, and everything is accessible through an uncomplicated menu.
By addressing the things that impact how long visitors stay on your site, SEO-focused web design ensures a low bounce rate, allowing you to achieve high rankings in search results consistently.
Search Engines Use Mobile-First Indexing
Did you know that Google uses mobile-first indexing?
Google made mobile-friendliness a major ranking factor in 2015, but they've taken it much further since then.
Most people who search on Google use a mobile device, so, over the years, Google doesn't spend as much time looking at the desktop version of a page's content to evaluate relevance. Its ongoing efforts to implement mobile-first indexing will be finalized in March 2021. When that happens, website owners won't be able to rely on the desktop version of their content to help their SEO.
SEO-focused web design ensures that search engine web crawlers see your content by making it the same in the desktop and mobile versions. Since mobile-first indexing will only rank your site based on the mobile version, you need to make sure your web design lets Google's web crawler see all your content.
Easy-to-Navigate Sites Earn Higher Rankings
How easy your website is to navigate affects a user's impression. If the site has a confusing structure or lacks navigation tools like menus and internal page links, users will abandon it. Each time that happens, the site's bounce rate goes up, and its ranking in search results goes down.
SEO-focused web design considers what visitors are most interested in and makes it easy to access that content.
Still, a coherent site structure has an even more direct impact on SEO — it improves a site's crawlability. Behind every easy-to-navigate website is a structure that helps web crawlers index content. Especially with a site map, content is easier to discover and index when the site has a crawlable structure.
A Flexible Design Allows SEO Agility
It's easier to dial in top search rankings for a newly important keyword when your web design prioritizes SEO. You can snap in new landing pages or blog articles to address hot trends and experiment with new keywords. The website's structure makes it easy to add keywords in all the right places.
Many website owners turn to experts, such as SEO hosting providers like HostPapa to create an SEO-focused website design. Professional templates, design advice, SEO tools, and hands-on help from experienced experts can get you a website that allows you to make changes to your SEO strategy whenever you need to.
WordPress Themes Offer a Smart SEO Web Development Shortcut
WordPress supports SEO in many ways, and useful WordPress themes and plugins take SEO support even further.
The primary SEO benefit of WordPress is optimized content. The native WordPress content editor, and those built into available themes, support the creation of properly-structured HTML optimized for search engine web crawlers. WordPress makes it easy to create and modify long-form content with keyword-spiked titles, headings, and meta tags.
WordPress provides many ways to optimize images for search engines, simplify size optimization, and create alt tags. You can also define SEO-focused permalink structures and meta descriptions.
WordPress themes are available for every niche and most are created with SEO in mind. The right theme can give you a fast load time, visitor engagement, and a mobile-friendly layout, and you won't have to become an expert in any of those things!
Finally, opting for a WordPress website means you can take advantage of SEO plugins to help you with keyword research and usage, site map creation, and more.
Opting for a WordPress website can be a quick path to SEO web design.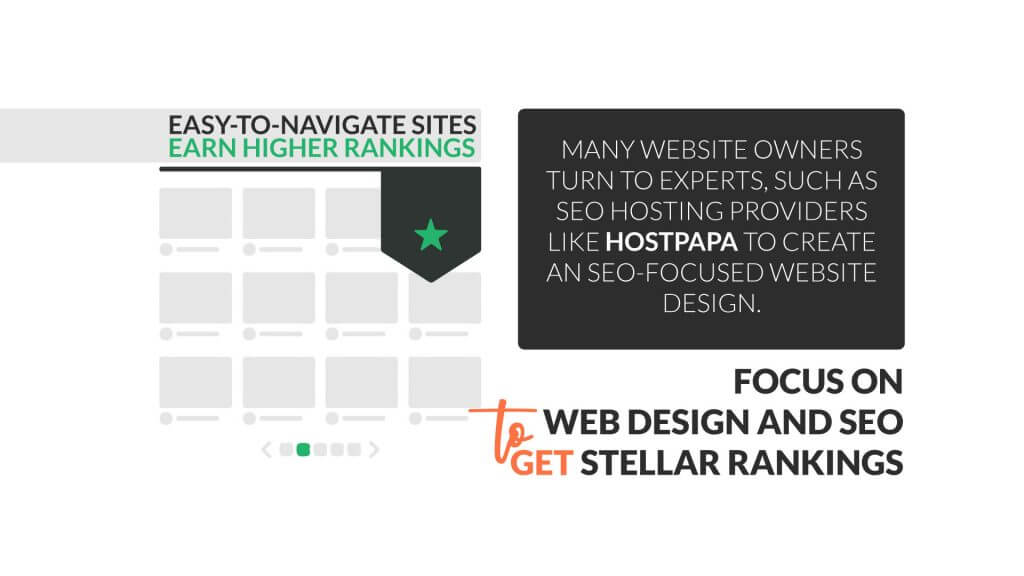 Focus on Web Design and SEO to Get Stellar Rankings
Website design is not always the first thing that comes to mind when we think about SEO, but it can significantly impact your ability to execute your SEO strategy. Your site's design affects ranking factors like loading speed, optimized content structure, visitor engagement, and keyword usage.
Regardless of your niche or experience level, you should seriously consider WordPress for a simplified approach to SEO web development.
Include web design as part of your overall SEO strategy, and you'll be rewarded with top rankings!