Is your WordPress website slow? If you've run your site through your favourite tool and realized that, despite your best efforts, your website has a low SEO score, this post is for you.
SEO is about more than keyword usage or writing metadata for every page and post. Your website speed and how your website manages its resources can influence your SEO rating. A slow website will deliver a poor UX experience, and therefore, Google won't show it among the first search results.
READ MORE: Full Guide on SEO & Web Hosting
In this post, we'll dive into how themes can influence your website's SEO rating. You may be wondering what's the best SEO WordPress theme. We'll share seven high-quality, SEO optimized themes across price points. Last but not least, we'll recommend two best-of-class SEO plugins, one free and one paid.
Let's begin.
How Can Your WordPress Theme Affect Your SEO Performance?
A WordPress theme is a set of files that determine the design of your website. Several aspects of your theme can affect your SEO ranking; one of them is weight. A theme with numerous, long CSS stylesheets that uses several JavaScript libraries will be heavier and demand more of your server than a lighter theme.
A heavy theme's negative effects will be worsened if you use a page builder on top. A page builder will load even more CSS and Javascript, making your website slower and more prone to breaking.
Another aspect of your theme that can push you down in the search results is poor accessibility and responsivity.
In 2021, mobile-first design is the web development standard, but you may be using an outdated theme that isn't fully responsive. This can harm your ranking since search engines love usability, which non-responsive sites can't guarantee to all visitors.
Lack of accessibility can be detrimental to your SEO efforts because there's an intersection between SEO and accessibility. What's good for accessibility is good for general usability and makes the work of search engine robots easier.
For instance, empty links and images with no alternative text make a website uncomfortable to navigate for users who rely on screen readers. It also prevents search engine crawlers from understanding the context of an image or link.
Now that we've explained how a WordPress theme can affect your SEO, let's look at which factors you should have in mind to choose the best WordPress theme for SEO.
How to Choose the Best SEO WordPress Theme for You
As we've explained, your SEO WordPress theme should be accessible, responsive, and lightweight.
Another important aspect related to accessibility is how the theme structures content. Google recommends that pages only have one H1 tag (the page's main title) and several H2 and H3 tags. That keeps the content scannable, organized, and easy to navigate. H1, H2, and H3 tags also provide information to the search engine crawlers, so they know what the page is about.
If not coded correctly, a theme with a hero section that's an automatic slideshow with several titles may include several H1s. Consequently, these types of themes could be detrimental to your SEO.
The fact is, aside from weight, there is no sure-fire way to assess a theme's SEO friendliness if you're not code-savvy. But, for a good indicator of a theme's quality, you can run its demo site through Google Lighthouse.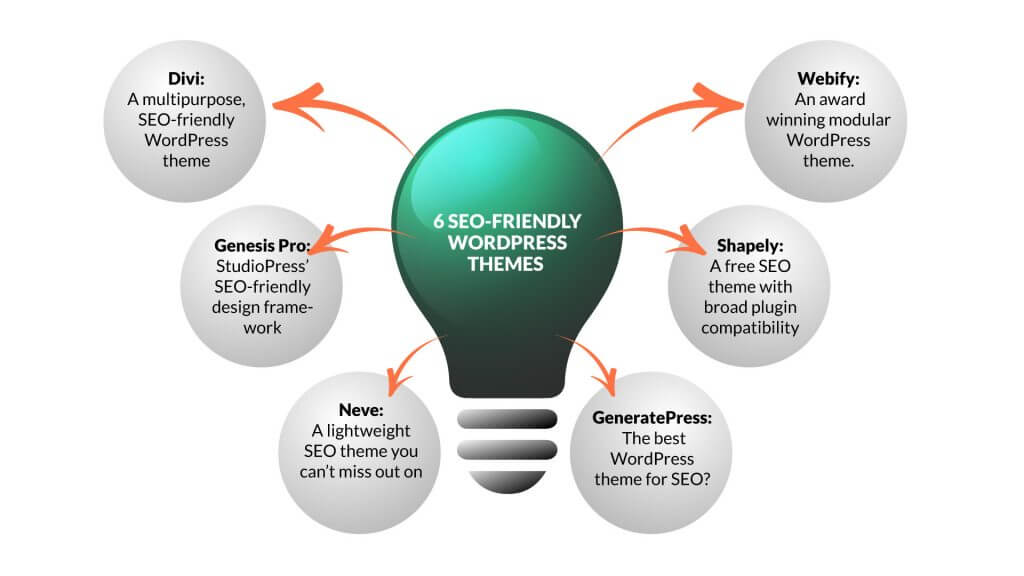 7 SEO-Friendly WordPress Themes
Let's take a look at seven tried-and-tested SEO WordPress themes you should try today.
Divi: A multipurpose, SEO-friendly WordPress theme
Divi by Elegant Themes is a high-performing multipurpose theme. Multipurpose themes offer a wide variety of customization options so that users can build almost any website without code. Multipurpose themes are often seen as frameworks rather than themes.
Divi comes with built-in SEO optimization, making it perfect for non-developers who want to ensure a good search engine performance.
Astra – High-performance SEO-friendly WordPress theme
Astra is the most popular third-party WordPress theme in the world. It's a multipurpose theme with 240 readymade Starter Templates. Every single one of them is fully responsive and SEO friendly.
Astra loads fast and delivers an awesome user experience whatever template you use. It is compatible with leading drag and drop page builders, WooCommerce and any compliant WordPress plugin.
It's also compatible with schema, uses clean code and comes with full support from a professional team. Just a few reasons why it has been downloaded over 2.4 million times.
Genesis Pro: StudioPress' SEO-friendly design framework
StudioPress' Genesis Pro is more of a framework than a simple WordPress theme. In some aspects, it's very similar to Divi. It helps non-coders edit their website in a smooth, visual way.
Genesis Pro includes Schema.org data (which makes it especially easy for search engines to understand), and it was notably developed in compliance with coding best practices. It's also lighter than Divi, and it integrates with the Yoast SEO plugin for top-notch SEO performance.
Neve: A lightweight SEO theme you can't miss out on
Neve by Theme Isle is a lightweight theme with integrated AMP functionality. Accelerated Mobile Pages is Google's framework for creating mobile-optimized content. If you're using Neve, your website will automatically be available as lightweight, mobile-accelerated pages.
Out of the box, Neve only weighs 28KB. Its demo site returns a Google Lighthouse score of 100 out of 100.
GeneratePress: The best WordPress theme for SEO?
GeneratePress is all about speed. It weighs just 10KB, follows WCAG 2.0 accessibility standards, and uses no JavaScript dependencies. GeneratePress follows the SEO recipe to a T.
Its most significant downside is that both its free and premium versions can be very restrictive for non-coders. The theme doesn't feature drag-and-drop design functions. To make up for it, GeneratePress is compatible with almost every page builder. And thanks to its constant updates, it always works smoothly with the latest version of Gutenberg.
Shapely: A free SEO theme with broad plugin compatibility
As one of the most powerful free WordPress themes, Shapely by Colorlib provides full support for a wide array of plugins, including WooCommerce, Yoast SEO, and Google Analytics.
Shapely is a simple theme, with no drag and drop functionalities and relatively limited customization compared to Genesis or Divi. But its broad compatibility makes it an excellent foundation for a site builder. With no plugins, the theme has a Lighthouse SEO score of 83 and loads fast enough for mobile networks.
This makes Shapely an above-average free theme and a good option for web projects with a small budget.
Webify
Webify is an award-winning modular WordPress theme. It comes with numerous shortcodes that allow users to easily create website elements such as accordions, pricing tables, and contact forms. Webify also features a drag-and-drop customization interface.
But this won't slow down your website. According to Pingdom, Webify demo pages load within 2.87 seconds, making this theme incredibly fast, considering the level of customization it offers.
Improving Your SEO With Plugins
An SEO WordPress theme alone won't make your website rank first on search engines. SEO is a constant process of link building, strategic keyword usage, and website optimization, but choosing the right theme can undoubtedly make it easier to adhere to SEO best practices.
If you're committed to optimizing your website, you should install an SEO plugin. Let's take a look at two widely used options:
Yoast is a free plugin that makes it possible to optimize your content from your WordPress dashboard directly. It comes with various tools, such as automated canonical URLs and meta tags, advanced XML sitemaps to simplify your site structure, and more. You can download it for free from WordPress's plugins directory or purchase a Premium subscription. The premium plan expands the plugin's functionalities and includes email support.
All in One SEO is a paid plugin. It's straightforward to use and packed with tools that boost your website's search engine performance. It seamlessly integrates with WooCommerce, generates XML sitemaps, and comes with an efficient title and meta description manager.
It's worth mentioning that your hosting will also influence your WordPress site's performance. Are you looking for fast hosting with 24/7 customer support and a beginner-friendly interface? Check out our WordPress hosting plans today and take your website to the next level.