If you're considering doing SEO for your website, you'll be thinking about the big stuff, i.e. keyword research, back-linking, and more. These things are important, but they aren't the only factors worth paying attention to.
Sometimes, small things can have a significant impact on your website's ranking and traffic. This is the case with your website's meta titles and meta descriptions.
Most people are so worried about making sure their website looks great that they forget that it's not the first thing visitors see. Many of your visitors come from search engines like Google, where they are presented with many links to choose from.
Each link is comprised of two main things:
The meta title
The meta description
What is a Meta Title?
The bold headline above the web page link is called the meta title. The meta title is the heading of the article/blog visible to you on the Google search results. When you click the meta title, the article opens.
The article you are currently reading has a meta title written on top, "How to Write Effective Meta Titles & Descriptions."
In Google search results, that will come up highlighted in the blue, followed by the website's name, as visible in the picture below.
Sometimes, small things can have a big impact on your website's ranking and traffic as well.
This is the case with your website's meta title and meta descriptions.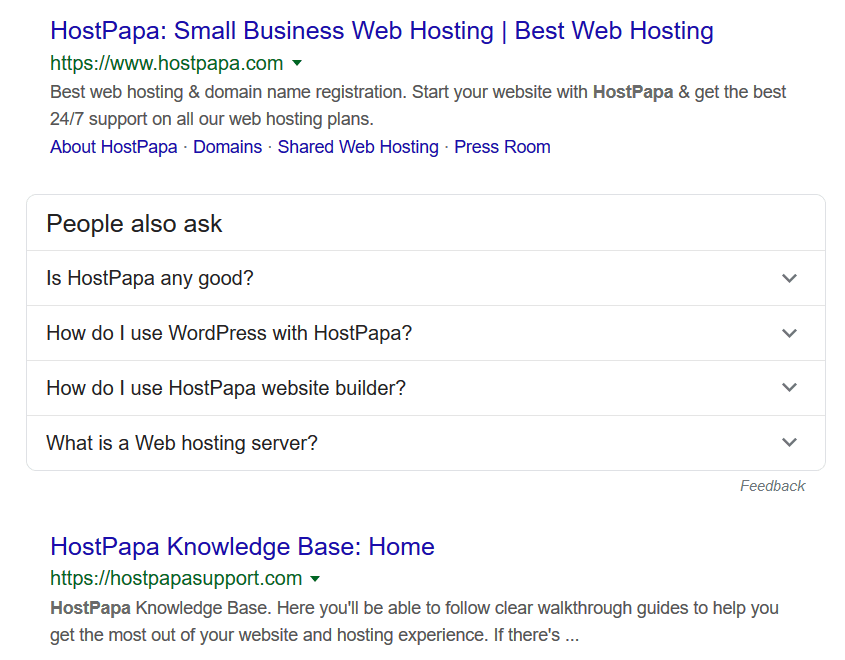 The meta title has a keyword that appears in the search results when you type in that keyword in the Google search bar and click enter. Meta titles are necessary because they describe the webpage semantically.
It's also a very technical tool brands use to inform the customers about their company and service. When a meta title is excellent and inclusive of all the necessary items, it increases the relevancy of the content for the user.
Meta Title Examples
To make you understand more about meta titles, here are some examples.
When searching "high quality t shirts" on Google, these results came back.

As visible in the picture, top sites, like GQ Magazine and Esquire, have come up in the results because their meta titles were designed so uniquely.
What is a Meta Description?
The text underneath the headline below the link in the picture is called the meta description. As you can see in the image above, the meta description is grey-coloured, and it is a small text of one line that sums up the information about the webpage.
That being said, meta descriptions aren't just a summary of what the webpage is about. Meta descriptions should inform users that their problem will be solved if they click on the web page. When it comes to SEO management, meta descriptions become a valuable tool because users will scan the meta description to see if the web page is worth clicking.
Therefore, a quality meta description, inclusive of critical and persuasive information in just about 100 to 120 characters, is more important than it looks.
Meta Description Examples
Let's have a look at some examples of meta descriptions. Look at what appeared on Google when searching for "cheap movie rent."

The link of Amazon appeared on the top, with a short and on-point meta description that lets you know the starting price range for rentals and categories (movies and TV). Because Amazon is already a well-known site, most people don't even need to look at the meta descriptions to decide if they should click. They would just click because they know the site.
Let's look at other results of the same search to understand it better.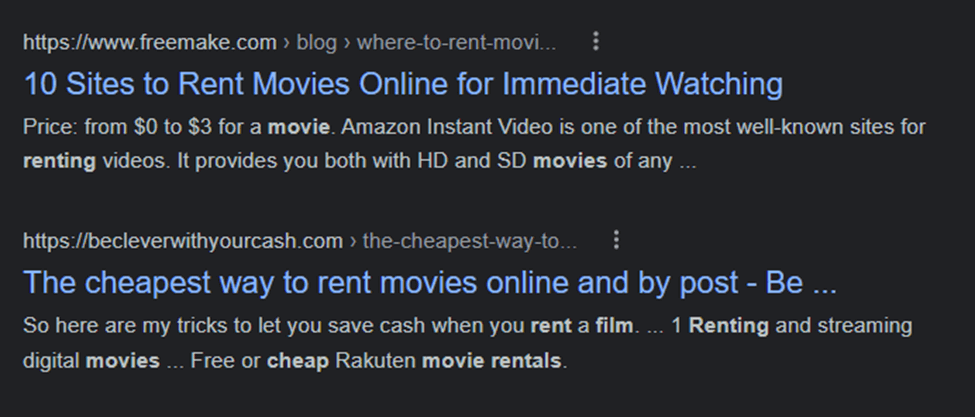 Here are some sites that include lengthy and detailed meta descriptions. The first link by freemake.com is a blog that connects you with ten sites you can rent movies from. Its meta description includes the top site where you can rent movies and the price range.
The second link in the picture above is also a blog that lets you find the cheapest way to rent movies. As you can probably notice, its meta description is not a complete sentence, and just phrases from its article, meaning that no additional meta description was written – this is something you want to avoid because optimization of meta descriptions is essential.
Each link on Google may have additional elements as well – but these two things (i.e. meta title and meta description) are constant.
Why Optimize Meta Titles and Descriptions?
In search engine result pages (SERPs), competition is tough. If your website is unable to rank the top three spots (which get the most clicks, and, consequently, traffic), you'll need other ways of capturing traffic. And your website's meta titles and meta descriptions can play a role in that.
There are two main reasons for this:
Your website's meta title and description will usually be the first thing your website visitors see. And, thankfully, optimizing these does not take much effort (compared to other SEO activities).
People on the search results page read the meta titles and meta descriptions of websites to decide which link to click. By writing an engaging, accurate, and relevant meta title/description, you can convince more people to click on the link to your website when it appears in their search results.
In short, write better meta titles and meta descriptions, and chances are you'll see your website traffic increase. It is important to note that meta titles won't have much of an impact on ranking your website on search engines. Keywords, backlinks and quality traffic are responsible for that.
Meta titles and descriptions are super-important for both on-site SEO and marketing. Your website's meta title and descriptions will show only on a page, alongside ten other high-quality links. Keep in mind that you're competing with many more websites.
In the following sections, you'll learn some tips and tricks on optimizing your meta titles and meta descriptions to get more clicks and better on-site SEO.
How to Write a Meta Title
According to David Ogilvy, "when you write your headline, you spend 80 cents of your dollar". That's because most people only read the headline and scroll away—without clicking on your website, webpage or article.
Now, Google only allows a title to be of 65-75 characters. If your title is bigger than that, Google will cut off the remaining part of it. So make sure you say everything you need to say within 75 characters—or, if not, make sure your title says everything important in the first 75 characters.
Now that we have that sorted, here are three ways you can improve your meta title.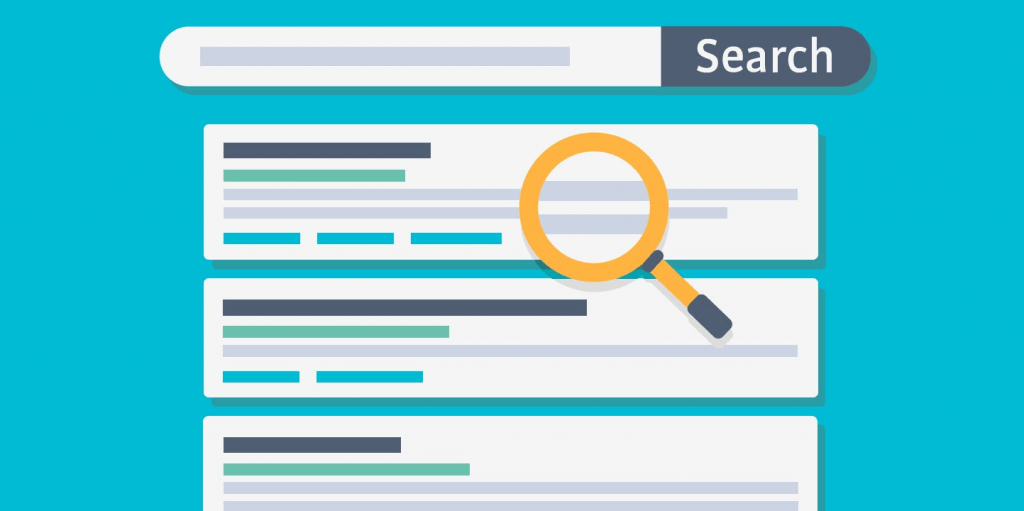 Incorporate Your Primary Keyword
Your title tag should have the primary keyword. And even better would be to follow it with a secondary keyword. At the end of the title, you should have your brand name.
Of course, this is the ideal situation.
Your first priority should be to make sure people can easily read your title and understand it. Your title should never sound robotic, spammy or unintelligible due to the keywords you incorporate.
Convey What Your Webpage Is About
Your meta title should immediately convey to the reader what your webpage is about.
Is this an article on a particular topic a person wants to know more about? Put it in the meta title. Is this a product page about an item you're selling? Make sure your product is mentioned in the title.
Being to the point and including relevant information is the best way to get attention to your webpage.
Add Engaging Copy
Last but not least, try to make your title more engaging. By "engaging", we mean, try to make your title read in a way that makes the reader feel emotion. This can be anything from excitement to curiosity or happiness.
Here are three tips to make your copy more engaging:
Add Benefits: What benefit will the visitor get from visiting your website? Add it to the title. Is it an up-to-date guide? The latest model of a product? A unique solution to a problem? Whatever it is, state it in your meta title.
Insert Power Words: Power words can trigger an emotional response in your audience. These are words like "Best", "Affordable", "Fast", and "Extra". Adding them can make your meta titles more attractive.
Add Modifiers: Modifiers, such as "Top 10", "2020 Updated", and "Near Me", can make your meta titles more relevant.
Last but not least, make sure every single important page of your website has a unique meta title. The more unique and relevant your meta titles are, the more traffic you'll get.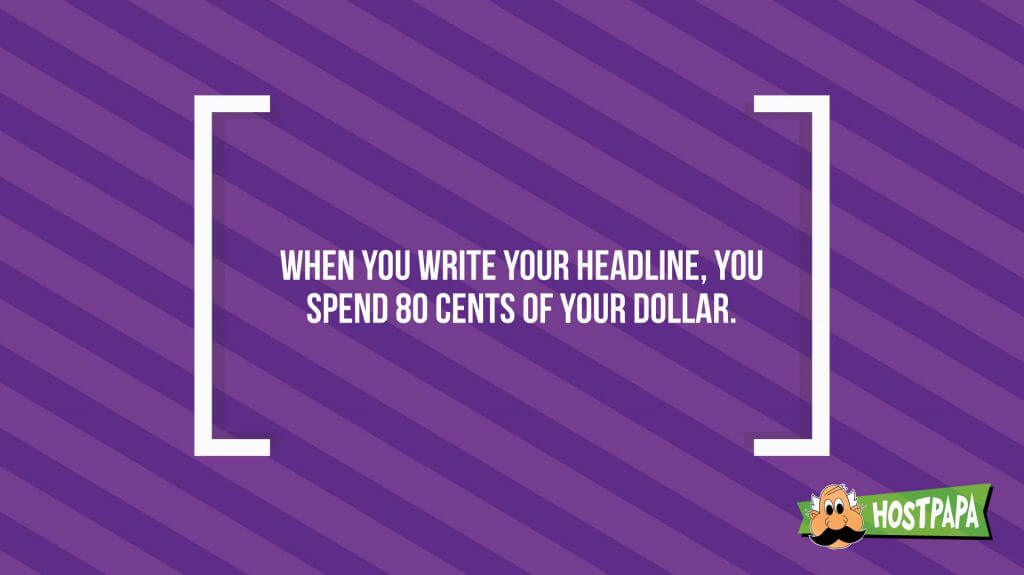 How to Write a Meta Description
We've explained why meta titles are so important but don't forget about your meta descriptions. If your title successfully grabs your audience's attention, you may need to convince them further that your web page is worth visiting. The meta description is the hook to do that.
Like the meta title, Google limits how many characters it can show before cutting off the meta description. For meta descriptions, the word limit is 150-165 characters.
With that in mind, here's how you can optimize your meta descriptions.
Add Primary and Secondary Keywords
Your meta descriptions should also include the primary and secondary keywords, just as in meta titles. This will boost your SEO rankings and make them more relevant.
In addition to the primary and secondary keywords, you can also add LSI (Latent Semantic Indexing) keywords to your descriptions.
LSI keywords are words and phrases highly correlated to your topic, like synonyms based on your content context. To get LSI keyword suggestions for your primary keyword, check out LSIGraph.
Add Engaging Copy
Similar to the titles, your meta descriptions also need an engaging copy. Since meta descriptions have room for more words, you can add more information.
Here's what you can do to make your meta descriptions more engaging:
Insert your USP (Unique Selling Point): Every page on your website will have unique information, products, and services. Make sure you always include your USP in your meta descriptions.
Add a CTA (Call to Action): What do you want your visitor to do on your website? Buy a product/service? Subscribe to a newsletter? Book a demo? Add it to your meta description.
Keep Search Intent In Mind
In your meta description, try to clear up exactly what type of content the webpage will have. For example, if you're talking about cars, are you talking about the Pixar movie "Cars"? Are you selling used cars?
Do you write buying guides about cars? Clear up the intent of your webpage in your meta description. This will make your links even more understandable to your audience, plus the visitors that do choose to click on your link will be more interested in your products/services.
How to Optimize Your Meta Titles and Descriptions
This article until now included the basic information of what meta titles and descriptions are and how you can write them. However, that's not enough. Meta titles and descriptions also need to be optimized.
Below are some of the additional optimization that will help your titles and descriptions stand out from your competitors.
Optimize for the SERPs' Appearance
When you search a query on Google, you are presented with search engine result pages (SERPs). These pages include more than just blue links (organic search results). There are some featured ads as well that are optimized for pay-per-click.
That is what we call SERP optimization.
Google is continually working for the right SERP design for each query typed in the search box. So, if you don't have a meta title and description that fits how Google is trying to show the results, you are leaving space for your competitors to earn an easy click and grow.
Therefore, it is important to check how Google displays the search results before writing your meta title and description. A writing service can provide professional writing assistance to individuals or businesses to help you with your meta titles and descriptions.
Optimize for Search Intent
"Search intent" is basically the searcher's intention when they type their query in the search box. They aim for something, and it is your job as a website owner to fulfill their aim.
Search intent can be categorized into four different types:
1. Informational
As its name suggests, informational searches are conducted to carry out information about a product or a service, like a mobile phone. This kind of search can look like this: "iPhone 13pro specifications."
2. Transactional
Transactional search is when the user looks to make a direct purchase rather than just information, such as a bakery for a birthday cake.
This search could look like: "buy birthday cake."
3. Commercial
Commercial searches are when you are looking for the best deal on any product or service for an occasion or an event, such as hiring a wedding planner.
The search could look like this: "budget-friendly wedding planners in January."
4. Navigational
Lastly, navigational searches are those when you directly want to go to an application, such as Google Docs or Whatsapp Web.
You just type in the name of the application and click on the top-most result.
Below is an image that includes some keywords categorized on the basis of the intent that they are searched for.
Unique Selling Points (USPs)
Unique selling points (USPs) are the best way to earn a click on your web page, and businesses across the world have been spending serious cash on Google Ads to test which USPs would work to get a click on your site.
You can miss some really important words in your initial keyword research that USP search will help you find. What you have to do is search a keyword on Google and notice the words that sites that are ranking on top are using and the sites that are ranking on the bottom are not. This will help you determine what kind of keywords are more important to rank on top.
Look at the image below.
After searching for "emergency plumber," these search results appeared. It looks like "emergency plumber" is the keyword to rank on top. However, some keywords here that are optimized based on USP are "24/7," "fast response," and "no call out fee."
This is what USP optimization helps us find.
If companies are willing to spend money on those words and phrases, it's safe to assume that they're the right type of keywords for triggering a response from the searcher. This also suggests that they're profit-generating keywords too.
Using them within your new metadata could be a winner!
What to Avoid When Creating Meta Titles And Meta Descriptions
When you're creating meta titles and meta descriptions, there are some things we recommend you don't do. These aren't strict rules but rather some practical guidelines that you can use to improve your meta titles and descriptions.
Don't Use Spammy Language: Poorly written titles and descriptions, especially those too promotional or self-absorbed, can repel audiences instead of attracting them to visit your website. So make sure you properly convey the benefits of your web page's contents, rather than going on and on about how great the web page is. Also, don't sound too desperate in your call-to-action. Instead, communicate the convenience it will bring.
Don't Use Passive Voice: Words and sentences written in passive voice can have negative qualities. The primary disadvantage is that the main point you are trying to convey gets shoved to the end of the sentence. Sentences written in the passive voice require more words and are less precise than sentences written in active voice. For example: "a 50% discount will be offered by us on the purchase of two or more items" is passive voice, whereas "get a 50% discount when you buy two or more items" is active voice—and would be our recommended way to go.
Don't Use Complex Words: Don't try to sound too fancy and sophisticated by using complex language. Instead, use simple language that makes your text quickly scannable and easy to understand. Your number one priority, after all, should be to get the message in your meta title and description to be as clear as possible. Fanciness comes second.
Find Some Inspiration
Before you start writing your meta titles and meta descriptions, it's a good idea to gather inspiration from websites like Screaming Frog and Meta tag extractor, which let you download complete metadata from other websites.
Another quick way to get an idea on how to write great meta titles and meta descriptions is to simply search for your competitors on Google. Look at the organic results and pay attention to what competitors in the ad listings above are typing, especially what keywords they are using. This will give you a good idea of what direction to take since these are examples of what worked for your competitors.
Do A/B Testing
Don't be concerned if you don't find the most effective meta title/description on the first try. Instead, we suggest creating multiple versions of a meta title/description if you want to find the one that's most effective at getting traffic to your website.
Download Yoast SEO Plugin
If you use a WordPress website, you can install a plugin like Yoast. This plugin lets you create a specific meta title and description for each webpage on your WordPress website.
You can also use it to perform other on-screen search engine optimizations on your website. Yoast will automatically give you suggestions on how to improve various SEO aspects of your website.
Don't Stop Here
Looking to learn more SEO tips? We've got plenty of resources on our HostPapa blog.