Every website owner wants to optimize their website's growth and rank high in Google SERP. With a decent WordPress SEO plugin, the process of improving site speed and SEO rankings is a breeze.
SEO plugins offer you powerful tools and features like sitemaps, content insights, essential keyword research, audit checklists, and much more to optimize your WordPress website, making it even more complete.
Want to crush it? In this article, we've put together a list of 26 great SEO plugins to help get your blog noticed on Google.
Does WordPress Need SEO Plugins?
If you work with WordPress, it's the fundamental part of your website, and while it's tooted as an SEO-friendly platform, you can implement some SEO optimizations to make it even better.
Although you can use SEO best practices to stay ahead of your competition, WordPress SEO plugins usually guide you to improve a page's content and searchability.
Optimization must be performed by you. In its entirety, WordPress offers everything you need to create search engine-friendly content. The popular CMS allows for adding title metadata, header, alt text tags, custom URLs, and many other aspects that yield great SEO results! But installing a plugin makes everything considerably more effortless.
The Best SEO Plugins for WordPress
SEO plugins provide several options for website owners to customize their pages, each with different functions. One of these functions is SEO analysis (the most important), which is not performed by any native WordPress tool.
For site owners looking to follow SEO parameters to improve their results with the latest digital marketing techniques, install a specific plugin to achieve that task.
Here's our list of the best SEO WordPress plugins:
If you're wondering how these plugins work, check them out below.
1. Yoast SEO
Yoast is a spectacular plugin and one of the most popular for WordPress. It's comprehensive and offers support for beginners. However, if you're a user with more plugin knowledge, you can also opt for their advanced menu. It's simple to use and gets to work immediately after installation. It offers many different features which allow flexibility to users.
Yoast allows you to optimize your page.
Yoast's interface lets you choose a unique and optimized title for your web page, give it a distinctive meta description, and make an SEO-friendly URL. Then, it assesses your content on SEO and readability and generates a report card for each page and post. You can also control the discoverability of your post or page by enabling or disabling robot tags.
It allows you to verify Google Search Console for your website.
Google's free Search Console service provides site owners with many different tools for monitoring their site's performance. It not only shows how your site is performing on the inside, but it also shows how searchers perceive your site in the search results. You can learn about keywords and queries that drive traffic to your site, the results your content has achieved, and how well your site is performing overall. You can even check if Google can see your content.
Google Search Console is a must-have, and by simply copying and pasting some HTML code into the Yoast user interface, you can authenticate your website with Google Search Console and make use of its valuable SEO statistics. When you add your code via the plugin, it will be secure from accidental overwrites. That prevents you from having to re-add the code after changes to your site's code, such as theme and WordPress upgrades that aren't handled correctly by web developers and SEO professionals.
You can directly modify the robots.txt file.
Robots.txt is a file that notifies search engines of which pages they can and cannot crawl. The Yoast SEO plugin allows you to modify your robots.txt file. Instead of downloading, changing, and then uploading the robots.txt file each time you make a change, you can use the tool's user interface. This way, your robots.txt file stays safeguarded from overwriting because of modifications to your site's theme, WordPress themes, or other plugins.
It offers an auto-generated XML sitemap.
Creating and updating XML sitemaps is an overlooked SEO technique, and understanding it will enhance your site's performance. Sitemaps are essential for your site as they provide search engines with a list of pages to crawl on your site, making information about your website's pages easy to obtain. Yoast offers a dynamic XML sitemap, created automatically anytime you add new material to your website. You can use the XML sitemap in the user interface to make your website components more visible to search engines.
You can also enter keywords on the interface and check how successfully you have optimized those keywords on your pages and articles. You can also check what your Google search engine result will look like, allowing you to make the meta description and title more attractive and keyword-rich. Yoast performs a readability check on whether you need to break up paragraphs or add components such as numbered lists or headings. It will also identify any duplicate material on a page or post.
The world of SEO is ever-changing, which is why Yoast developers update their plugins every two weeks. Yoast's website includes premium support options, a bustling community in the forum section, a blog for learning more about SEO, and SEO courses for beginners, intermediates, and experienced users.
You can acquire access to Yoast premium features through the website. Premium features include but are not limited to a redirect manager, free support, and content insights. You can also optimize five keywords per page and preview how your page will appear on Facebook and Twitter. Yoast will also send internal link recommendations that direct users to other parts of your website. You can purchase it for $89 per website. However, even the free version can do wonders.
2. The SEO Framework
The SEO Framework is a quick, minimalist SEO plugin for WordPress and is free from advertisements or promotions.
It removes some extraneous features you probably don't need and concentrates on assisting users more concerned with maintaining high site performance while spending less time reading perplexing SEO articles. It does this by taking the beginning of a post or page, stripping out unneeded data and formatting, making it human-readable, and reducing it down to the correct length to display in search results without being cut off.
A few tabs manage the SEO Framework settings, and one of these tabs employs a coloured scale to demonstrate how close you are to getting your post search engine-ready. In this way, you can determine where you need to put in work for your SEO right away.
Initiated within the WpmuDev community – which enables members to research, install, and operate all plugins from one screen – the plugin was subsequently made available to the general public for free.
The interface is user-friendly, making it ideal for beginners. It doesn't come with a setup wizard but offers a five-minute setup guide, ensuring your settings get configured correctly. It also shows many hints explaining what everything means. You can also review all the plugin settings in an SEO menu. Experienced users can use the API to make best use of the SEO. The SEO Framework is all-encompassing, and with the help of extensions, you can obtain complex functionalities. These extensions are:
Local SEO: this is the process of optimizing a website for local search to improve traffic, leads, and brand exposure. Finding local keywords, enhancing a business's Google My Business profile, and creating "NAP" citations are all procedures affiliated with local SEO.
Article enhancement: your published posts become enhanced as relevant structured data automatically gets added to them. That makes it useful for bloggers, news publishers, and scientific pieces. It comes with a Google News sitemap, as well.
AMP integration: binds The SEO Framework to the AMP plugin for AMP-supported articles and pages.
Monitoring for SEO: Keep track of your SEO optimization and statistics.
Incognito mode: this hides all development comments from The SEO Framework.
Redirects: users and search engines receive a different URL from the one they requested.
Comment caching for spammers
Of course, most of these extensions are free. You don't need to pay for premium features, either. Simply install the plugin, and you're good to go. Contrastingly, the Yoast plugin enabled premium features for use only if you purchased them.
The SEO Framework creators boast about its outstanding features. For example, it prevents search engines from displaying low-quality data in search results (404 pages, feeds, the sitemap, and empty categories). In addition, the plugin steers search engines away from comment sites and toward posts that include comments. So, simply by installing the plugin, you've already improved your SEO.
The SEO Framework allows you to quickly evaluate which pages require attention and which issues are the most urgent. It will also point out any problems in your SEO with the help of colour-coding indicators that indicate how critical each is. You can configure the appearance of your homepage by going over the title and meta-descriptions the plugin creates for your page, deciding whether or not to add a tagline, describing the image URL you want social networks to use, modifying robot.txt settings, and more. Once enabled, the SEO Framework also creates an automatic sitemap containing all your site content. This aids search engines in indexing your posts and pages.
The SEO Framework goes to considerable lengths to ensure that users of all abilities benefit from their plugin. The colour scheme, for example, is appropriate for people with colour vision issues. In addition, the interface supports keyboard navigation and screen readers. The plugin does not gather data to report to the developers or set any cookies. Unlike many other plugins, the user interface is free from branding and advertising.
3. SEOPress
SEOPress is a strong contender for all WordPress plugins. It's precise, speedy, and effective, and it doesn't have any ads. It has many features, and you can easily import any other tool you need.
You can set your meta description tags and titles, allowing you to control what description the search engines use. Of course, you can do this for every post, page, or the entire site. That means that you have complete control over your pages.
You can make your Google Knowledge Graph – a small box that appears when you search for something. It contains a brief profile, weblinks, and social media links about whatever you searched. The Google Knowledge Graph can boost site performance as users have an instant idea about what they are searching for.
SEOPress also performs content analysis well. It criticizes your content structure, headlines, titles, and graphics and helps you arrange your SEO material. It focuses on improving your on-page optimization enabling you to boost your ranking chances.
XML sitemaps assist search engines in crawling your website, while HTML sitemaps enable visitors to find the sites they're looking for. Both help navigate your WordPress website and contribute to your overall SEO, and you can generate both directly inside SEOPress. Contrastingly, other plugins (for example, Yoast) don't produce HTML sitemaps, so you'll need to install a third-party plugin to do so.
Having broken links harms your SEO, as visitors won't have the best experience. 404 monitoring is a tool offered by SEOPress Pro that scans your website for any broken links and works with the broken link checker to ensure your website is accessible.
Broken link checker is a SEOPress feature similar to 404 monitoring, but it does not monitor your website. You will need to initiate a scan, and then the SEO will list down all broken links for you to fix. You can then delete or update links to your preference. This software is built-in and is an advantage to users. Other plugins, for example, Yoast, do not offer this feature.
You always have the option of accessing Google Analytics through your Google Account, but it is also convenient to have it in your dashboard within the plugin. Simply enter your Google login data!
SEOPress gives you complete control over your Google Maps presence. You may customize your company name, address, latitude and longitude, URL, phone number, and other crucial local search data. Many websites rely on local search, and this plugin feature will be necessary for your website.
The SEOPress Pro costs $39 a year, and you can use it for unlimited websites. This is a pretty decent offer as other plugins limit use to only one site. Keep in mind that the free version of SEOPress has a lot to offer.
4. W3 Total Cache
Page speed has become a significant ranking factor. The W3 total cache plugin allows you to enhance the speed of your website so that users visiting it can have a good experience and more users access your website. The plugin does this by reducing the download time of your website, which makes your page load extremely fast. You simply need to install the plugin and enable its cache features.
After downloading and installing W3 Total Cache, you can use Google PageSpeed Insights on your site and your competitor's site. Keep checking these insights to see the improvement and optimize it until it becomes faster. The plugin will improve your overall site performance by at least ten times.
W3's installation and settings are easy to figure out. You can also find a lot of information online on installing the plugin and configuring it properly. W3 Total Cache improves the performance of your WordPress site regardless of how your visitors access it. Visitors on mobile devices will experience the same lightning-fast speeds as those on desktop computers.
Features:
You can use the Speed Coach feature to obtain step-by-step instructions on making your site lightning fast.
The BoldGrid Easy SEO option evaluates your content and suggests improvements.
The Total Cache feature improves your site's loading speed, which helps you rank higher in search engines.
It supports shared hosting, virtual private/dedicated servers, dedicated servers/clusters, Secure Socket Layer (SSL), and Accelerated Mobile Pages (AMP).
With the Media Library, theme files, and WordPress itself, you may manage your content delivery network (CDN) transparently.
You may cache pages and posts in memory or on disk or (FSD) CDN (by user agent group), CSS and JavaScript in memory, on disk or CDN, feeds (site, categories, tags, comments, search results) in memory or on disk or CDN, search results pages (i.e., URIs with query string variables) and databases in memory or on disk, pages by referrer or groups of user agents, as well as theme switching for user agent groups.
You can opt for W3 Total Cache Pro for more features. These include and are not limited to advanced site performance statistics that help you diagnose any previous issues in your site, web server, MySQL, etc. It also controls the cache times for comments, eCommerce, and other interactive features to ensure that speed is maintained and users view the most up-to-date material.
When paired with a CDN, the plugin allows users from any part of the world to access your site at super-fast speed. The WordPress API may be cached to save resources or improve scaling performance. You can add support for the Genesis Framework, WPML, and other extensions. You can also improve loading time by improving Google Maps.
5. WordLift
WordLift is a plugin that places Artificial Intelligence in the hands of online publishers, content editors, and SEO experts and assists them in increasing organic traffic to their websites. This AI-powered SEO tool converts web pages into machine-friendly text that search engines interpret by adding the schema.org markup. It aids in organizing your content and the automation of structured data markup.
WordLift further enhances content discoverability by including internal links, suggestion widgets, and semantically rich metadata. You can start converting your articles and pages into machine-friendly material that search crawlers, chat-bots, and personal digital assistants, such as Google Assistant, Siri, and Alexa, can use and comprehend to boost your organic traffic.
WordLift enables editors to add a layer of metadata to their content, which has several SEO advantages:
By adding Schema.org markup, you may dramatically boost your visibility in Google's search results pages.
It improves your SEO potential by giving contextual, internal linking based on semantic principles so you may increase the usability of your website.
It improves the user experience by offering semantic interlinking and content suggestions and positively impacting engagement numbers, a big deal for Google.
WordLift also uses WooRank's technology to help you track the success of your content and provide you with helpful tips on how to improve your website. WooRank produces an immediate audit of the site's technical, on-page, and off-page SEO, providing easy, clear, and actionable insights to improve search ranking and website traffic, as well as audience engagement, conversion, and customer retention. It also integrates with Google Analytics.
WordLift comes at a premium price, with plans starting at €59 ($65) per month. You will also enjoy a 20% discount on your annual membership. However, it offers a 14-day free trial with all subscriptions, and if you're unsatisfied with WordLift after two weeks, contact them to cancel your membership.
6. RelNoFollow Checkbox
Google takes into account whatever you link to pages and websites. The quality of those links and the quality of links pointing back to your site are of great importance to the search engine. Hundreds of links lead to websites that promote spam, and Google considers these harmful to users. Such links will hurt your Google ranking, and one way to work around it is to add "relnofollow" attributes to external links. The link does not influence rankings of the external site, causing advertisers who value those links for ranking to stay away. Adding "relnofollow" tags to all links individually can be super annoying. The RelNoFollow Checkbox plugin, on the other hand, adds a checkbox to tick when creating links in WordPress.
The link does not influence the rankings of the external site, causing advertisers who value those links for ranking to stay away. Adding "relnofollow" tags to all links individually can be super annoying. The RelNoFollow Checkbox plugin, on the other hand, adds a checkbox to tick when creating links in WordPress. It's worth noting that the Rel Nofollow plugin is straightforward, but it hasn't been tested on the latest versions of WordPress.
Features:
It only takes a minute or two to complete the installation.
It simplifies the procedure for non-coders.
It's the perfect solution for affiliate marketers.
It's lightweight and won't slow down your website.
You can improve your SEO without having to spend a lot of time searching through HTML (to find your links and add code). A "relnofollow" option underneath the "Open a link in a new window/tab" checkbox cuts down on the time you would have to spend going through the HTML.
You can review guest posts or articles published by your writers to ensure they aren't attempting to sell items or services without approval.
7. All in One SEO Pack
All in One SEO, also known as AIO SEO, is a popular SEO plugin used by over 2 million websites. AIO SEO can improve your site in minutes and manage your SEO effortlessly. It's beginner-friendly – to use it, you don't need to be an SEO expert or know how to code.
Features that AIO SEO has to offer:
The AIO SEO has a quick launch-up wizard, and you can set it up within ten minutes. Install the plugin, and enable whatever SEO features you want in the launch wizard. You can also opt for data analytics and recommendations to optimize your site performance.
You can easily manage your SEO from the WordPress dashboard.
The plugin allows you to monitor your site score and be aware of any urgent issues on your site. You can then fix these issues easily.
You can also integrate advanced WordPress features, including sitemaps, SEO search dashboard, local SEO, schema markup, optimized search appearance, SEO keywords, and social media integration.
You can optimize every post and page before publishing it. You may also assess your title and add a meta description, target keywords, and key phrases. You can also ensure your material is easily understandable for your readers.
The plugin is easy to use. There is lots of documentation on the WordPress dashboard or the AIN SEO website to help you out. However, you can contact the support team via a ticket system if you get stuck.
SEO covers a broad area and is forever changing. Staying true to its name, the All in One SEO Total Plugin encompasses all the features you could find in a plugin while allowing you to choose which features are activated. The plugin is regularly updated as well.
The AIO SEO Plugin offers many packages to suit your needs. You can opt for the Lite version if you want the plugin for free or want to test it out before purchasing the Premium version ($49.50). It also offers a Plus plan for three sites ($99.50), a pro plan for ten ($199.50), and an Elite plan for a hundred ($299.50). Another advantage of this plugin is that if you're a user of the Yoast plugin and want to try out AIO SEO, you can easily import data between the plugins using an export tool.
8. Broken Link Checker
Broken links (a link that leads to a 404 page) can confuse search engines, making it difficult for them to trace your website and rank your content. Therefore, you need to avoid broken links (both internal and external) at all costs, or else visitors to your website will get a negative impression.
If you were to sift through all your links, it would take you days to find all the broken links. The Broken Link Checker does this trivial task for you. It goes through all your posts and pages and presents you with a list of broken links. Then you can figure out the links you want to keep, edit, or delete. If you maintain the plugin as activated, you'll receive a notification every time a link breaks.
Features:
All link changes are made through the plugin's main page, so you don't need to go to the post or page.
The WordPress SEO plugin allows you to search and filter links.
The plugin keeps track of comments, custom fields, and more.
Google will also have a negative impression of your page. The plugin detects anything that may cause a reader to get confused. For example, it detects missing pictures and redirects.
You can also enable the feature that prevents search engines from following the broken links on your site.
9. SEOquake
The approach taken by SEOquake is quite different from the one used by plugins. You can perform SEO analysis of a page directly through a Google Chrome extension, and you don't even need to access it through a dashboard.
Dubbed a powerful SEO toolbox for your browser, SEOquake removes the need to install a plugin on your WordPress installation and does everything through your browser – plus, it works on all major browsers like Google Chrome, Firefox, Opera, and Microsoft Edge.
Features:
You can perform a complete SEO analysis of your webpage with nothing but your browser at hand. You don't need to deal with any hard-to-understand interfaces. Enable the features you want your SEO to operate using the interactive SEObar, and you're good to go!
You can check the SEO health of your website with a real-time diagnosis feature that identifies and fixes numerous optimization issues that search engines encounter.
You can obtain all the details behind any webpage's internal and external links, including URLs, anchor texts, etc.
You can compare various domains and URLs for various SEO metrics and convert your findings into a dynamic and customizable report.
You can obtain a detailed report on your website's keywords and narrow your search by enabling certain filters.
You can export the SEOquake data as reports into a .csv file or print it out!
10. Rank Math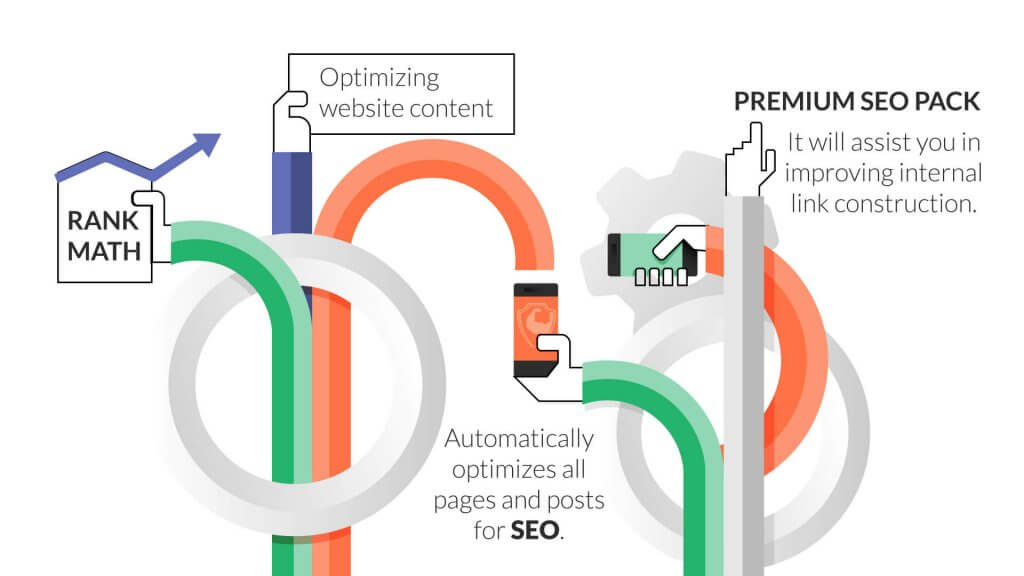 Rank Math is a fantastic WordPress SEO plugin that aids in optimizing website content. It gives you real-time content analysis without needing you to leave your WordPress dashboard. Rank Math combines the capabilities of numerous SEO plugins into a single, lightweight, easy-to-manage plugin. It includes everything you'll need to take complete control of your on-page SEO.
Features:
You can improve meta descriptions and titles, lowering the risk of SERP display errors on search engines like Google. Likewise, you can control noarchive/noindex/nofollow/ meta-tags (in general) of all taxonomies and individual pages.
It's a one-stop-shop for all your SEO needs.
Tuned for faster loading times, the plugin will not slow down your website.
Each article, page, and post gets checked by a 40-factor SEO analysis.
The user interface is simple, and the options are easy to understand.
It allows you to automatically add alt or title tags to photos that lack them.
A 404 monitor tells you when users encounter issues.
It also includes a Redirection module to redirect those 404 errors to a more helpful page on your website.
It includes an XML Sitemap module, and the plugin also pings search engines whenever you update your content.
Rank Math supports Breadcrumbs, so you don't need to rely on other plugins.
Rich Snippets support is available – select from six various sorts of snippets, such as Articles, Products, Recipes, Videos, Local businesses, Events, etc.
It works hand-in-hand with Google Search Console to immediately provide you with the required data in your WordPress dashboard. In a single glance, you can check what keywords you're ranking for, the number of search impressions your website is getting, what problems Google finds on your site, and so on.
Rank Math also includes a 404 Monitor, Redirects, Rich Snippets, Local SEO, XML Sitemaps, Automated Image SEO, Internal Link Building suggestions, and more.
11. Premium SEO Pack
The Premium SEO Pack is a high-quality, all-in-one SEO plugin that includes everything you need to improve your website. It contains all the features you would expect to find in a typical WordPress plugin and the features you would not expect.
Features:
It will assist you in improving internal link construction, image optimization, extensive snippet capabilities, 301 redirection management, etc.
This plugin also takes care of on-page optimization and, if necessary, bulk optimization of your content.
Other features of this plugin include title and meta, Google Analytics, 404 pages, and backlink builder.
The plugin also has many modules to offer:
The Backlink Builder makes adding your website to website directories easier.
You won't have to visit the Google Analytics page, as statistics are provided to your WordPress dashboard directly.
Link Builder allows you to put internal link building on autopilot. You may create a list of keywords, and links get automatically added.
With the W3C Validator, you can mass-check the markup (HTML, XHTML) of your pages/posts/custom taxonomies.
With the Social Stats tab, you can see the number of times social media sites like Pinterest, Facebook, Digg, Twitter, etc., shared your website pages.
With the Facebook Planner module, you can post your content to Facebook.
The page speed of each web page can be seen on Page Speed Insights.
You can see the URLs that refer visitors to 404 pages, how many hits they had, and redirect them to another page with the Monitor 404.
Mass Optimization automatically optimizes all pages and posts for SEO.
SEO Friendly Images automatically update all images with proper ALT and Title Attributes.
With the help of SERP, you can add focus keywords and track their search engine results ranking.
The Premium SEO Pack is free, like Yoast and All In One SEO Pack. However, its free version was last updated three years ago. It's available on Codecanyon for $44, making it a pretty good deal. The premium version has several bonuses to help you take your SEO to the next level.
12. WP Meta SEO
WP Meta SEO is a free plugin you can install from your WordPress admin dashboard or get from the WordPress plugin directory. WP Meta SEO allows you to track the SEO progress of your website through an information dashboard. It speeds up content optimization by allowing you to edit many pages simultaneously. It also offers a bulk processing feature which is a huge plus. That makes the plugin one of the most user-friendly WordPress SEO plugins. Its feature-rich and experienced users will find it a strong contender for well-known plugins.
Features:
It has a simple yet powerful dashboard. It not only displays numbers but also analyzes them and appealingly presents them. The plugin dashboard gives an insight into how your site is doing in terms of permalink structure, meta titles and descriptions, HTML image resizing, image title and Alternative Text, new or updated content, link title attribute, and 404 error pages.
It can generate XML and HTML sitemaps for your website.
It offers an image resizing and optimization tool.
It can integrate with Google Analytics.
You can detect issues in your SEO and fix them.
You can edit in bulk, and this feature is a lifesaver.
The plugin keeps track of all 404 not found errors, including the URL, number of hits, link text, and source.
The WP Meta SEO offers more features in its Pro version.
13. Rankie
Rankie is a powerful plugin tool that may boost your keyword strategy and increase your website's ranks – thanks to its tracking, reporting, and research functions. Some of its important aspects are listed below.
Features:
Tracking Rankings: With Rankie, you can see the Google ranks for your keywords in one spot. Simply log into your WordPress dashboard to get a quick overview of your site's performance. While these rankings are updated daily, you can also change a keyword's ranking instantaneously by checking the box in the "Up-to-date" column. This ranking monitor software lets you see how your website performs in real-time. You can also click on a keyword to see its ranking history and stay informed on how it has evolved. The plugin helps you enhance your keyword research and planning by allowing you to dive down into the performance of particular keywords.
Ranking Reports: Rankie can also produce PDF reports on your current rankings and trends, which you may share with team members who do not have access to your WordPress dashboard and customize by month, year, or all years (since you began tracking your keywords with Rankie). You can also set the Rankie plugin to send a daily email about any changes in the position of your keywords if you want more regular updates on your keyword rankings, which will allow you to improve your content and quickly reclaim top Google SERP positions.
Keyword Research: You probably came up with a list of keywords and phrases that reflect your core business and appeal to your buyer profiles before you started writing. Using Rankie's built-in keyword research tool, which auto-generates hundreds of long-tail keyword recommendations for each search query, you can increase this list and ensure that you never run out of content ideas.
14. Squirrly SEO
Developed for people who struggle with SEO, Squirrly SEO lives up to its claim by providing a free comprehensive SEO suite. It helps you create human and search-bot-friendly content. It'll help you rank better in search results and engage your users.
With this plugin, you can get SEO-related stats, weekly SEO audits and find the best keywords for your site to get more traffic.
Features:
SEO Squirrly makes SEO suggestions differently than other plugins. You begin by entering the title of your article. You also type in the desired keyword, resulting in a succession of green lights turning on as you continue composing your text. It is almost as if you are writing with an expert whispering in your ear. The plugin carries out keyword optimization as you write the article. That makes Squirrly SEO a little more user-friendly than Yoast, which requires you to save the content to see suggestions and results.
It also provides a tool that looks at your competitors and analyzes how you can outperform them.
Squirrly SEO also makes content reports that you may share with others in your company. If a writer, for example, needs to learn more about SEO, you might email it to them after they finish writing an article.
Weekly progress reports are sent to you, enabling you to work on your website and improve it.
15. Structured Content
Google has lately included FAQs as search results. The Structured Content plugin makes it simple to add a FAQ to your WordPress site and take advantage of this new result pattern. Structured Content plugins are also known as schemas, and the most popular ones are:
Schema Pro is an all-in-one WordPress schema plugin, which supports more than just the usual schema types.
This plugin supports 13 different schema markup forms.
There's no need for coding.
All kinds of post and custom fields are supported.
It includes filters for additional fields.
It has a clean code that complies with Google's standards.
Schema App Structured Data is a schema plugin that is compatible with WordPress. Its WordPress plugin and premium version come with the following features:
It generates schema markup for basic data.
Google has a site structure in the search results.
There is markup customization for advanced users.
More complex forms of schema markup are supported as well.
Custom post and field mapping is a widget that you use to review your work offered by the plugin. The integration of YouTube video snippets for Woocommerce and integration of wiki data as well.
16. Republish Old Posts
The Republish Old Posts plugin updates old posts by changing the publication date to a more recent date. It automatically shares blog posts to your social media accounts once published. You can filter your feed, schedule posts, and monitor progress, among other things.
Republish Old Posts is a powerful plugin with a lot of features:
It allows you to auto-publish blog posts on social media. It's inconvenient to go back and distribute blog content on social media, especially if you have scheduled them ahead of time. Republish Old Posts solves the issue for you. Install the plugin and customize the parameters. Any new blog article you create will be posted to your connected social network sites automatically.
It also allows you to have multiple social media channels. You can connect to Facebook and Twitter with the free version of the plugin, but a connection to any other social media channel requires the Premium version.
You can customize your feed and will not have to stay stuck to a single templated post or schedule.
You can choose what hashtags to include or exclude in your post.
17. Automatic Image Alt Attributes
This plugin automatically adds alternate text to photos. You will not have to add content to each image and save time. Remember to add a tag to the file name before uploading it to WordPress. Alternate text (alt-text) is a text description added to an image's HTML tag on a Web page. The alt text shows when the image on the Web page cannot be displayed. It also indicates when a user mouses over the image. Users overlook the ALT attribute.
An example of this attribute is Bialty. Bialty adds alt texts to your photos based on page/article/product titles (with Woocommerce for an online store), individually or in combination (depending on your needs). Bialty also allows manual customization of your pages via a Post META Box, using alt texts other than those used with Yoast or page names. Bialty is a fully automated system. Once implemented, it will be active on all pages of your site, both retrospectively and for future material, so you do not have to worry about alt text anymore.
18. Assets Manager
Many developers neglect the performance of their plugins and will load self-scripts/styles on every post and page on your site. That slows down the site and is harmful to it. The Αssets Manager tackles this problem by choosing the scripts and styles that can be loaded and which cannot. Assets Manager prevents the loading of plugins on certain sites, particularly those not in use. That reduces the number of queries on the page and results in a faster upload.
Assets Manager has a lot of benefits to offer:
The plugin reduces the number of loaded HTTP queries and the HTML code of the actual page.
It makes it easy to scan source code if you are a developer looking for anything specific.
The plugin removes any potential plugin/theme incompatibilities (e.g. 2 JavaScript files that are loading from different plugins and interfere with one another).
You'll get a better result if you test your URL on services like GTmetrix, PageSpeed Insights, and Pingdom Website Speed Test.
Google will favour your website since it will load quicker, and page load speed is now a consideration in search ranking.
Your server access log files (for example, Apache log files) will be easier to scan and take up less space on your hard drive.
19. SEMrush SEO Writing Assistant
The SEMrush SEO Writing Assistant integrates with other tools like Keyword Research, Competitor Research, and Plagiarism Checks to give you a holistic experience. It offers valuable SEO suggestions based on the best-performing content on the Google search engine results page and guides you in creating on-point content. 
Features:
It creates SEO-friendly content. It provides recommended keywords based on the web pages of your competitors, and you can get even more recommendations with an SEO Content Template.
If you have a WordPress or Google Docs site, you can use the plugin and improve the content inside your post editor.
It reviews your content and scores it based on some criteria. You can see text suggestions and improve your content for search engines. It also lets you add keywords and, based on them, offers recommendations of related options.
20. All In One Schema Rich Snippets
Rich snippets are visual search components such as star ratings, photos, and other vital details that make users attentive and distinct from the standard search results. Commonly used for eCommerce product page results and blog post reviews, rich snippets are popular with Google as they're not too disruptive yet reveal valuable information to users.
Although WordPress does not have a built-in technique for displaying rich snippets, the All in One Schema Rich Snippets plugin performs the job for you.
Features:
Using the plugin narrows down your search engine results to the essential elements. Users can see everything from photographs to author avatars to star ratings.
Google searches give a more visual framework to users. That appeals to both Google and users.
Events, reviews, personalities, goods, recipes, and videos are among the content types supported by the plugin. For example, a recipe may feature a star rating, the number of reviews, and a photo of the food made using that recipe.
Sharing your search results on Facebook becomes easy as the plugin compiles the necessary information.
21. Analytify
Google Analytics is critical for tracking and understanding your customers' behaviour, what they seek, and whether your company meets their demands. The AnalytifyWordPress plugin is currently the most powerful and feature-rich Google Analytics WordPress plugin on the market.
It allows you to install Google Analytics tracking code to your WordPress site and examine metrics for individual posts on each page using the in-dashboard report. Analytify's Pro edition includes support for WooCommerce and EDD, as well as real-time analytics and much more.
Features:
Analytify brings in relevant data from Google Analytics.
It maintains traffic statistics for each page.
It also maintains social media statistics.
The plugin gives you a real-time statistics dashboard.
22. Really Simple SSL
Google has recently made substantial changes to how users use its search engine to access websites. Websites having a secure connection (HTTPS) via an SSL certificate will lead the rankings, and Google is under no obligation to display non-secure sites.
An SSL certificate secures all data supplied through your website and safely delivers it from client to server. Not using an SSL puts your visitors' sensitive data at risk of being stolen. Even though SSL certificates may be purchased and configured through hosting providers, you must configure the whole domain-recognized setting of the SSL address in WordPress, which is not easy.
The Really Simple SSL SEO plugin simplifies the procedure by configuring it in the WordPress interface, so you will not have to learn to hard-code the HTACCESS file's setup. You only need to download the plugin and set your web domain's HTTPS version as the default URL, and the plugin will handle the rest.
Features:
The plugin will ensure that the encryption underlying SSL and encryption protocols are kept up to date to defend them from cyber-attacks.
The plugin automatically fixes all the issues that WordPress has with SSL.
It redirects requests to HTTPS. With SSL activated, anyone who attempts to visit the HTTP URL is redirected to HTTPS.
It scans for uncertain and varied content on your website and fixes this – except for hyperlinks to other domains – by replacing the HTTP URLs with HTTPS.
It also automatically changes your site and home URL to HTTPS and makes the necessary changes to the "wp-config.php" fil
23. Rock Convert
It takes a long time to place CTAs and banners throughout your material. Rock Convert is a solution that focuses on automatically inserting these elements into your articles. Using this tool, you can save time and enhance your site's conversion rate.
The best rock convert plugins include StoreRocket, Store Locator, RockOn Woo Variations TableHTML 2 PDF Rocket, kjrocker Cookie Consent, HubRocket Live Chat, etc.
Features:
Add multiple banners at once.
Easy WordPress customization without the need for styling through CSS.
Responsive interface that works on any device while being AMP compatible.
24. Anti-Spam WordPress Plugins
People usually take the opportunity to promote their websites and blogs in the comment section and use links or keywords to improve their SEO. You can avoid that by installing the Anti-Spam plugin since it filters spam comments, only allowing the genuine ones to stay.
Some of the best anti-spam plug-ins for WordPress include:
Akismet
Every WordPress site you build comes with the Akismet anti-spam plugin pre-installed. Install the plugin and connect it to your Akismet account using an API key. Akismet goes to work immediately, employing complicated algorithms and rules to help you block spam. Its server receives all incoming comments and uploads them to the plugin. Hundreds of anti-spam algorithms examine the comments, and the correct comments are published, while the others are sent to the spam folder. You may also look at the status history of each comment.
Titan Anti-Spam and Security
Titan Anti-Spam and Security offers a comprehensive set of security features. It includes a security scanner, firewalls, security audits, real-time IP blacklisting, malware scanning, and the ability to restore faulty files. It also has a user-friendly and straightforward interface that makes spam filtering easy. Initially, the plugin was just a spam filter but has now evolved into a comprehensive WordPress security solution for all sorts of websites. There are no annoying CAPTCHAs, and Titan Anti Spam & Security has a fantastic choice of paid add-ons if you need more.
25. Quick Page/Post Redirect
There are two ways to create redirects to your WordPress installation using Quick Page/Post Redirect:
1. Quick Redirect (301 redirects)
Quick Redirects are easy and fast to set up. To add a page or post, you must enter the Request URL and Destination URL, and the plugin will redirect it. This redirect corrects typos when creating a page, forwards old URLs to a new URL to avoid 404 errors, and redirects links from a previous site now converted to WordPress.
2. Individual Redirects (for existing posts and pages)
The plugin adds an option meta box to the edit screen for pages/posts that already exist, allowing you to define the redirect destination and kind (301, 302, or meta). Used for various purposes, this redirects support menu items, duplicate articles, or redirects a page to a new URL or position on your existing site.
Use the plugin right after you have installed and enabled it by going to the page where you want the redirect to be put up. Check out our detailed guide on 301 redirects.
26. ShortPixel
ShortPixel is the best WordPress SEO plugin for picture optimization. It's lightweight, extracts EXIF data, compresses images perfectly, and optimizes. Install the plugin, test a few photos to determine if the quality is acceptable, then optimize every image on your website. You may make this change after the upload as well.
JPGs, PNGs, GIFs, WebPs, and PDFs may be optimized in Lossy, Glossy, or Lossless modes using ShortPixel, and your original photographs are saved in a backup folder using ShortPixel.
The plugin comes with a free plan of 100 credits per month, as well as several excellent options to fit your image optimization demands.
ShortPixel Image Optimizer works flawlessly on WPML-powered multilingual websites without any specific settings.
Which is the Best WordPress SEO Plugin for You?
Yoast SEO – Best SEO plugin for optimizing posts/ pages individually
SEOPress – Best white-labelled plugin with no ads
The SEO Framework – Best lightweight SEO plugin
Rank Math – Best all-in-one SEO plugin
Making a Choice – Be Aware of Harmful Plugins
When searching for an SEO plugin to improve your site's performance, you'll have enough options to select from, including harmful plugins. To protect your site, it is always recommended to have the website's developer look into these plugins before installing them.
These plugins might be:
Outdated
Not tested for vulnerabilities
Incompatible with existing plugins
Or a scam to gain unlawful access to your website
With that in mind, we also advise you to look at our 6 most trustworthy security plugins for WordPress to keep your website safe from outside threats. Now that you've learned about the best WordPress SEO plugins, are you ready to optimize your site faster?