Starting your own online business can be both rewarding and challenging. Even if you're an expert in what you do (be it roofing, wedding photography, or financial coaching), running a full business requires a diverse set of skills. And when you're starting small, you may not have the budget necessary to delegate tasks to others. Everything, from marketing to sales to bookkeeping, will be in your hands.
READ: Web Hosting Guide for Small Businesses | SEO, Web Design & More
If you're a new entrepreneur looking for small business courses online, you've come to the right place. We've assembled a list of over 20 premium and free online small business courses.
We'll be covering:
Design and Branding
Marketing
Management and Finance
Sales
We'll also share some tips to help you choose the best course for you.
Let's get started.
The Best Design & Branding for Small Business Courses Online
A brand is more than just a logo. It's a way of doing things, a tone of voice, and a series of principles. If you're still finding out what sets you apart, check out Better Branding's Discover Your Differentiator email course. It'll help you determine where your business's uniqueness lies. It's asynchronous and totally free.
If you're a consultant or solopreneur building a personal brand, Canva's Free Personal Branding Course could be perfect for you. Aside from branding principles, you'll learn how to design your brand's assets with Canva.
If you're looking for in-depth paid courses, here are three high-quality options at three different price points:
A company website can be your online business's greatest sales asset. If you're planning to get a WordPress hosting plan for small businesses and set up your website yourself, learning UX design basics won't hurt. General Assembly periodically offers live online UX design introductory classes. You can join for free.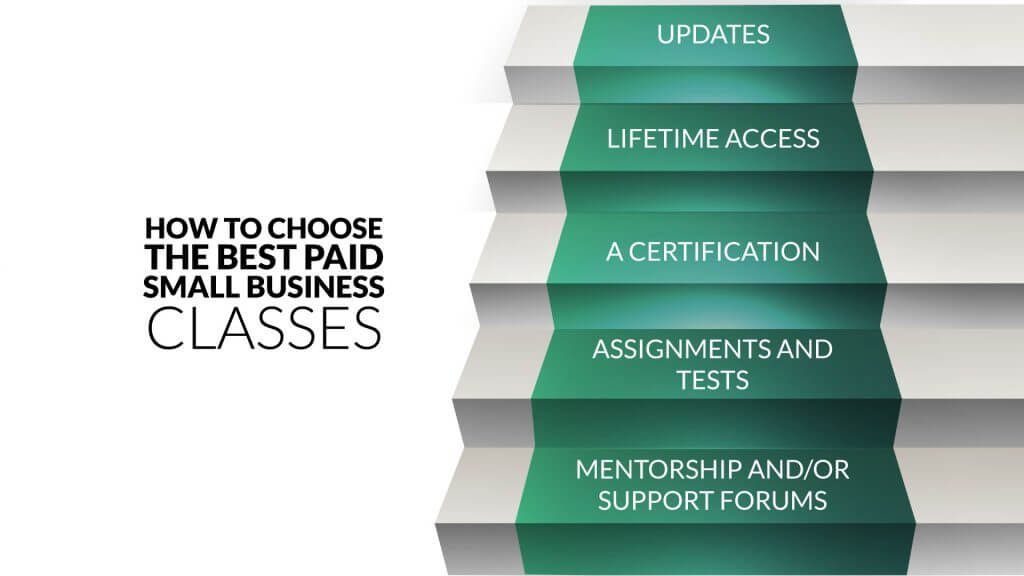 Top Free & Paid Marketing Courses for Small Businesses
It's not uncommon for new entrepreneurs to assume that they can handle their marketing out of pure intuition. This may result in them adopting brute force approaches that get their name out there but fail to connect with customers in a meaningful way.
Building a concrete marketing strategy also makes it easier to assign resources efficiently and measure results.
There are numerous marketing for small business courses, online and offline, with different focuses and price points.
If you have no previous marketing experience, you'll find a lot of value in these free online small business courses:
If you want to be in charge of your business marketing, far into the future, maybe you should look into paid small business marketing courses.
In this case, consider the digital marketing nano degrees from ClickMinded and Udacity. These certifications have a similar scope and come at the same price-point. The most significant upside of obtaining a full marketing certification is that you'll learn how to articulate different tools and platforms into a cohesive strategy.
Top Finances & Management Paid and Free Online Small Business Courses
Finances can be a big source of stress for new entrepreneurs. They are also very location-specific. A USA-based financial professional that creates a bookkeeping course knows that some of the information they're providing may be useless to someone based in London or Toronto – or even in a different state within the USA.
Finances are also extremely delicate. A minor mistake in your tax report or a bookkeeping error can be costly down the line. As you scale, finances will become an area of your business that you won't want to DIY.
But, if you want to know the very basics, Bench's video on Bookkeeping Basics for Small Business Owners may be a good place to start. If you're scaling into a small business after some time freelancing, and you've never really taken control of your finances, consider Skillshare's The Freelancing Guide: Managing Your Finances or Domestika's Managing Your Finances as a Creative Professional. Both courses are paid but affordable.
If you're looking for management and strategy courses, Launching Your First Online Business by Domestika can be a helpful course. For a free alternative, check out Santa Clara University's MOBI course.
The Best Sales Courses for Your Small Business
Early in your business, you may find that no one can sell your products or services the way you can. Take sales courses for small businesses online and learn scalable strategies to turn leads into clients.
If you're a true beginner, check out these free options:
If you're looking for paid courses, you can find great options at an incredible price by both Entrepreneur and the Digital Sales Institute.
Containing over nine hours of content, Entrepreneur's How to Sell Anything to Anyone is a solid crash course for aspiring salespeople and entrepreneurs alike. Dealing with gatekeepers and evaluators can be very overwhelming when you're just starting. This course gives you winning strategies to navigate those situations with confidence.
The Digital Sales Institute offers low-cost, research-based courses on everything from soft skills to better online sales and client prospecting. Their programs start at USD $29.90.
In this post, we shared over 20 great small business courses online. But, aside from the price, how can you decide which courses are for you? Let's take a moment to go over some key factors you should keep in mind when deciding which course to take.
How to Pick the Best Free Small Business Classes Online
While free courses don't cost anything, taking classes demands time and energy, which are both limited assets, just like money. The sooner you find the best course for you, the better. Whether free or paid, your course of choice should have the following characteristics:
It should be offered by a reputable company relevant to the industry. Ideally, these courses are developed by in-house experts.
It should be transparent about its content. Look for information on the content's outline before signing up.
It should have a clear, well-defined target audience. If a course's trying to appeal to everyone at once, it won't fully meet anyone's needs.
Its duration should match the complexity of its subject. You can't learn "everything you need to know about management" in 20 minutes.
How to Choose the Best Paid Small Business Classes
A paid course should offer you a better, more personalized learning experience than their free counterparts. When looking for paid small business classes online, gravitate towards options that include:
Mentorship and/or support forums. Your learning experience should be unique and responsive to your needs. If you have any questions, you should share them with your mentors and fellow students.
A certification. Certifications don't just look great on your LinkedIn profile. Courses with certifications are usually more challenging and exciting than those without them.
Assignments and tests. People learn more when they're active, applying their new knowledge to solving problems and executing projects. A paid course should include these types of learning opportunities.
Lifetime access. Even after the course is over, you'll still want to access the content for future reference.
Updates. Ensure the course you choose is updated regularly and contains the latest and most relevant information on your topic of interest.
Happy learning!
Please note that the pricing in this blog post is current as of the date of publication and is subject to change at any time.