Sending an email newsletter to a list of subscribers is an effective technique to capture an audience's attention and generate income for your brand. WordPress newspaper plugins help you take advantage of this tactic to achieve your goals quickly.
In this article, we'll look at the best WordPress newsletter plugins, along with the best email subscription plugins.
Before we get into our plugin recommendations and their details, let's talk about why you might need a newsletter or email plugin for your website.
Why Do You Need a Newsletter Plugin?
With the help of newsletter plugins, you can quickly build valuable email lists and send newsletters directly to an audience from your WordPress dashboard, which ultimately increases your subscriber list and expands your audience.
Newsletters are also responsible for excellent communication between you and potential customers. What you can't communicate through blog posts and website content, you communicate through newsletters.
For instance, if you've uploaded a new blog post on your website or a new product to your catalogue, you can mention it in your newsletter to let the customer know. Certain newsletter plugins even allow you to keep track of who is opening and reading your newsletter and who isn't to help you make changes according to the response.
Overall, newsletters are a great tool to keep the audience constantly connected with your brand, business, or website.
Now, let's take an in-depth look at the best newsletter and email subscription plugins you can add to your WordPress website to expand your business.
Top 16 WordPress Newsletter Plugins
For each WordPress newsletter, we'll walk you through its features, pros, cons, and pricing, so you can decide which one is best suited for your site.
1. WP Mail SMTP
WP Mail SMTP (short for Simple Mail Transfer Protocol) is an industry-standard WordPress plugin for delivering emails. Its impressive features and configuration makes email delivery easy.
Features
WP Mail SMTP is definitely one of the top plugins for email configuration. It allows you to send emails directly from your WordPress site through an authentic email provider so they're successfully sent to your subscribers and don't end up in spam folders.
Not many people open and read newsletters – some of them tend to just ignore them. To keep track of stats, this plugin allows you to check 'clicks' and 'opens' for newsletters you've sent out. With these detailed insights, you can improve the quality of your newsletters.
Additionally, emails are sent through the provider's direct API, meaning that your emails will get through even if your web host blocks SMTP ports.
If a subscriber doesn't receive your newsletter, the plugin allows you to resend the email. This eliminates the unprofessional manual email sending of email.
Pricing
This plugin can be downloaded from WordPress for free. However, for access to all features, such as email tracking and resend option, you would need the Pro version for $99/year. The Elite license includes White Glove Setup for $149/year.
Pros
Easy email and newsletter tracking
Good support
Resend option
Cons
Free version lacks functionality
2. WPForms
WPForms, used by 5,000,000 business owners, designers, and developers, eases the process of making forms on WordPress and helps you to customize your forms to your liking.
Features
One of the most important features of WPForms is the use of the drag and drop WordPress form builder – it can be used to generate contact forms, online surveys, donation forms, and more. In addition to that, the plugin offers built-in templates that allow you to upload files and multi-page forms or collect payments for orders. You can also flexibly customize your forms using section dividers, HTML blocks and CSS, hooks, and filters.
Pricing
The basic version of WPForms is free, but to get working features, you need one of the premium versions, ranging in price from $39.50/year to $299.50/year.
Pros
Straightforward form builder
Good customization
Flexibility
Cons
Not beginner-friendly
Doesn't support multiple forms at once
3. RafflePress
RafflePress is one of the most powerful WordPress plugins. Its features make it easy for website owners to launch successful marketing campaigns.
Features
RafflePress is extremely user-friendly – thanks to its ease of use and simplicity, it's one of the most popular plugins for email newsletters and giveaways. The plugin is also known for its speed. The drag and drop builder helps you launch lucrative campaigns in a matter of minutes.
RafflePress has templates for Viral Giveaways to attract subscribers, enhance engagement, and increase traffic. Its widget is mobile-friendly and is fully responsive on tablets or desktops computers. The plugin offers a one-tap entry, has an anti-fraud protection policy, and can help you expand your Facebook, Instagram, Twitter, and other social media pages.
You can also integrate an email marketing company and CRMs to increase the size of your email list. Through comprehensive targeting and retargeting tools, you can improve your conversion rates quickly.
Pricing
The free version of RafflePress can be downloaded at any time, and the premium versions begin at $49/year.
Pros
Drag-and-drop feature
Adapts well to phones
Straightforward and simple to use
Good optimization
Amazing conversion rate
Cons
Limited number of email integrations
4. The Newsletter Plugin
According to WordPress.org statistics, more than 300,000 sites actively use Newsletter, making it one of the best free newsletter plugins available for WordPress.
Features
The Newsletter Plugin has a drag-and-drop responsive email composer with many features to create customizable newsletters. It offers 15 different block types and allows you to customize newsletters directly from your WordPress dashboard.
The single or double opt-in option on your forms also gathers data on your visitors so you can grow your newsletter. The double opt-in subscription comes with a privacy checkbox feature that ensures you comply with EU anti-spam laws.
The Newsletter Plugin offers email tracking and provides detailed statistics on who's opening your emails. You can find information on the total number of emails delivered and clicked on, and make your next move based on the results.
You can target specific groups on your list using the segmentation feature and send your emails in batches. Not only that, but you can also check for spam in subscriptions using domain/IP blacklists or captcha.
SMT support ensures that your emails get in the inboxes of your visitors. The Newsletter Plugin also works with external mail distribution platforms like Amazon SES, Mailgun, and SendGrid. You can email your newsletters at lightning speeds and track your campaign's impact.
To get the most out of your campaign, you can archive important newsletters, lock premium content, and add new subscribers.
Pricing
You can download the Newsletter Plugin from WordPress for free and use its basic functions. However, to use premium features, you can buy extensions, starting from $65/year.
Pros
Fast and regulated email delivery
Works well with MP Mail SMTP
Allows unlimited subscribers
Quick setup and functionality
It's free
Cons
You'll be sending your email through your web host, which uses PHP mail (not always dependable or safe)
You'll need to opt for a third-party SMTP provider such as Amazon SES, Elastic Mail, Mailgun, and SendGrid to deliver emails on your behalf
Limited newsletter performance tracking in free version
You'll have to subscribe to Newletter's premium extensions to use advanced features, such as WooCommerce and forms integration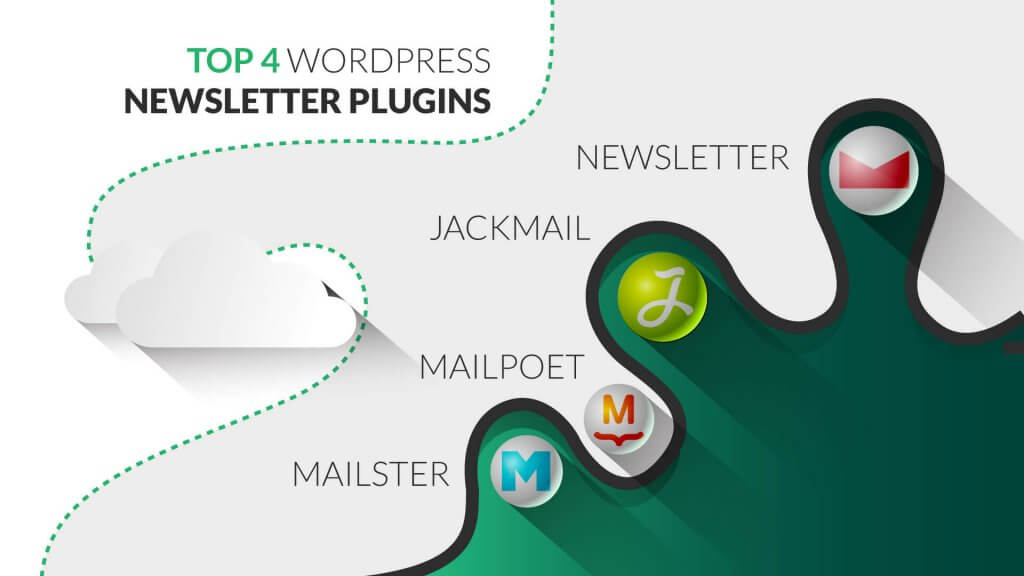 5. SendPress Newsletters
SendPress Newsletters is a feature-rich, simple-to-use WordPress newsletter plugin. Its wide variety of features allows you to create and modify high quality emails and deliver them with ease.
Features
SendPress Newsletters allows you to create email templates and modify material that reflects your style. You can also import post material from your website with ease. With this plugin, you can have an indefinite number of subscribers. It has an easy-to-use editor and newsletters are available in HTML and Text formats.
The plugin also tracks clicks, opens, and unsubscribes for each email. You can also schedule newsletter delivery time.
Pricing
This plugin is free.
Pros
You can regulate the sending speed of newsletters using a cron job (especially useful if you're using an SMTP server with a limit on how many emails you can send hourly)
It's free
Cons
You'll have to use an API-based transactional email provider with WP Mail SMTP
Features are very limited
6. Email Subscribers and Newsletters
Email Subscribers and Newsletters is a WordPress newsletter plugin with features to help you expand your website traffic.
Features
This plugin allows you to send email marketing newsletters to your audience (with no sending limits) and update them about new blog posts. You won't have to worry about security because it complies with the General Data Protection Regulation (GDPR).
You can invite people to click on a subscription box through any page of your website, and save time by sending automated emails to your audience every time a new blog post is published, alerting them to view and provide their feedback.
One of the best features of this plugin is that it allows you to create stunning broadcasts via the HTML editor and send them to your subscribers manually or via CRON.
Pricing
The plugin is initially free to download, and the Pro version starts at $6.50/month.
Pros
The plugin can be integrated with WP Mail SMTP for extra features and solutions
Speed and security are optimum
The plugin is initially free
Cons
The composer lacks the drag-and-drop feature
It's expensive for a plugin with limited features
7. Newsletter Glue
Newsletter Glue is an easy and simple WordPress plugin for newsletters perfect for beginners.
Features
Newsletter Glue can connect to 11 email services, including ActiveCampaign, Mailchimp, and MailerLite. For more security, your newsletter is hosted on your domain rather than on a third-party site. What's more, this plugin allows you to add a part of your page to an email.
The Newsletter Glue doesn't support SMTP or work with WP Mail SMTP, so you'd miss out on email resending and tracking features. However, you can connect to another email provider directly from the plugin, including MailChimp, ActiveCampaign, Campaign Monitor, Sendy, and more.
Pricing
There's a free version of Newsletter Glue, but the Pro version starts at $76/year.
Pros
Simple and easy to use
Saves time
Cost-effective
Free version lets you show or hide content
Cons
Doesn't deliver emails, so you'll need a separate email provider
Only MailChimp works in the free version
Bloom is an email opt-in plugin designed to assist you in growing your email list. With great features, the plugin can really help you expand your audience.
Features
When someone uses the Bloom opt-in form, the plugin adds them to your email list. The A/B split testing feature allows you to examine different variations of the same form to see which one is the most effective.
Bloom offers a responsive design and mobile optimization so you don't miss out on potential subscribers. It's compatible with 19 of the most prominent email marketing platforms, including HubSpot. The plugin has a good analytics tool that enables you to examine form's impressions and conversion rates to see how successful it is. It can even import and export data.
Pricing
If you've subscribed to the Elegant Themes membership, you won't need to pay a fee. If not, it will cost $89/year.
Pros
115 different templates to create forms
Many different types of opt-ins available
Disable opt-ins from specific posts or pages
Compatible with 19 email marketing platforms
Data import and export
Cons
Doesn't accept the MailChimp API keys
Doesn't have a drop-down header bar
9. MailOptin
MailOptin, a powerful WordPress plugin, is backed by features that make list creation simple, quick, and effective.
Features
One of the most critical features of MailOptin is the lightbox that pops up on the web page to attract people's attention and display messages that encourage users to subscribe to or buy something.
MailOptin's specialized widget allows you to add an opt-in form to any widget-ready part of your websites, such as a sidebar or footer section. You can also place an opt-in form before or after your site's blog posts to capture the attention of your most active site visitors.
Pricing
You can use MailOptin's Liter version for free. You can also go for their Standard plan, which costs $69 for a single site and $99 for three sites. MailOptin Pro costs $199 for a single site and has unlimited features.
Pros
Doesn't clog up your site with excessive CSS, javascript, or graphics
Provides a pleasant experience
Includes multiple opt-in forms for diversification of leads
Cons
Doesn't have phone support
No free version and the Lite version has limited features
10. Ninja Popups
Ninja Popups uses popups to encourage visitors on your site to subscribe to your newsletter, get discounts or coupons, or lock content until they share.
Features
Ninja Popups is a drag-and-drop newsletter builder that works with all major email marketing platforms, including MailChimp, GetResponse, InfusionSoft, JetPack, ConvertKit. It has more than 65 popup themes, eight free opt-in panel designs, and more than 70 animation effects. With API, you can gain full compatibility across popup plugins and email systems.
In addition, this plugin offers great technical features as well, including opt-in locker and social locker, built-in analytics, AB testing, and page and post level targeting. It generates high-quality leads to increase the number of people that sign up for your mailing list.
Pricing
Ninja Popups is a $26 plugin. Since it's a one-time purchase, all future updates are free. You can purchase additional add-ons to get more themes and opt-ins.
Pros
Wide range of features
Amazing functionality
Good customer service
Easy to use
One time payment
Reasonable price
Cons
Offers fewer features than other plugins of the same range
11. PopUp Domination
Popup Domination is a high-converting and mobile-responsive standalone SaaS tool with brilliant features that will work quickly to improve your site.
Features
Popup Domination has elegant template designs., and you can create a custom lightbox using their advanced editor. The plugin has a number of functions, including geo-targeting, redirecting popups, countdown timers, and popups based on the referring or source URL.
In other words, Popup Domination has everything you'd expect from a plugin of this range, including AB testing, responsive customizable designs, and popups to go on specific webpages.
Pricing
Popup Domination starts at $9/month for up to 10,000 popup views.
Pros
Builds email lists quickly
Long list of features
Great pricing solution
Cons
12. WP Subscribe Pro
WP Subscribe is one of the most manageable plugins for building opt-in forms. Its simple features aim to help you significantly grow your email list.
Features
Similar to most premium newsletter plugins, WP Subscribe Pro has the basics – popup triggers, page and post specific popups, exit intent, time delay, and more. It has built-in widget support, is fully customizable, has many options to offer, and you can choose from several popup animations and triggers.
Pricing
WP Subscribe Pro charges just $19/year for support and updates.
Pros
Easy and straightforward
Fully responsive and works with all MyThemeShop themes
Low price
Cons
No drag and drop builder
Not much control in the user's hands
13. Hustle
Hustle is the ideal marketing plugin, offering email opt-ins, pop-ups, slide-ins, floating social bars, and much more.
Features
Hustle can instantly create templates. It offers eight popup animations, more than 20 conditional behaviours, different kinds of popup trigger options, and more. With its free form builder, you can design your own responsive popup forms instead of using a template.
The plugin is compatible with mobile phones. To time-manage your popups, you can even set a schedule.
Pricing
Hustle is initially free, but the free version only allows 3 forms per opt-in type. To make more forms, you can upgrade to Hustle Pro, costing only $49/month.
Pros
Offers advanced targeting of customers
Exit Intent Technology, Geo-Targeting, Animations, and Analytics
Great customizing options
Free version is excellent
Cons
A/B testing is only available in the premium version
Free version limits to 3 forms per opt-in type
14. Jackmail
Jackmail is another great newsletter plugin that has many rich features to offer.
Features
Jackmail is compatible with WooCommerce, allowing you to access customer data to send customized campaigns. It comes with a built-in SMTP server so you don't need to deal with spam boxes or queues.
The plugin offers detailed analytics of how your newsletter is doing. Not only that, but you can also import and manage your contacts to handle your email list better. It's compatible with other opt-in plugins such as Ninja Forms, Gravity Forms, Contact Form 7, Formidable Forms, Bloom, etc.
Pricing
You can opt for the free version or go for many of the packages they offer. The Starter pack costs $25, the Rookie one costs $5, the Basic costs $12, and the Pro package costs $39.
Pros
One-time email campaigns or newsletters automatically sent
Specific time parameters like "every week" or "every five posts"
Drag-and-drop editor
Offers 48 free email templates
Cons
You can only contact Support via email
The Reports and Dashboard and the Campaign Scheduling features have some issues
15. MailPoet
MailPoet is ideal for people who need to keep all their marketing activities on the same dashboard. It has great features that can help you run a successful mail and newsletter campaign.
Features
You can make a newsletter subscription form with MailPoet and upload it to your website. You can use the plugin to manage your subscriptions and subscriber lists, and you can use a range of built-in templates to pick from when sending emails.
WordPress allows you to create and deliver newsletters when you have this plugin installed. You can create email alerts for new posts that get sent automatically, so the audience will be notified via email about any new post on your site. Welcome emails get sent automatically to people as they subscribe.
What's even better is that you can manage your subscriber list and newsletter emails straight from the WordPress dashboard with MailPoet – you won't have to go through the hassle of extra logins.
Pricing
Mailpoet is free if you send emails to up to 1000 subscribers. If you have more than 1000 subscribers, you can unlock a higher sending limit by paying a monthly fee or you can get the complete premium plugin for $149/year.
Pros
Free sending up to 1000 subscribers
A lot of built-in templates
Great email automation
Cons
The MailPoet analytic tool is not as good as other email marketing platforms
Competition has more templates to choose from
16. Mailster
Mailster allows you to send beautifully designed emails to your subscribers – and is used by over 25,000 people.
Features
Mailster has a lot of features to offer its users. To start with, you can send your most recent articles, goods, and custom post types via newsletter, and new subscriptions automatically receive a "welcome" email. You can create campaigns as per the occasion, such as for birthdays and follow-up/drip marketing campaigns, and pre-check each email campaign before running it.
There are 400 free and premium templates available in this plugin and it can integrate with many other plugins. You can use any of the mainstream email service providers to send your message.
Pricing
The regular license of Mailster is $69. The support can be extended from 6 months to a year for an additional fee of $24.
Pros
Good plugin for all sizes of businesses
Send 5 emails per second
Reasonable price
Available in over 15 different languages
Cons
Only 18,000 emails per hour, which can be a problem for large setups
Subscriber campaigns are not well-developed
17. Newsletter
Newsletter is one of the best WordPress plugins for newsletters. It offers a lot of helpful features that can help you grow your audience.
Features
One of the most notable features of Newsletter is its drag and drop composer. You can customize newsletters according to your own preference directly from your WordPress dashboard. You can choose over 15 block options, along with images, social icons, GIFs, and videos.
The plugin gives you the option to add single or double opt-in in the forms you are building. It helps you generate more leads, because these forms collect data about visitors, helping you expand your subscription list. Newsletter can be integrated with SMTP, along with external mail delivery services like Amazon SES, SendGrid, and Mailgun. These external services help you send an email newsletter as quickly as possible.
With Newsletter, you can send from 12 emails to as many as you want in an hour. We recommend you use the controlled delivery option and send emails in batches to target your list more specifically. The plugin's dashboard will show you stats reports about total emails sent, opened, and clicked, which will help you track your performance.
Newsletter allows you to install free add-ons to boost your campaign. These add-ons can be used to import registered users as subscribers, place a lock on premium content, and put important newsletters in the archive folder.
Pricing
Initially, this plugin is free, but you need full-year support and access to several extensions in order to use this plugin's full potential, starting from $65.
Pros
Long list of features
Extensive SMTP support
Email delivery speed
Unlimited newsletters
Cost-effective
Cons
Top 8 WordPress Email Subscription Plugins
Now that you're well-versed in the newsletter plugins available to you, let's break down the seven best WordPress email subscription plugins.
1. Sender
Sender is a super affordable and powerful email marketing WordPress plugin with great email and SMS marketing features.
Features
Sender offers robust email and SMS features for WordPress users to engage with their audiences. The plugin has easy-to-use automation for efficient workflows (such as abandoned cart emails, welcome emails, and much more), an intuitive drag-and-drop design builder that helps you create beautiful emails, popups, and sign-up forms for lead gathering.
With its library of many beautiful email templates, you can pick the one you like and edit it in minutes. On top of that, it offers real-time reporting and smart segmentation, so you'll always reach the right audience with the right message.
Pricing
You can go for Sender's Free Forever plan or opt for the different premium versions: Standard for $8/month, Professional for $29/month, and Enterprise with a custom price.
Pros
Email and SMS automation
Library of prebuilt templates
Intuitive drag-and-drop design builder
Real-time reporting and analytics
Cons
The Free Forever plan has Sender branding at the bottom of subscription forms and campaigns.
2. Mailchimp for WordPress
Mailchimp is one of the most popular email marketing plugins available. It develops your email list and gauges your campaign results in a way almost no other plugin can.
Features
Mailchimp for WordPress is a highly customizable plugin. You can insert forms anywhere on your website with this plugin. The interface is easy to operate, and you have a lot of freedom to create forms of your liking.
Mailchimp for WordPress allows you to easily add an email subscription checkbox to your contact form, which signs users up as subscribers. Not only that, but it also offers detailed reports on your data. Mailchimp is compatible with WooCommerce, which you can use to sell your products online.
Pricing
The free version of Mailchimp allows you to make lists for up to 2000 subscribers. You can also opt for the Premium version, which ranges from $59/year to $149/year.
Pros
User-friendly
Many templates to choose from
Ability to send bulk emails
Simple, straightforward, and easy to use
Cons
Can't add videos to your newsletter
Limited lists can be created in the free version
3. Popup Builder
Popup Builder is a free WordPress plugin with many opt-in popup types to offer.
Features
Popup Builder allows you to create and customize as many WordPress popups as you like – there is no limit.
Popup Builder is really simple to use with a very basic and user-friendly interface. A variety of popups are available, and all of them are mobile-friendly, which reaches a wider audience. The plugin also encourages consumers to share content from your website on Facebook to increase social interaction.
Pricing
Popup Builder can be licensed for plans starting at $39.95/year.
Pros
Simple to use
Variety of popups available
Mobile friendly
Encourages social media interaction
Cons
No popup analytics in the free version
Some features are only in the premium version, such as Advanced Targeting
4. Thrive Leads
Thrive Leads is a list-building plugin with many amazing features to offer.
Features
Several opt-in forms in the Thrive Leads plugin give you complete control over list building. The plugin is also empowered by A/B testing that allows you to test form triggers and types of forms.
If visitors or customers download something using this plugin, the downloads would be delivered to customers automatically.
Pricing
You can install Thrive Leads after subscribing to Thrive Suite for $19/month, which will give you access to not only Thrive Leads, but also Thrive Optimize, Thrive Quiz Builder, and more.
Pros
Integratable with many email marketing services
Existing members can use the SmartLinks tool to see alternative deals
Asset delivery built-in for easy lead magnets
Prepared templates for content upgrades
Cons
5. OptinMonster
OptinMonster is one of the best opt-in plugins for beginners and offers all the features you need in an email subscription plugin.
Features
The two most critical features of OptinMonster are segmentation and targeting, which allow you to target only a specific group or segment of a customer. The plugin also has a lot of templates to offer, so you don't need to worry about designing your own.
To see how well your campaign is performing and what changes you need to make, you can integrate Google Analytics into this plugin.
Pricing
Apart from the nonfunctional free version, the plan begins at $9/month.
Pros
Many customization options
Mobile-friendly
Pre-designed templates
Cons
Free version doesn't have any functionality
You need to use WordPress API to set up the plugin
6. WP Subscribe
WP Subscribe is an email list-building WordPress plugin designed for beginners with features that can help you grow your business.
Features
WP Subscribe has a lot of great features, but one of the most notable ones is its ease of use and simplicity. The plugin can be installed quickly and set up without any complications. Despite its many features, it's very lightweight, so it doesn't affect the speed of your website.
A great thing about this plugin is that it's free and compatible with Aweber, Mailchimp, and FeedBurner.
Pricing
You can opt for the free version, but since it has limited functions, you might want to purchase Premium features which cost $29/month.
Pros
Easy to use interface
Eye-catching layout
Wide range of features
Cons
Better features are not free, such as colour customization
7. Icegram
Icegram is a popular popup WordPress plugin with a large variety of features.
Features
One of the most unique features of Icegram is that it offers popups, header/footer bars, toast notifications, and many other things you usually don't see in plugins of this kind. It has a large number of well-designed templates for you to choose from while creating and sending emails.
You can integrate this plugin with your mailing list, newsletters, different opt-in types, and CRMs as well. In short, this plugin can help you grow from all sides.
Pricing
You can use Icegram's free version or opt for different premium versions; Plus for $27/year, Pro for $97/year, and Max for $147/year.
Pros
Unique features
Good for marketing and retargeting
Doesn't have any traffic limit
Cons
Not beginner-friendly
No drag-and-drop
8. Sleeknote
Last but not least, Sleeknote is a must-have popup plugin if you're looking for features that can help you expand.
Features
Sleeknote's most notable feature is that it has popups that recommend relevant products to potential customers, increasing sales. You can add timers to your popups, so they can stay up for as long as you want.
Sleeknote also offers advanced analytics, allowing you to check your popups' performance and keep track of improvement.
Pricing
Apart from a 7-day free trial, Sleeknote has different premium plans, ranging from $69/month to $470/month.
Pros
User-friendly
Great for marketing and business
Appealing templates
Cons
Expensive compared to other plugins
What Makes a Great Newsletter Plugin?
There are different factors to consider in order to call a plugin "great." Usually, these factors are ease of use, reliable sending service, flexible customization, great automation features, maybe the availability of in-depth analytics, and, of course, the price. However, even if a plugin has all that available at a lower price, it all comes down to preferences and what you want in a plugin.
One factor that you definitely need in a newsletter plugin is ease of use – no one likes unnecessary complications. But do you always need high-end customization tools? Do you absolutely need analytics of your newsletters? Most new and small businesses opt out of these features and go for simple, basic features because they want to invest their money elsewhere.
What's great for you might not be great for someone else. However, to have an idea of what a good plugin should look like, know that the one that is offering the highest amount of or most important features at a relatively lower price is the plugin you should go for.
If you're ready to kick off your marketing, select the best newsletter or email subscription plugin from the list above and start growing your business.