When you log in to your WordPress website, the first page you see is called the dashboard. It is a collection of information and data about the activities and actions on your WordPress website.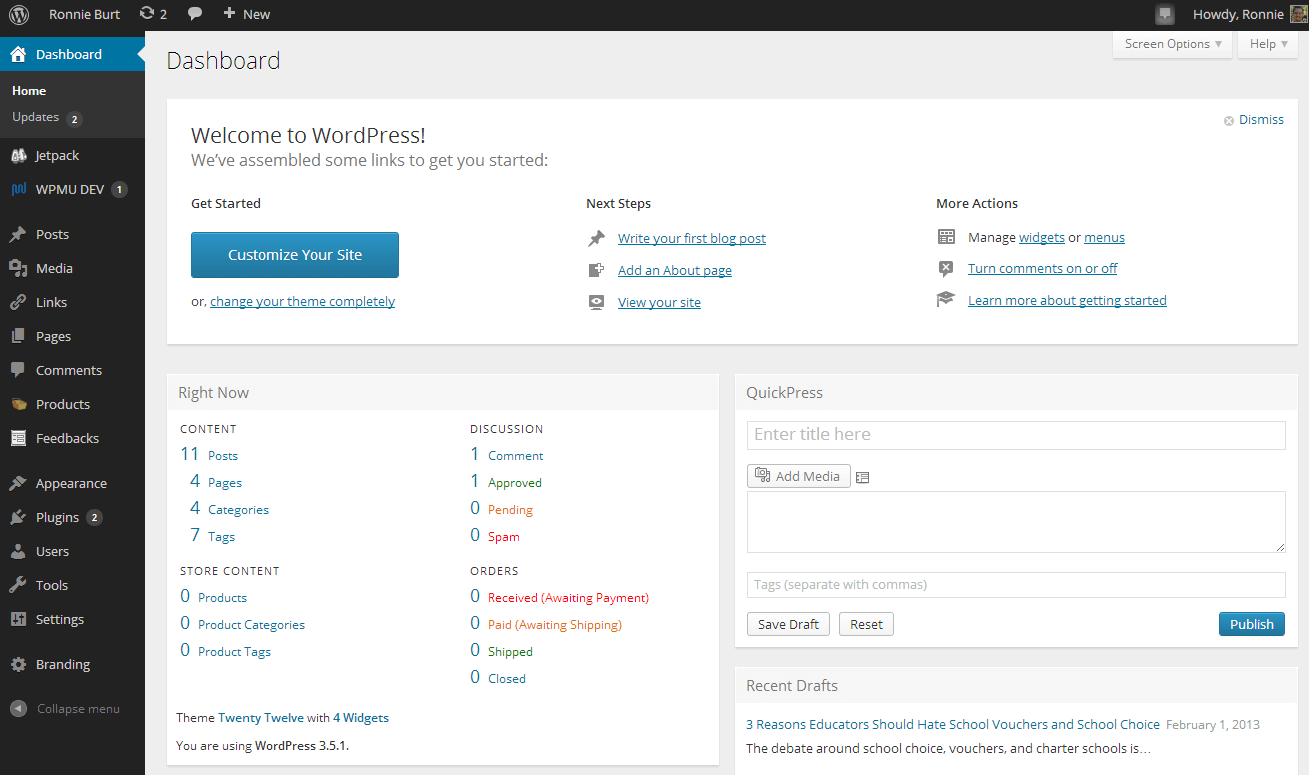 On your dashboard, there are several sections called "widgets" designed to make managing your WordPress website easier.
Welcome to WordPress
When you first install WordPress, the "Welcome to WordPress" widget is displayed to help you find your way around. It has a collection of the most common activities you will perform on your site such as customizing your site or writing your first blog post.

At a glance
This is a quick overview of your site. What theme you are using, how many blog posts, pages, comments, etc.

Quick draft
This helpful widget allows you to quickly write down a draft blog post, with fields for the post's title and body.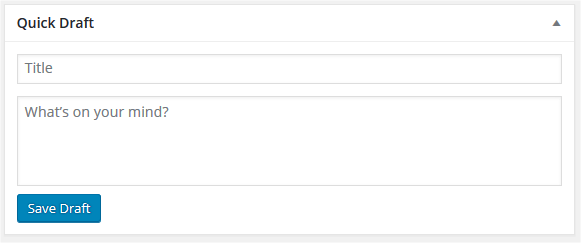 WordPress news
The WordPress news widget provides updates from the world of WordPress. It is a great way to keep up-to-date with what is going on with one of the internet's most commonly used CMS.
Managing dashboard widgets
Some plugins will also add additional widgets to the Dashboard.
You can hide or show any of these widgets by clicking on the Screen Options tab at the top of the page.

Main navigation menu
On the left side of the screen is the main navigation menu with links to all of the administrative pages.
Some of the default menu items are:
Dashboard

– an "overview" of your site

Posts

– add, edit, and delete blog posts

Media

– manage and upload media, such as photos or documents, to your site

Pages

– add, edit and delete pages on your site

Comments

– view and moderate comments that users leave around your site

Appearance

– customize all aspects of your site's appearance   

Plugins

– add and remove plugins

Users

– add, edit or remove users

Tools

– where special administrative tasks can be performed, such as importing or exporting your site's data

Settings

– change your site settings, such as your site's title or your site's time zone
Some themes and most plugins add additional links to your side menu.
If you need help with your HostPapa account, please open a support ticket from your dashboard.