Starting a business is as rewarding as it is challenging. This is something you probably know if you're planning how to start an online boutique (clothing store). Aside from the challenges common to all types of entrepreneurship, you'll also need to handle the specifics of starting an online boutique. You'll have particular needs depending on your boutique's specialty. For instance, a boutique focused on vintage clothing will have challenges specific to selling vintage clothing. It's essential that you consider potential drawbacks (and competitive advantages) before you make your initial investment.
To start an online clothing store it's crucial to choose your clothing niche and investigate the eCommerce market clothing trends. These steps are important if you want your business to keep up with the times.
In this post, we'll take a look at 5 key steps you need to take to start your online clothing store.
Decide How You'll Source your Products
How you source your clothing will be at the core of your business model. Will you buy from wholesalers? Will you design the clothes and then outsource the production process to a local business? Will you sell (and buy) vintage clothing?
Buying from wholesalers is probably the easiest way to start a clothing business. You can find wholesalers online quite easily. And some even allow you to register as a buyer on their website. The greatest drawbacks of buying from wholesalers are that your clothes won't be exclusive and that you'll need considerable initial investment.
Buying from a wholesaler also implies getting all your stock shipped to you, for you to carry. Especially if you'll operate a 100% online clothing boutique, storage space can be expensive. And not having dedicated storage space can make the clothes vulnerable to damage.
Another option is dropshipping. Dropshipping consists of acting as an intermediary between the customer and a company that sells and ships the product.
The greatest perk of dropshipping is its low barrier of entry. You'll carry no stock, so, technically, you'll just need to invest in your website and advertisement. The greatest downside of dropshipping is that you have no control over your stock, the quality of the product, and the customer's experience.
Buying and selling vintage clothing is another option. Going down this road, you'll be able to get a stock full of rare, exclusive clothes with a comparatively small initial investment.
A clear drawback of working with vintage clothing is potential inconsistencies in your stock. It's not uncommon for sizing to be inconsistent across brands. If you source clothes from different providers — and especially if you sell vintage clothing, you're very likely to find these inconsistencies.
Many retailers solve this issue by posting their items' measurements, not just their size. If you go for this option, you should also create a clear graphic, showing your customers how to best take their measurements.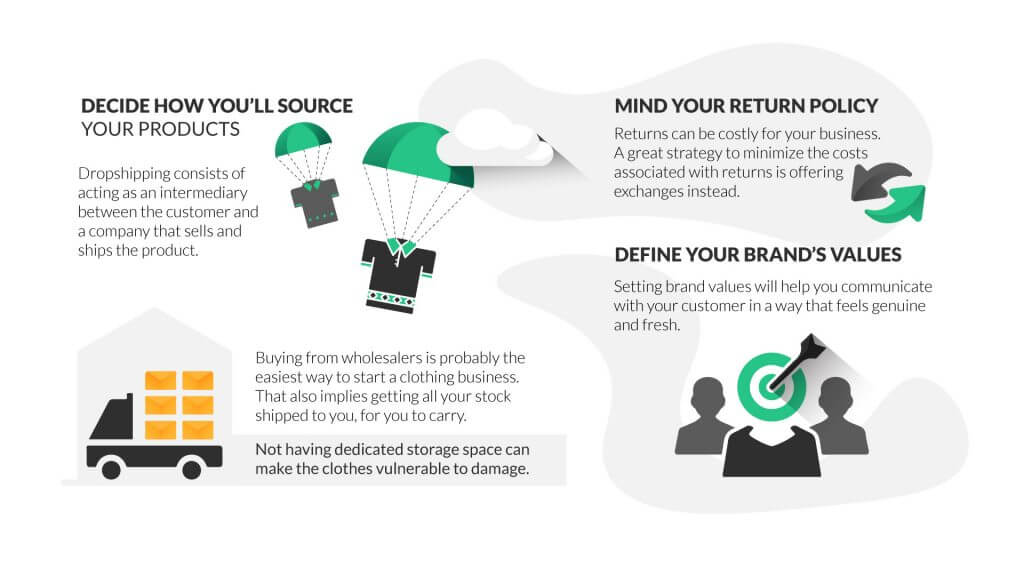 Mind your Return Policy
A return policy is a set of rules. And, like any set of rules, the clearer, the better. Writing a clear return policy will save you many a headache. But, before you put your policy into words, you need to establish one.
Offering free returns can be tempting. At the end of the day, it's a competitive advantage. But don't overpromise. Establish the most generous return policy possible for your business.
Returns can be costly for your business. A great strategy to minimize the costs associated with returns is offering exchanges instead. You could also evaluate warranties as an option. Of course, warranties aren't for everyone. But if, for instance, you operate a vintage store that sells luxury items, you may want to offer product warranties, instead of returns.
Define your Brand's Values
Before you consider most of these questions, you should have a clear idea of the type of business you'll operate. You need to have your target demographic well-defined before you begin. Even if you aspire to operate a store with clothes for the whole family. Clothes are very personal, they represent the lifestyle and values of your customers. The more clearly targetted, the better.
Your catalog will probably be the product of trends, wider culture, and your target demographic's preferences. But, if you want to create something that lasts and can become far more than just another online boutique, you'll need to define a set of brand values.
What world does your brand help create? For instance, if you sell locally-sourced clothing made with organic materials, your values could be sustainability and being in touch with nature. If you sell clothes for mountain sports, you may want to highlight the value of adventure. If you sell sports clothes, you may want to promote healthy habits.
Your values should be your brand's lighthouse, guiding communications, decision making, and product curation alike. Setting brand values will help you communicate with your customer in a way that feels genuine and fresh. It will also inspire a diverse and engaging social media experience.
Establish an Engaging Social Media Presence
Most of your customers will probably discover you in their Google search results, or their social media feeds.
Being active on social media is crucial for any business. But those operating fully (or mostly) online can't afford to not be on these platforms.
Instagram, Facebook, Twitter, Youtube, TikTok… which one suits you best will depend on your niche. Instagram is essential for online boutiques. TikTok is best if you're targetting teens and young adults.
Regardless of which social platforms you choose, make sure you create interesting content that communicates beyond your product. You can use your brand's values as inspiration to tell stories, share tips, and connect with your audience on a deeper level.
Social media allows you to have a conversation with your customers. And no conversation is one-sided. Don't forget to promote and repost user-generated content. Use branded hashtags to invite your customers to make their own content and share it with the world.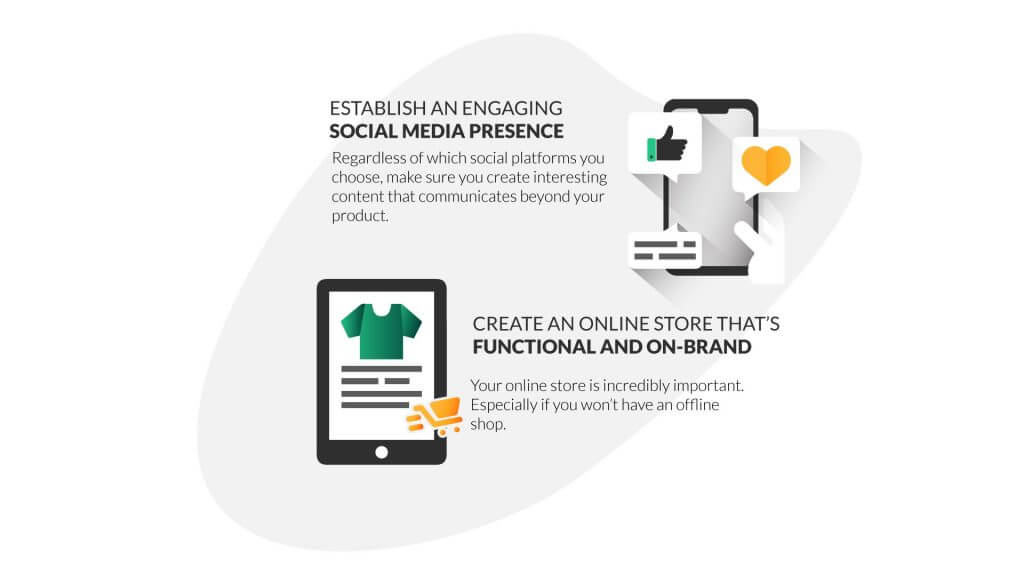 Create an Online Clothing Store that's Functional and On-Brand
Your online store is incredibly important. Especially if you won't have an offline shop. There are some basic features your website should have to work in your favor and facilitate sales.
For starters:
Your website should match your brand's aesthetics. It should be recognizably your own.
Your website should be easy to navigate.
Your website should be responsive, adapting to the customer's device. Be it a desktop computer or a smartphone.
Your website should show your products in an informative, precise and
Your website should have payment gateways. Offering widely used payment methods like PayPal and Apple Pay seamlessly will increase sales and customer satisfaction.
Your website should be secure. It should have an SSL certificate and be on a reputable hosting.
The easiest and most cost-effective way to create a website that meets these standards is by using WordPress. WordPress has a very smooth learning curve, which makes it great for small business owners. You can create a fully-functional online shop using WordPress plugins and free themes. So, you should definitely look into WordPress hosting for online boutiques.
How to Start an Online Boutique (Clothing Store)
In this post, we took a look at how to start an online boutique (clothing store) clothing. We covered:
How to source your products, and how that decision shapes your business
The importance of a carefully crafted return policy.
The crucial role of brand values.
How to make the most out of social media.
The key aspects of a fully functional online store.
This is the best time of the year for retail. According to the National Retail Federation, the holiday season accounts for 19% of the retail sector's yearly revenue. So, if you've been looking into how to start an online boutique, the time is now.