If you have an eye for design and appreciate beautiful jewelry and have thought about becoming your own boss, you've probably asked yourself more than once how to start a jewelry business online.
And you wouldn't be alone. The jewelry market is expected to grow significantly, so there's lots of potential for your business to succeed. In 2018, the global jewelry market was worth $278.56 billion. In 2025, that number is expected to rise to $480.5 billion.
The beauty of an online jewelry shop is that you no longer have to restrict your customers geographically. With an in-person store, you're likely to only attract customers who live within a certain radius of your business. However, when you move online, your customers can be located anywhere in the world, so you have a much larger target audience. All you have to ensure is that you can efficiently ship to your customers, no matter where they are. 
Another key benefit of having an online jewelry store is that your operational costs are usually a fraction of a retail location. While you may have storage and shipping costs, you don't have to pay rent for a storefront. These provide you with additional savings that you can pass on to your customers. Plus, lower operational costs usually lead to higher profitability.
So, how to start a jewelry business online? We've got you covered. Here's what you need to know:
Research the Market
Identify Your Niche
Figure Out the Business Legalities
Create Your Online Store
Manage Your Inventory
Market Your Online Jewelry Business
Research the Market
Every sound business starts with a business plan. In order to prepare this strategy document that guides all your business decisions, you have to conduct thorough research of your market. This foundational research will help you complete other elements of your business plan, which include product descriptions and differentiators, go-to-market plans, marketing campaigns, business logistics, and financial projections.
Here are the key areas of research to focus on for your online jewelry business:
Consumer trends: What is popular in the market right now, and what do consumers want? You'll need an understanding of the industry's trajectory and the consumption patterns of your target market. Use keyword search tools like Ubersuggest to find out what kind of jewelry consumers are searching for online. For example, are consumers interested in fine jewelry made out of precious metals and stones? Or do they want more trendy and affordable pieces made from inexpensive materials?
SWAT analysis: SWAT stands for strengths, weaknesses, opportunities, and threats. This helps you figure out where your business fits into the industry. What makes you unique, and what gives your competitors an edge over you? In which areas can you overtake market share, and which businesses are a threat to yours?
Competition: Out of all the research you do to understand the online jewelry industry, this is the most important. Look at the top 10 competitors in your space. Figure out what percentage of market share they own, what their pricing strategy is, how their operations are run, and how they connect with their target market. Then, figure out what you can learn from their successes and mistakes. This will help you get an edge in the online jewelry business space.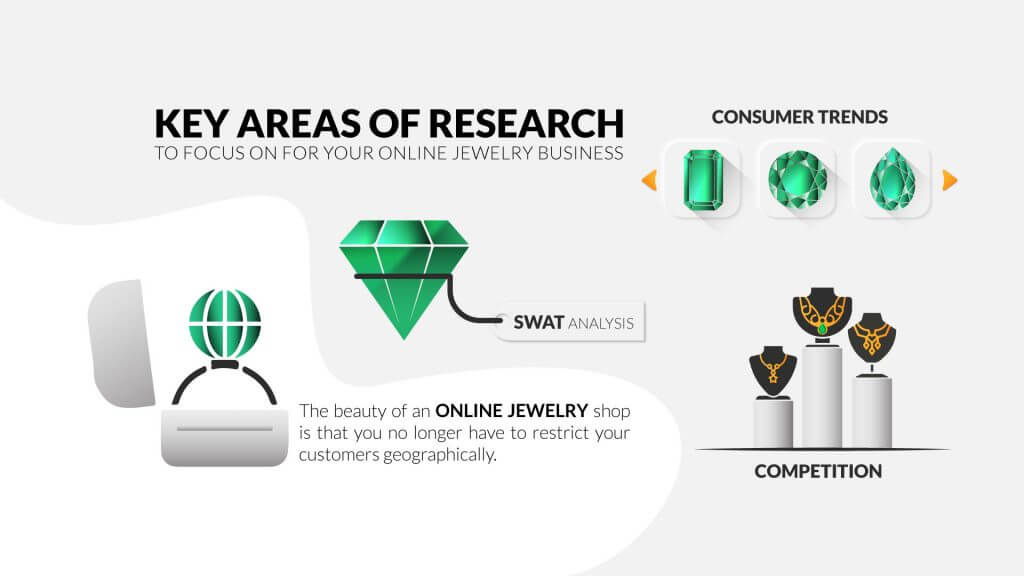 Start by Identifying The Niche of your Jewelry Business
Once you have a clear understanding of what the online jewelry business looks like, it's time to figure out your place in it. What niche will you focus on, and – most importantly – who will you sell to? Identifying who your audience is is a major part of figuring out your business niche. If you don't know your customers, it's unlikely you're going to be able to figure out which products to sell to them.
When it comes to figuring out who your audience is, there are four key aspects you need to know:
Demographics: This refers to criteria like age, gender, race, occupation, and income. A male in his 20s, for example, will want different jewelry than a female in her 60s. This is the most basic way to understand your audience.
Geographics: This is all about location. With an online business, you can likely sell anywhere in the world as long as you can reach it. However, you also have to consider population density, climate, and region. For example, people in warm climates may prefer jewelry made from different metals than those from cold climates.
Psychographic: This refers to the lifestyle of your target market, such as their values, interests, opinions, hobbies, and goals. For example, a consumer segment that values sustainability will want jewelry made from recycled metals, while a consumer segment that values social status may want jewelry that's highly exclusive and rare.
Behavioral: This element is all about how consumers behave towards your jewelry. You need to understand things like brand loyalty, purchasing frequency, and reason for purchasing.
Once you know who you are selling to, you can figure out what you're going to sell – such as sophisticated high-end jewelry made from rare gems or stylish mass-market pieces with pop culture references. It all depends on what your audience wants.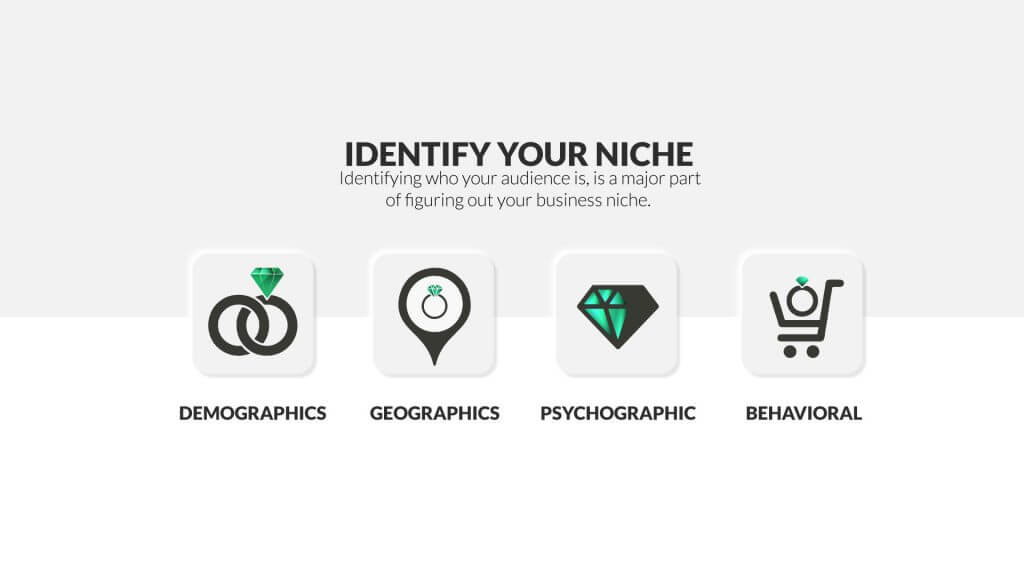 Figure Out the Business Legalities
Setting up a business has different requirements based on where you live. Be sure to check in with a local small business association to understand the fine print you need to be aware of. For example, in some countries, you may be able to set up as a sole proprietor, while in others you will need to get a reseller permit or a wholesale license.
Before you launch your online jewelry business, be aware of the legalities around:
What taxes you are responsible for, and what taxes you need to charge your customers
What kinds of business licenses or permits you need to have in order to do business
Whether you need to purchase business insurance
If there are any shipping restrictions in your area
Which payment gateway you are required to use
Whether there are any zoning laws for where you store your inventory
How to Start a Jewelry Business Online: Time to Create Your Online Store
If you're thinking of starting a jewelry business online, you're also likely wondering where online your business should be housed. There are multiple options you can choose from depending on what level you see your business at:
Social media: This is a low-cost channel you can set up to sell small amounts of jewelry. It's a great starting point if you're completely new to the eCommerce world. You can join Facebook Marketplace and sell your products there or join local social media groups for your target audience.
Online marketplace: One step up from social media is selling on places like Etsy, Amazon, and eBay. You can set up your own mini online store on these platforms and reach a much wider audience than on social media. Keep in mind that there is a lot of competition there, and you'll also likely have to pay a fee.
Your own eCommerce website: If you want to create a professional online jewelry brand, having your own website is key. You can control all of the branding on the site and decide how you want to promote your jewelry. WordPress is an excellent choice for beginners and pros alike. You'll need to register a domain, find a hosting platform, set up the site, and design it all. Or, you can do it all in one go with HostPapa's WordPress Hosting plan, which comes with free domain registration and all of the essential WordPress features pre-installed.
We actually have a special offer, designed specifically for online boutique owners. We're offering an exclusive additional 15% OFF on WordPress Hosting, with free domain registration, unmetered bandwidth, live support, and all WordPress essential features pre-installed. Get it with the coupon code HPBOUTIQUE.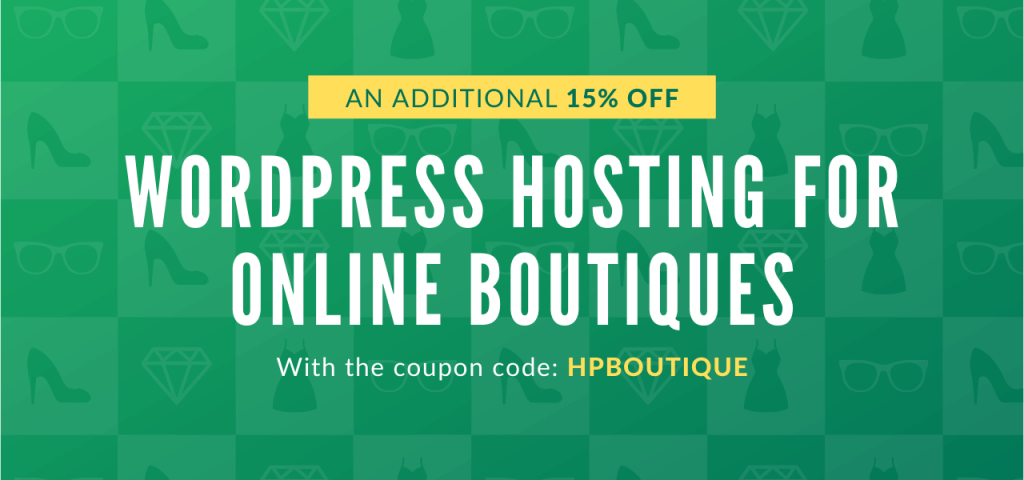 Manage Your Inventory
If you're thinking about starting an online jewelry boutique or a fashion boutique selling jewelry, you'll need to carefully look into your inventory management. Not only will you have to decide whether you're going to make your own jewelry or re-sell other's products, you'll also have to make sure you have exactly the right amount of jewelry at all times. Too much, and your cash flow will be tied up in products. Too little, and you'll disappoint interested customers who want to buy a piece.
Where will your stock come from?
Will you make your own products? You'll need to set up a workshop, purchase specialty tools, and may also need to take some training in jewelry design and manufacturing. This is perfect if you're a budding designer who loves to roll up their sleeves and create some magic. Keep in mind that you'll have to scale if your business takes off so you can meet customer demands.
Will you outsource your designs to a factory? If you love the design aspect but are not a strong craftsperson, you can always partner with a manufacturer. You create the designs and they bring them to life. This option is easy to scale though it will come with higher costs.
Will you purchase from other designers and manufacturers? You also have the option to re-sell jewelry in your online boutique from other creators. Venture to online marketplaces to buy products in bulk or visit jewelry trade shows to build partnerships with others in the industry.
Regardless of where your jewelry comes from, you'll need to get an inventory management system to help you keep track of every item. This way, you'll always know how much stock you have, when you need to purchase and create more, and which products sell the fastest or slowest.
Market Your Online Jewelry Business
Promoting your store is a fundamental aspect of how to start a jewelry business online. Once you create your eCommerce website, customers will not just magically appear and buy your products. You need to have a marketing strategy in place.
First, you need to develop your messaging. What makes your online jewelry business unique? This is key to stand out from your competitors. For example, are all your products one of a kind and do you handcraft each piece? Perhaps you source jewelry from under-represented makers all over the world, or you have designs not currently available on the market? Sometimes consumers are looking for good deals, so perhaps your unique value proposition can help them find quality styles at bargain prices. Whatever it is that makes your business stand out, you need to communicate it clearly on every promotional piece.
There are a number of ways you can market your online boutique, such as social media, search engine optimization, and paid online ads, but it all depends on who your audience is. Go back to your initial research to understand where your audience is looking so you can be in front of them. For example, if your primary audience is suburban mothers, maybe you want to target online mommy groups with ads and paid promotions. If your target audience is teenage boys, see if you can place online ads on video game sites or popular culture magazine sites. It's important to go where your audience already is. This is a cost-effective strategy that helps bring traffic to your eCommerce store.
Ready to Launch Your Jewelry Business?
Setting up a new jewelry business online can seem daunting, but we're here to help walk you through it. From understanding how to set up your WordPress site to using the design features and figuring out search engine optimization tools – we can help. Check out our WordPress Hosting so you can set up your online jewelry store hassle-free and be ready to take the jewelry industry by storm.