Getting paid to do what you love is every photographer's dream. But to turn that dream into a career, you'll need to earn a feasible amount for your photography. Which might lead you to ask; how much DO photographers make?
How much you earn with photography will depend on what type of photographer you are and what country you work in. How you set up your pricing can also have an impact on your income. With this in mind, we've put together this guide to break down photographers' earnings across the board and explain how to set up your pricing to maximize your earning potential.
Photography as a career
People are always looking for photographers. In fact, "freelance photographer" was the fifth most-searched-for freelance term in the UK over the past year. Photographers are in high demand, and not just for personal shoots like weddings and portraits, but for massive projects with commercial businesses that need product and fashion photography.
Photography can be so much more than a hobby, and there's lots of evidence to suggest it's a viable career choice, such as:
The Global Digital Photography market was worth over $79 billion in 2017 and is predicted to grow a further 7.4% by 2026 (PR Newswire)
119,475 people were registered as full-time photographers in the US in 2018
The highest paying photography jobs include fashion photographer, medical photographer, product photographer, and wedding photographer
How much do photographers make a year?
Photographers' salaries can vary massively. Factors like the industry you work in, your experience and certifications, and your location can affect how much you earn as a photographer.
According to Salary.com, the average annual salary for a photographer working in the US in 2020 was $66,116. The pay grade for photographers varies across the scale, though; the top ten percent of photographers earned $83,367 in the same year, while the bottom ten percent took home around $40,767.
On the other hand, in the UK, the current average salary for a photographer is around £44,112. If you work as a freelance photographer, you might make a bit less a year as 15% of freelance photographers make an annual salary of between £20,000 and £30,000.
How much do wedding photographers make?
Wedding photography is one of the most in-demand and highly paid photography industries you can get into, but it is also one of the most competitive. Wedding photography is one of the most in-demand and highly-paid photography industries you can get into, but it is also one of the most competitive. And wedding photographers tend to be more creative by adding new modern props, such as wedding hashtags couples use to make their photos look trendy. A large percentage of wedding photographers are self-employed, which means their earning potential is uncapped. But if you're hoping for a concrete answer to the question of how much do wedding photographers make, there isn't one. 
With so many wedding photographers offering different services and prices, it's impossible to pinpoint the profession's exact salary. One wedding photographer might average at $3000 per wedding package, while another might earn up to $9000 per package, depending on their experience, credentials, and location.
There isn't an exact annual salary for a wedding photographer, but looking at the upper and lower pay brackets in the industry can give you a guideline of what to expect. According to Chron, wedding photographers can earn anywhere in the region of $37,945 to $77,833 annually if you get your portfolio and marketing efforts right.
How much do product photographers make?
As more companies take their business online, product photographers have become increasingly sought after. 90% of online customers say good quality photos are the most crucial factor in purchasing, so eCommerce stores and businesses are snapping up product photographers for commercial shoots. Depending on the brand's size, product photographers can be paid thousands of dollars for a single image and can receive generous bonuses.
According to SalaryExpert, a product photographer earns roughly $57,963 a year in the US. A senior-level commercial photographer can earn up to $70,938, while a junior-level product photographer might earn closer to $42,338. On top of this, the US's average commercial photographer receives a bonus of $1090 a year.
In the UK, a product photographer can typically expect to make around £22,169 a year. Those at the higher end of the pay scale may earn up to £28,000, while those at the lower end (who typically have less experience) make around £18,000 annually.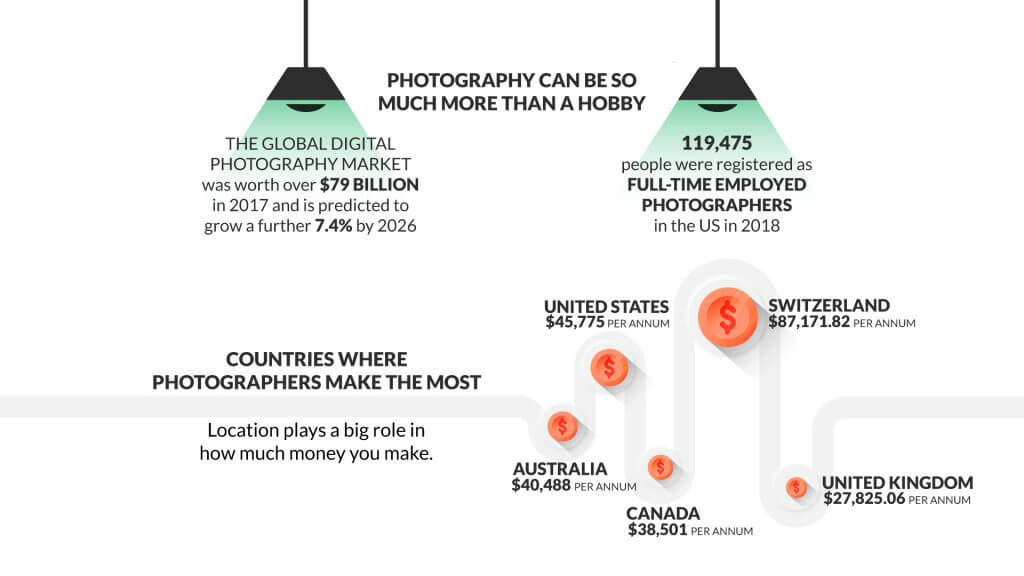 Countries where photographers make the most
Education, experience, and marketing all determine your earning potential as a photographer. But location also plays a significant (arguably the biggest) role in how much money you can make.
To show how income can vary depending on your location, we've ranked these five countries from high to low depending on how much their wedding photographers earn on average annually (converted into USD):
Switzerland – CHF 77,511 per annum ($87,171.82 USD)
United States – $45,775 USD per annum
Australia – $54,544 AUD per annum ($40,488 USD)
Canada- $49,263 CAD per annum ($38,501 USD)
UK – £20,816 per annum ($27,825.06 USD)
So, how much do photographers make? According to this data, a photographer's salary changes drastically across continents. But it's worth bearing in mind that different countries have a different value for their currency, and some have a higher cost of living, so the country where photographers make the most isn't entirely clear-cut.
How to set up pricing as a photographer
How much photographers make a year also depends on how they set their pricing.
Many photographers decide to go freelance or set up their own photography business, so they have full control over their pricing, and their income is uncapped. Having autonomy over your work is great, but it can also come with a lot of responsibility. Setting up your pricing can be tricky; you don't want to set your prices too high and scare off potential customers, but you also don't want to undersell your services and make a loss.
Here are four tips to striking a balance and setting your prices just right:
1. Know your market and clients
One of the most important things to do when starting your own business (or freelancing) is to know your market and client base. By researching to see how much other photographers charge (particularly those who work in the same location and niche as you), you can get a feel for the demand and competition within your market and set your prices accordingly. Don't forget to factor in your client when setting your prices, too. What type of person are you targeting, and what budget would they be working with?
2. Calculate your expenses
Don't make the mistake of forgetting to account for your overhead costs when setting your pricing. It can be tempting to set your prices low to draw in clients, but there are many expenditures involved in every photoshoot you'll need to account for if you don't want to make a loss.
You'll need to factor in expenses like equipment costs, editing time, and insurance fees when setting your prices. A good way to stay on top of your expenditures is to make a list of your forecast overheads for the year, add them up, and divide them by how many projects you'll work on over the year so you know how much money you'll need to make back per project.
3. Use pricing strategies
Customers are often drawn in by a bargain. But you don't have to undersell your services to attract clients; using clever pricing strategies can increase your likelihood of getting a sale without compromising your profit. For example, using odd-number pricing (where a product is priced at $199 instead of $200) tends to make customers think they're getting a better deal. There are many psychological pricing methods like this that you can implement in your photography pricing to make the value of your services seem even better.
4. Make your prices visual
Setting up your pricing isn't just about how much you're going to charge; it's also about how you're going to make your prices attractive to your clients. Presentation can go a long way in making your prices attractive, so set up a portfolio of your best work on your photography website so potential customers can get a feel for what they're buying. You can then add your price list beside your photos with brief descriptions for each listing, so your clients can visualize what they're getting for their money. A picture says a thousand words, after all.
So, how much do photographers make?
In theory, you're in control of how much you earn as a photographer. Suppose you start your own photography business or work freelance. In that case, your earning potential is uncapped, and depending on your location, experience, and how you set up your pricing, you can earn anywhere from the median annual salary for an American ($44,720) to an impressive $77,000 and above.