If you're a photographer following this series of articles, you know all about in-person marketing, social media marketing, and content marketing. You may have landed your first couple of clients. Let's keep the momentum going and explore how to get more commercial photography clients by implementing PPC, SEO, and outbound email strategies.
Read More: How to start your own Photography Business
Pay-per-Click Ads—Costly but Effective
PPC advertising can play a critical role in the success of a photography business, and the advertising methods of today allow you to manage promotions all by yourself.
Whether it's done on Google, Facebook, or another ad platform, the idea behind PPC advertising is to get your brand noticed online and pay only for the clicks you receive. While the cost of PPC advertising is typically high, the ROI is great, plus, digital ad platforms offer ease of use and are adaptable to any size business. The cost-per-click model is common, but there are others, like the CPA (cost per acquisition) option, in which you're charged only if a user who clicked your ad becomes a customer.
In the rest of this section, we'll touch on some of the benefits of using one or both of the two most popular ad platforms.
Use Facebook Ads to Reach a Specific Group
One of the best things about launching a Facebook ad campaign is the fact that the platform is extremely flexible, offering impactful ad formats and the ability to choose the type, size, and features of your ads.
A powerful aspect of Facebook ads is the chance to target sub-groups of the population. You can reach a precise target audience by filtering users based on demographics like gender, location, interests, age, and other criteria.
Even if you cast a wide net when seeking new clients, it's still a good idea to focus on a specific segment of your audience with every ad you create. Facebook ads give you a lot of freedom to customize your ads for a specific audience.
Create Google Ads that Target Your Location
As effective as Google ads are for online businesses, they can be even more effective for a location-based service like your photography business. The Google Ads platform enables precise market research that can, for example, help you find new wedding photography clients; in that case, you could aim your ads at people who live in or are getting married in your area.
By setting up your Google Ads campaigns for geotargeting, you'll ensure that the ads are focused on your local area, increasing the chances that your ad spend will translate to new clients.
You'll be paying every time someone clicks on your ads, so you should carefully choose the search terms that the ads will rank for. An excellent approach is to use long-tail, photography-related keywords that match the words your prospects search for.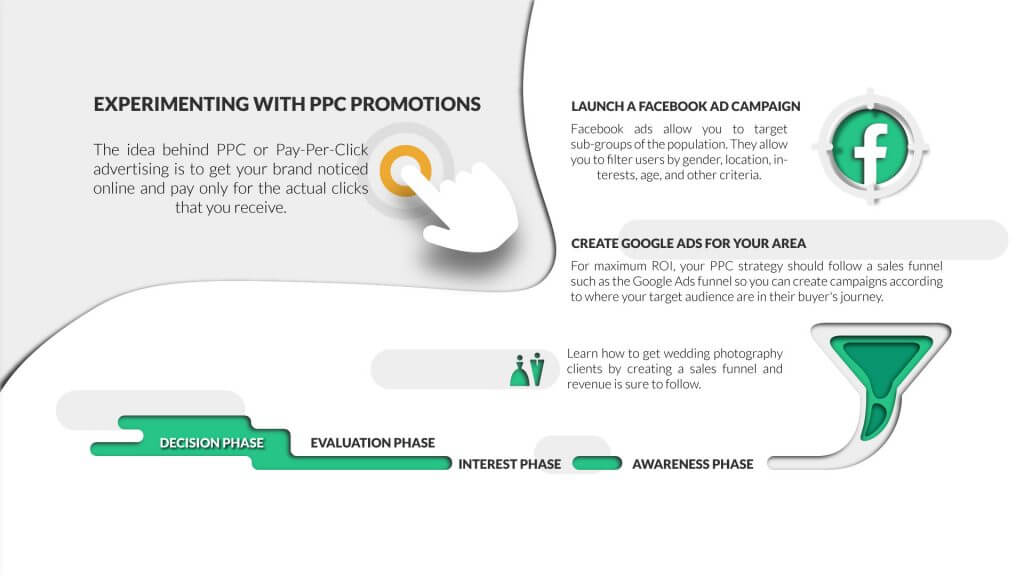 Let Ad Campaigns Drive Your Sales Funnel
For maximum ROI, your PPC strategy should follow a sales funnel. Both platforms, but especially Google Ads, make that easy. You can create campaigns according to where your target audience is in their buyer's journey.
A sales funnel refers to the buying process that consumers go through when purchasing a product or service. One of the most common funnels consists of four phases.
In the awareness phase, a prospect learns of your service. Next is the interest phase, in which the prospect shows interest in what's being offered and begins general research.
The evaluation phase involves the potential client examining your service and your business closely, as part of the final vetting process. The prospect then moves on to the decision phase, in which they decide to pay for your services.
If a prospect is not yet in the awareness stage, they should see an ad that introduces your service. A person who is in the evaluation phase should see an ad that details your service offering and highlights your professionalism. If you learn how to get photography clients by creating a sales funnel, revenue is sure to follow.
Drive Traffic to Your Site with Improved SEO
Search engine optimization (SEO) may be your most powerful tool for promoting your photography business online and getting more clients. You can spend weeks developing your online portfolio and creating valuable content for your users, but if nobody sees it, the desired client acquisition will never occur.
SEO involves working on your website and online content to make sure that search engines will find it easily and rank it at the top of search results based on certain factors. Start by performing keyword research to find the exact search terms your target audience uses when looking for a service like yours. Do they type in "photography services," "photographers near me," or "wedding photographer?"
One of the best free SEO tools is the Keyword Planner in Google Ads. To get access to this tool, you have to create a Google Ads account and start setting up a campaign. You can pause it if you're not ready to spend any money yet. The Keyword Planner will help you understand the volume of searches each term has per month and can guide you toward search terms with less competition.
When you align your optimization and content creation with the keywords you decide to target, your business has a better chance of ranking high in search results. There's more to SEO than keyword research, as we'll discuss below.
Blog Regularly
Google likes sites that consistently offer fresh content. You should start blogging about your services, photography in general, and other topics that your audience is interested in. It's recommended that you start with three to four blog posts per week and then adjust over time. Track engagement to determine if you need to publish more or fewer posts per week or month.
You should also regularly audit the performance of your site's blog webpages. Page load speed is our next topic.
Ensure Fast Page Speed
In the photography business, it's all about your pictures. You'll need to make sure they're search-engine friendly, so use ALT tags that include your keywords. To show off your work, you'll have no choice but to use large, high-resolution images. While most businesses can scale down images to improve website performance, a photography business can't get away with that.
If your webpages and image-heavy blog posts load slowly due to the required large image size, that will hurt your SEO and give site visitors an unpleasant experience. Be sure that you choose a hosting plan that offers unlimited storage and has the bandwidth needed to serve blog articles containing large photo files.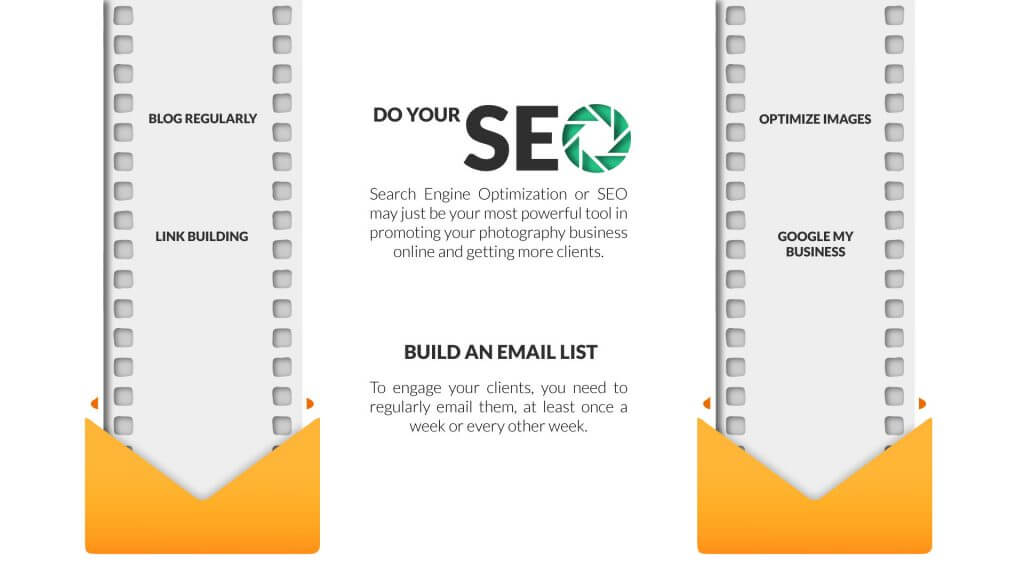 Get Backlinks
The best link building strategy at your disposal is writing guest blog posts. Getting relevant content posted on a website that's related to your niche—a site that your prospects visit regularly—is an excellent way to attract new customers. The guest post should link back to your site in the author bio at the end; it should also include a link in the body of the guest post, navigating readers to a related article on your website. Backlinks are important because they will help boost awareness and get exposure for your photography business.
To succeed in link building, you should write content for both humans and search engines. You want search engines to find and index your content, but you must also ensure that your visitors see value in the information you post.
Optimize Your Google My Business Listing
In this internet-dominated era where people rely on Google to find just about everything, your Google My Business (GMB) listing shouldn't be neglected. It's like your digital business card, allowing you to reach your target market, describe your work, and build awareness of your business.
Your GMB listing is a powerful tool for building your brand in your local market and community. Whenever someone turns to Google to find a local photographer, your GMB listing can take a prominent position at the top of their search results.
You should optimize your GMB listing and ensure that your phone number, address, and business name stays consistent across your site and other online listings. You also need to pick the right category for your business, which, in this case, is photography. If you write a compelling business description and highlight customer testimonials and reviews, you can improve the performance of your GMB listing and elevate your ranking in search results.
Grow Your Email List for Improved Prospect Outreach
One thing that small photography businesses should focus on is outbound email marketing. While social media platforms are effective in gaining exposure, all you can do is post and hope your followers see it. Email marketing is more personal and is a sure-fire way of reaching all subscribers. In fact, 65% of businesses use email to communicate with their clients.
Building your email list and following best practices in email marketing is a great way to get more photography clients.
Gather Email Addresses with Ads
You can build your email list via Google Ads, Facebook Ads, your website, business listings, and more. A lead magnet like premium content or a discount can be provided in exchange for subscribing to your newsletter. What makes an email list powerful is that it's usually made up of people who have expressed interest in your services. They are the people who are more likely to hire you for a professional photography session.
Leverage Your Content to Create an Email Newsletter
If you're consistently posting blog content that your audience loves, you can highlight that content through email outreach. Prospects will view your email newsletter as a service since they will not have to keep checking your site or social media for updates.
Furthermore, if you decide to offer a promotional deal, you'll have the perfect list of people to send the announcement to. By using a targeted email list, you're more likely to get people signed up for your promotions, and that means more photography clients.
To keep customers and prospects engaged, plan on sending your email newsletter once a week, or at least every other week. Also, make sure that every email is beneficial to your audience—a single bad email is enough to prevent your future emails from getting opened. All Paths Lead to More Photography Clients
Getting your first few clients feels great, but those engagements won't last forever. The continuous hunt for news customers has begun—that's the nature of the photography business!
By implementing a PPC advertising campaign, optimizing your website and content for search engines, and communicating directly to your audience through email, you can more effectively market your photography business and attract more clients.
________________________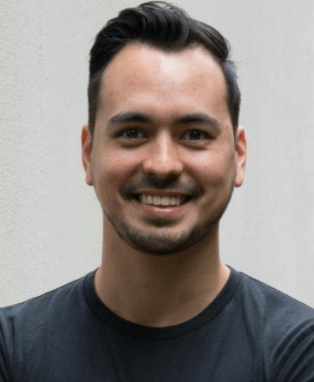 Allan Borch is the founder of Dotcom Dollar. With almost 10 years of digital marketing experience, he wants to help entrepreneurs and business owners build and monetize their own successful online business. Connect with him on LinkedIn, Twitter, and YouTube.