Small businesses need productivity tools to operate. A new business or one that's just getting around to selecting a tools suite has one major decision point—G Suite vs Office 365. Choosing between these leading toolsets is the first thing entrepreneurs must do when meeting this vital business need.
Let's start with name changes. What was, until recently, called G Suite is now known as Google Workspace. The brand-new name that Microsoft has given Office 365 is Microsoft 365. With that said, please excuse the occasional use of old names as we move forward.
In this article, we'll explore the two platforms' similarities and differences. There's information about enhancements that Google made in transforming G Suite into Google Workspace, and we'll wrap up with a G Suite vs Office 365 comparison chart that will provide all the information you need to choose between these two popular business productivity suites.
G Suite vs Office 365—Similarities and Differences
G Suite and Office 365 are both full-featured productivity suites. A closer look reveals many similarities, but also many differences. In the sections below, we'll focus on the top three things that you should examine when choosing between G Suite and Office 365.
Features
As you'll see later in our G Suite vs Office 365 comparison chart, the two platforms include broadly comprehensive communication and productivity toolsets. Both Google Workspace and Microsoft 360 leave no gaps, providing business-class functionality across all categories, from email, cloud storage, and video conferencing to business-class productivity apps and collaboration tools.
The biggest difference between these two platforms is how their features are organized and exposed, as Microsoft and Google have taken divergent approaches to toolset integration.
Price
The lowest-priced plan for Google Workspace is the Business Starter plan. Ideal for solopreneurs, it offers business-class email, which means you can use custom email addresses. There's also access to Google's highly integrated toolset, plus generous storage limits, all for just $6 per user/month.
The Business Standard plan, priced at $12 per user/month, ups the limit on video meeting participants and adds storage.
Google wanted to refine its offering to better meet the needs of medium-sized businesses, so as part of the change from G Suite to Google Workspace, the company added the Business Plus plan. At $18 per user/month, it includes enhanced security and management, more per-user storage, and support for even more video meeting participants.
The pricing of Microsoft's offering is similar.
Microsoft 365 Business Basic is $5.00 per user/month and gives users access to Word, Excel, and PowerPoint. To clarify, that's the web and mobile version only; you'll pay more if you want the PC versions. You can use custom email addresses, there's secure cloud services, plus access to Microsoft Teams, Exchange, OneDrive, and SharePoint.
The Microsoft 365 Apps plan is apps only—you get the PC version of the apps along with the mobile and web versions, but no business email features, meaning no custom email address. If the tools are your main focus, this option for $8.25 user/month may meet your needs.
Microsoft 365 Business Standard, priced at $12.50 per user/month, gives users access to all versions of the apps and adds Microsoft Publisher and Microsoft Access. The top offering, Microsoft 365 Business Premium, is $20.00 per user/month and adds advanced cyberthreat protection and device management.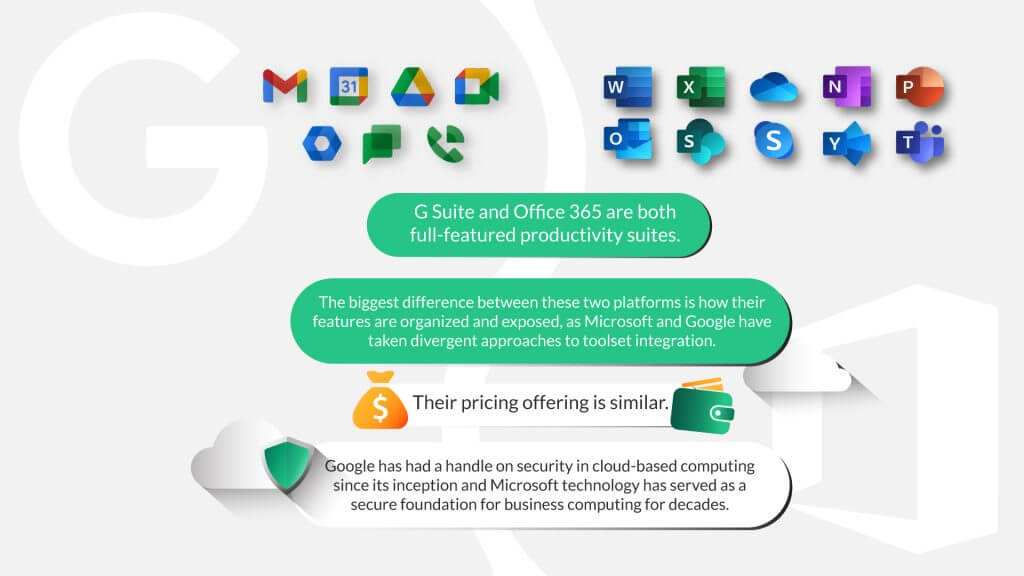 Security
Security is not a great differentiator when selecting between Google Workspace and Microsoft 365—both platforms were created by conscientious organizations that have a security-first approach in all their development.
Google has had a handle on security in cloud-based computing since its inception, and Microsoft technology has served as a secure foundation for business computing for decades. Both have a robust global infrastructure and employ security experts who are dedicated to deploying their technology in a highly secure environment.
Google Workspace and Microsoft 365 offer reliable security at all plan levels, with enhanced security features available at higher levels.
Google Workspace—It's Not Just a New Name for G Suite
G Suite had been around for four years and was suffering from limitations that thwarted Google's desire to unify its productivity and communication apps into a centralized interface. The company's goal is a cohesive interface that incorporates email, text, voice, video, and content management. Google recently released that centralized interface, and it's currently available to Google Workspace users.
Google also added the Business Plus tier, and the company has made significant changes in some of the Google Workspace apps, such as the following:
In-Chat collaboration—Users can create Docs, Sheets, and Slides documents directly from the Chat app.
Helpful app integration—The tools support linked previews of content in other apps in the suite.
Predictive guidance—Sharing and communication can be triggered by "smart chips," which are popup messages in the context of specific @mentions.
Meet "picture-in-picture"—Allows users to video-meet inside Docs, Sheets, and Slides.
Not all these new features are available at the time of this writing, but Google says their release is imminent.
Now, let's move on to our head-to-head matchup— G Suite vs Office 365!
G Suite vs Office 365 Comparison Chart
In the chart below, we'll compare Google Workspace and Microsoft 365 based on top business productivity and communications categories that a tool suite like these should address.
| | | |
| --- | --- | --- |
| Category | Google Workspace | Microsoft 365 |
| Email | Gmail is a full-featured email platform, and with a Goggle Workspace Account, it becomes a flexible business communications control center. You can use custom email addresses and there's enhanced security to protect your company's data. Integration with other tools in the suite is seamless—you can chat and make voice or video calls from within the Gmail app. | Outlook is a mature, feature-packed app that makes email and calendaring inseparable. Microsoft 365 plans enable businesses to use customer email addresses. Microsoft Exchange is the administrative command center. |
| Cloud Storage | Google Drive provides cloud storage for backing up files, etc. A Google Workspace account provides generous amounts of cloud storage per user, plus dozens of ways to access and share the universally synched resources. | Microsoft 365 plans give businesses the amount of cloud storage needed in two forms—OneDrive and SharePoint. Both apps are access points for cloud file storage and sharing, and in each environment, changes are updated across users' synced devices. |
| Video Conferencing | Google provides Meet, an easy-to-use video meeting platform that lets teams conduct secure meetings with enterprise-grade video conferencing. Integration with Docs, Sheets, and Slides is seamless. | Microsoft 365 provides businesses with Teams, a collaboration tool that includes advanced features for hosting online meetings and video calls. |
| Calendaring | Google Calendar is a flexible planning tool that integrates with other tools in the suite and includes functionality that helps teams share calendars and schedule meetings. | Microsoft 365 rolls calendaring and email together, with Outlook being the control point. Users can manage calendars, share available meeting times, respond to invitations, etc., all in Outlook. |
| Text Messaging | Google Workspace account holders can use Chat to send text messages to team members, colleagues, and customers. Users can create Docs, Sheets, and Slides documents directly from the Chat app, and there are helpful workflow features. | Microsoft 365 offers text messaging platforms in Skype and Teams. Both enable users to communicate, share files, and collaborate from anywhere. |
| Business Documents | Google Workspace provides users with Docs, a full-featured word processor, Sheets for spreadsheets, and Slides to create presentations. The tools enable simultaneous access by multiple contributors, with changes saved and synced in real-time. Users can create and collaborate on documents inside the Chat app or use Meet's "picture-in-picture" feature to video-chat inside the Docs, Sheets, or Slides app. | Microsoft 365 gives you access to a mature trio of productivity apps: Word, Excel, and PowerPoint. Integration between these tools and with other parts of the suite is extensive. The platforms support real-time co-authoring to allow multiple people to work simultaneously on the same document. |
| Planning and Organization | Google Workspace gives you access to advanced features of Keep, a list-making tool that captures information from any source and offers teams countless ways to collaborate on notes and task lists. | With access to Microsoft OneNote, users get a flexible note-taking program that can pull in content from many sources and enables easy multi-user collaboration. There's also Microsoft Lists, another team-oriented list tool, and for full-blown project planning, Microsoft Project is available with some plans. |
A Toolset to Maximize Your Business Productivity
The chart above covers the primary factors a business owner should examine when choosing a productivity and communication toolset. There are other aspects of these offerings you may want to explore, for example, both Google and Microsoft include tools that help businesses build web sites, create survey forms, and, at certain plan levels, conduct enterprise-wide collaboration on a massive scale.
When comparing Google Workspace and Microsoft 365, it's clear that both platforms have all the major business productivity and communications categories covered. What may not be obvious, however, is that the level of integration in these toolsets differs greatly.
Google Workspace is a cohesive and comprehensive suite that offers singular, optimized solutions. With Microsoft's somewhat fractured offering, you'll have a great deal of flexibility, but, when faced with a task, tool selection and implementation might not be as straightforward as with Google Workspace.
If you're leaning toward Google Workspace, one of the most affordable ways to take advantage of that amazing tools suite and meet related hosting needs is by signing up for a managed Google Workspace hosting plan.
When you choose a toolset for your business, you have the luxury of selecting from two offerings that, while equally comprehensive in functionality, have significant differences when it comes to ease of use and integration. If you carefully survey your needs and those of your team, you'll be able to make the right choice for your business.