Today most businesses depend upon online services to function properly. Employees use email to communicate, specific software to create PDFs and other documents, an online calendar to schedule meetings, and more.
The problem is that most of the apps used by businesses for day-to-day tasks are free apps that aren't suited for business purposes. They're meant for casual use by individuals.
A better solution would be to use a cloud productivity suite—one that includes all the common apps every business needs, like email and a shareable calendar.
A very popular cloud productivity suite is Google's G Suite. In this article, we'll show you the useful features that G Suite provides and clarify how your business can benefit from using it.
G Suite—What Exactly Is It?
Google's G Suite is what we call a cloud productivity suite. Let's break down what this means but backwards.
Suite: In G Suite, you'll find a whole suite of tools, bundled together in a cohesive package that's easy to work with. The collection is intended to address common business needs; it includes an email inbox, a calendar, cloud storage, various document apps, and more.
Productivity: Apps inside G Suite are aimed towards making teams more collaborative. To achieve that goal, it offers features like professional email addresses, multiple calendars, and tight integration between the apps.
Cloud: G Suite is a collection of cloud-based apps that you can use via a web browser or an app, making it very easy to access.
When you break it down like that, the term "cloud productivity suite" describes G Suite perfectly.
One of the biggest advantages that G Suite offers is the integration of G Suite apps with each other.
For example, if you are a G Suite user, you can easily create a document in Google Docs that will be stored in Google Drive, and send it as a link or an attachment in Gmail. Once everyone has the document, you can start a Hangouts call and take meeting notes with Google Keep.
These are five different apps, yet they are so well integrated with each other that you can move seamlessly from one to another with one click.
You might say, "I can do all that stuff in the free Google apps, so why would I get G Suite?
The Value of G Suite for Businesses
In order to explain the facilities that G Suite and its apps can provide for your business, it's best if we look at G Suite the way Google wants us to look at it.
Google has divided G Suite apps into four categories.
Connect: Every business needs a set of communication tools that facilitate collaboration between employees. The apps within the Connect category are meant for this purpose.
Create: Companies need to generate documents, create presentations, and store business records in spreadsheets. This category of Google Apps lets you do exactly that.
Access: You don't want your company's important information to get lost, removed, or leaked. The apps in the access category are meant to prevent this from happening.
Control: People collaborate on projects, sharing sensitive data and access to critical information. This category of apps lets you monitor exactly what's going on in your company.
Now that you understand the kind of apps that G Suite provides, let's look at the apps themselves and explore what they can do for your business.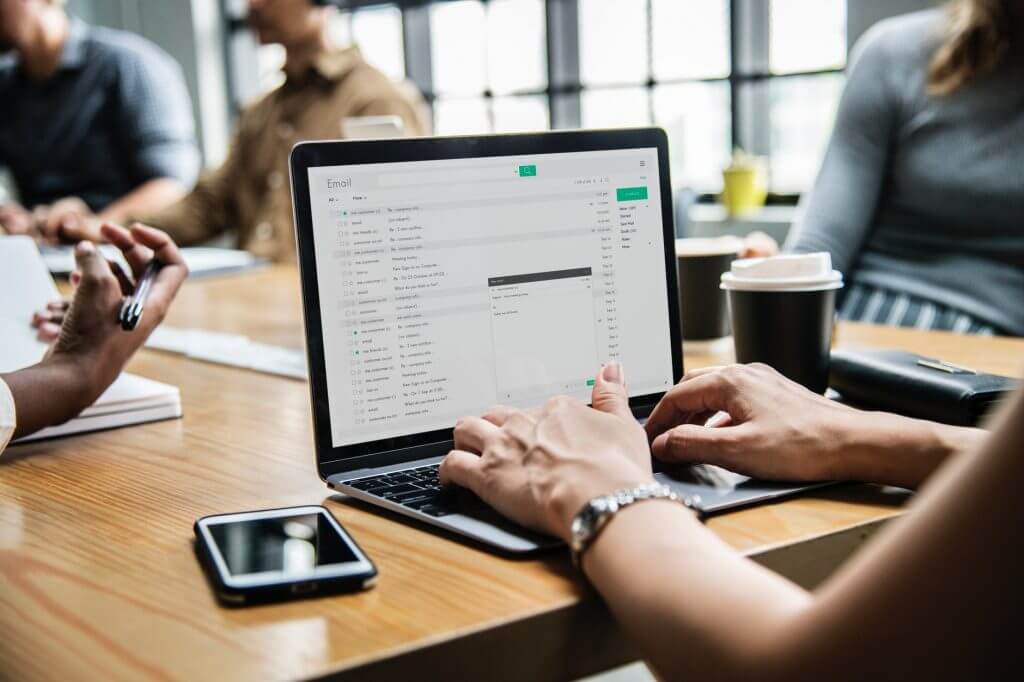 How G Suite Streamlines Business Communications
The five main apps G Suite gives you to help facilitate business communications are:
Gmail
Calendar
Currents
Hangouts Chat
Hangouts Meet
Of these apps, the two you're probably most familiar with are Gmail and Calendar. However, when you use the G Suite version of those apps, you'll find that they have features the free versions don't have.
The rest of this section will explore the main differences between the G Suite apps and their free counterparts.
Gmail
The G Suite Gmail app gives you one main thing that the free version doesn't, a professional email address.
A professional email address includes your website domain, like @yourcompany.com. G Suite makes it easy to get a proper business email.
You can choose your desired email address directly within the app, and G Suite will help you buy a domain name for it or connect your existing one.
Once you have a professional email extension, you can create email accounts for all your employees. For example:
mavis@yourcompany.com
jonathan@yourcompany.com
In the above email addresses, you can clearly see the name of the employee and the business name.
You aren't limited to creating email addresses for individual employees. You can also create email addresses for departments in your organization. For example:
sales@yourcompany.com
support@yourcompany.com
careers@yourcompany.com
Each email is associated with a department or function, making it easier for a customer to contact the person they need to get in touch with.
This feature is not included with the free Gmail service. You only get an email address with @gmail.com, and you can't create sub-accounts for employees or departments within your organization.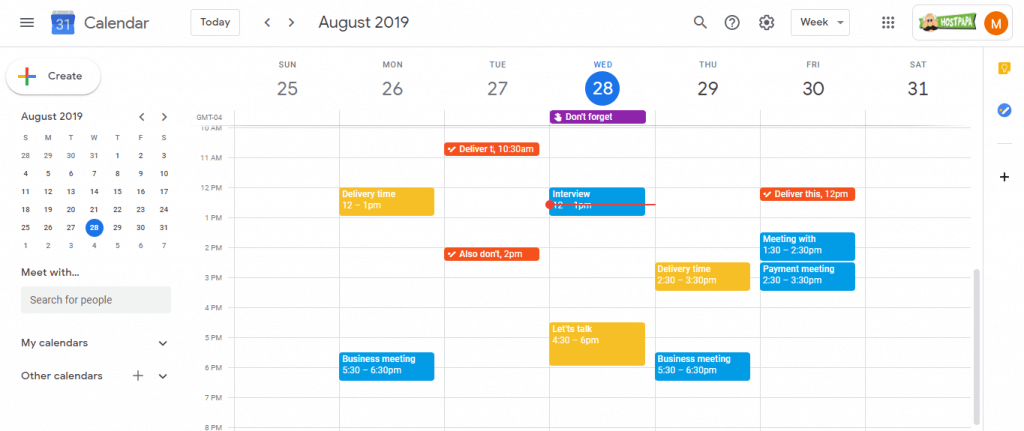 Calendar
With the free version of Google Calendar, you only get one calendar, but you can create multiple calendars with the G Suite version.
That allows you to manage time across departments in your business.
For example, you can create one calendar for people in your customer service department and another for your supply management team. In both calendars, you can quickly see details about the meetings and events that your department team leads have lined up.
In addition, G Suite's calendar app makes it easier for you to share your calendars and keep up with your coworkers' and employees' plans.
Currents
This app is available only in the business version of G Suite.
Google Currents is G Suite's real-time communication tool. Think Slack but with some significant differences. It's more of a social network platform that your company's employees can interact on. Currents lets people share ideas with colleagues, take part in discussions, and create posts with rich content that anyone in the company can see.
A benefit of Currents is how well it integrates with other G Suite apps. For example, Currents works with Google Drive to make it easier to share files with coworkers as part of an ongoing discussion.
Hangouts Chat and Meet
These two are enterprise-level apps that Google has created so that team members can easily talk to each other, or communicate over a video call.
You'll find that these apps are fully integrated with services like Gmail, Currents, and more, which is very useful. Let's say, you create a document in Google Docs and share it with your boss via Gmail. To explain the contents, with one click from inside Gmail, you can start a Hangouts Meet video call.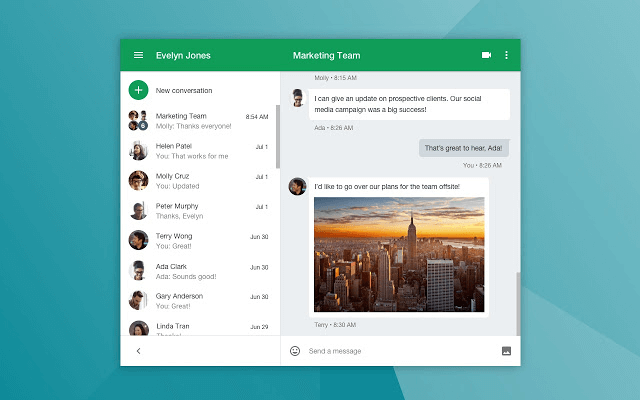 How G Suite Helps You Create and Manage Business Documents
The next part of the G Suite bundle we'll discuss is Google's set of productivity apps. They let you create documents, slide decks, forms, spreadsheets, and more. There are eight apps in this category:
Docs
Slides
Sheets
Forms
Keep
Sites
App Maker
Let's look at how some of these apps can help you create and manage the documentation that's crucial to your business operations.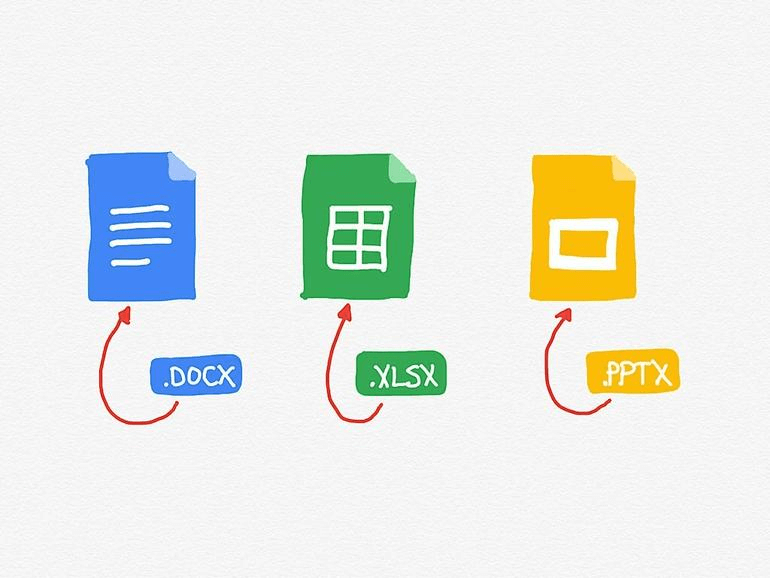 Docs, Slides, and Sheets
With Google Docs, you can create text-based documents and export them as Word, PDF, HTML, or other text file types. With Slides, you can create a PowerPoint-style presentation to use in meetings, conferences, and video calls. With Sheets, you can create and store spreadsheets and make use of advanced features, like the ability to add formulas. 
These three G Suite productivity apps aren't that different from their free counterparts, but you get better sharing functionality.
They make it easier to collaborate with other G Suite users in your company. This is due to the fact that you don't have to send emails containing links to the documents you want to share. You can simply enter a coworker's name in the Share window and the file will be sent to them.
Forms
Google Forms is an app that enables you to create professional forms for use in surveys, questionnaires, and more.
Like some other apps in the suite, Forms isn't very different from the free version but it's better on the collaboration front. You can easily share forms with specific members of your company during the creation process or to get approval.
Plus, the data gathered through the forms can be quickly exported into Google Sheets where you can analyze it and share it with others.
Google Keep
Google Keep's features in the G Suite version are the same as those in the free version. The tool makes it easy to create notes, invite your co-workers to collaborate on them, and then use them when creating documents in Google Docs or one of the other productivity apps.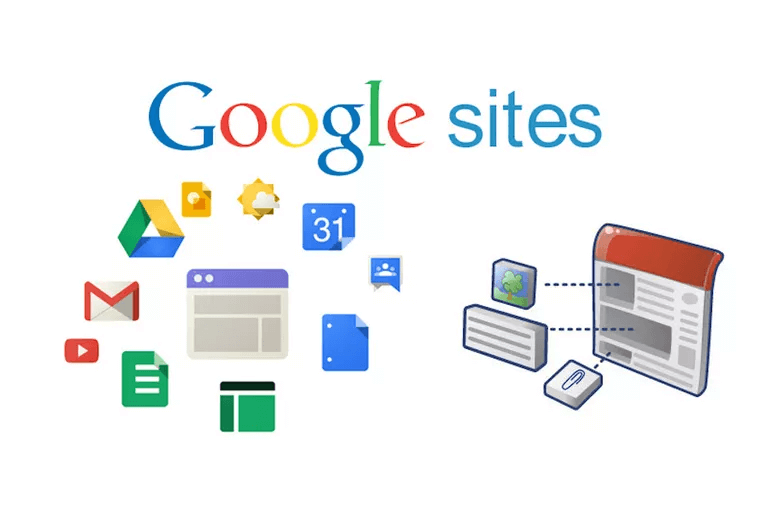 Sites
This app lets you create simple websites quickly. You might need this if you want to create a temporary site to showcase your quarterly report, announce an event, or share any sort of departmental information.
Plus, thanks to the tight integration with other Google Apps, you can easily import content from Google Drive, Docs, and Keep into your website.
App Maker
This has got to be the most exciting service in the Create category of G Suite apps. Plus, it's a G Suite exclusive, meaning there's no free version.
App Maker is a drag-and-drop tool with which you can quickly create apps for your company.
For example, you could use App Maker to create something as simple as a project checklist app, or you could make a more complicated tool, like a travel directory or an employee allocation tracker.
It's easy to connect your app to other G Suite tools with App Maker, pulling in data from any source.
Get Google Drive on Steroids
In G Suite, every bit of information is stored in Google Drive, and every user gets 30 GB of storage with their account. That's twice the storage that comes with the free version of Drive. Enterprise and business plans for G Suite offer 1TB of Drive storage per user.
But G Suite's version of Drive doesn't just offer more storage space. There are some other awesome features that aren't available in the free version:
Shared Drives: In G Suite, you don't just get one Google Drive account, you get Shared Drives as well. These are separate Google Drive storage locations inside your G Suite account that can be shared with specific people. Any files you put in a shared location will automatically be available to all the people who are assigned to the shared drive.
Vault for Drive: With Vault, you can protect and safely manage all your company's content. This means you can easily recover deleted files and stop files from being shared, changed, or deleted.
Unlimited Storage: If you get G Suite's business or enterprise plan, you may be eligible for unlimited storage, depending on how many users in your company have a G Suite account.
The importance of seamless integration between Google Drive and the other G Suite apps cannot be overstated, partly due to the extremely advanced search functionality it provides.
In G Suite, you can search not just for files, but for the names of people sharing files, keywords within files, emails and the files attached to them, and much more.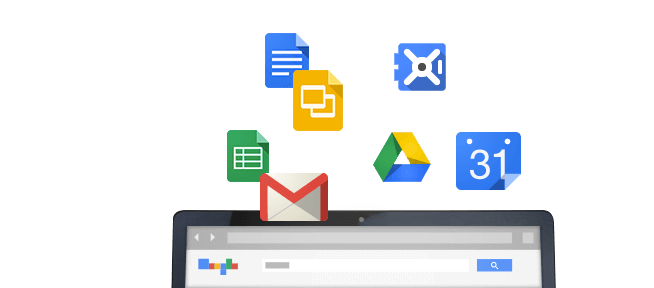 Manage Your Entire G Suite Ecosystem
If you're a business owner or manager with a G Suite account, you probably have super-admin access. This will give you full control over G Suite. Among other things, you can:
Create G Suite accounts for employees and other team members;
Access all the information in employees' G Suite apps;
Approve and restrict access to apps for specific users.
You can also control individual user privileges in apps. For example, you can give certain users the ability to send and receive emails but not delete them. You can grant the ability to create Google Drive files but not allow certain users to update or share files.
Rest Easier with G Suite's Advanced Security
Last but not least, you also get a high level of security with G Suite. The highlights are:
No data collection: With G Suite, Google won't harvest data from your account like they do with free accounts. So in G Suite apps, users won't be distracted by the personalized ads that show up in free Google apps.
Advanced email encryption: In G Suite's version of Gmail, you get S/MIME encryption, which guarantees only the receiver will see the message.
Powerful filters: Google equips its G Suite apps with advanced spam, malware, and phishing detection filters that root out and delete harmful files from your G Suite account.

G Suite's tight integration between apps, its full-featured, enterprise-class applications, and it's beefed-up security make it an indispensable set of business tools that you should try out.
If you aren't sure, you can get a 14-day free trial and take G Suite out for a spin.

Have you used G Suite for your business?