In this post, we'll tackle the confusion that keeps coming up in the hosting world with the terms WordPress hosting vs web hosting.
Using some form of web hosting provider is essential if you want to take your business online. Web hosting services are vital even if you use trusted and popular platforms such as WordPress. Picking the right host can boost your site's SEO, increase sales, and provide tools and packages to help your business.
But what is the difference between WordPress hosting and web hosting, and which is the better option?
WordPress hosting and web hosting are two very different types of hosting and are not to be confused. There are a few key differences between the two, and each has its own advantages, plans, and providers. Here's a guide to WordPress hosting vs. web hosting and how to differentiate and choose between the two.
What Is WordPress Hosting?
In a nutshell, WordPress hosting is a form of web hosting optimized to run WordPress sites.
Using a WordPress host, you'll receive many tools and services tailored to WordPress sites. These may vary depending on what WP hosting service you opt for but often include features such as one-click-install, automatic software updates, and a team of support staff specializing in WordPress to provide customized support.
What Is Web Hosting?
Web hosting, also known as shared hosting or simple web hosting, refers to the process of an individual or organization purchasing a space online to make their website accessible on the Internet. It's a broad term that encompasses this concept.
A web host works by allocating space on a server to store the files associated with your website and by providing internet connectivity for your site. This allows your website to go live online and appear in search results.
Web hosting is an umbrella term, and there are many different types of web hosting, as well as different providers and features. If you plan on creating a website for your business, you'll need to use some form of web hosting provider because you won't be able to get your site online without a host.
What's the Difference Between Web Hosting and WordPress Hosting?
The key difference between web hosting and WordPress hosting is that web hosting is a much broader, overarching service.
Web hosting is a more generalized service and refers to any hosting service that stores a site's files on a server to make the site live on the Internet. A web host will cater to a wide range of site builders, and the multiple sites stored on one of their servers may operate on thousands of different platforms and even web server types.
WordPress hosting, on the other hand, is a specific niche in web hosting. WordPress hosting companies can also use shared servers to host multiple websites at once but unlike web hosting, every website on a shared server will be a WordPress site. A WordPress host caters specifically to WordPress installs and offers customized solutions, services, and support optimized for WordPress performance.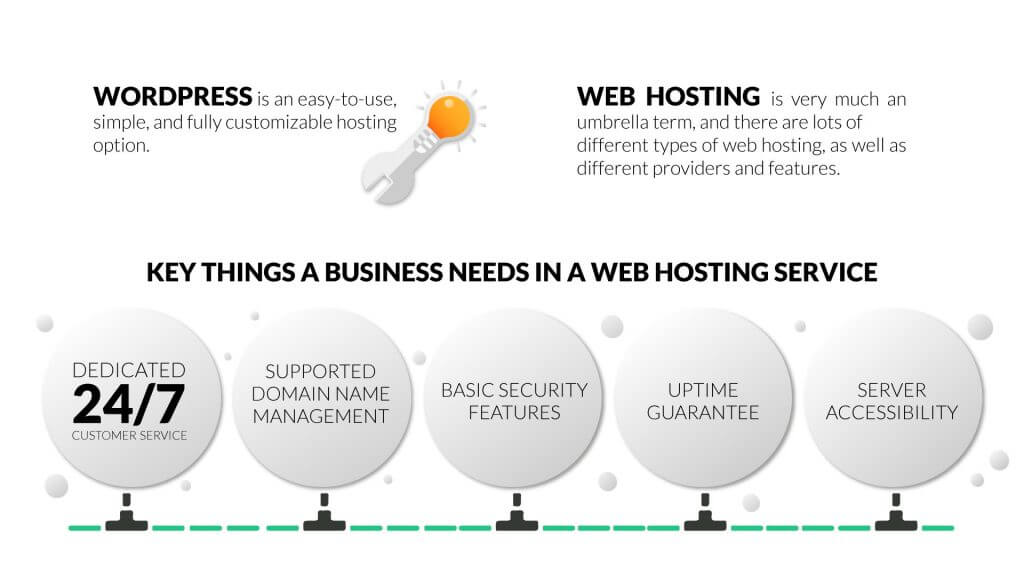 How to Choose the Best Hosting Option for Your Business
With over 338,561 web hosting service providers available worldwide, choosing the right one for your business can be difficult – especially if you're still deliberating between WordPress hosting and web hosting.
Both options have their advantages and are available from a wide range of web hosting providers in various plans. To choose the best option for your business, keep in mind the key things a business needs in a web hosting service:
1. Dedicated 24/7 customer service
2. Supported domain name management
3. Basic security features
4. Uptime guarantee
5. Server accessibility
WordPress: A Quick Overview
WordPress powers over 64% of all websites using a popular content management system on the Internet right now – and with a 4% annual growth, this is set to rise. WordPress is a hugely popular site builder and is used by businesses such as eBay, The New York Times, and Sony to create and power their websites.
According to research, WordPress is the most used CMS; more than 1.1 million new domains are registered every six months. If you're looking to create a business website or migrate your existing one, WordPress is a leading site builder – and it's a noteworthy hosting option. Unlike our DIFM service, in which we handle everything, you still need to design and populate the basic content on WordPress.
But WordPress is an easy-to-use, simple, and fully customizable option, and using a WordPress hosting service alongside your WP site will optimize your site's performance and results.
WordPress Hosting Benefits
Improved security. WordPress hosts offer servers equipped against WordPress-specific threats alongside a dedicated team who will stay on top of security issues and ensure your site is safe and secure.
Fast set-up and performance. The website set-up process is made incredibly quick using pre-configured web technologies, and the WordPress servers ensure fast loading times and quick uptime from the moment your site is live.
Better plugin function. You won't need to use as many plugins with a managed WP hosting service because the host will optimize performance, security, and caching. And for the plugins you want or need, WP-hosted sites are optimized to work with the most popular of them, which can be automatically updated.
Easy-to-add SSL certificates. Most managed WordPress hosting plans allow you to add an SSL certificate to your site in a few clicks at no extra charge.
Automatic updates. Your website will receive automatic updates and upgrades, and security packages can be added to every website on a server at once.
Tailored support. When using a WordPress hosting service, you can access dedicated customer support services and experts in resolving WordPress issues.
Who Should Use WordPress Hosting?
If you built your website using WordPress, you'll benefit hugely from using WordPress hosting. WP hosting integrates perfectly with websites built with WordPress, improving your site's functioning and security and offering automatic updates. You don't have to use WordPress Hosting if you have a WordPress website, but combining the two creates the ultimate package.
Those looking for a managed hosting plan would benefit from WordPress hosting, too. WordPress hosts often offer managed services, where WP experts run and maintain your site. This is a great option for those with limited time or experience with running a website.
Web Hosting and WordPress Hosting Plans
Whether you choose WordPress hosting or a web hosting company, you'll have to choose a hosting plan. Shared hosting, VPS hosting, Dedicated server hosting, and Cloud hosting are popular services offered by both WordPress hosts and web hosts.
WordPress hosts also offer some additional managed hosting services that can help run your site. These packages offer many web hosting features and typically include a 30-day money-back guarantee for added peace of mind if you're unsatisfied with the service.
Here are six of the most popular hosting plans available:
Shared Hosting – when you use a shared hosting plan, your website will share a server with other clients. This is a cheaper option and easy to set up, making it ideal for those creating a starter website or who don't have much site traffic. Most prominent hosts also offer a free domain with these services.
Virtual Private Servers – a VPS plan is similar to shared hosting in that you will share your server with other users. However, with a VPS plan, you'll have your own allotted space and be more isolated, making it a virtual private server. This plan is ideal for those operating on a lower budget and wanting a higher control and customization level.
Dedicated Server – if you have a high-traffic website and need optimized performance and fast loading speeds, a dedicated server is a good choice. Dedicated servers offer you total customization, improved reliability, and the chance to scale your business up, but they are a high investment option.
Cloud Hosting – this is a relatively new type of hosting, where your website is hosted on a cloud infrastructure rather than stored on a physical server. This hosting plan has lots to offer to those looking for scalability and stability at a lower price, but pricing isn't always fixed, so if your site experiences an increase in traffic, you might see an unexpected rise in costs.
Managed WordPress Hosting – lots of WordPress hosting providers offer a managed service, where the host manages and runs all the technical aspects of your WordPress site for you. Managed Hosting plans can be run across any of the hosting plans listed above and offer optimum security, performance, and configuration.
Optimized WordPress Hosting – if you're looking for a hosting plan that offers pre-installed features and technologies to optimize your site, Optimized WordPress Hosting is a great choice. Optimized WordPress Hosting is a complete package plan and comes with pre-installed WordPress hosting, WordPress-optimized servers, built-in WordPress security, and WordPress expert support.
Which plan you choose will depend on your budget, the amount of traffic your site receives, and how much help you want from your host to run your site.
WordPress Hosting vs. Web Hosting: The Conclusion
In the battle of WordPress hosting vs. web hosting. Which service you choose will ultimately come down to what type of hosting plan you want, your budget, and how much help you want from your host when running your site.
WordPress websites are prevalent worldwide. Our extensive WordPress tutorial covers all types of websites that use this CMS, including prominent ones. You can see that WordPress is suitable for everyone, whether it's a blogger or a well-established corporation.
The key difference between WordPress hosting and web hosting is the services they offer, so if you're looking for a generalized service, look for reliable and secure web hosting companies like HostPapa.
But if you're looking for a tailored service that's optimized for performance on WordPress, a WordPress host is your perfect fit.
Enjoyed this post? Head over to our HostPapa Blog to read more exciting topics like this one!