With everything becoming digitized, websites are more important than ever to establish your digital presence.
A well-planned website can help you or your company establish a strong brand.
Websites aid your company's marketing and give you an advantage over your competitors.
And you are only one Google search away from discovering a list of companies willing to provide you with free hosting services for your websites.
You may find free hosting appealing if you have a limited budget and little experience. You might even consider it a blessing.
However, you will quickly realize that the deal is not as good as it appears. Although free website hosting appears to be a great deal, it has a lot of drawbacks. In the long run, you may end up paying more than if you began with paid hosting.
Here are ten reasons why choosing free hosting is a bad idea:
No Scalability
You get what you pay for with free website hosting, and because you didn't pay, you're limited in what you get. Your website is most likely not scalable. This means that if your company expands, your website will not be able to keep up.
Most free hosting services can't handle a lot of traffic, so if your business takes off, your website won't be able to handle the influx of visitors. This results in slow website speeds and frequent downtimes. Downtime in business means you'll lose readers, visitors, and customers. Loss of customers implies a loss of revenue.
The good news is that premium hosting is not prohibitively expensive. When you invest in hosting, you invest in the easy scalability of your website and the future of your business.
If you exceed your bandwidth limits with a premium hosting provider, you can easily upgrade your services at a reasonable price. And you don't have to worry about slow website speeds, which can turn off visitors, or even downtime, resulting in customer loss.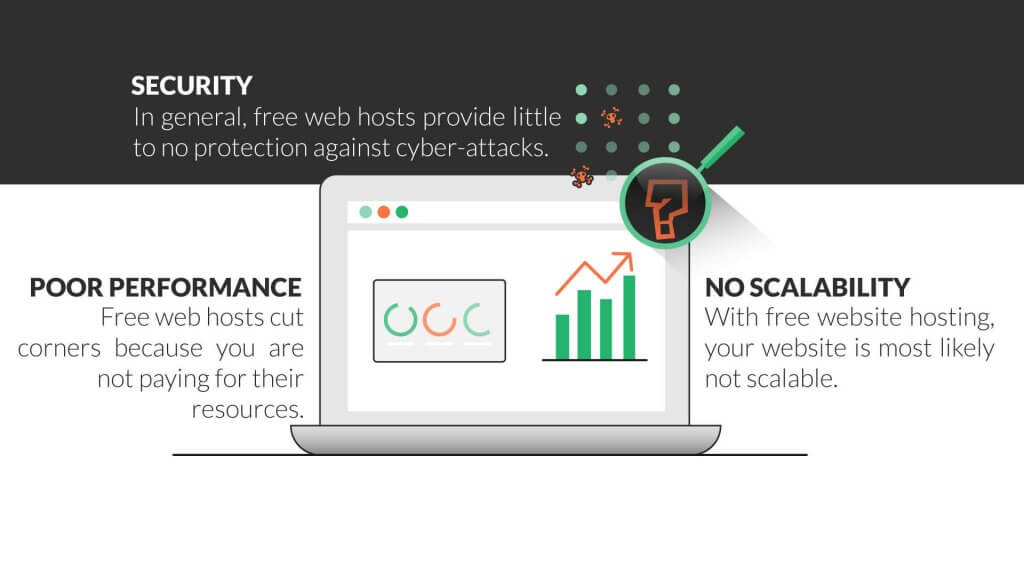 Poor Performance
There is always one critical aspect that free hosting providers fail to provide: performance.
The faster your site, the better the user experience. And, with a good user experience, you can expect better interaction from your audience, who will be more likely to generate leads or make a purchase.
If your website takes too long to load, visitors will leave to find another resource and will eventually avoid visiting your blog. Free web hosts cut corners because you are not paying for their resources.
Overall, the servers are not high-performing and will be unable to handle a modern website with multiple dynamic elements. While the performance impact of free web hosts is obvious, you should test your site's performance to see for yourself.
Security
As a webmaster, it is your responsibility to protect your site from cyber-attacks and intrusion. While using a strong password and keeping your files up to date is essential, a reputable web host can also assist.
In general, free web hosts provide little to no protection against cyber-attacks. They frequently contain security flaws that hackers can use to access hosted websites.
The good news is that numerous reputable web hosting services provide safe and secure hosting. And all of this comes at a very affordable price.
Poor or No Support
When you pay for hosting, you usually get 24/7 support via email or live chat at the very least, with some hosts also offering phone support.
That's significant because you'll almost certainly find yourself in a situation where you'll need to rely on that assistance. However, when you use free WordPress hosting, you usually get no help.
Support is provided in the form of a forum or something similar. The best-case scenario is limited ticket support, with most free hosts relying on a community support forum.
Everything about these free web hosting services is limited, including customer support. Unfortunately, if your website goes down, you'll have to figure it out on your own, with little help from them.
In the event of any questions or errors, you will be on your own for the most part, waiting for email support to respond.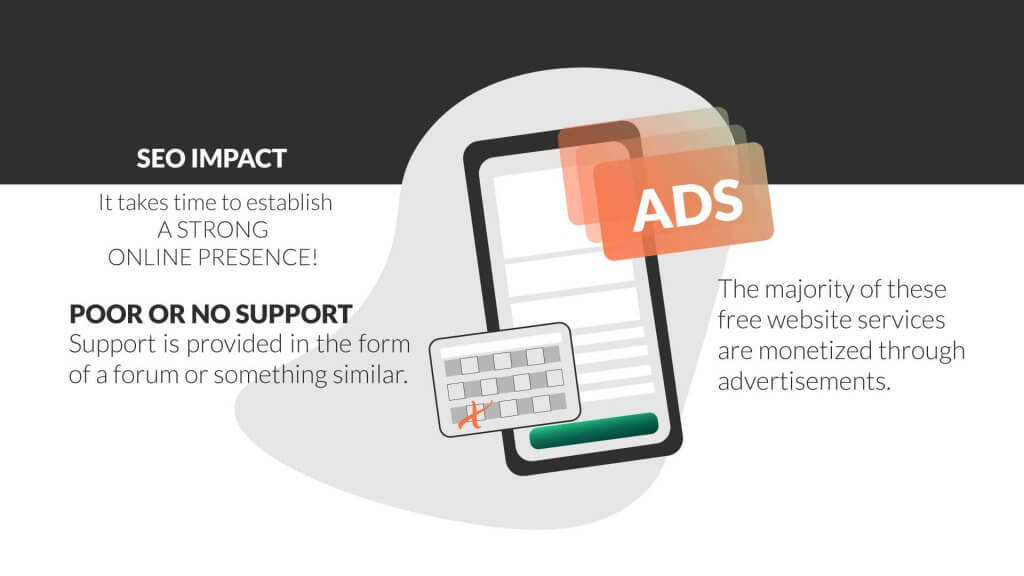 SEO Impact
Since we've established that your website can suffer from slow site speed and increased downtime, search engine optimization can have a more serious impact on your business. If you've invested in SEO, you'll know that it takes time to establish a strong online presence.
If your free hosting provider takes down your website, you will not only lose everything you've worked for, but you will also face a slew of negative consequences for your ability to rank first.
Google has set high standards for websites that want to rank at the top. The negative effects of free hosting listed above make your website more difficult to rank due to its low quality in terms of Google Standards.
When it comes to search engine results, you won't be able to put your company on the map. This is a significant obstacle for your company. Professional, premium hosting providers give you complete control over your website, improved SEO, a real, professional domain, and a scalable website that grows with your business.
When you select a reputable web hosting company, you help build your brand on Google Search. And this means a better chance of success as you continue to push yourself and reach your full potential through your professional online presence and supportive, premium web hosting services.
Restriction in Connecting a Custom Domain
Compared to paid shared web hosting, you do not get all the controls you need to manage your website with free hosting. When setting up your site, you will have to limit yourself to a few configurations.
For example, you might not even be able to find the option to connect your custom domain. This varies depending on the service, but you generally do not have control over your hosting and domain. You would have to keep using a subdomain provided by the hosting provider.
Ads
Face it; nobody likes ads – let alone ads that have nothing to do with your company. And that's another reason choosing free website hosting is a bad idea. These ads slow down your website and provide a poor user experience.
Have you ever tried to close an ad on your phone? You leave the site half the time because you're trying so hard to press the tiny "x" in the corner. Overall, you have little to no control over which ads appear on your website.
The majority of these free website services are monetized through advertisements. You create the content and build the website, but they get paid for the advertisements. These advertisements are frequently distracting, intrusive, and unsightly. Worse, your astute competitors may be able to pay these free website hosting companies to advertise on your website. Talk about sabotaging your own company!
Limited Resources
Registering your website with a free hosting service will keep you on the edge because your resources will be limited. There will be a limit to how much storage and memory can be used on each server. The limited resources will not be enough to support a general website of three or four pages.
Restrictions in Website Transfer
Most free hosting providers have a way of sneaking some tricky language into their terms of service.
So, while you may believe you own your website, you do not. Furthermore, your hosting provider will most likely own all of your content.
That means you can't sell your website or content, and you can't republish any of your works. Consider being a photographer or artist who posts images on their website to show their customers their work. Once you've done that, your "free" web hosting terms of service kick in, and you no longer own the rights to that content.
To make matters worse, once you realize you need better services, transferring your website to another provider is nearly impossible. So, if you can't afford the upgrades that your free hosting provider requires, forget about looking for a more affordable, dependable company.
You can't switch to a better provider because you don't own your website, content, or domain.
Downtimes
The saying "you get what you pay for" is true for web hosting. While reputable paid web hosts typically provide a 99.9% uptime guarantee, free hosts do not. Whether due to hardware failure or simple neglect, their servers frequently go offline for maintenance. And, as previously stated, you will have difficulty contacting customer service for assistance.
If the service is free, many people will likely be interested in it. Not only do people who want to create their website use the service, but malicious users do as well. They take advantage of the fact that it is free to send spam, distribute illegal software, and run scripts for flood and DDoS attacks, among other things.
As a result, one service user can easily make the server that supports the full service unstable, causing all sites to be inaccessible and possibly causing long downtimes. The downtime will affect your site, whether it is a business, project, or portfolio, and thus may "cost" more than you anticipated. And you won't be able to claim any compensation because it is a free service.
Conclusion
For several reasons, free website hosting is a bad idea. It will not save you any money or time. Before selecting a web hosting company, consider your long-term goals for your website. Do you require dependable assistance? Fast loading times and good SEO? Or how about a professional ad-free appearance?
These factors should be considered before signing up for a web hosting service. If you are serious about your website and intend to keep it for the long term, you should start from the ground up with reliable, paid hosting and a real, branded domain. 
About Author
Nirbhay Singh is a top-tier content marketer who helps companies create valuable & insightful content. On the side, he writes about Blogging & SEO on his blog nirbhysingh.com.