If you've been searching for web hosting for churches, you may be overwhelmed by all the different hosting options, providers, and terminology you're presented with. Finding the right host for your church website might seem complicated, but it doesn't have to be.
We've put together this guide to give you a quick lesson in web hosting, including what you should look for in a church web host, the best web hosting for churches, and a breakdown of available plans and options. When you realize all the perks a good web host can offer, you'll thank yourself for taking the time to find the best web hosting for your church.
What is Web Hosting?
Choosing a web host for your church website becomes much easier when you understand the common terminology. Web hosting may seem complicated on the face of it – especially if you're new to website building – but it's just a technical name for the process of getting your website up and running.
A web host is a mechanism that enables your website to be added to a web server (which is essentially a huge computer system that stores website files, resources, and information) and go live on the internet. The web host will designate space on a web server for your website's files to be stored, allowing your content to be uploaded and viewed by browsers worldwide.
Depending on which provider you choose, your web host may also offer hosting plans, including website maintenance, security, and enhancement tools, in addition to storing your website on a web server.
Web Hosting for Churches: What to Look For
It's worth putting some time and thought into your search for church web hosting, as the web host you choose can make a real difference to your website. Every web hosting provider will offer different plans, varying in price, features, and bandwidth.
Your host will play a vital role in the running and performance of your site, so here are seven key things you should look for when choosing your church web host:
Affordability: As a non-profit organization, you might be working with a limited budget for your church website. Look out for web hosts that offer the best value plans that contain your most-prioritized tools and features.
Scalability: Over time, you might want to add extra content or resources to your church website, or you might see an increase in site traffic as your congregation grows. Choosing a web host that offers scalability means you always have the option to expand and add to your website.
Backup Services: Not every web host provider offers backup services, but it's worth looking for a hosting package that does. Websites can become corrupted more often than you might think (whether it be through hacking, human error, or component failure), and you'll have the peace of mind that your site and all its data can be restored if you have a backup guarantee.
Security: To protect your website and its content, you'll need to choose a web host with impeccable security features. A good web host will include antivirus software, a robust firewall, and malware detection, as well as automatic security updates.
Technical Support: Look out for hosting providers who offer around-the-clock support to overcome any technical difficulties you might face with your website. You should find details in your SLA about what support your provider offers alongside their uptime agreement.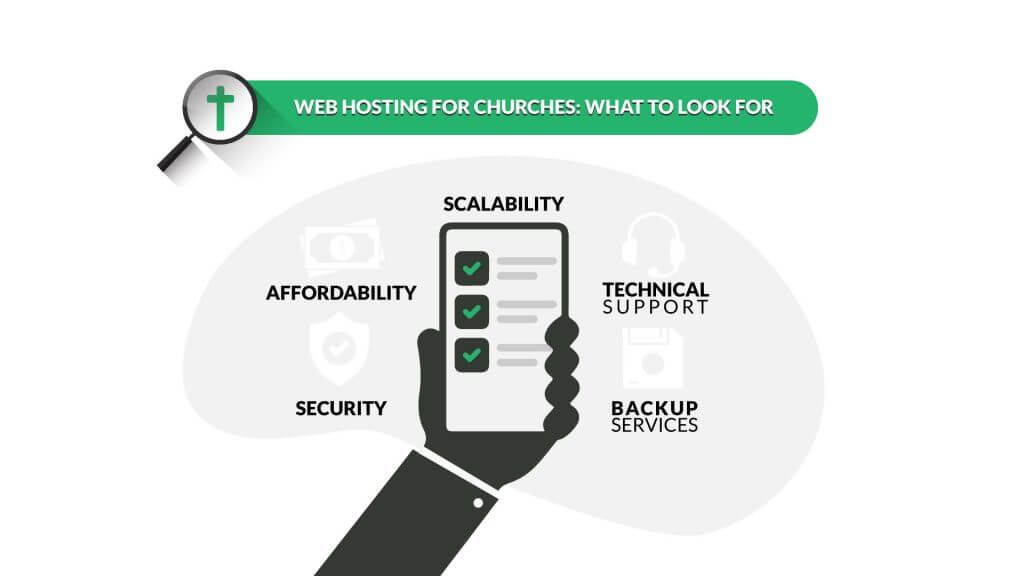 Optimizing Your Church Web Hosting
When choosing your web host, you'll want to ensure your church web host provides basic security and functionality features at the very least. But, depending on what you want to use your church website for, you might want to opt for a more sophisticated hosting package with more advanced features.
If you're looking to attract more parishioners, promote fundraising events, or create an online church community, these are some more sophisticated web hosting features to look out for:
Website Builders: More and more hosting providers are starting to add website building tools – such as templates, themes, and drag-and-drop features – to their packages. If you need help finessing your church website's look, choosing a web host that offers website builders can help you create a professional site without the hefty price tag.
One-Click Installation: If you're new to web design or you want to make building your church website simpler, some web hosts include one-click installers in their hosting packages. This handy tool allows you to easily set up content management systems (such as WordPress) and install applications (such as event calendars to record your church services) to your website in just a couple of clicks.
SSL Security Certificates: Whether your church website collects sensitive data, like a mailing list, or simply provides information, like services and ministries, it's worth encrypting your website with an SSL certificate. Some web hosts offer SSL certification for free, giving your website instant credibility and enhanced security.
Email Tools: While you don't have to use the same web and email host for your website, it's handy to choose a web host that offers some email tools to ensure safe and efficient communication with your site users. Some providers offer useful email features such as email aliases, email virus scanning, and mailbox storage as part of their web hosting plans.
Marketing Tools: Some hosting providers include marketing features such as Google Adwords, search analysis suites, and SEO tools in their hosting solution deals. Picking a host with marketing capabilities will allow you to widen your website's reach and promote your church's events and services to a bigger online audience.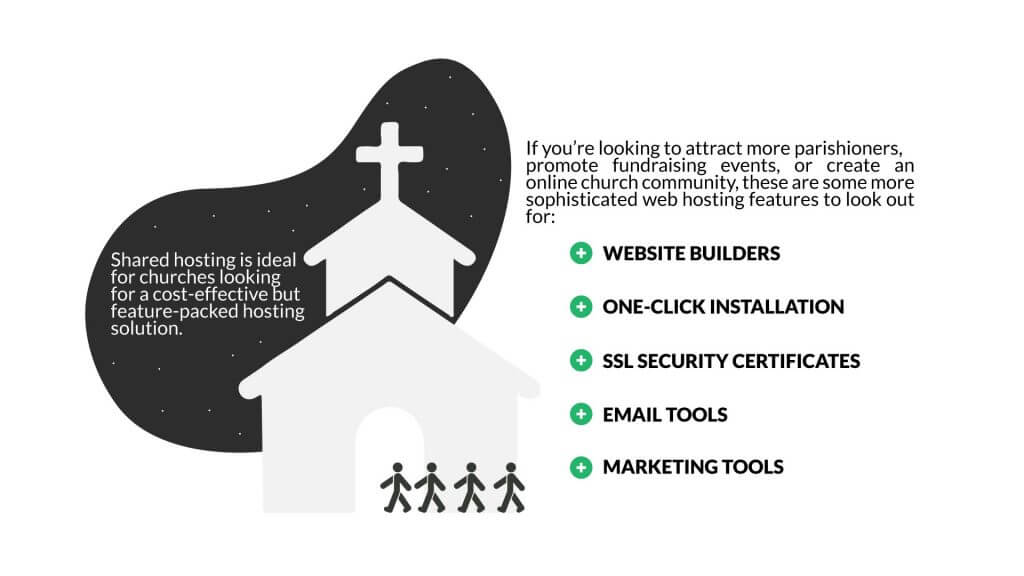 Best Web Hosting for Churches
You now know what to look for in your church web host – but what type of hosting should you be looking for? Web hosting can come in various forms: shared hosting, WordPress hosting, VPS hosting, cloud hosting, and managed hosting, to name a few.
While there's no one-size-fits-all web hosting for churches, as each parish has its own requirements and budget, surveys suggest that shared hosting plans typically come out on top as the best web hosting for churches.
Shared hosting is ideal for churches looking for a cost-effective but feature-packed hosting solution. A shared hosting provider will store your website on the same server as several other domains. This keeps your costs low while offering high-end features such as free domain registration, unmetered bandwidth, free SSL, 24/7 support, and website builders to assist in the smooth running of your site.
Investing in a Web Host
Don't let technical jargon deter you from finding a church web host. A website is a great way to nurture and expand your church community, and shared hosting is a cost-effective and conventional solution to getting your church online. Shared hosting plans can cost as little as $2.49 – $15 a month (depending on your provider and package), and creating a website for your church is sure to be a worthwhile investment in today's digitalized world.