When looking at web hosts, one of the most common head-to-head comparisons is between Wix vs. WordPress for SEO. If you're starting a new small business website or blog, then an effective tactic to bring traffic to your site is search engine optimization. The web host you choose can directly impact your SEO capabilities – and results – so it's important to choose wisely.
What do you need in a web host to have strong SEO?
SEO can be done in many different ways, such as incorporating long-tail keywords into your copy, optimizing URLs, or ensuring your meta tags are highly targeted. In addition, there are several criteria your web host needs to have which will help you improve your SEO.
These things sometimes get overlooked by beginners because they assume every host will offer these and do it well – however, that's not always the case. It's essential to look for both off-page SEO and on-page SEO criteria in your web host, in addition to several other key features.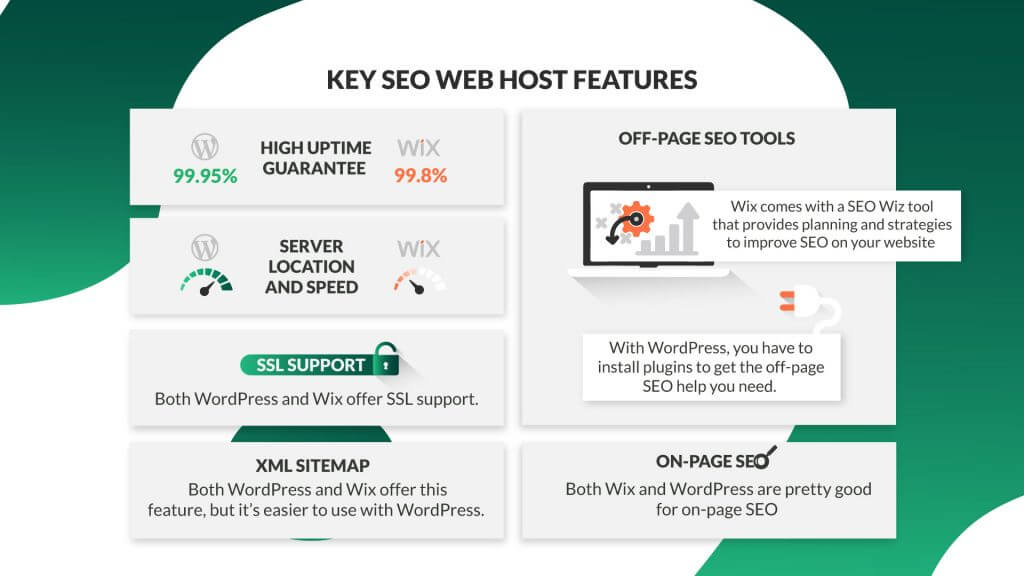 Key SEO web host features: How do Wix and WordPress compare?
High uptime guarantee
This refers to how long your site is accessible to your audience. If your audience visits your website and sees that it is down, they will head to a different site. This will negatively affect your SEO. WordPress has an uptime guarantee of 99.95%, and Wix has an uptime guarantee of 99.8%. Anyone that claims to have an uptime of 100% is likely not giving you an accurate number.
Server location and speed
No one likes a slow website. If your audience heads to your URL and sees that it is taking too long to load, it's almost a guarantee they will leave and not come back again. In some cases, the server location is related to speed. It's best to have the data center located in the same part of the world as most of your website visitors. This will not only provide them with the best speed and user experience, but it will boost your SEO. Overall, WordPress rates fairly well for speed, while Wix does not.
SSL Support
An SEO ranking factor is how secure your website is, and having SSL (an HTTPS in your URL) tells Google that your site can be trusted. This option is vital if SEO is important to you. Both WordPress and Wix offer SSL support.
Off-page SEO tools
This is an area many website owners need help with, and Wix comes with a SEO Wiz tool that provides planning and strategies to improve SEO on your website. You can get help with keyword research, Google Analytics, and Google Search Console. If you're new to building websites or SEO, having this tool is a major advantage.
With WordPress, you have to install (free) plugins to get the off-page SEO help you need. You can use plugins like Yoast that help you write in an SEO-friendly way and integrate with Google Analytics and Google Search Engine through other plugins. Because this is not already built into WordPress, this is a better option if you're more comfortable building websites and SEO in general.
On-page SEO
Both Wix and WordPress are pretty good for on-page SEO and enable you to easily create meta titles, meta descriptions, headings, subheadings, custom URLs, and image alt text.
XML Sitemap
This feature makes it easier for search engines to crawl your website and learn more about its structure, which also helps your SEO ranking. Both WordPress and Wix offer this feature, but it's easier to use with WordPress. You can install a plugin to create sitemaps and automatically submit them to Google.
URL Structure
The way your web host creates links for your website is important because this plays a significant role in improving your SEO. With WordPress, the link structure is well-organized, logical, and follows best practices. Plus, there is a WordPress plugin that continuously crawls your site to check for broken links. It notifies you if it finds any issues so you can correct them, as broken links negatively impact SEO.
Another WordPress plugin helps you better organize your URLs to ensure that your pages are SEO-friendly. WordPress plugins can also help you create 301 redirects automatically or keep track of your site's 404 errors.
With Wix, on the other hand, URL structure is not so clear cut. Wix uses a # in each URL, making it harder for search engines to find and crawl it – negatively affecting your SEO. WordPress has the advantage when it comes to Wix vs. WordPress for SEO in terms of URLs.
Custom coding
One of the major benefits of using Wix or WordPress is that their CMSs make them easy to use and create eye-catching websites. However, there are times when you need to hard code something into the site or edit existing code. Wix offers the HTML Code feature, but it is difficult to use for beginners. WordPress makes it easier to edit or change code for individual pages on your site.
Mobile optimization
Having a mobile-optimized site is key for SEO – and both Wix and WordPress offer this feature. With Wix, the drag and drop feature lets you edit your mobile site to ensure everything looks good. With WordPress, you can use plugins to optimize mobile responsiveness and mobile view.
Apps and plugins
We've already mentioned many WordPress plugins you can install to improve SEO. This is an essential element of the WordPress ecosystem, but you have to be comfortable installing and using plugins. For Wix, you can check out the Wix App Market for their SEO options, though arguably, there are not as many as there are for WordPress.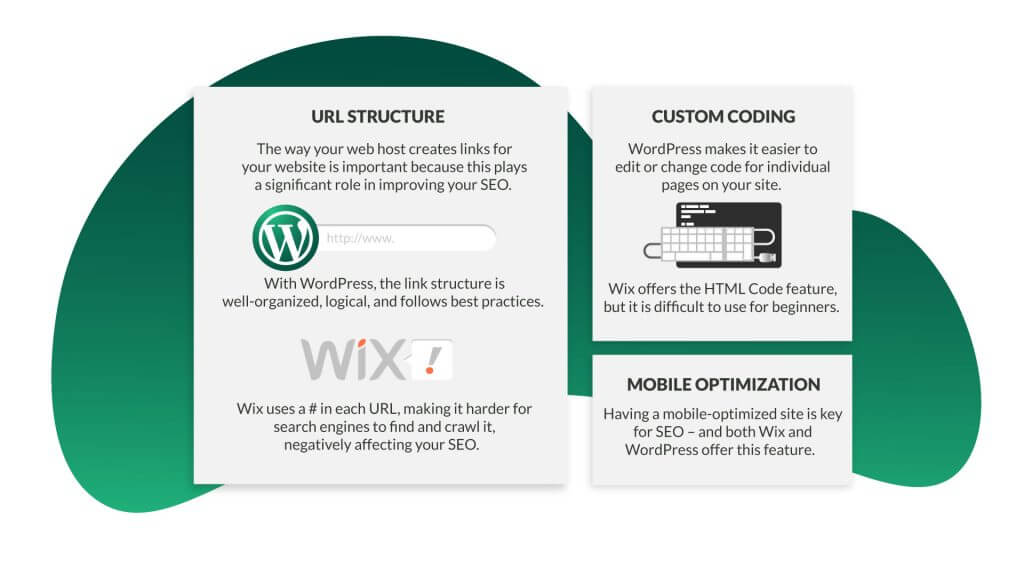 So, who's the winner: Wix vs. WordPress for SEO?
It depends on what you're looking for. If you're a casual website creator, don't know a lot about SEO, and just want access to the very basics, Wix is a good option. You can create a stunning website with Wix in a short amount of time and ensure the fundamentals of SEO are working for you. However, that's where it ends.
If you're a business owner and are serious about using SEO to bring traffic to your website, WordPress is the clear winner. WordPress's plugin ecosystem is unbeatable by Wix – you can add to your website's functionality with the plugins and truly optimize your website to make it easier for search engines and users to find. WordPress is more scalable in terms of SEO than Wix. There is a reason why WordPress is the leading CMS in the world.
Here's how to get WordPress hosting that improves your SEO
Ready to build your website and drive traffic to it with SEO? Check out HostPapa's WordPress Web Hosting plans for everything you need. If you're curious about which WordPress plugins you should add, check out our overview of essential WordPress plugins.