Whether you know a little or nothing at all about church website design, this guide's here to help.
A website can revolutionize the way your church delivers its services and attracts parishioners. If you're looking to build a website from scratch or update your existing church website, you'll need to consider things like hosting, themes, and domain registration to achieve the best results.
We've put together this article to break down all these key terms and explain how to tackle church website design head-on. By the end of this guide, you'll know everything you need to know to design a professional but affordable church website.
Why Do You Need a Church Website?
In a 2018 survey, 64% of churchgoers said that a church website was important to them as it facilitated their participation at church. A further 33% said that the internet was the place they first found out about their church – proving that a church website is a vital tool in engaging current parishioners and attracting new ones.
In addition to increased participation, there are lots of reasons why a website is highly beneficial for your church:
It's cost-effective: You can use your website to share important information like community bulletins, event calendars, and programs. This saves the cost of printing pages and pages of pamphlets to distribute to your congregation.
You can use it to promote and showcase: As a church, you're likely to be involved in many charity and support programs both abroad and in your local community. With a website, you can showcase your church's work and encourage others to join your efforts.
You can grow your congregation: Your church website can bridge the gap between you and prospective parishioners and encourage them to visit your parish in person and join your community.
An opportunity to modernize your services: Having a website opens up opportunities for your church to create digital content, such as podcasts and blogs. This will make your services accessible to a much broader, perhaps disadvantaged, audience who might be unable to attend in person.
Collect donations: A website is a safe and secure way to fundraise for your parish and receive donations.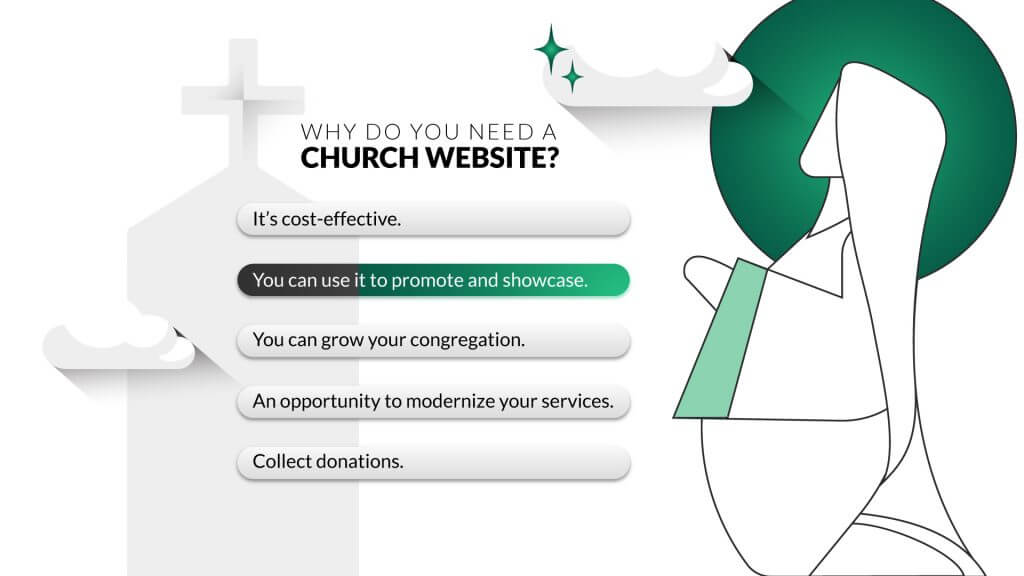 What Makes a Good Church Website?
You don't have to be a professional web designer to create a good website. The secret to a successful church website isn't website design experience; it's the willingness to invest time and effort into creating and maintaining your site.
Sometimes, it's the basic features that matter most when building a website. These are some simple but effective ways to make sure your church website has all it needs:
Make it unique
Ensure it's safe and secure
Provide important information, like an event calendar or news section
Describe your church's vision and goal.
Include bios of all pastors and staff
Post a range of digital content like podcasts, video sermons, and blog posts
Integrate your website with social media networks
Include a "call to action" that encourages site visitors to get involved with your programs
Give the option for site visitors to get in touch
Make it SEO optimized
Church Website Examples
A good way to gauge what makes a successful church website is to look at some existing examples. This will give you some inspiration for designing your website and can potentially identify some things you might want to do a little differently to set your church website apart from the crowd.
Here are some stand-out church website examples, as rated by Reach Right: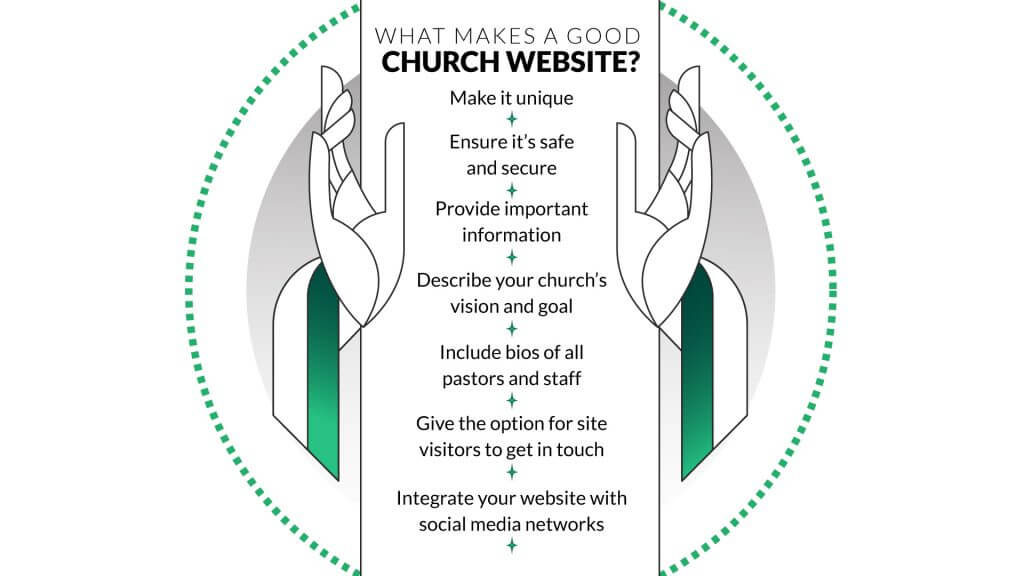 Church Website Templates
Layout and design go a long way in creating a sleek, successful site for your church. You don't have to be an expert in church website design to make your website look professional – you can use a church website template to provide a beautiful infrastructure to build your site around.
Using a website template takes the difficulty out of designing a website. It's quick and easy to apply a template to your site, and you'll receive built-in functionality, theme updates and support, and loads of customization options as part of the package.
There are many website templates available to suit every vision and budget. Salvation, Vineyard, and Spring all rank in ColorLib's 40 Best Church Website Templates 2021 and are worth considering when designing your site.
Best Web Builders for Church Websites
If you want to use a template on your church website, using a web builder is a great way to access and implement a wide range of templates with a few clicks of a button. Website builders simplify the entire website design process and are a handy tool if you're working with limited time or experience.
A website builder is a platform that allows you to create a website without all the technical manual code editing. It's a practical solution for those who have little (or no) experience in website design, as a web builder program provides you with drag-and-drop software that allows you to easily construct and embellish your site.
Depending on which web builder you choose, you'll get a vast choice of templates, pre-packaged design elements, and simplified setup tools included in your bundle. WordPress, Wix, and Squarespace are all great web builders for church websites, as they are easy-to-use, packed full of useful plugins, and come with a huge range of designs.
ShareFaith is a highly recommended website builder for religious establishments, as it is a church-specific website builder and comes with lots of resources specifically tailored for places of worship.
WordPress Themes for Churches
Using a theme is another thing to consider when creating your church website. There are thousands of different themes available to download, each with its own features and strengths. Choosing the right theme for your church website will make a massive difference to your site.
Themes not only affect the appearance and functionality of your webpages, but they can also determine how users and search engines interact with your website. WordPress is renowned for its huge selection of themes, some of which are entirely free. Faith and The Church Lite are 2 of the world's most popular WordPress themes for churches, and both come with lots of customization options, as well as dedicated church features and plugins.
Church Website Design Best Practices
Appearance isn't everything when it comes to website design; you'll also want to ensure your site functions and meets standard website conventions.
Web designers – both professional and amateur – follow standard web conventions when making websites. These are a set of general rules that give guidance on how to structure and layout a website to adhere to web visitors' expectations.
When designing your church website, there are a few church web design best practices you might want to implement so that your site meets the same standard of existing church websites.
Position your church logo/name in the top left corner
Include a search bar at the head of your website
Place your navigation bar in a prominent position – ideally at the top of the page
Add social media links in a visible place
Make your site mobile-friendly
Include images
Hosting for Churches
There's a lot to think about when designing a website and many terminologies to get your head around. Web hosting is probably a term you've come across during the church website design process, and you might be wondering whether you need a website host and what role they play in creating your church website.
A web host manages the process of getting your website up and running on the internet. You may have a template, theme, and web builder ready for your church website – but without a web host, your website's files can't be stored on a web server and become accessible online. Luckily, web hosts are super easy to use, and there are dozens of providers out there offering web hosting for churches.
Shared hosting is a popular service among church websites, as it's a reliable and cheap solution with plenty of functionalities for churches. By using a shared web host, you get everything your church website needs to be successful online, including high-performance servers, optimum speeds, access to a website builder, and much more.
Domain Registration for Churches
Another term you may have come across while designing your church website is domain registration. This describes the process of registering and reserving a name or title on the Internet for a set period of time and is another crucial element in running your church website.
Having a domain name adds credibility to your website and authenticates the fact that your site (and its content) belongs to your church. Domain registration will also guarantee that your website appears in search results, and if you use the name of your church as your domain name, your parishioners are more likely to find and engage with you online.
To register a domain, you can use a domain registrar site (such as A2 or Namecheap) and purchase your desired domain name if it's not already in use. Alternatively, many website hosting providers are now starting to include domain registration as part of their packages – which might offer the most cost-effective and reliable solution.
How Much Does It Cost for Churches to Build a Website?
It's hard to put an exact figure on building a church website, as there are lots of components that make up the cost of running a website. Web hosting, domain registration, and your site's maintenance all come with an annual fee and contribute to your website's overall cost.
Creating a website doesn't have to be expensive, though. There are lots of free website builders available, and, on average, a budget shared hosting package can start from as little as $3 a month.
Should You Pay Someone to Design the Website for You?
There are both advantages and disadvantages to paying someone to design your website for you. The biggest drawback to hiring a professional web designer is the price. The average web designer can charge anywhere from $1000 to $10,000, depending on how sophisticated you want your church website.
Hiring a web designer might not be a feasible option for a non-profit organization like a church. There are many tools out there (such as website builders, templates, and themes) that make the web design process incredibly easy – and much cheaper – to do yourself.
However, if you have the budget to pay a website designer, the obvious advantage is that an expert in the field has designed your website. This means you can feel safe knowing that your site has been optimized for performance and marketing, and you can work closely with the designer to ensure the website meets your vision.
But if you don't have thousands of dollars in your budget, a good website host can provide much of the same expertise as a website designer – at a fraction of the price. A web host will also offer support with your site's maintenance and long-term running, whereas a website designer will typically just help with the design and start-up process.
Church Website Design: The Takeaway
Creating an online presence for your church is becoming more and more critical in today's digital world. If you've been putting off making a church website because you fear you don't have enough knowledge of church website design, don't let that stop you. There are loads of website design resources available online that can turn even the novice designer into a competent website creator.
Themes, templates, website builders, and website hosts are all designed to help you with every element of building your church website. A lot of these services are free to use and for those that aren't, paying a small fee is a worthwhile investment considering the benefits a church website will bring your community.
Please note that the pricing in this blog post is current as of the date of publication and is subject to change at any time.