WordPress or managed WordPress hosting – which is better for your business? That's a question that comes up quite often.
As WordPress explains it, the content management system is on a mission to "democratize publishing" by helping users create, express, and earn. WordPress community is available to provide solutions for every issue you face, one of WordPress's most advertised features. It comes right behind the massive amount of plugins and functionality you can add to the software.
Both options remain popular with different types of businesses, and both are associated with pros and cons that companies must consider if they want to make the best choice for their needs. A website hosting service will play a decisive role in the function of your business website.
Significant differences between shared WordPress hosting and managed WordPress hosting will affect your WordPress websites, whether it's a blog, a site for your company's staff, or resources like a knowledge base. Throughout this blog, we'll discuss the critical elements of both options so you can decide which route to take with your WordPress site.
Shared WordPress Hosting Plans
Shared WordPress hosting is extremely popular with businesses, especially small businesses. There are various reasons for this, but the main one is because it's very affordable. We call it Optimized WordPress because it's a web hosting plan optimized for WordPress sites and comes with a pre-installed version of WordPress.
In fact, shared WordPress hosting is a budget-friendly option and one of the easiest entry-level ways to get your website online and ready to receive some traffic!
Shared WordPress Hosting provides greater benefits than WordPress.com, which is limited by its inexpensive plans. To learn more, read our thorough comparison between WordPress.com and our Managed WordPress. WordPress.com doesn't have plugin and theme support in its free version – or even in its Premium plan – meaning you get fewer features than our WordPress hosting offerings.
Does shared hosting offer the bells and whistles that managed WordPress hosting offers? No. But plenty of companies and organizations don't need those extra features managed WordPress brings to the table, so why pay for them?
Let's clear the air by breaking down all the advantages and disadvantages of managed and shared WordPress hosting below.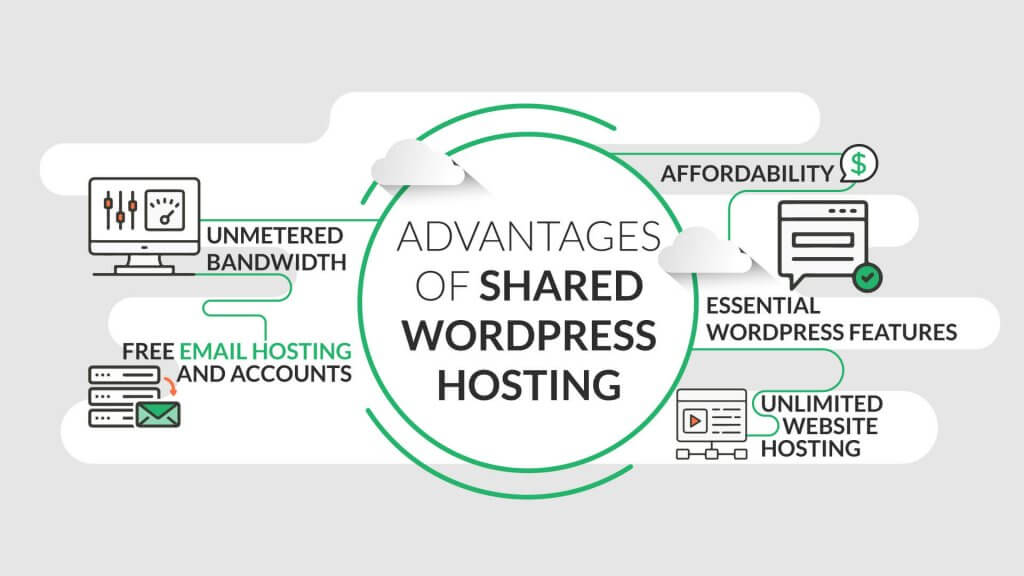 Advantages of Shared WordPress Hosting
Affordability: Shared WordPress hosting offers some of the lowest pricing for website hosting. Generally, hosting via the shared model costs businesses as little as $3-$5 monthly. If you need more than one WordPress site hosted, this affordability may become even more critical to your business.
Unlimited Website Hosting: Some hosting companies allow unlimited hosting plans for a single flat fee. If you have multiple WordPress websites that need hosting, you should see if your shared hosting company offers this option.
Free Email Hosting and Accounts: Some shared hosting providers offer free email hosting and accounts. HostPapa offers 100 email accounts for customers who subscribe to its basic shared WordPress hosting plan.
Essential WordPress Features: With shared hosting via HostPapa, businesses get basic WordPress features like free domain registration, a WordPress installation ready for use, 99.9% uptime, fast SSD drives, WordPress super caching, and more.
As an added feature, most shared hosts will allow all users to install any website software – not just WordPress. If you prefer Drupal or Joomla, you'll have no problem installing and running them.
These advantages make a shared hosting plan the right option for many businesses. Now, let's move on to some disadvantages of shared WordPress hosting.
Disadvantages of Shared WordPress Hosting
Entry-Level Functionality: Shared WordPress hosting has a reputation for entry-level functionality. It's fine-tuned for simple websites without needing advanced features and many resources.
Slower Response Time: Since your WordPress site shares a server's resources between multiple websites, it might run slower if another site uses these resources more heavily. 
Greater Risk for Downtime: Downtime is a problem for many sites that opt for shared WordPress hosting. However, HostPapa is not among them; Its 99.9% uptime is beyond excellent!
Not Suitable for High-Traffic Websites: If your website experiences frequent web traffic spikes or the website traffic has grown significantly recently, then shared hosting isn't your plan. In that case, the web hosting provider will suggest a different plan.
DIY Management: Shared WordPress hosting requires users to manage their features like backups or automatic updates. This type of routine maintenance can prove time-consuming or problematic for businesses, especially inexperienced users. So, essentially, website optimization is on you. 
Limited Support: Shared hosting plans generally only offer a basic level of support. If you need more WordPress-specific help, this hosting plan may not be the ideal choice for your company. Limited support also means you're left with finding solutions on your own or through the WordPress forums, depending on your problem's nature.
Managed WordPress Hosting
The best managed WordPress hosting delivers a premium-style hosting service specific to WordPress and includes more functionality and performance optimizations.
While shared hosting offers a straightforward way to get your WordPress site up and running, managed WordPress hosting goes well beyond the minimum, offering plenty of useful features for businesses that want more out of their website.
Naturally, any business wants its website to be successful. With all the attractive features of a managed hosting plan, there are undoubtedly plenty of onboard resources to support that goal.
Many companies choose the managed hosting plan to focus on their business and let the expert service provider handle most web hosting tasks.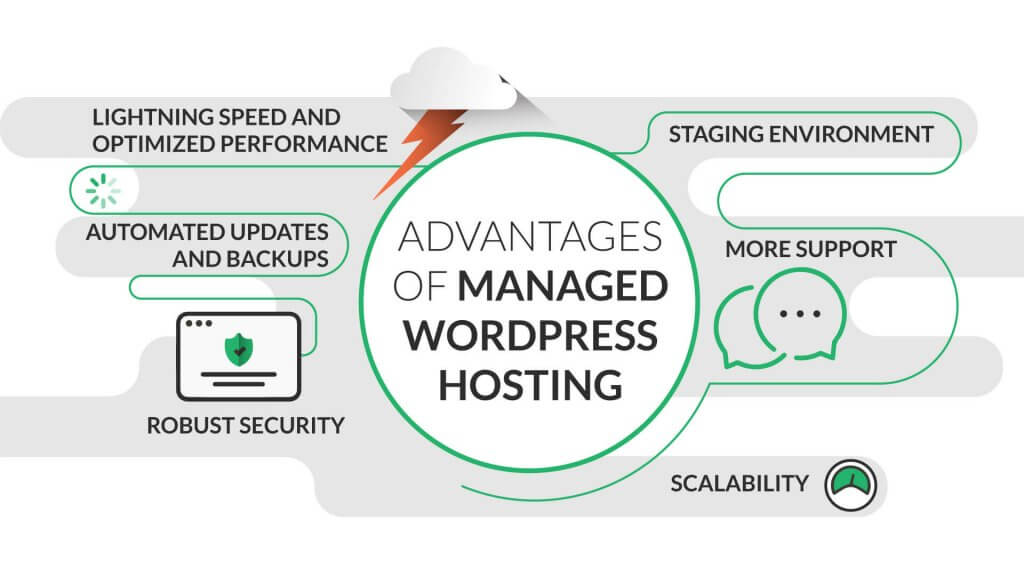 Advantages of Managed WordPress Hosting
Lightning Speed and Optimized Performance: Managed WordPress hosting servers are optimized for speed. Specifically designed to run WordPress sites, managed hosting servers feature hardware and software that make any WordPress website shine. Some of the best managed hosting companies include CDN (Content Delivery Networks) and full-page caching. The result is better overall performance and speed.
Automated Updates and Backups: Companies and small businesses that opt for managed hosting plans can expect routine automatic updates and backups. The hosting provider performs automatic WordPress updates for you if there's a new security update or even a major WordPress release. In addition, most managed hosts automatically backup data every 24 hours, giving you many options for restoring in case of a problem.
Robust Security: Although shared hosting providers feature basic security measures, managed hosts take security to a higher level. Managed WordPress hosting providers feature more security measures like WAF, often including malware scans and more resources for fending off cyber threats and all kinds of malicious software.
More Support: With premium managed WordPress hosting, the level of support increases and improves to include WordPress-specific assistance. When you opt for managed hosting, you can expect support professionals to be WordPress experts. If no one in your business has technical experience, you'll be able to rely on this support when needed. Uptime monitoring is another measure that supports your site; if something goes wrong, support can quickly tackle the issue before it can cause downtime.
Staging Environment: Managed WordPress hosting features an intuitive staging environment. This means you can make changes to your site and test them before moving them to the live site. With one-click staging, you can quickly and conveniently make the necessary changes, and you don't have to install WordPress locally on your computer.
Scalability: Managed hosting is scalable, which means that as your traffic or site's needs increase, your host automatically levels up with you. There's no need to migrate to another plan. Autoscaling is an automated feature that takes more web hosting tasks away from a company's hands.
Disadvantages of Managed WordPress Hosting
Pricing: Managed WordPress is a premium service that will cost more than shared hosting. Regular pricing for managed WordPress hosting normally starts at $25 per month, but it may range upwards of $150 per month, depending on the plan and hosting company you choose. Additionally, some companies may charge overage fees if your monthly traffic exceeds prescribed limits. HostPapa breaks the norm by offering premium Managed WordPress Hosting with no limits for only $19.95 per month!
WordPress Only: Managed hosting for WordPress is a WordPress-only environment. You cannot load them into this setting if you prefer to use a different email management or analytics platform.
More Limitations for Plugins: Some managed hosting services will limit specific plugins, such as some that feature third-party software.
Making a Choice
Now that you know the basic pros and cons of both shared WordPress hosting and managed WordPress hosting, you're ready to make your choice – or are you? The above information refers to these plans' general advantages and disadvantages.
Once you examine different hosting providers, you'll want to pay close attention to the specifics of their plans. For instance, not all shared hosts promise 99.9% uptime like HostPapa. There may also be notable differences between hosts regarding their managed hosting plans.
With HostPapa, You Get Both Shared and Managed WordPress Hosting!
HostPapa offers various hosting plans to meet the different needs of customers. Still not sure which web hosting service is the best fit for your enterprise? HostPapa's customer support team can help you select the ideal hosting plan for your needs, preferences, and budget.
If you choose the company's shared hosting plans, you'll find affordable pricing coupled with more features than you'll often find with other web hosting providers. You can expect the highest degree of premium managed WordPress hosting services if you choose an overlooked option.
Grow your company and your website with confidence. Managed WordPress provides peace of mind with premium performance and security without the usual WordPress maintenance.
Managed WordPress comes with the following features and more:
Full-page caching (over 200 locations worldwide)
Automated backups and updates
One-click staging website
One-click restore and recovery
Website Security Suite
Website Application Firewall
WAF/CDN analytics and reporting
24/7 expert WordPress support
Pick the One That Fits Your Business the Best
Ultimately, Μanaged WordPress hosting is up to your business requirements, but it all boils down to how quickly you expect it to grow. Things like speed, automated backup systems and added security are welcome for small businesses looking to take the extra step.
When your company grows, website-related tasks tend to become tedious, which consumes precious time. Managed WordPress hosting, like the service offered by HostPapa, can take over many of these tasks, clearing the way forward. 
That said, we must also point out that Managed WordPress doesn't solve every problem, but it deals with the most common and usual ones that prevent you from producing valuable content for your website. So, the choice boils down to your requirements, what you currently need for a secure site, and your type of business.
Discover more awe-inspiring topics like this by visiting our HostPapa Blog.
Are you excited about trying HostPapa's Managed WordPress? Get started today!