When it comes to building a website, Weebly is one of the best options out there. Not only does it provide a free plan to begin with, but its support provision makes it pretty easy for the website owners to get hold of the software.
However, you have to upgrade your plan when you want to expand your website. Instead of upgrading, there's a more efficient option: migrate your website to WordPress.org.
Weebly VS WordPress
Weebly is a great, free website builder if you want to create your website, blog, or online business. It has lots of customizable templates and easy-going tools, and since Weebly is a web hosting company, it also has domains.
However, it lacks when it comes to growth and expansion. If you want more than the basic features, Weebly requires you to upgrade your plans and start paying.
On the other hand, WordPress, a completely free and open-source software, is filled with free plugins, themes, and templates you can use to design your website, blog, or online store.
If you're just starting your business, we recommend WordPress.
If you already have a site established on Weebly and want to try a different platform now, you still have nothing to worry about because hundreds of people have switched from Weebly to WordPress without much complication.
However, before we get into the actual migration steps, let's look at the factors you should consider before beginning the migration.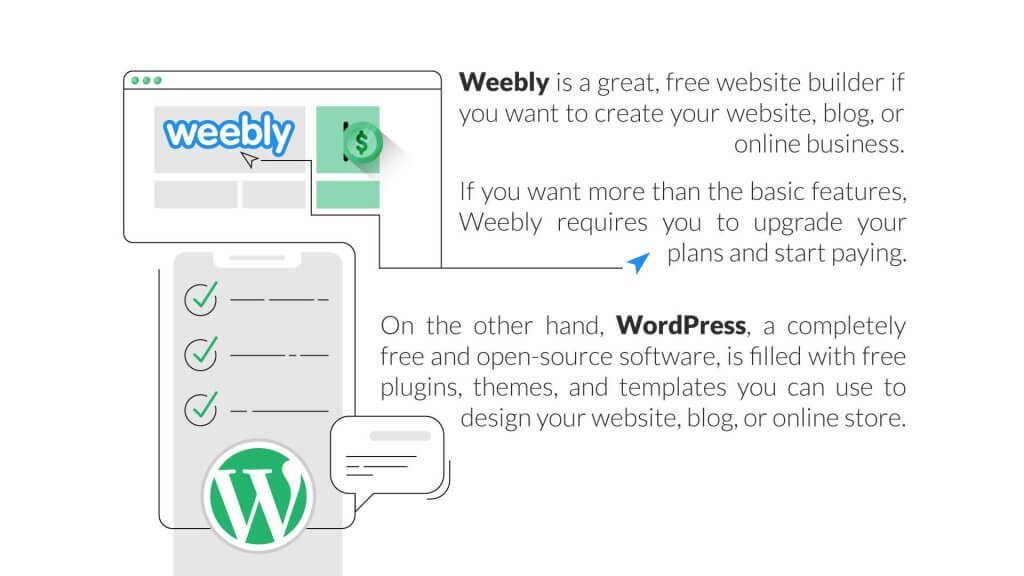 Things to Consider Before Migrating From Weebly to WordPress
Moving your site from Weebly to WordPress is a very detail-oriented process, and to make sure nothing goes wrong, you need to keep a few things in mind.
Register a Domain Name
Moving from Weebly to WordPress will require you to purchase a new domain name. Weebly has a free plan that gives you a domain name that looks like this:
mywebsite.Weebly.com
So, to switch to WordPress, you'll need to purchase a domain name. You can choose among several good domain registrars to register a domain of your choice.
If you already have a domain, feel free to skip this step.
Purchase Hosting
Once you have a domain name ready, it's time for you to get hosting for your website to get your WordPress running.
HostPapa gives you the option to go for any kind of web hosting you want. However, we recommend managed WordPress hosting.
Fully Managed WordPress Hosting
HostPapa's fully managed WordPress hosting is a perfect choice if you want to make a new website on WordPress or migrate your existing one on this platform.
It's always better to start the migration process with a new WordPress installation to ensure there's no overlying data.
And with our fastest WordPress hosting, we can hook you up with fantastic WordPress features, tools, plugins, themes, upgrades, and much more that will make your Weebly to WordPress migration process look like a walk in the park.
Install WordPress
The next step after getting hosting is installing WordPress. Depending on your hosting provider, there are a couple of ways to get WordPress on your purchased domain name and run it properly. 
If your hosting provider uses cPanel, then they can easily allow you to set up WordPress. It can be done with a one-click installation process after filling out certain details and choosing different options.
HostPapa uses the industry-leading cPanel, an extremely easy-to-use interface to help you run your website.
Now you know everything you need to know before starting the migration process. Let's get started with migrating your Weebly website to WordPress without further ado.
Methods to Migrate a Weebly Website to WordPress
There are three different methods of migrating a Weebly website to WordPress.
Manual migration (DIY, free)
Automated migration (through a plugin, free and paid)
Outsource migration (paid)
One by one, let's go through all of them.
Manual Migration
Manual migration seems like a difficult process, but it's not. It's quite simple; all you have to do is copy/paste the content.
Manual migration allows you to ensure that every piece of content is copied and pasted the exact way you want it.
This type of migration can be time-consuming, so you need to consider the size of your website on Weebly before choosing this process. If your website is large, it's better to choose one of the other methods.
To migrate your website from Weebly to WordPress using manual migration, follow these steps.
Step 1: Create Pages and Posts in WordPress
Create pages and posts first in WordPress before copy-pasting the content to speed up the process. You can create pages one-by-one or create them in bulk using the Bulk Page Creator plugin. Using the plugin will be much faster.
If you want to go with the plugin option, install this plugin on your WordPress and activate it. Once the plugin is activated, go to Settings and click on the Bulk Page Creator tab.
Next, click on the Multiple Pages mode box and type the name of the pages you'd like to create, using commas to separate. For example, page1,page2,page3.
Step 2: Copy/Paste the Content from Weebly to WordPress
Now that you've created all the pages you want, it's time to start filling them with the content.
Start copying the content, including the relevant images, from the Weebly site and continue pasting it on the relevant page and post in WordPress. The time it will take will depend on the quantity of content you want to migrate to a new website.
Automated Migration
Automated migration of Weebly to WordPress is easier and quicker because plugins do the work of copying and pasting for you. You don't have to follow the manual importing routine.
However, when plugins copy/paste your content for you, they can leave a mess, and you might need to tidy things up after they have finished importing your content.
Moreover, finding the right plugin that can do all the necessary work is a hard process.
There are numerous plugins out there; some are very old and outdated, and some are just not reliable downloads. Most of them still work, but we would not recommend you use anything unless it's safe, updated, and free.
So, we are going with the Feedzy RSS Aggregator plugin, which provides a solid solution to your problem of automated migration of Weebly to WordPress. The version of the plugin we're using for this article is free, but it does have a premium version that delivers much better performance.
Step 1: Install and Activate the Feedzy Plugin
From your WordPress dashboard, go to Plugins > Add New.
Type "Feedzy RSS Aggregator" in the search bar and install it from the search results. Activate the plugin after it is installed.
This plugin will grab your Weebly website's RSS feed and use that to create posts on your WordPress website.
Step 2: Find the "Import Posts" Tab
With the plugin activated, find and click on the main tab in your WordPress dashboard.
Click on the Import Posts tab to create a new import and grab the posts from your Weebly website.
Once you are in the relevant section, click on the New Import button at the top of the page, which will take you to the main configuration option for the plugin, allowing you to import the RSS feed from the Weebly site.
Step 3: Import Posts from Weebly to WordPress
At this stage, you would have reached the main import feed page of the plugin, so now you will use this page to import feed from Weebly to WordPress. You can bring multiple feeds at a time if you want to quicken the process.
Give your import a name, and put your Weebly site's URL in "Source." Your Weebly feed URL probably looks like one of the below:
https://yourdomainname.com/1/feed
https://yourdomainname.com/rss
Fill out the rest of the settings as per your preferences.
When you have filled all the options, click on the Save & Activate button on the bottom right, automatically importing the feed and taking you back to the "Import Posts" section.
From there, you can see the results of your imports.
Step 4: Import Pages and Images
In the step above, you imported posts, but not pages and images. Those need to be imported manually because pages and images aren't included in the RSS feed.
You have a couple of options to solve this problem. You can switch to manual migration again to copy/paste the number of pages and images. You can also switch to downloading different plugins to import pages and images.
If you have many pages and images on your site, go for the plugins.
You'll first have to go to your Weebly site and download the pages and HTML files for plugins. After that, you can use the HTML Import plugin and import pages from your Weebly site to WordPress.
As for images, you can download those from your Weebly site and upload them on your WordPress site manually. You can also bulk upload via FTP or SFTP to save time.
Outsource the Migration
Like any other work, website migration can also be outsourced. Since Weebly to WordPress migration is time-consuming, you can pay to outsource it to an expert to save time and energy.
CMS2CMS is an automated service that can migrate your website from any platform to another. The process is smooth, effortless, and fully automated. They also have a demo service that allows the migration of limited content so that you can witness their quality and reliance. The website also has a free migration calculator that gives you an estimate of the service to get the cost before you begin the process.
WordHerd is a reliable migration service provider that can transfer your site from any platform to WordPress, no matter how big or small it is. You can also get a free quote on their website.
Things to Take Note of After the Migration
Copying the content from Weebly and pasting it on WordPress is not where the migration ends.
Adjust Your Permalinks Structure
You've copied all of Weebly's content on WordPress, but your visitors don't know that. When they visit your site, they'll land on Weebly. To make sure that doesn't happen, you need to adjust your permalink structure on WordPress.
Point Your DNS
The second thing you need to take care of is your website's DNS. Since you have gotten a new host, you need to point the DNS away from the Weebly and towards the new host.
You can easily change your DNS by contacting your hosting provider. HostPapa makes this process amazingly simple.
Redesign Your Site
The content is all copied, the links are adjusted, but your website still doesn't look like it used to on Weebly, right? Well, that is because you're using WordPress on its default theme.
You can customize your WordPress layout by injecting creative plugins and choosing the best theme. The more creative you get with plugins and themes, the more visitors your website will attract and the more user-friendly it will become.
Summing It Up
Migrating your website from Weebly to WordPress is not a complicated process, but it can be time-consuming and effort-requiring.
Based on the method you choose to migrate your website and depending on the size of your website, the process can get either easier for you or more intense.
Go for the method that saves more time and gets the job done accurately. Whatever way you choose, we hope it works out for you.