We all appreciate a well-built website. Current advancements in code have given us plenty of website development and creation tools like Content Management Systems. Search engines also appreciate a well-designed website by boosting its search results, which is crucial for long-term success.
Content Management Systems are excelling in that area, and WordPress is one of the most successful ones, with a market share of over 40%. While CMS is doing great in terms of features, functionality and ease of use, there's another way to create websites without much hassle.
They are called Website Builders and help you bring your website to life by utilizing a drag and drop interface. One important fact many Website Builders have is they can work independently. Using them as a WordPress plugin is also doable, and many options exist for this particular CMS. Notable examples are Elementor, WPBakery, and Beaver Builder.
Along with these great tools come plenty of alternatives that don't require setup and are quite easy to work with.
Enter Duda, a platform that aims to claim valuable market share from the CMS and the website building market while having many features that resemble its rivals.
What Is a CMS?
A Content Management System, or CMS, is a platform capable of managing, editing and publishing content. The content could be posts, comments, or pages, and WordPress is better known for its blog posting features, but it doesn't stop here.
CMS software like WordPress comes with a couple of extra features like comment support, page support, and taxonomies, with the latter meaning you can sort all of your site's content into categories and filter it with tags.
So, What Is Duda?
Duda is a proprietary website builder based on a subscription model with drag and drop elements. It takes inspiration from the current CMS solutions while investing heavily in providing all the necessary tools from the beginning.
It needs no setup, as the whole software is cloud-based, and you only have to sign up to the platform and buy yourself a plan. There's also a 14-day trial you can use to test it out.
Being a website builder means its code is closed source and not available to use elsewhere. Moreover, it means that the programmers at Duda control all the new features that come out, and you won't be involved with that process.
Is Duda a CMS?
Although we compare it with WordPress, some might think that Duda is, in fact, a CMS. In the traditional sense, it's not, but it uses a similar mindset when creating content. It's a website builder that gives you specific tools to create content. You can also call it a Software as a Service (SaaS) because it's based on a subscription model.
Relying on a website builder means settling for the provider's tools. So if there's a plugin you loved from another CMS, it probably won't be available in Duda, and vice versa. But Duda has plenty of third-party integrations and support for multiple languages to level that disadvantage.
Duda's programmers invested in giving a complete list of features like Client Management Tools, support for eCommerce and App Store, and SEO tools. The App Store has many add-ons that expand Duda's features, but the developers note that "per-app pricing is set by each App provider, and may be free, free trial, or paid."
Is Duda Free?
Comparing these two platforms brings us to a very interesting point – price. WordPress can be downloaded for free, leaving you with some recurring costs like web hosting and domain registration. These costs can vary depending on what you're looking for, like how much space the hosting plan gives you. At HostPapa, hosting prices start at $3.95 with unlimited websites, free domain registration, and unlimited SSD web space.
Duda, however, has a paid subscription model with three available pricing tiers, and its monthly fee is $14, way more than the monthly price of WordPress in most cases.
Is Duda Self-Hosted?
Looking at the current landscape of website builders, you'll see that Duda has very much followed the path of the leading solutions offering web hosting with its services.
Duda creators provide, along with your subscription, a hosting environment, and release you from any domain name searching hassle. Duda's plans are being hosted on AWS servers, and if you have something more specific in mind for your project, Duda offers a custom plan.
On the other hand, WordPress hosting is top on the list of many web developers, as plenty of hosting companies are available. The WordPress Managed hosting plan from HostPapa benefits from one continuously growing and secure WordPress platform while you focus on what's most important for your business.
Another way is through the official website, WordPress.com. Unlike HostPapa's Managed WordPress plan, you can start a website with a light version of the popular CMS, which also comes with many limitations. So, no plugins and no premium themes for the freeware version.
Who Is Duda for?
It's for people who want fast results and freelancers who want to build a website for their clients with minimal effort.
For the long answer, Duda is somewhat limited in extra content, but for most people, all the included tools and integrations will do the trick.
With the addition of white-label options, a Duda website gets its own identity, and it's helpful when your customers visit the site. That feature is an advantage for Duda, as not many website builders seem to have it on their agendas.
Duda vs. WordPress: A Detailed Comparison
Comparing the two platforms reveals some important differences in how they operate. Being relieved from setting up gives a strong advantage over WordPress, and with the latter, you have to spend more time on the details at first, like registering a domain and booking a web hosting plan.
Let's start with the Duda and WordPress comparison with that in mind.
Ease of Use
Building your site tends to be challenging from many angles, but it depends on the platform you choose to build on and the type of site you're planning. Duda and WordPress do have some overlapping features.
The built-in features on each platform enable you to start working as soon as possible, giving Duda a significant advantage. Having all the tools you'll need without any more trouble is excellent news. Still, WordPress's enormous list of 3rd party plugins means every addition you could want is in the plugin repository.
Duda can be quite easy to use right out of the box, especially if you've spent time with other website builders. Overall, the learning curve for Duda will be smaller than WordPress in some areas but don't expect Duda to feel completely familiar once you fire it up. We'll get to that later.
Duda's Ease of Use
Duda is generally easy. While you log in for the first time, there is a 14-day trial available, and to our surprise, there's no need to enter your credit card info for that period. The trial period is only available for the Team plan, though. Once you sign up and choose your plan, you begin the creation process immediately.
Right after that, there's the template selection process, where you can pick a theme and start editing it. Although this setup feels faster than WordPress, it can still be overwhelming for some users who want simplicity.
With Duda being a website builder, some of the included tools are mostly suited for static pages, like landing pages and product catalogues. Still, with the inclusion of numerous third-party tools, the experience feels complete. There is also the option for CSS editing if you feel the need, but this is catered for advanced users and not for someone who doesn't have some coding experience.
The way this platform is built, with easy-to-use tools and an easy setup process, makes Duda a good option and a fast tool not only for small businesses looking to expand their online presence but also for digital agencies who tend to manage a big client portfolio.
WordPress's Ease of Use
By default, WordPress is built for blogs, but overall it is a great solution for building all kinds of websites. Professionals worldwide use WordPress, and there are some great examples of jaw-dropping WordPress websites on the internet.
Another important thing to remember is that WordPress contains sample content for you to play around with. There's a "Hello World" post, a sample comment and a sample page. Think of it as a headstart to make your stay more comfortable while exploring this open-source software.
All of the above help get around any bumps you might feel along the way while learning how themes operate. A severe downside of WordPress themes is that some have settings in different places. In that sense, the learning curve can vary.
However, WordPress has some extra theme editing options hidden in the Appearance menu, the Dashboard, and the front end, where you can directly edit your site's CSS. These are just some of the things you can do on that popular CMS, and there are plenty more available through a fine selection of plugins.
Which Is Easier to Use – Duda or WordPress?
Duda aims at people who want a website fast; to help with that, it brings many features already built-in for that purpose. But, which of the two is better?
Although having everything laid out from the start can be convenient, we're not going to pick a side here. WordPress makes this decision difficult by offering a tremendous amount of plugins through its repository, but you need to install and configure each one.
This installation process is entirely absent from Duda websites which take another road offering the most important features right from the start and through the platform's app store.
Templates and Customization
The website's look can be challenging and usually takes much of your development time. A website should be memorable, and the navigation should be as easy as 1-2-3!
No matter the website's type, ease of use should be a priority, while having neatly arranged content will help in many ways. Let's see how WordPress and Duda websites stack up in Templates and Customization.
WordPress Templates and Customization
Plugins and Themes are the most essential parts of WordPress. If you have WordPress installed and configured, you head to the Appearance > Themes menu in the Dashboard and get thousands of themes to choose from. You can then Download them and Activate them right from this menu.
The same happens with plugins through the homonymous menu under the Dashboard.
The power plugins and themes give WordPress the edge over its competitors, and Duda is like no other.
Duda Templates and Customization
The themes offered by Duda are all premium-looking and just over 110, giving you some great options. They don't need any installation, and unlike WordPress, they are all readily available from Duda's dashboard. Over 110 premium-looking themes mean you won't have a hard time finding the right one for your site, but it can be a limiting factor in the long term.
The integrations are Duda's strongest customization point. With the help of Zapier, a Duda website can easily import various automation triggers and actions. There are apps for making Contact Forms, showing pop-ups on the screen, embedding content from social media and a chatbot to give your Duda website an extra design flair.
In the Blog section, you can edit a post from the front end, but the selection of options is a little limited. WordPress's Gutenberg is getting better with every update, and now that version 6 launched, we have seen some remarkable advancements.
Pricing
Speaking of never-ending features, customization and add-ons is nothing until we calculate each platform's cost.
Duda Pricing
This platform comes in 4 versions. The "Basic" plan offers one site, email support, App Store and Membership options, a good way for an entry-level user to learn the platform. It's important to note that Duda hosts their sites on the Amazon Cloud for guaranteed server uptime.
We recommend the "Team" plan because you can try it for 14-days free of charge. In this plan, you get all of the above, plus Team Collaboration tools, Client Management, and integration with the Zapier app.
Moreover, there's the "Agency" plan, which only includes 4 websites. Although it ticks every feature box except the managed services, the cost and the limit on the number of websites you can create can be restrictive. This plan costs $44/mo if you choose to pay annually.
WordPress Pricing
Although WordPress is open-source and free software, you still need to host it somewhere! Currently, you can use WordPress in two ways. One is through your web hosting provider by uploading your files to your web host's control panel (based on cPanel or Plesk, for instance).
The other way is through WordPress.com, where a self-hosted version of the CMS is available at a low cost. This plan utilizes a free version of the CMS, but instead, it has a minimal set of tools and no plugin support.
Apps and Plugins
The platforms we compare today would be featureless if there weren't support for plugins or apps.
Duda Apps and Plugins
Duda has everything you need right out of the box, while WordPress requires fiddling around. That's the general rule of thumb.
From eCommerce tools to Blog support, Duda looks down to its rivals, having all of that available instantly, but there might be some limitations depending on your selected plan.
Regarding plugins, Duda has the App Store. A place where you can find apps to enable on your website. Some are free, while others are in trial mode with limited functions.
WordPress Apps and Plugins
The free version of the CMS on WordPress.com is limited and not related to the full (and free) CMS you download from WordPress.org. The free version is ideal for those who want to test the CMS or don't need too many features, and that's because the free version doesn't support plugins like the full-fledged version available from WordPress.org.
It's safe to say that the WordPress CMS unleashes its features if you pair it with a WordPress Managed Web Hosting plan like the one offered by HostPapa. These plans provide WordPress-specific optimizations, like speed boosters and site compression.
Is Duda Good for eCommerce?
Duda has a complete eCommerce system built in. According to stats gathered by Duda, "more than 80% of online stores launch in under a day", making Duda a good option for someone starting her/his small business right now.
Among the tools offered for eCommerce is the ability to sell goods on many platforms like social media, ensuring a consistent experience. The only limitations on Duda arise from the plan you choose and the features accompanying it.
For example, suppose you want to sell products as a subscription or generally have a catalogue of more than 2,500 products. In that case, you have to opt for the advanced eCommerce add-on for $19.25/mo (paid annually), giving you access to all that.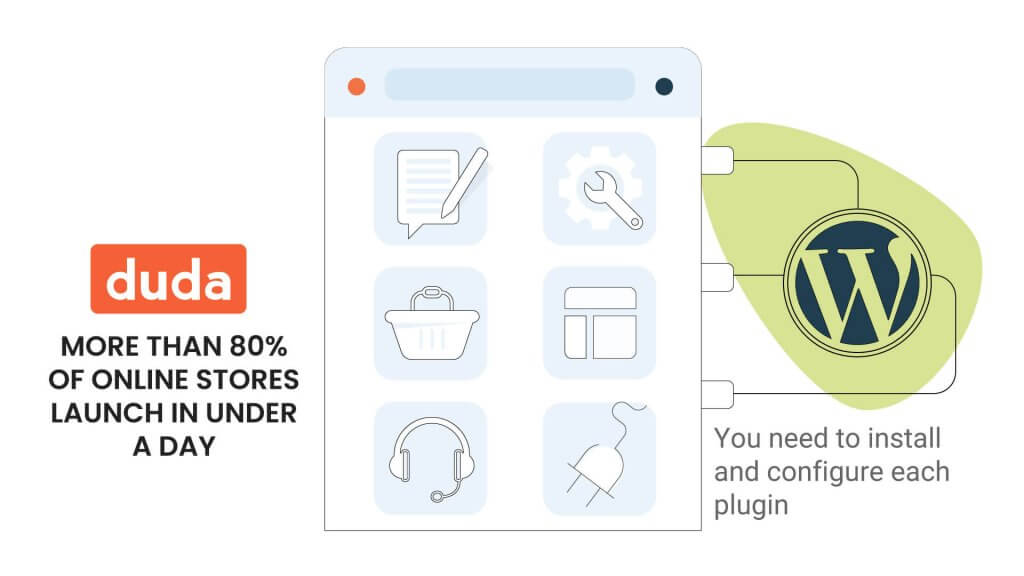 Is Duda Good for Blogging?
Duda has a blog option by default in all of the available plans. To enable it, navigate to Blogs from the left-hand side while viewing the front end of your site.
That will bring you to a simple blog post editor (WYSIWYG) and a few stock photos to use as placeholders for your posts.
Generally, the Blog experience is considered bare-bones over what WordPress is capable of, making it clear that Duda is more suited for static paged content and eCommerce, like online stores or small manufacturers that also sell their products online.
Customer Support
Giving answers as fast as possible defines great support, something that we at HostPapa value greatly. A user community filled with industry professionals or a Knowledge Base like we do at HostPapa is vital to keeping your users in your ecosystem.
WordPress Customer Support
WordPress maintains an official support forum for all its free users and a documentation database covering many aspects of the software.
Being the most used CMS on the market, WordPress easily wins that round by having an enormous community of users beyond the official forums. On the paid plan, users have live chat and email support available 24/7, something to keep in mind if you are just starting with the platform.
If your issue is related to a plugin or a theme, most developers have their own websites and forums you can visit, which is currently the biggest advantage WordPress has.
Duda Customer Support
One of Duda's selling points is its support and available recourses. The Resource Centre, the Duda University and the Duda Community are the three most important pages to get answers quickly.
You can find many marketing materials, guides, and information at the resource centre.
You can use email, chat, and phone support if none of the above can fix your particular issues. Keep in mind that Duda offers only email support with the basic plan ($14/mo).
Is Duda Better for SEO Than WordPress?
WordPress doesn't have many SEO optimization options, but the vast plugin repository has great tools like Yoast SEO or Squirrly SEO, where you can boost your traffic. 
There are also free and paid SEO plugins with more options to further generate traffic toward your WordPress website. Some of these premium plugins provide further integration with third-party services for monitoring and help by optimizing your keywords and other aspects of your site.
Out of the box, Duda has all the SEO options enabled and promises to bring your site higher in search engine rankings. The same applies to all the Duda website pages and the online store.
A simple Duda website might ask a little more than a simple WordPress website. It comes with less hassle, something that entry-level users and generally newcomers into the website creation world will appreciate.
On the other hand, WordPress web hosting prices are very attractive. With Managed Hosting Plans like the one from HostPapa, the hosting provider handles the setup hassle, making it super easy to work on the WordPress platform.
Can WordPress Stay Ahead of Duda?
In the end, plenty of platforms are available covering any possible use-case scenario. WordPress is a well-known swiss knife when it comes to features, and it stays that way even today.
New platforms emerge every day, but Duda is more than a decade-old website builder with many features for people entering the website creation arena. Having everything laid out can be beneficial, but it can create confusion or act as a boundary if you want more than advertised.
On the other hand, WordPress Web Hosting takes more time to set up, especially for inexperienced people, but looks more streamlined out of the box, with just the right number of options to start. If you want to add features down the road, the plugin repository is the place to look at inside your dashboard. Considering these facts, can Duda prove challenging for WordPress in the end?
Regrouping our thoughts, we see that Duda aims mostly at people who want a website in a matter of hours. This comes with some limitations newcomers won't notice, such as the lack of expandability, which is a de facto for WordPress.
The addition of apps through the app store gives Duda a fairly good amount of extra features, covering many aspects like event management, site search plugins, and forms for various tasks. However, WordPress still offers more options for creating more complete websites from any point of view.