Your website is at the center of your company's digital presence. Unlike social media or online marketplaces, it's a platform you can control and optimize to meet your business goals. But if you're a small business owner, you probably don't have much time to unleash your website's potential. Aside from copy and design, there are elements of your platform that your customers won't see, but that are vital if you want to keep it functional and safe.
For example:
Keeping your content management system updated
Securing the site against potential attackers
Performing recurrent backups
As a founder, you probably don't have the time to add website management to your list of duties. Effectively managing your website may be impossible if you don't have a web development background. That's how our managed WordPress hosting services enter the picture.
In this post, we'll share seven reasons why you should migrate your site to managed WordPress. But first, let's get a solid idea of what this type of hosting involves.
What is Managed WordPress Hosting?
If you're considering running your website on WordPress, you've probably already explored your options. You can get a self-hosted WordPress website or create and manage your site on WordPress.com.
We recommend self-hosted WordPress since it's far more flexible and cost-effective than its counterpart. But if you don't have a web development background, setting up a self-hosted WordPress site can be challenging.
Managed WordPress hosting provides a simpler, beginner-friendly experience while guaranteeing that your website remains fast and secure. You can delegate most website maintenance tasks to your hosting service provider with managed WordPress hosting. That way, you can spend less time worrying about your website and more time running your business.
On the other hand, HostPapa's managed WordPress hosting comes with a one-click WordPress install. A one-click WordPress install makes it possible to get your website up and running in minutes, even if you've never dealt with WordPress before.
Now that we have a clear definition, let's take a closer look at the benefits.
The 7 Key Benefits of Managed WordPress Hosting
While extremely important, having a simplified control panel is just one of many benefits you get with your managed WordPress hosting.
In this section, we'll take a look at seven factors that make managed WordPress your best option as a small business owner.
These factors are:
A simplified control panel
Expert support
Automatic backups
Easy-to-manage staging sites
Robustness and scalability
Time efficiency
Cost-effectiveness
Effortlessly High-Performing
In self-hosted WordPress, the cheapest solution is called shared WordPress hosting. The benefits of shared hosting mostly have to do with cost. And its most significant downsides relate to performance.
Your website lives on the same server as hundreds (or thousands) of others with a shared plan. These websites constantly compete for the server's resources, making shared hosting unpredictable. That's not the case with managed WordPress.
Managed WordPress hosting services respond to traffic peaks in real-time, assigning you the resources you need. Consequently, you won't experience downtime or a degraded UX as your business grows. And considering that site speed is crucial for SEO, managed WordPress could also help you rank better.
On the other hand, HostPapa's managed WordPress services come with a subscription to Cloudflare enterprise. Cloudflare is a CDN (Content Delivery Network) that guarantees that your website provides the same high-quality experience to users from all over the world.
Keep Your Website Safe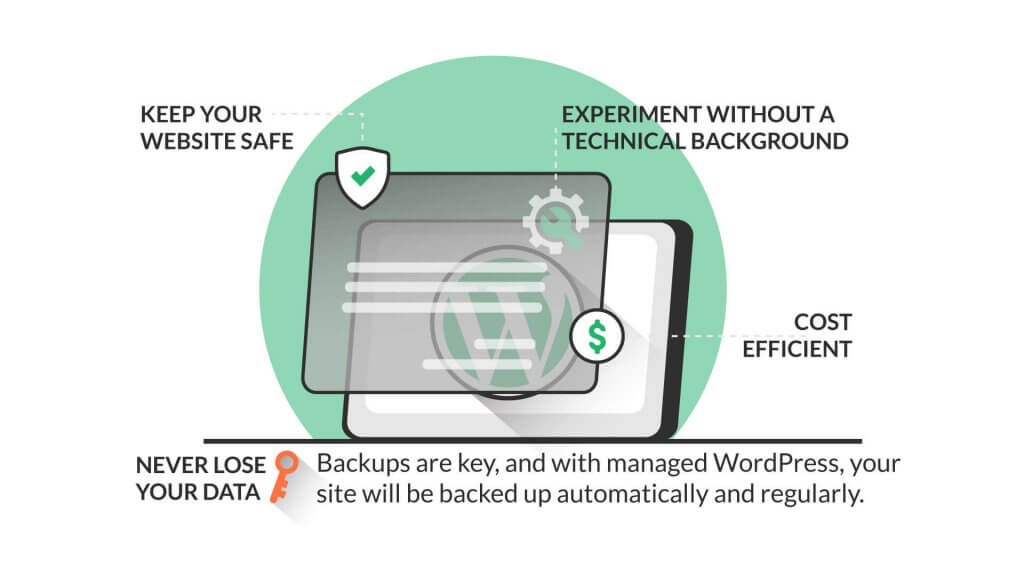 According to a 2018 report from Securi, 44% of hacked WordPress websites were vulnerable because they were outdated. Meanwhile, 52% of WordPress vulnerabilities relate to plugins, and most commonly, to outdated plugins. To keep your website updated is to keep it safe. And, with managed WordPress hosting, updates are triggered automatically as soon as they're available.
This hosting option also makes your site more secure by reducing the number of plugins you'll need. Since your hosting provider guarantees automatic backups, updates, and high speed, all those plugins that promise to optimize your website will become unnecessary. Using fewer plugins positively impacts your website's speed and reduces the risks associated with them.
Cost-Efficient
It's no news that downtime is expensive. For company data centers, every minute of downtime costs approximately $5,600. For small businesses, the impact of an unstable website might be harder to measure, but it's every bit as damaging.
A slow website frustrates your customers, hurts your SERP positioning, and prevents sales. Having no website at all is no longer an option. Last year, over 85 thousand new businesses went online, and the trend is unlikely to reverse.
A website managed by experts, updated automatically, and running on a best-of-class CDN is a competitive advantage. It provides a strong foundation to build a digital experience that engages and converts users.
While managed WordPress hosting isn't as affordable as shared hosting, there's a real return on investment.
Never Lose Your Data
It became increasingly uncommon in the last couple of years, but it's still possible for a theme or plugin to break your WordPress site. Backups are key, and with managed WordPress, your site will be backed up automatically and regularly. Thanks to automatic backups, you'll never have to worry about losing your data or about handling this necessary process manually.
While automatic backups help you experiment with your website without the fear of losing your data, there's another feature that will help you pre-plan every new change.
A Simplified Control Panel
There are many reasons why WordPress is the most used CMS (content management system). WordPress is versatile, secure, and easy to use. But your hosting control panel may have a steeper learning curve.
With managed WordPress services, your hosting panel is as simple as possible, giving you enough options to make relevant changes.
Put Your Website in the Hands of WordPress Experts
A managed WordPress hosting plan puts your website's most tedious maintenance tasks in the hands of professionals.
Recruiting and managing an in-house team that can take care of your website demands time, resources, and external help. And leaving your company's most important digital marketing asset in the hands of a freelancer can be risky, especially if you don't have the time and knowledge necessary to vet candidates.
Managed WordPress hosting provides you with the benefits of having a professional team maintaining your website while sparing you from hiring and managing new people.
Experiment Without a Technical Background
Let's say you want to change your website's theme and create some new sections with Elementor. If your company site has a steady inflow of traffic, you can't play with your layout directly, as it could create an inconsistent or confusing experience for those users who are currently online.
Another option would be to hide your website behind a maintenance page. You can get it done with a plugin such as WP Maintenance mode. But hiding your website could cost you business, as users will just leave the site and visit your competitors.
Staging sites allow you to make changes to your website without publishing them directly. Staging sites aren't available to the public and don't impact your site's live version. Once you're sure about the direction you'd like to go, you can deploy the changes in a few clicks.
Your HostPapa managed WordPress plans come with one staging site per website, ready to use.
Focus on What Matters
Beyond the flashy features, the most critical benefit of managed WordPress is peace of mind. Knowing that your website is always online, ready for traffic peaks, and constantly updated checks a couple of things off your list. Managed WordPress hosting saves you time and effort to focus on other stuff, whether it's growing your business or pursuing a hobby.
Managed WordPress allows you to take a lot of things for granted, and if you eventually hire experts to run your website, their activities will be far more ambitious and specialized. For instance, instead of spending hours handling updates and backups, they'll be able to invest their time implementing A/B testing or making your site more accessible.
Managed WordPress vs. Shared Hosting & VPS
Finally, it's worth exploring the downsides of managed WordPress compared to shared hosting and VPS hosting.
As we discussed a few paragraphs ago, shared hosting is more affordable but less scalable than its more expensive counterpart. But it does have some benefits. Shared hosting plans usually come with email services, and they allow you to install many content management systems besides WordPress.
Virtual private servers (VPS), on the other hand, are virtual machines where you can host several websites at a relatively low cost. The main downside of VPS hosting is that it requires a high level of technical expertise. For instance, to install a CMS in your VPS, you'd need to access it through SSH and type in commands in a terminal. As a non-technical business owner, you shouldn't have to do all that to get your website up and running. This probably isn't a sustainable option if you don't have a technical team in-house.
With this in mind, you can conclude that managed WordPress is your best option to run your company's website.
Get the Best Managed WordPress Hosting Today
HostPapa is an international hosting service provider specializing in small businesses like yours. Taking your business online can be as overwhelming as it is essential, and that's why our mission is to help you make it happen. Begin your journey today; discover our managed WordPress hosting services.
Grow your company and website with confidence. Managed WordPress provides peace of mind with premium performance and security, without the usual WordPress maintenance.
Managed WordPress comes with the following features and more:
Full-page caching (over 200 locations worldwide)
Automated backups and updates
One-click staging website
One-click restore and recovery
Website Security Suite
Website Application Firewall
WAF/CDN analytics and reporting
24/7 expert WordPress support
Are you already a HostPapa customer? Contact us today to get a 1 month free trial of Managed WordPress!