Blogging continues to be the best marketing strategy to grow your online presence, whether you have an eCommerce or SaaS business. Creating a good blog adds significant value to what you sell, helping to attract an audience to your site.
Linking your blog with your site can help convert your casual visitors into paying customers or subscribers, however, the key to blog success is choosing the best platform.
In this article, we've lightened the load of searching for the right blogging platform by doing the research for you. Here are our top recommendations for the best blogging platforms, guaranteed to give you results this year.
How to Choose a Blogging Platform
Even with a list of the best blogging platforms on your hands, you'll have to choose the right one for you. After all, different platforms will have unique features.
Take a look at the four key features to look out for when choosing the best blogging platform for your site.
1. Content Editor
The content editor is perhaps the most essential feature of blogging. This is where you'll work on everything to do with your blog. Because of this, the first thing to focus on when choosing a platform is a user-friendly content editor.
The easiest way to pick a platform with the right content editor is to list the features you want the editor to have. You can also confirm whether or not the content editor of a particular platform can be viewed from different devices so you can work on your blog post from anywhere.
2. Themes and Templates
Themes and templates determine your blog's overall layout and look. It's important to choose or design the right templates and themes for your niche blog – they play a role in attracting the attention of your blog visitors (who may convert into customers).
In addition to determining how your blog will look, themes and templates also increase the convenience of creating blog posts. Choosing a theme and template eliminates the time spent designing each post. With pre-set themes and templates, you can get straight to posting your blog posts so you can focus on other essential tasks.
When choosing the best blogging platform, look at what's offered. Are the themes and templates geared primarily towards blogging? Is there a wide variety to choose from? Are most free or paid for? How much can you customize them to meet the needs of your brand? Do most options come pre-designed, or can you create one yourself?
All these factors are essential in picking the right platform based on your needs, time, and of course, your budget.
3. SEO Features and Tools
Ultimately, blogging helps to improve your online presence, so the platform you choose needs to offer adequate SEO tools. This ensures that enough traffic can be directed to your blog.
Other platforms also integrate with third-party tools, such as Yoast, to guide you through optimizing your content. These tools may not necessarily be important if you're an SEO expert,
but non-experts are better off going for platforms that offer easy SEO tools.
4. Extensions, Plugins, and Integrations
As mentioned above, many blogging platforms will support third-party apps. This comes either in the form of extensions or full-on integration. After all, you really can't find a blogging platform that gives you all the features you need.
Looking for this component is pretty straightforward: list out all the functions you want to in your blog, then cross-check with the platform's integration and extensions list to make sure you find them. For example, certain WordPress plugins can integrate with social media apps, like Instagram and Twitter, allowing you to directly post your blog straight to these media platforms.
Which Blogging Platform is Best for Beginners?
WordPress.org is the best blogging platform if you are a beginner. Built for any type of business, the platform offers a full suite of website building. WordPress features a user-friendly site builder that requires no web development or coding knowledge.
You can find thousands of WordPress themes on the market that make setting up your blog quick and easy.
The Best Blogging Platforms
Let's take a look at the best blogging platforms for this year. For each platform, we'll share its features, pros and cons, and pricing, so you can choose the right one for your needs.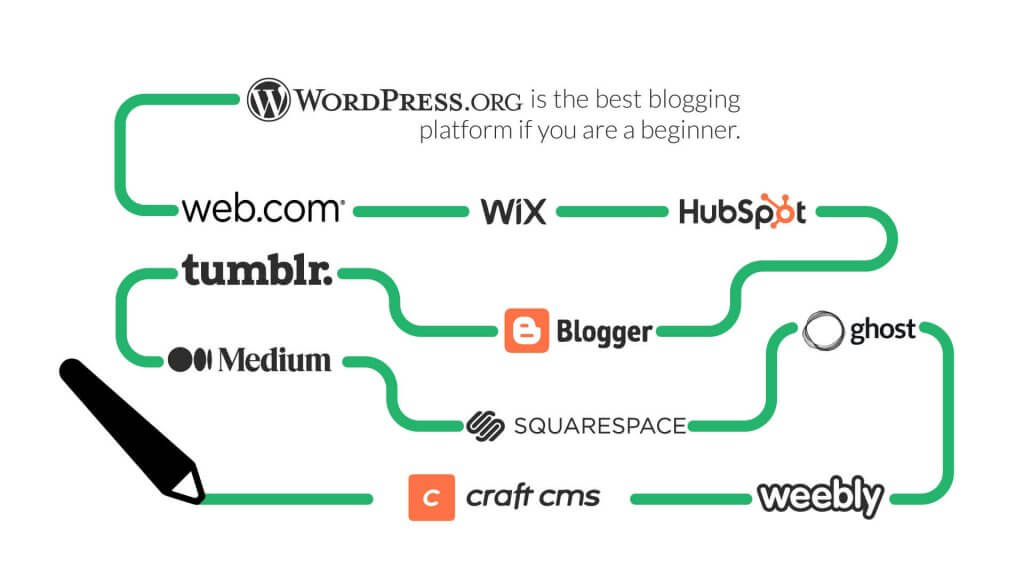 WordPress.org
WordPress.org is an excellent option for beginners and experts alike. In fact, according to their official site, up to 43% of the internet uses WordPress, including hobby sites, news sites, or eCommerce platforms.
Not to be confused with WordPress.com, WordPress.org is open source software anyone can download to build their own site or blog free of charge. Compared to WordPress.com, WordPress.org offers more features. However, the software requires paid self-hosting and domain names.
Main features
WordPress.org is an excellent option for those who want full customization freedom over their blog. WordPress.org offers over 4,500+ free themes and patterns (or layouts) to choose from. Alternatively, you can choose to add your own themes, buy themes from any third-party marketplace, or create one from scratch.
There's also an extensive list of over 60,000 plug-ins to get resources for your blog or install your custom plugins to fit your site's needs. You can connect WordPress with software, including your favourite CRM, employee engagement software, membership software, and more.
Pros
Complete control over customization and analytics
4,500+ free and paid themes and patterns
50,000+ plugins, extensions, and apps
Mobile-friendly content editor and themes
Cons
Requires paid self-hosting and domain name
Pricing
WordPress.org is a free, open-source platform, but you need to purchase a hosting plan to use it. HostPapa offers fast and excellent hosting servers at a very affordable cost.
Web.com
If you're looking for an affordable option to build your online presence and boost traffic to your site, Web.com is the perfect tool for you. 
However, its affordability is not the only factor that makes Web.com among the top-rated online platforms. The shared hosting platform also offers a selection of useful features for your blog.
Main Features
Web.com offers an intuitive drag and drop builder to build the blog you want. To complement the builder are hundreds of themes and templates to choose from. You'll be able to make changes to your blog from desktops, tablets, or smartphones.
Web.com offers a free domain name, shared web hosting, and a business email. While higher plans offer advanced SEO, analytics, and security features, the basic plan doesn't have these options.
Pros
Ready-to-use templates
Easy-to-use drag and drop builder
Block builder instead of sections for more design freedom
Budget-friendly option
Access to countless stock images for blogs
Cons
Limited extension and plug-in options
Migration onto a new platform is challenging
Pricing
Web.com is extremely affordable. You can get the basic plan for only $1.95/month. The marketing plan is $42.95/month and the eCommerce plan is $3.95/month.
Wix
Wix is a perfect blogging platform for bloggers with no tech experience, making the list along with WordPress as the one most popular blogging platforms. It allows you to enjoy blogging services and hosting in one place.
Main Features
Using Wix gives you access to plenty of features to expedite your blog design and setup. You can opt for one of its 800+ pre-designed templates.
Alternatively, you can use programming skills to create your templates from scratch using HTML and CSS. Unlike other site builders, Wix has a third blog building option that helps you achieve your dream design.
Wix features an Artificial Design Intelligence that curates a blog for you based on your answers to questions. Built for every type of blog, you can access numerous other features. These include access to over 250+ integrations, advanced SEO tools, built email marketing, online stores/services, and full-on analytics.
Pros
Unique artificial intelligence design to create the blog you want
Advanced configurable SEO tools for each blog post
Dedicated site features for online stores
Quick setup process
Free stock images to choose from
Cons
Limited customization options
Pricing
Wix offers four price plans. The most basic plan has a 1GB bandwidth and costs $4.50/month. The Combo plan for personal use has a 2GB bandwidth and costs $8.50/month. The unlimited plan is perfect for entrepreneurs, offering unlimited bandwidth for $12.50/month, and the VIP plan with a professional logo costs $24.50/month.
HubSpot CMS
Also known as CMS Hub, HubSpot's Content Management system is an excellent option for bloggers who want access to rich functionality. Built to pull in traffic for your site, HubSpot CMS is geared towards both marketers and developers. The site lets you create a blog that caters to your business needs and makes it easy to manage them.
Main Features
HubSpot has essential tools to boost your traffic, such as SEO recommendations. CMS Hub combines stellar pre-designed templates and built-in SEO tools (like forms and CTAs) to make it easy to set up your blog posts. It even allows you to run A/B testing for different languages so you can reach more audiences. CMS Hub also comes with great customer support, including live chat.
Pros
Extensive built-in SEO tools
A/B testing for different language variations
Desktop, tablet, and mobile-friendly
Part of a full suite CRM tool
Ability to link blog with social media accounts
Cons
The complex CRM tool may be hard to use for hobbyists or small businesses
Plans are costly
Pricing
CMS Hub offers three key plans, depending on your business needs and size. The Starter plan starts at $45/month, the Professional plan starts at $800/month, and the Enterprise plan starts at $3,200/month. Each plan includes hosting and domain name, and the Professional and Enterprise Plan both come with a free 14-day trial.
Gator
A product of Gator Hosting, Gator is an excellent all-in-one blogging and hosting solution. It's a popular option among beginners and professionals, along with eCommerce business owners.
Main Features
The premium site builder stands out for its simple 5-step blog setup process. All you have to do is fill up a questionnaire and let the site builder's AI convert your data into an intuitive design and layout. Its interactive site builder also features an online logo maker for beginners starting from scratch.
Alternatively, you can quickly upload a pre-existing design. The image library lets you add images for your blog, while the customization menu enables you to make essential tweaks to your font, theme, colours, images, and even navigation to stand out.
Pros
No manual editor
Email campaign tools included
Product online store included
Excellent customer support
Intelligent site builder creates an optimized layout and industry-specific designs
Cons
Limited list of extension and integrated apps
Higher plans offer better eCommerce features
Pricing
Each Gator plan includes a free domain, SSL certificate, and hosting services. A plan will also give you access to tools to curate and send out email campaigns to subscribers, list products on your online store, and even book appointments to boost your eCommerce business. Plans start at $3.46/month for Express Stater, $5.39 for Express Lite, and $8.30 for Express Store.
WordPress.com
WordPress.com is a popular platform amongst bloggers, thanks to its navigable design, simplified process, and zero tech complications. While a basic plan with a subdomain is free, you'll have to pay for a domain name if you want a custom one, extra storage, and other add-one services.
Main Features
While still a popularly used blogging platform, WordPress.com maintains unique templates, layouts, and themes in its paid plans. The site offers over 11,000 different templates, layouts, and themes for free.
The powerful site builder also complements its robust content management system, offering a full suite of optimization tools to make sure your content gets noticed. If this isn't enough, you can take advantage of its 50,000+ plugins, whether you want to focus on SEO, marketing, or social media tools.
Pros
Easy to set up – no coding knowledge required
Generous template and theme options
Free plan with no custom domain available
Caters to all types of bloggers – not limited to eCommerce
Cons
WordPress maintains ownership of your blog – it can easily get suspended with ToS violations
Limited theme and site customization plugins
Pricing
WordPress.com offers a free plan; however, your domain will have "WordPress" in it. Your blog pages will also include a WordPress logo and ads. The lowest personal plan will cost you $4/month.
A Premium plan designed for freelancers costs $8/month, the Business plan (for small businesses) costs $25/month, and the eCommerce plan will cost you $45/month.
Blogger
While many site builders are designed for various types of websites, Blogger is geared towards blogs. The free platform is an excellent tool for beginners and new business owners who want to establish traffic towards their site and promote their services.
Main Features
Blogger has a limited content management feature catalogue. However, it's still generous compared to other free services. It has about 12 themes and eight layout options to choose from and offers excellent visuals that work best for lifestyle blogs or small businesses, as limited as this may be.
You can also take advantage of a few SEO tools and integration apps such as Google Analytics or Adsense. However, if you want to customize your site further, you'll need some HTML and CSS knowledge.
Pros
Great for lifestyle blogs and small businesses
Easy to set up your site
Beautiful layouts and themes
Free for anyone to use – including hosting and subdomains
More features than other free blogging platforms
Cons
Limited customization options
Limited extensions and integration apps
Pricing
Blogger is a completely free service with free web hosting and subdomain. However, you may need to pay to access some third-party themes and apps.
Tumblr
Tumblr caters to individuals and businesses that want a site builder with a social media personality. It allows companies to engage their followers and audiences actively, giving them more character. It's even described as a microblogging and social networking platform on the official site.
Main Features
Due to its design, Tumblr offers limited features compared to what you'd find in a traditional blogging platform. Even so, it provides great value when it comes to blogging, allowing you to share multimedia and content in short-form blogs. You can even make the blog private, viewable only to your followers.
The platform has a dashboard where you can create and manage your posts. While the site has a standard layout, like any other social media, it allows you to customize themes. You'll need some HTML knowledge to be able to edit the theme, the appearance of the blog, and create a custom domain name for the blog.
Pros
You can connect your account with Twitter and Facebook accounts
You can set up scheduled or delayed posts
Tags for easy discovery
Mobile-friendly app
Allows interactive messaging from followers
Cons
You cannot create customized layouts
Some restrictions on what, how, and when you post
Pricing
Like other social media platforms, Tumblr is free. You can even create a domain name for your blog for free. You don't have to worry about hosting costs, either. In fact, it may work the other way – beta users can monetize their blog posts on Tumblr.
Medium
Although it's not a traditional blogging platform, Medium is an online community that allows bloggers, journalists, and just about any writer to post and write articles on a cross-section of topics or niches.
You can use the platform to post anything from marketing content to hobby topics. The best part is you don't have to worry about hosting costs or getting a custom domain name.
Main Features
Medium doesn't involve site-building and domain name creation, like regular platforms. Instead, it works like a social media site, requiring you to create an account with a profile where you can publish your content. Instead of a domain name, every user simply has a standardized medium domain like https://medium.com/@yourname.
Medium doesn't have any dedicated templates, layouts, and themes to choose from as they are all pre-determined and standardized. The only leverage for attracting traffic to your content should be how well you curate it.
Pros
Easy and quick to set up
Completely free of charge
Anyone can write about anything
You can monetize your content through the Medium Partner program
An online community where you can find people with the same interests
Cons
No design freedom
Difficult to stand out due to standardized design and layout
Pricing
Medium is completely free to use.
Squarespace
Squarespace is perhaps the best option for individuals and businesses that want to leverage design to pull in traffic and increase their conversion rates. The platform offers some of the most visually and aesthetically impressive layouts and designs to make your blog stand out.
Main Features
Squarespace offers over 140 different templates from its award-winning design arsenal. It pairs well with other available resources to help you curate a unique site.
You can even take advantage of the 350 free plugins offered by Squarespace. For example, you can create unique and layout corresponding images from Getty or Splash or customize the layout with third-party layout and design apps.
Pros
Award-winning template library
Mobile optimized site pages
Rich SEO tools to improve online visibility
You can link your site with social media accounts
Built-in analytics
Cons
Only 30 extensions
Not many template options
Pricing
Squarespace has three main pricing plans. These include Personal, Business, Commerce, and Advanced Commerce, priced at $12, $18, $26, and $40/month, respectively.
If you're a business owner, depending on the size of your business, you should at least choose the Business plan. From this plan, you'll access extra features, such as professional email, premium integration customized video studio app, and full customization with CSS and javascript.
Ghost
A free open-source and premium blogging platform, Ghost is an excellent option for users who want to enjoy advanced technical features. While the site allows you to download and create a blog for free, you still have to pay for hosting services.
Main Features
When it comes to layout and design, Ghost offers a clean and navigable builder, easy for anyone to use. Before posting any content, you can preview it and even use coding to make the content stand out.
Ghost offers free features you'd have to pay for on most platforms. These include native SEO, email newsletters, and paid subscriptions. Additionally, Ghost facilitates easy migrations from other platforms, such as WordPress.
Pros
Built-in SEO tools
Links to social media accounts
Built-in Javascript to make it easier for beginners
Clean and easy-to-navigate interface
No setup is required for hosting
Cons
Requires paid hosting services
A little difficult to install
Pricing
As an open-source platform, Ghost is completely free when self-hosted. However, this process can be a little difficult and requires technical knowledge. Alternatively, you can opt for paid hosting plans of your choice and take advantage of its advanced features.
Weebly
Weebly works as a great option for people looking for an easy-to-use site builder. It lets you enjoy all essential features in one place, including hosting, and create as much content as you want without complex functionality.
Main Features
Weebly is designed with an easy-to-use drag and drop editor with multiple sub-menus to find what you need quickly. You can choose over 50 themes, which are grouped into seven main categories, ranging from events to business.
You can further customize your site layout using other features, like forms and images. Thanks to its simple functionality, Weebly even lets you organize your content further using sub-navigation menus.
Pros
Up to 7 categories of themes pre-designed for you
Customizable layout with forms, themes, etc.
Mobile optimized templates
Simple design interface
Supports multiple contents
Cons
Limited flexibility – lacks full drag and drop freedom
Limited design and template options
Pricing
Weebly offers a free plan with no custom domain suited for individual or hobbyist blogs. Paid plans include the Connect plan which costs $5/month, You'll have to separately pay for a custom domain if you need one.
For eCommerce businesses, the Pro and Business plans, priced at $12 and $25/month, are a better option. The plans come with a free $20 value custom domain name and offer more advanced tools, including unlimited storage and SEO.
Craft CMS
Craft SMS is a great blogging platform option for business owners, web professionals, developers, and designers who want to grow traffic through unique design and content. Craft CMS is favoured for its rich customization options.
Main Features
You can choose from over 40 different paid templates curated by independent web design from the Craft CMS global community. Alternatively, you can create one yourself through HTML coding, giving you full control over the functionality and appearance of your blog.
However, you'll need substantial coding knowledge to do so. In addition to the design and layout, you can further customize your blog using the image editor and even replicate the blog in different languages.
Pros
Built for web developers, designers, and content authors
Free account available
Great customization features
Personalized content modelling to help you stand out
Full creative freedom
Cons
You need coding and web development experience for manual customization
Lacks free templates
Pricing
Craft CMs has a free plan ideal for hobbyists. You can opt for the Pro plan which costs$299 for every site-building project and an extra $59 annually for updates. Other plans include the Lite plan for single-time eCommerce transactions for $199 per project and $39 annually for updates.
An eCommerce Pro plan will cost you $999 per project and $199 annually for updates to enjoy a fully-featured eCommerce experience. The site also offers personalized rates for the Enterprise plan.
Contently
Contently is built for large eCommerce businesses at the enterprise level who want to grow their audience through blogging. The platform allows superior content management and elaborative analytics and reporting.
Main Features
What makes Contently unique is that it takes away the editorial load off your shoulder. It features an elaborative site builder where you can strategize, create, and manage your content with automated calendars, tagging, and organization tools.
You can even hire vetted freelancers on the platform to do the writing for you. To maintain synergy and quality on your content, the site features a unique smart content review tool to align the content with your brand and optimize it.
Pros
All-in-one solution for content management
Curated for enterprise-level businesses
Vetted freelancers to create content for you
Smart content review tool with SEO built-in
Detailed analytics and performance comparison
Cons
Extremely expensive
Not so attractive designs and layouts
Pricing
Contently amongst the most expensive blogging platforms on the market. The lowest you can pay on this platform is $999/month. Depending on your business model, needs, and size, you can pay as high as $3,000/month.
Joomla
Joomla is an excellent alternative to WordPress geared towards community building. The open-source CMS features an all-in-one advanced content and user management tool. It does an excellent job of providing rich features while catering to different types of blogs.
Main Features
Joomla packs rich functional features – it lets you take control over your site's layout, design, and appearance. You can choose to design your site from any of the Joomla CMS front-end templates or back-end templates.
The platform offers an extensive extension library through its Joomla! Extensions Directory, giving you access to over 7,900 extensions. Other functions the platform allows include multiple user management and content publishing in various languages.
Pros
7,900+ extensions
A choice of front-end and back-end templates
Extensions include more user-friendly and interactive site builders
Automated social media posting
Publishes content in multiple languages
Cons
A lot of resources to filter through
Steep learning curve
Pricing
Compared to WordPress, Joomla can be a little expensive. It offers a selection of bundle or single subscription plans with no free plan or trial. The bundle's plan allows you to manage anywhere between 1 and 10 Joomla sites, costing you between $99 and $399. The single subscription plans range from $29 to $69.
Drupal
Built for developers, marketers, and agencies, Drupal is the perfect tool for flexibility, the platform is an open-source CMS with a self-hosted option to cater to more complex blogger needs.
Main Features
Drupal offers a choice of over 2,900 templates and themes to pick from. Alternatively, you can take advantage of the open-source setup to build and customize your own, building your site the way you want it. The platform supports a wide variety of content through different elements, such as layout blocks, views, and taxonomies.
Pros
Wide selection of out-of-box features
Multiple templates and themes to pick from
Built-in user management permissions
Multilingual site support
Flexible customization
Cons
Easier to use if you have a web development background
The steep learning curve for beginners
Pricing
Drupal is a free-to-download open-source platform but you'll have to pay for hosting and a domain name. The Drupal site recommends using Bluehost as a hosting service, among others.
Write.as
Write.as is a minimalist's haven, offering a clean and simple interface with basic but eye-catching designs. The lightweight platform is favoured for its privacy features.
Main Features
Write.as provides a basic editor with an auto-save function for easy content creation. Its design makes you feel like you are writing in a virtual journal, allowing you to focus on content creation. The platform also integrates with sites like Google, so you can share items like proposals and track work.
Pros
Free platform
Simple and beautiful minimalist layout
"Virtual journal" editor lets you focus on content curation
Ad-free no-cost plan
Gallery with beautiful and simple images
Cons
Text formatting is a little complex
Steep learning curve
Pricing
Write.as offers a free plan with a subdomain. If you want to have a custom domain name, install a custom theme and remove nofollow tags from your links, you can opt for a paid plan. The Pro plan with a single user will cost you about $6/month while the Team plan with multiple users will cost you $25/month.
Summing It Up
The key to growing your online presence, directing traffic, and increasing conversion rates to your site is to invest in a good blogging platform. Knowing the right features for your blogging needs is the easiest route to choosing the perfect platform. Some of the best blogging platforms like WordPress are well versed in serving different needs. The platform is equipped with easy-to-use tools, WordPress-friendly hosting, and services that guarantee competitive speed. With over 50000+ plugins, this option will also give you creative and management freedom to curate the blog you want.