Does blogging still work in 2020? Some small business owners wonder if the blog, as a marketing tool, has seen better days. The fact is that blogs are just as relevant today as they were ten years ago.
In this article, after reviewing some blog basics, we'll look at why blogs are so effective in customer engagement. We'll wrap up by listing the best practices that will earn your business the most significant impact from blogging.
What Is a Blog?
Let's take a quick look at the basics of blogging. There are over 600 million blogs online, and 77.8 million blog posts are published each month.
There is one main reason that small businesses, especially B2B operations, rely heavily on blogs for customer outreach—blogs attract prospects. They can generate as many as 67% more leads than a business would get without blogging.
Blogs didn't start as the stellar marketing tool they are. Blogging started as a means for content creators to produce and catalogue their thoughts online. This type of content was initially called a "weblog," but then it was shortened to "blog."
Before long, marketers and business owners began to notice the amount of traffic that blogs generated. This inspired marketing teams to create blogs to build an audience and generate sales for their clients' businesses.
Today, blog content can take many forms, as we'll discuss in the next section.
Business Blog Content Types
For your blog to effectively engage customers and prospects, it must give them information that they find valuable. This information may be highly detailed to attract a well-informed customer base or cover the ABCs of your subject, which would appeal to new customers.
Knowing who your target audience is will help you determine the type of content that will best resonate with them. Here are a few examples of successful blog content types for businesses.
Thought leadership: By establishing a blog that contains cutting-edge content in their niche, a company can establish itself as an industry leader. This can help the company attract customers who put a high value on getting answers from a trusted industry expert.
How-to: Consumers are continually searching for answers. They need step-by-step solutions to problems, and the information needs to be readily understandable. A business blog can establish trust among current customers and prospects by providing how-to instructional content.
Checklists and guides: Checklist blog posts are an excellent resource for potential customers, and they're easy to create. Content guides give businesses a chance to offer more comprehensive guidance for customers who need in-depth details. Both of these two content types can be made available for free to drive organic traffic or provided as downloadable content (lead magnets) in exchange for prospects' contact information.
Company news and events: Posts about a brick-and-mortar business' events can drive traffic to the location. Also, sharing a positive press release is a great way to provide additional information to a potential customer.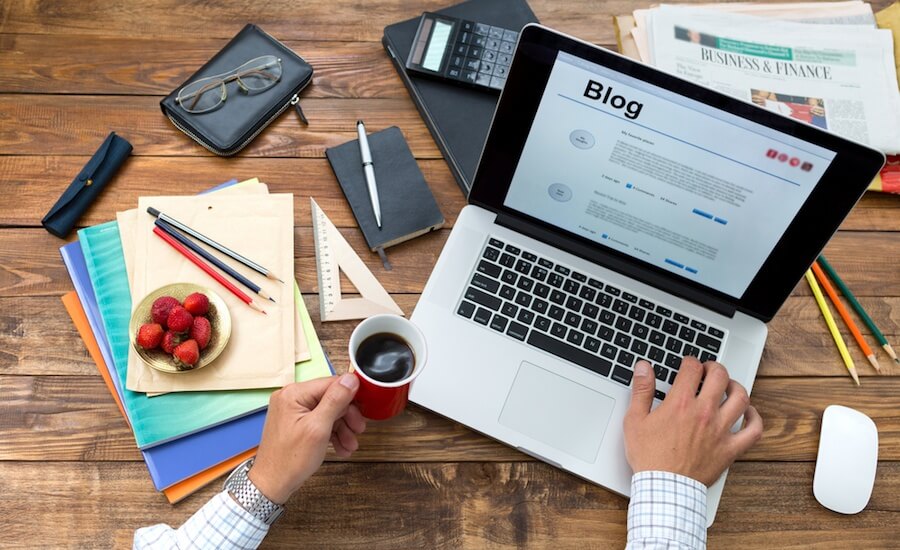 Each time a prospect reads your blog, that's an opportunity to begin building a relationship with them.
On the other hand, your blog can help maintain your relationship and increase the loyalty of your already existing customers. In both cases, your end goal will be to engage the target audience to make them want to purchase your products or services.
In the next section, we'll explain what a small business can gain from blogging.
Advantages of Business Blogging
The advantages of business blogging that have historically made it such a useful marketing tool are still what make it worth the effort.
People are now used to getting helpful information from blogs and with sophisticated search algorithms making it easier for them to find the content they're looking for; blogging is serving the consumers more than ever. But what about the business owners who publish it?
It's important to remember that providing content is not the endgame. All the advantages of business blogging come from using your blog as a part of your broader marketing strategy. In this section, we'll go over four of the many advantages of blogging that illustrate that point.
Build Subject Authority: As stated earlier, blogs are articularly useful for building trust and authority in the minds of prospects and customers. This authority can be leveraged to expand your audience and separate you from the competition. Your blog can help convince people that your business is the best source for what you provide.
Improve SEO with Long-Tail Keyword Targeting: There are two types of website traffic—paid and organic. Paid traffic is generated through digital advertising, but organic traffic is generated by creating quality content and optimizing it so search engines will find it. Optimizing content in this way is referred to as search engine optimization (SEO). Blog content allows a business to target phrases and or keywords that its customers and prospects search for when they have a problem or need information. In some cases, people will search for a single word, but search terms are usually more detailed than that. You can optimize your blog content using long-tail keywords to attract people looking for exactly what you sell. A long-tail keyword is a keyword phrase that starts with a highly relevant, but somewhat generic word related to your business, followed by particular but less common keywords. Long-tail keywords have lower search volume, meaning fewer people will enter them, but the prospects that do will be well-qualified. Targeting long-tail keywords usually allows a business blog to gain a higher quality of organic traffic. The longer search phrase is much more specific than a single keyword, and it is less competitive than a shorter keyword phrase.
Develop Mailing Lists for Email Marketing: One of the best ways to grow your customer base is through email marketing but, for it to work, you need a list of email addresses. Blogging is a great way to build your email list. You can gather email addresses as part of the subscriber signup process. For non-subscribers, every post is another opportunity to convince them to subscribe or take another action that involves providing their email address.
Creating Loyalty: Creating loyalty among your customer base is the natural byproduct of publishing high-quality blog content. When your business offers solutions, answers questions, and provides an excellent product or service, customers will not only be loyal but also share your content and promote your brand.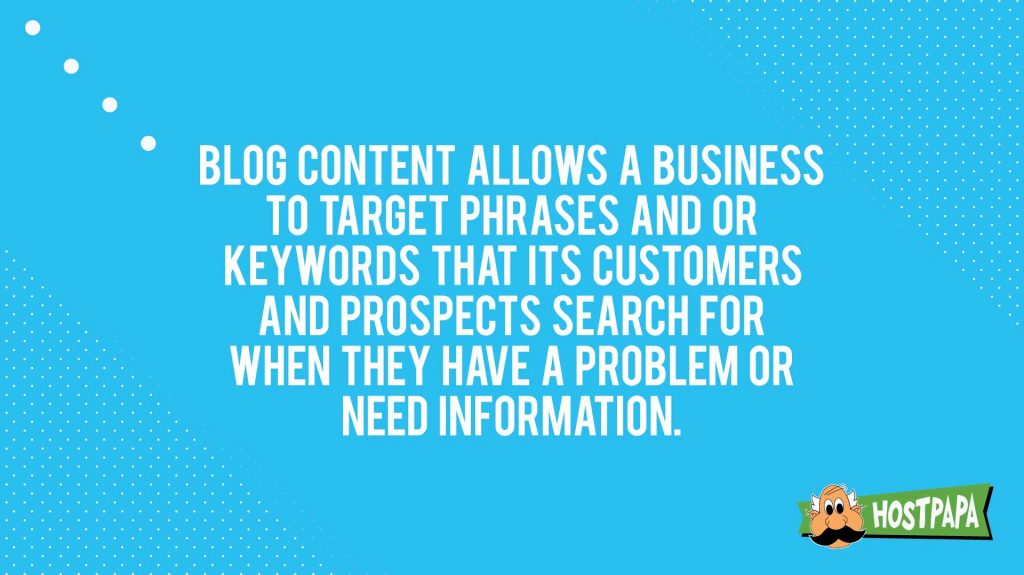 Blogging Best Practices
Now that we've discussed the reasons why blogging is still essential and examined its benefits let's look at some best practices that, if adopted, will make your blog a working component of your marketing strategy.
Strive for Quality Over Quantity
Take the time to research and understand the desires and pains of your audience. Create meaningful content that helps them. If you want to rank on Google, look at what's currently on top of the search engine for your niche and try to create content that's better than what you find.
Don't lessen your blog's effectiveness by posting too frequently. It's hard to maintain a high degree of quality when you do that, and an excess of posts can become noise for your audience, which they'll ignore.
Make Your Posts Easy to Read
Even when a user arrives at your blog because they explicitly sought out information in your niche, that doesn't mean they want to read a whole book about it.
Your blog posts have to be on-topic and concise, getting straight to the point and giving the reader exactly what they want. Use short sentences and paragraphs, lists, and, if possible, graphics to convey the information.
Publish Unique Content
What is unique content? Neil Patel has a great article on the Nine Ingredients That Make Great Content, and the first thing he mentions is content originality. You must create content that can't be found anywhere else online.
Try to create content based on your unique skillset and experience. It's unlikely that anyone will have the same take as you—that means you have the chance to differentiate yourself from competitors. If you can demonstrate, through valuable blog content, that you have the best product or solution, customers will flock to your business.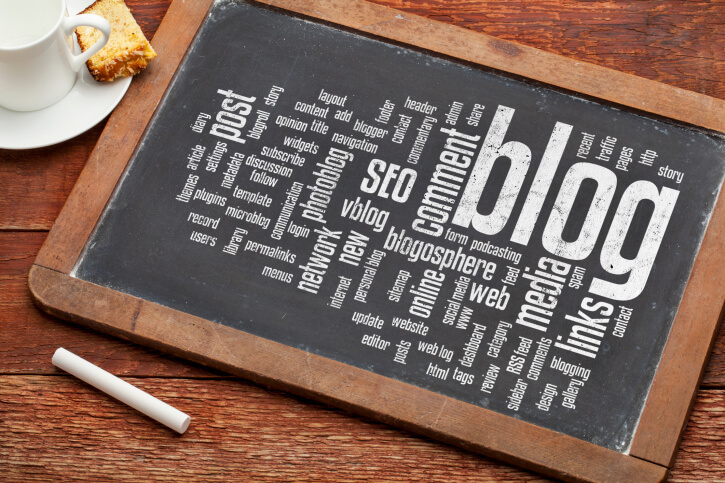 Ensure Easy Subscription Sign-up
You should keep the blog subscription process as simple as possible. Don't make new subscribers jump through hoops to get on your email list. You can use tools like Sumo to capture email addresses easily.
Focus on the Goal
Blogging is a long-term investment. To be successful, you'll need to strategize and then carefully execute your plan. Understand and identify your main goal and focus on it day by day.
When researching, creating, and publishing high-quality blog content, it may feel like you're too many steps away from selling your products and services. Don't look at it that way. Your blog will be the first step in the process of customer engagement that, if successful, will result in a purchase and many future purchases.
When you're blogging to increase sales to your already loyal customer base, create every post with that goal. On the other hand, if you're blogging to build brand awareness among prospects, you should tailor the content accordingly and track metrics to help you gauge effectiveness for that specific goal.
Dive into the Topic
Your subscribers will expect you to delve into the topic, not just offer surface-level information. You should consider the most common questions asked by readers and include solutions to less frequent problems.
It's okay to publish list posts as well and shorter posts that cover basic information, but you should also expand on those topics in more detailed posts that show your expertise.
Pay Attention to the Visuals
Images, colors, and layout are often overlooked in blog posts, but they're vital if you want people to consume your content. You must capture the reader's attention early, and a post that appears with easy-to-read fonts and eye-catching graphics will do that.
Remember, with other similar sources competing for the user's attention, your blog's design and layout are just as important as the content.
Use Internal Links, External Links, and Backlinks Effectively
Don't forget about the internal links. Whether they steer people from other parts of your website to your blog or they exist within blog posts to help people navigate from entry-level information to your more advanced posts, internal links will help you reach your goals.
Two other key components of blogging success are external links and backlinks—they both contribute heavily to your SEO.
If another log links to yours, you have a backlink; if one of your posts includes an external link, that's a backlink for the target site. Both backlinks and external links help search engines recognize your site as relevant in your niche and get you a higher ranking in search results.
You should include links to authoritative sources and try to get sources like that to link to your blog.
Business Blogs Still Matter
Blogs are still a valuable marketing tool for businesses in 2020. Want to make it work for your business? Start by gaining an in-depth understanding of your target audience and then publish content relevant to them. Companies need to be strategic, conduct competitor research, and create the best content for their niche.
If you use your blog to publish content that prospects and customers find truly useful, you'll become a subject matter expert in your industry, increase organic traffic to your website, and consistently boost sales!