Do you have a website or are in the process of creating one? If so, then you'll surely want to keep track of how your website is performing and be able to adjust both content and structure to increase those conversion rates. Google Search Console is a tool you should take advantage of, as it helps you track and improve your website performance on Google Search. It does that by providing invaluable insights on the type of content you should be creating to grab the attention of your audience. And the best part is that it's completely free.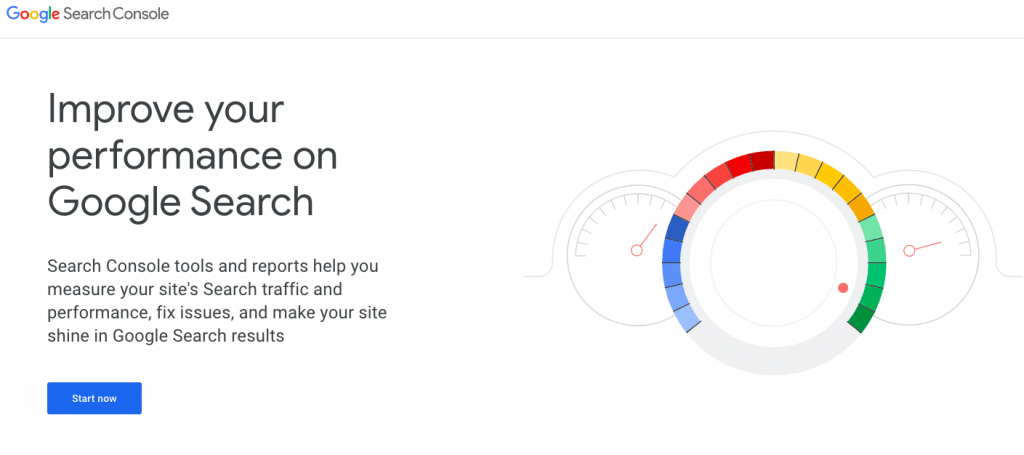 Check out our complete guide below for using Google Search Console and discover:
More about what the google search console is.
Why you should use the console as an internet marketer or website owner.
How exactly you should use the console for optimizing your website performance.
What metrics you should keep an eye on within the console.
What is Google Search Console?
In a nutshell, Google Search Console is a free tool provided by Google that helps people track information about their website, boost search rankings, set up alerts to respond to website errors, learn how google is crawling their website, learn about which pages on their website are indexed, and a lot more.
Google Search Console is a great tool because it gives direct access to all the metrics collected by Google. And Google is the "source" of all the information you need to make your website performance great since a majority of website traffic usually comes from… You guessed it: Google. That's why you must tap into the wisdom of the source!
How Can You Set It Up?
There are a bunch of ways to set up Google Search Console. You can do it via Google Analytics by simply linking Google Search Console, through the Google Webmasters tool, or directly by visiting the Google Search Console website.
To make it easy for you, simply follow the steps below:
Visit the Google Search Console website.
2. Choose whether you'd like to monitor the entire domain property, which is a comprehensive way of monitoring all the pages on your website. Or whether you'd like to monitor specific URLs.
3. Next, you need to verify your domain ownership. This step is important to protect your website, and ensure you're linking the console to the right domain.
4. And the last step, you need to add a TXT file to your hosting provider's DNS records.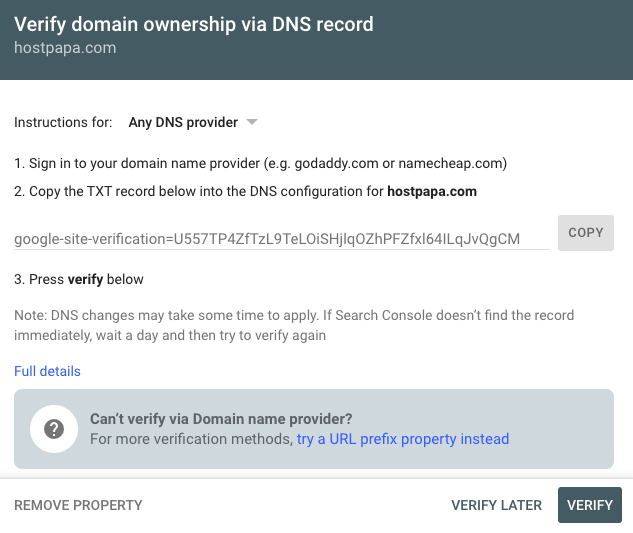 Once these steps have been completed, it will be pretty easy to log into analytics or directly into the search console to access all of your website data.
How To Use Google Search Console
Now that you have the console all set up, it's time to start using it to your advantage! There are a ton of ways you can do so, and here are some of the features you should be looking into:
1. The Overview Feature
This feature gives you a birds-eye view of all the activity that's happening on your website. It's great for checking in daily to find out your website's performance. The best part about this feature is that it tells you how many errors your website has. Fixing these is one way to improve your website performance.
2. Performance Feature
This one really gets into the data: the total number of clicks, impressions, and other website traffic information you will surely find useful. If you get more granular within this section, you'll be able to identify your top website pages, as well as look into which countries and which devices your traffic is coming from.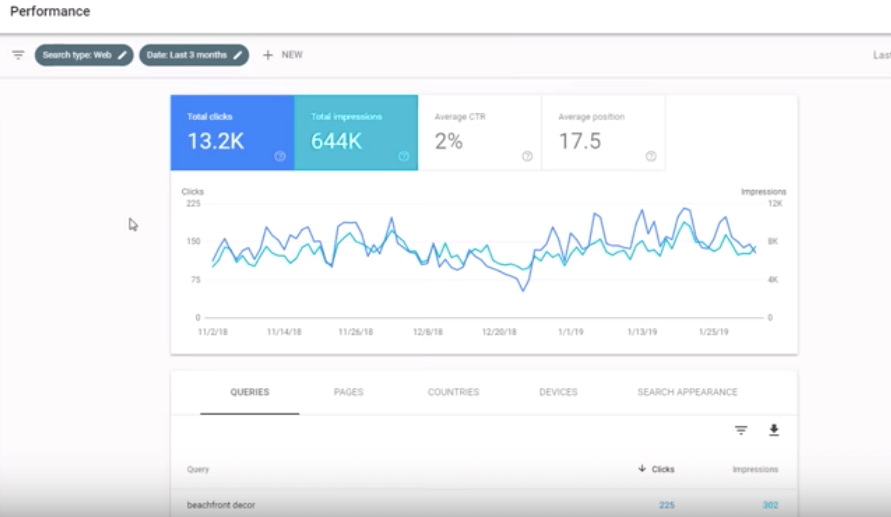 3. The URL Inspection Feature
This feature helps by checking the website for indexing errors or other website errors that need to be fixed. It's great for making sure all the new pages you add to your website get indexed on Google, and all current pages are fully functional. It also tells you about any coverage or mobile usability issues.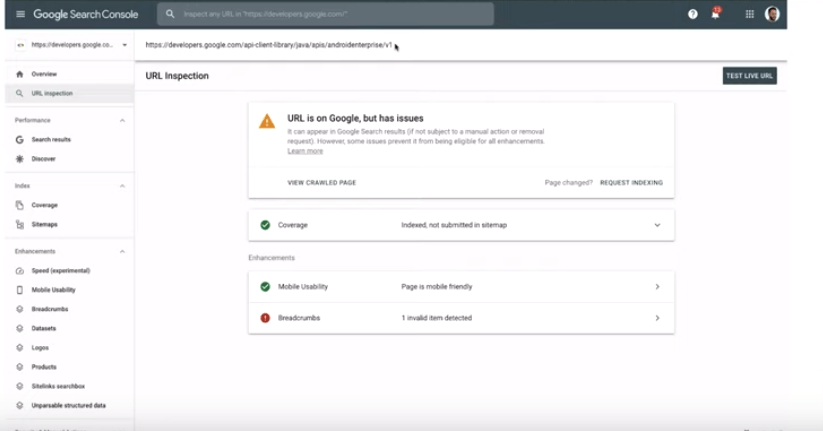 4. Coverage Feature
Within the URL inspection tool, the Coverage feature tells you which pages have been indexed, and which pages are valid. You can fix errors through this feature, so all pages are fully validated.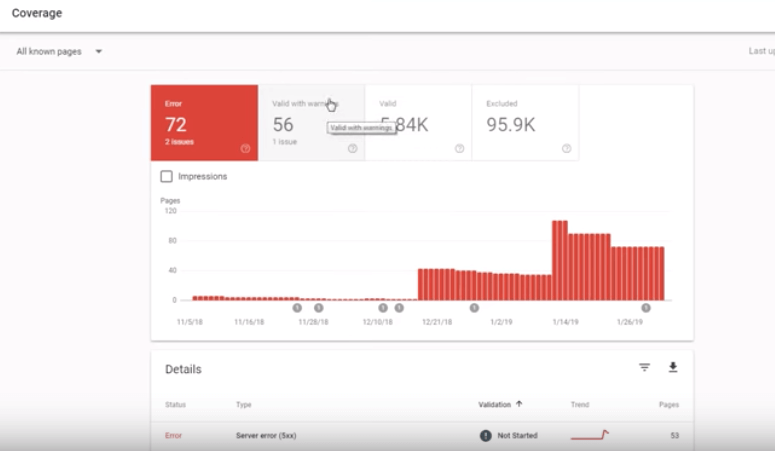 5. Sitemaps
Sitemaps are great tools to communicate with search engines. They convey to a search engine if any new pages have been added so the search engine can index them. The search engine responds by conveying if there are any crawling errors on the website.
You can use XML-Sitemaps to create a sitemap of your website and then add and submit it through Google Search Console.
6. Website Speed
Google Search Console is also a great tool for measuring what speed your website is operating at. If it's too slow, it would adversely affect your search engine rankings and bounce rate.
Use the console to regularly observe the speed of your website, especially how fast it's loading for those who're accessing it via their mobile devices. This might give you some ideas about what you need to do to enhance the speed of your site, like maybe optimizing the size of images, or uploading your videos to an external video platform and just embedding them after on your website.
A lot of things contribute to the enhancement of website speed and it's not as simple as it may sound. So you may have to spend some time on this, but it's all worth it! After improving your website's speed you'll see a noticeable difference in your website rankings.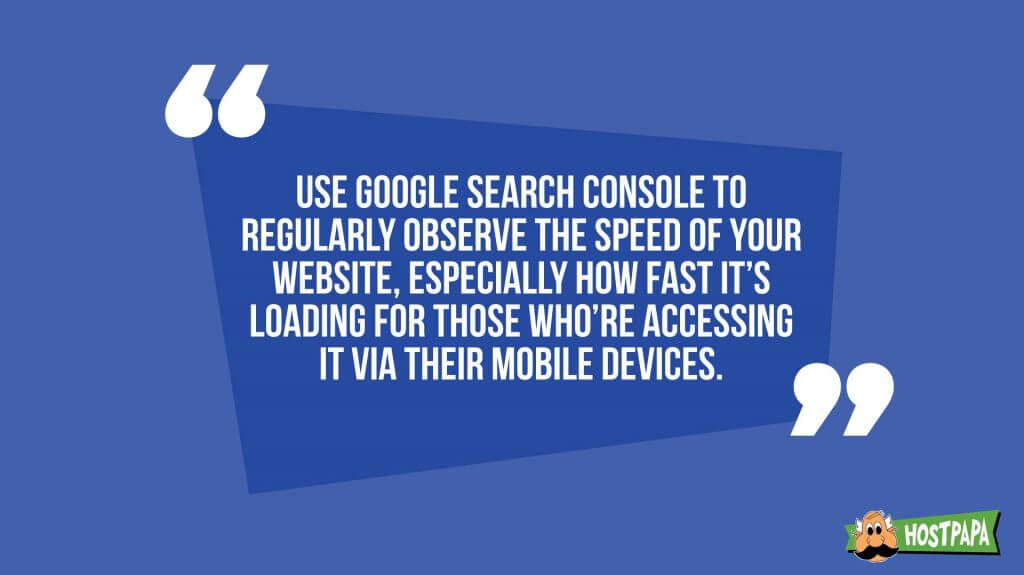 7. Check Mobile Usability
You can use the search console to learn more about mobile usability. This will tell you if your website is responsive to mobile devices, easy to load on a mobile phone, and fast to scroll. You should also review your website on your mobile device just to double-check.
8. Security Issues
This Google Search Console feature is great for detecting and reporting any security issues that may pose a threat to your website. This means the console will check for any malware, adware or other viruses that can impact your website.
The great thing about this feature is that you'll get an email if there is any security issue on your website. Once you receive a notification, we recommend you review and fix it as soon as possible!
9. Links For SEO
You can use the search console to check which websites are linking back to your website. This feature lets you check for internal and external links, as well as top linking websites. This will help you learn which types of websites are a better fit for building backlinks on, so you're on the right track with building relationships with the right website owners.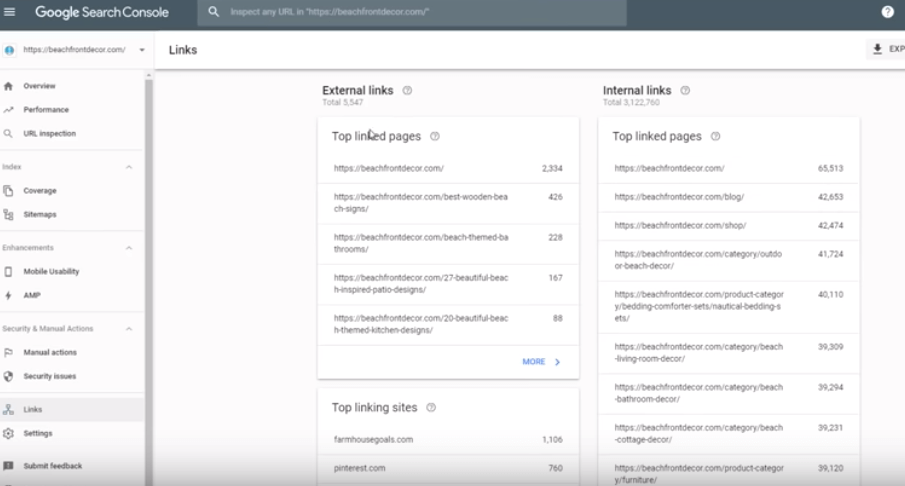 Choose Metrics Depending on Performance Goals
Quite clearly, the Google Search Console is a great tool for website owners and internet marketers alike. Our suggestion is to carefully think through which metrics are the ones that suit your website performance goals the most and monitor them closely.
Make sure you're using Google Search Console regularly. Gathering the necessary insights to produce solid results may take a bit of time, but it'll be worth it!