If you're a web developer, website administrator, or website owner, you know the importance of having access to accurate website traffic data. It helps you better understand the behaviour of your site visitors so that you can improve your digital marketing campaigns, boost conversion rates, grow your audience, and ultimately increase your sales and traffic.
Analytics is also vital to figuring out your next steps in the industry, as they describe your audience in greater detail and the current trends in the space. From an end user's perspective, web analytics is equally important because it helps them get the most out of their website experience.
Analytics can help identify which content and features are most popular, where users tend to drop off and why, and show mobile analytics. This information can be used to improve the design and functionality of a website, making it more enjoyable and valuable for the end user.
Google Analytics is the industry standard for tracking website traffic, mainly because it plays well with its Google Ads platform, Google Adsense. While it's the industry's standard, Google Analytics is just one of many options that can provide advanced analytics features. It can be integrated into a website with a unique code, and all the website information goes through the Google Tag Manager, a system that quickly updates measurement codes in your website.
This blog post will look at the best alternatives to Google Analytics for tracking your website's traffic. Let's jump right in!
Why Might You Need a Google Analytics Alternative?
Google Analytics has been around for over a decade and is used by millions of websites. However, some users can find drawbacks that can't work around them or simply need more specific features from their tracking solution.
For instance, users must be comfortable with code and have some technical knowledge to set up and use Google Analytics on a website properly. Additionally, the reporting capabilities of Google Analytics can be limited, and there may be more features or data points that you'd like to track which aren't available.
The Google Analytics platform also needs additional tools to function at its peak performance – and this is just one of its limiting factors. Data ownership is also a big issue for many individuals who need their sensitive customer data to be exclusively owned by them and not by a big corporation such as Google. Google tends to collect data from all its users, but most individuals want complete control over their data.
Also, from a digital marketing perspective, Google Analytics needs some setting up regarding its funnel visualization, meaning there aren't any preconfigured settings to get started. For technical users, this may be fine, but small business owners who are beginning to grasp the online world may find Google Analytics challenging to use.
When it comes to precision, with Google Analytics, you might find yourself comparing incomplete data due to user privacy settings. This can lead to errors during data visualization and when analyzing behavioural data. Some of the alternatives here will paint a clearer picture regarding customer journey insights while providing advanced web analytics for most marketers and web administrators.
The Best Alternatives to Google Analytics
This is where the Google Analytics alternatives enter the picture. With the limiting factors we discussed in the previous section in mind, there are plenty of third-party companies specializing in bringing what Google 'misses' with its analytics platform.
This list will provide some of the best alternatives to Google Analytics, from no-cost options to paid options. We'll also give the pros and cons for each one and a small conclusion so you can decide which Google Analytics alternative works best for your website.
Clicky is a great web analytics solution, offering advanced website tracking and reporting capabilities.
Its main advantage is the ease of setup. It has detailed real-time stats and features such as heatmaps and visitor recordings. The downside of Clicky is that the free plan only allows you to track one website with limited data points (heatmaps and uptime monitoring are missing from the free plan).
The Pro version starts at $9.99 per month or $79.99 for an annual subscription.
Pros and Cons of Clicky
Pros:
Easy to set up with advanced features
Privacy-oriented
Real-time stats and detailed reports
Embedded heatmaps in the premium versions
Cons:
Free version only allows you to track one website with limited data points
Unlike Google Analytics, OpenWebAnalytics (OWA) gives users complete control over their data since they host their website's analytics. This allows them to decide what information to track and who can access all the data.
OWA offers detailed website tracking, custom reports, and analytics dashboards. The only downside is that it requires some technical knowledge to install and configure the platform on your web server, and it's the most challenging of all our Google Analytics alternatives on this list.
Pros and Cons of Open Web Analytics
Pros:
Privacy-oriented
Complete control over the data collected
Detailed website tracking
Easy integration with platforms like WordPress and MediaWiki
Open-source and, therefore, free to use
Cons:
Requires some technical knowledge to set up and configure
Formerly known as Piwik, Matomo is another popular website monitoring tool and a great alternative to Google Analytics. It offers a comprehensive feature list with detailed data analysis tools and reports. With its user-friendly interface, website administrators can easily set up the software on-premise or on the cloud to easily track website data. The on-premise option means installing Matomo on your web server just like Open Web Analytics. With that, you have complete ownership of all your data, and your data sampling pulls information straight from your web host's servers.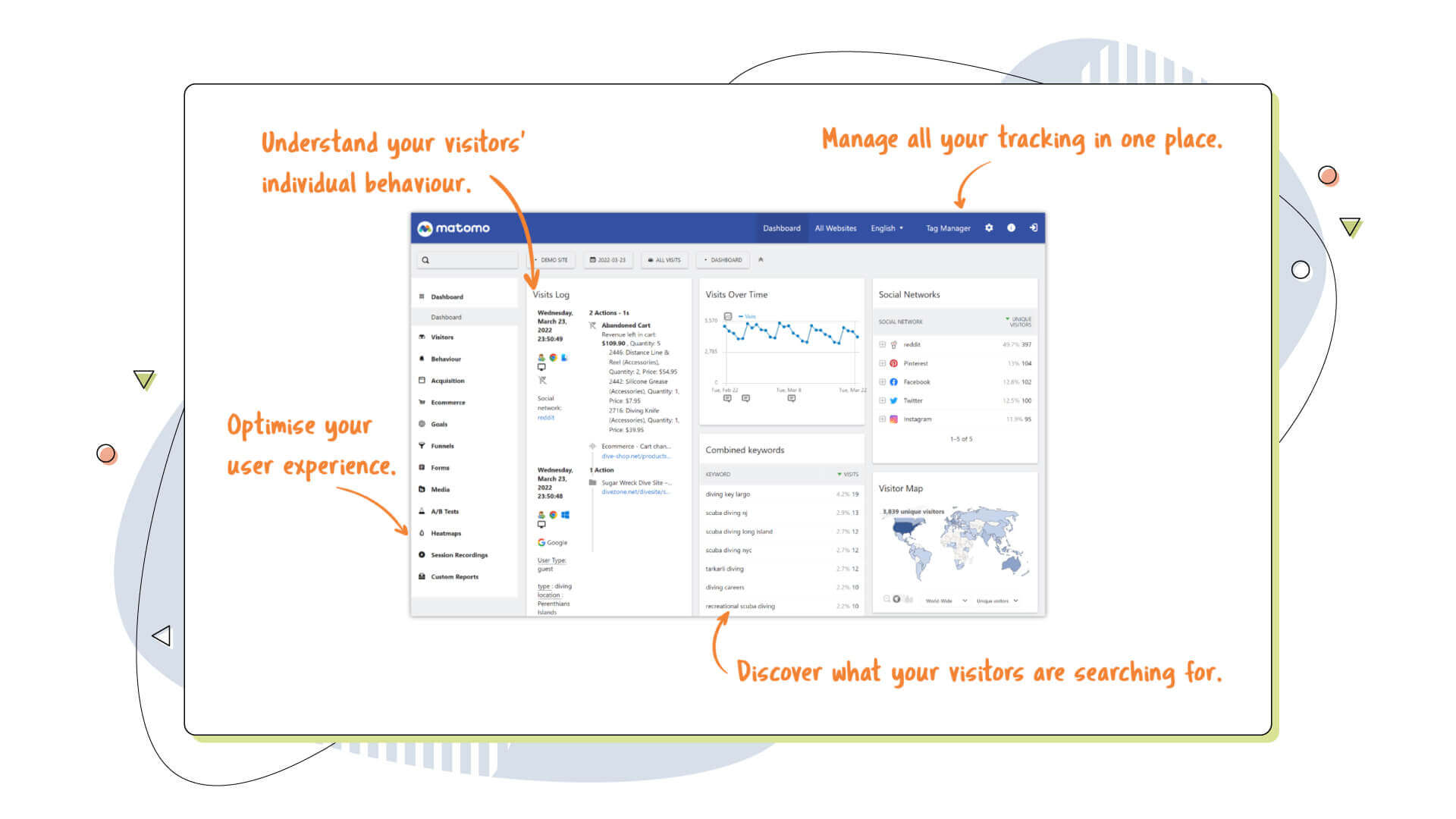 The free plan is only available as an on-premise option, but to access more advanced features like cloud storage, a subscription is required starting from $23 per month. The subscription cost depends on your site's monthly traffic, and it can exceed the $1000 mark for websites with more than 5 million monthly hits.
The free plan still needs fiddling around with the code of your site, although the paid option takes all of that away, integrating Matomo's options into the cloud for easier access.
Pros and Cons of Matomo
Pros:
User-friendly interface
Detailed data analysis tools and reports
Customizable reporting system
100% data ownership
Cons:
Cloud storage feature is only available with a subscription
Another interesting analytics software and platform is Piwik's PRO Analytics Suite. With the Piwik PRO Analytics Suite, website administrators can access detailed website analytics and visitor tracking.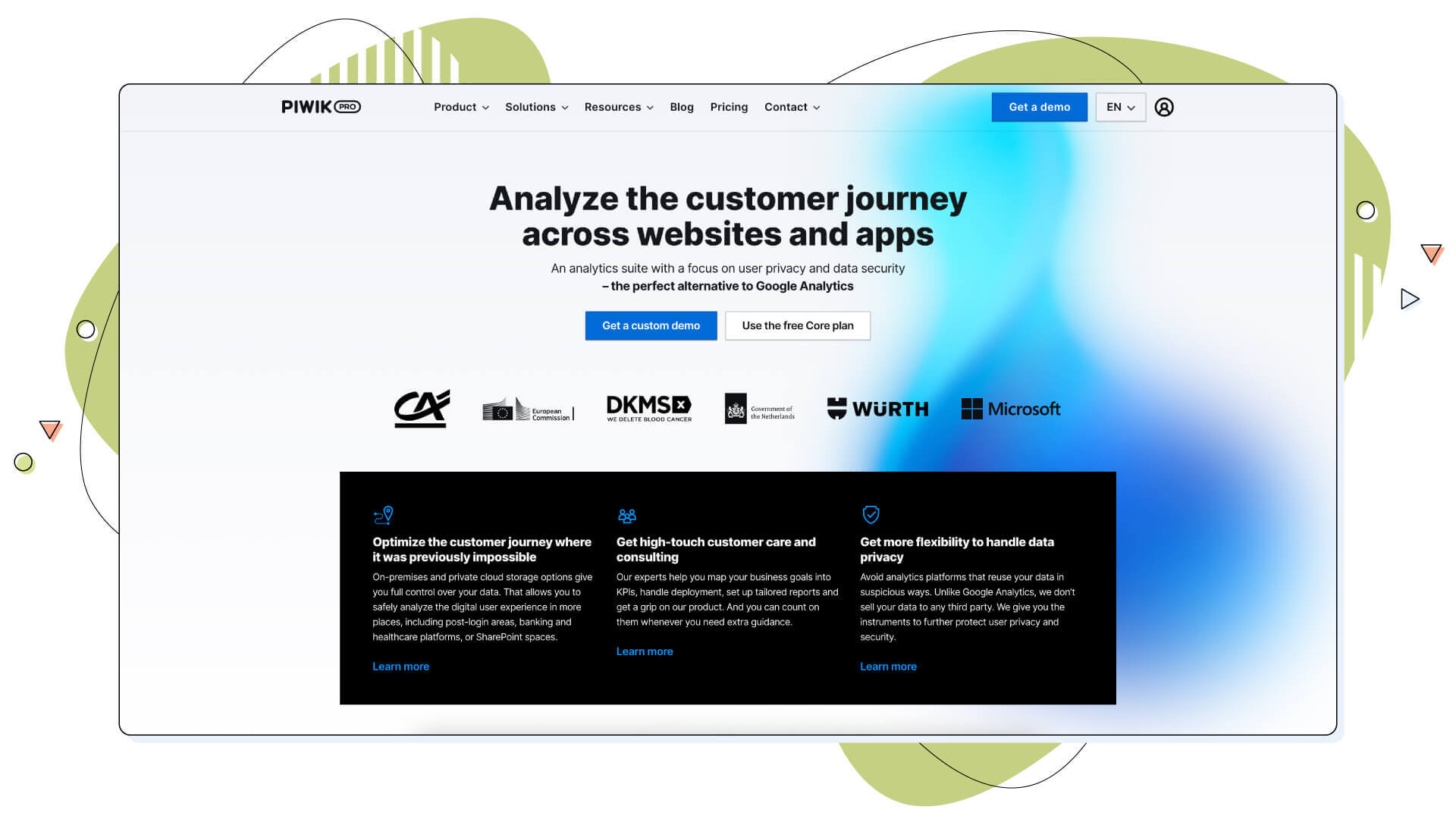 Piwik PRO Analytics Suite comes in two versions, Piwik PRO Core and Piwik PRO Enterprise. In the Core version, website administrators can access up to 500,000 monthly actions, raw and unsampled data, and support up to 10 websites. The Enterprise version adds more features, such as more public cloud servers, and brings the number of sites and apps to unlimited.
Piwik PRO Pros and Cons
Pros:
Detailed website analytics
Customizable reports and analytics dashboards
Enterprise-level security compliance
Cons:
Requires a subscription to access advanced features
Woopra is an analytics platform that is popular among marketers and web administrators. It offers great features like tracking real-time data, creating custom reports, and segmenting users by behaviour. It also supports over 30 integrations with popular platforms, including WordPress, Shopify, and Magento. It also supports analytics for mobile apps, which is crucial for developers.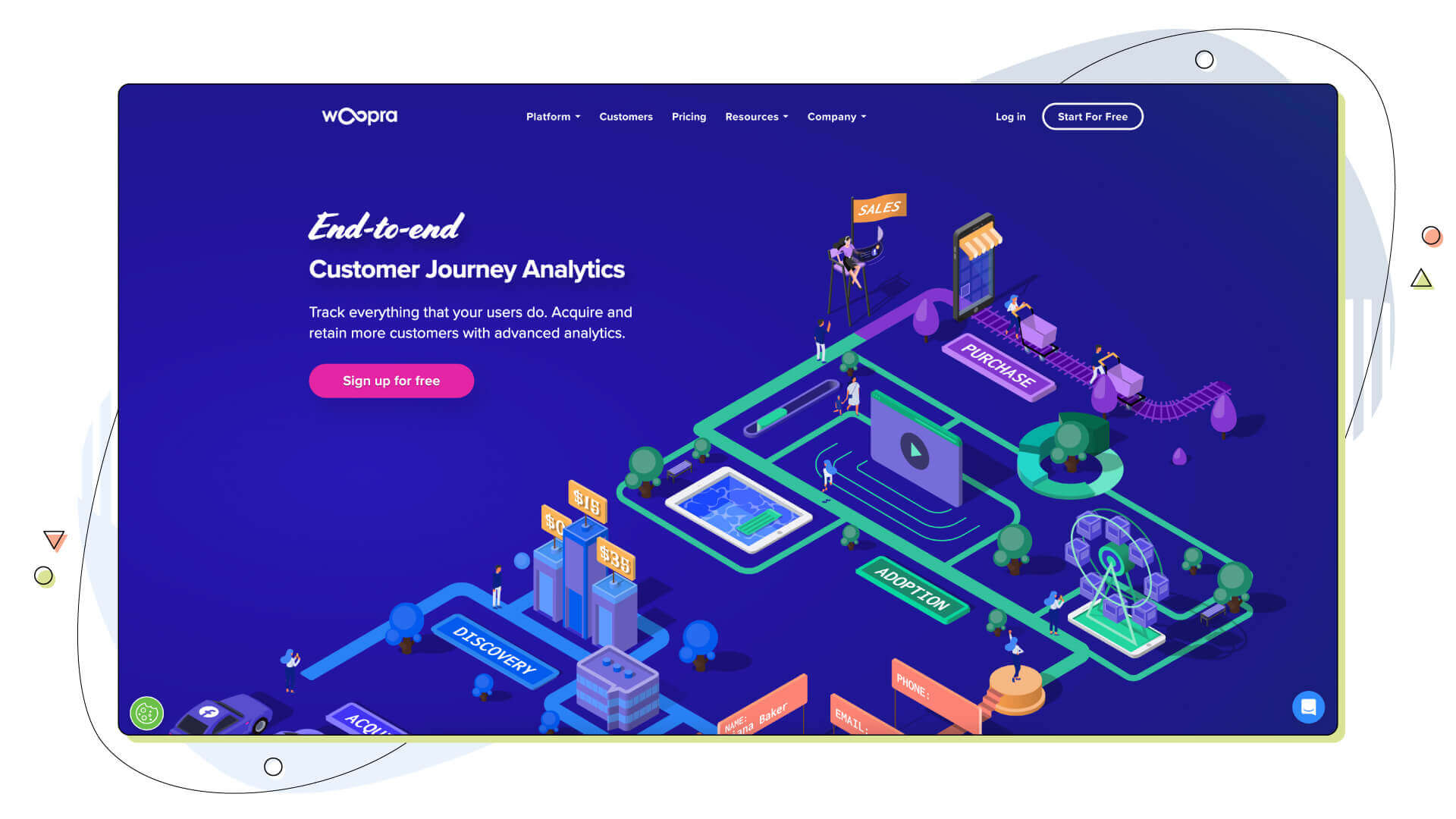 Woopra's free plan is called 'Core' and has some limited but desirable features like customer journey reports, segmentation, and snapshots. However, if you want to get more out of Woopra, their paid plans offer unlimited data analysis and integration support with other platforms. The pricing is affordable, starting at just $19/month for the Basic plan and up to $99/month for the Professional plan.
Woopra Pros and Cons
Pros:
Easy-to-use analytics platform for web administrators
Supports website tracking in real-time and segmenting users by behaviour
Affordable pricing with great features
Supports more than 30 integrations with other popular platforms
Cons:
Limited features are available in the free version
Rather expensive, asking $999 per month for the Pro version
Moving on to our list of analytics tools, we have Heap. This is another analytics solution with a clear focus on mobile user experience. A single snippet provides automatic web analytics and has a rich feature list defined by its developer-friendly structure.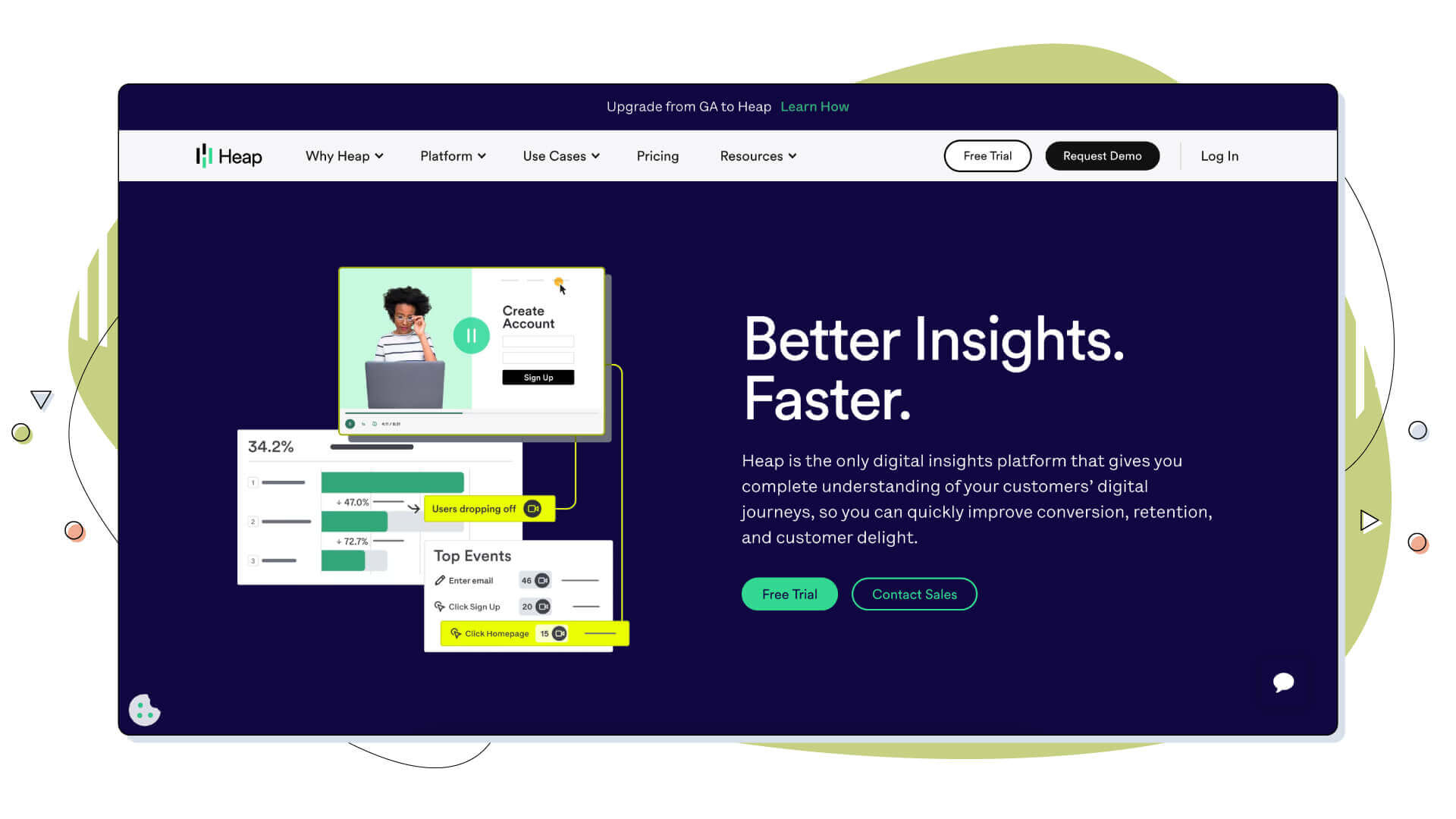 Heap offers real-time insights into how users interact with different features or sections of your website, allowing you to make design decisions based on data rather than assumptions.
The free plan offers an extensive list of features, and pricing depends on the project's scope, meaning you have to contact their team to get a quote. The feature set is increased with the paid options, adding account-based analytics and essential technical support.
Pros and Cons of Heap
Pros:
Easy setup and intuitive UI
Automatically tracks website data
Developer-friendly structure for advanced analysis
Cons:
No free trial for the paid plans
Limited customer support teams, even with some paid options
Next up is Mixpanel, which is designed with many event-tracking options in mind. It offers detailed insights into how people use your website or app, including which pages they frequently visit, their actions, and when or where they abandon their sessions. Mixpanel also supports tracking for mobile apps, which is awesome for aspiring developers.
This data can be used to build customizable funnels and reports, which allow you to track engagement over time. Mixpanel offers free and paid plans, so there's an option that fits any budget. The paid plans start at $25 per month, although the free plan also has plenty of features.
Pros and Cons of Mixpanel
Pros:
Integration with other services
The ability to track user engagement over time
Free and paid plans are available
Cons:
Not as customizable as other Google Analytics alternatives
Doesn't have as many features as Google Analytics
Semrush is mainly an SEO tool offered for marketers but provides in-depth data such as organic search performance, backlinks, PPC campaigns and content optimization – everything digital marketing-oriented.
Semrush will need more analyzing tools to be more precise. To put it more clearly, it's more than just website monitoring. It's an online tool that can convey keyword research and help you get ahead of the competition. The simple Pro plan doesn't have enough options to get you started and costs much ($99 for the monthly plan, paid annually), although there's a free 7-day trial to help you decide if it has what you need.
Pros and Cons of Semrush
Pros:
Intuitive dashboard design
Easy to customize the dashboard and track website data
Comes with a free 7-day trial
Provides SEO analytics as well
Cons:
Unlike Google Analytics, it has limited features since it's in the SEO tools market
Plans are more costly than other options
AWStats is another free and open-source solution for tracking your web analytics. Not to be confused with the AWS service from Amazon, AWStats can be used as an in-depth Google Analytics alternative, providing total pageviews and unique site visitors.
Overall, AWStats provides simple analytics for smaller sites that don't require the robust reporting capabilities of other google analytics alternatives. It's free and open-source, providing a great way to get started with a web analytics tool without spending any money. However, larger sites may want to look at more powerful options because of AWStats's limited data.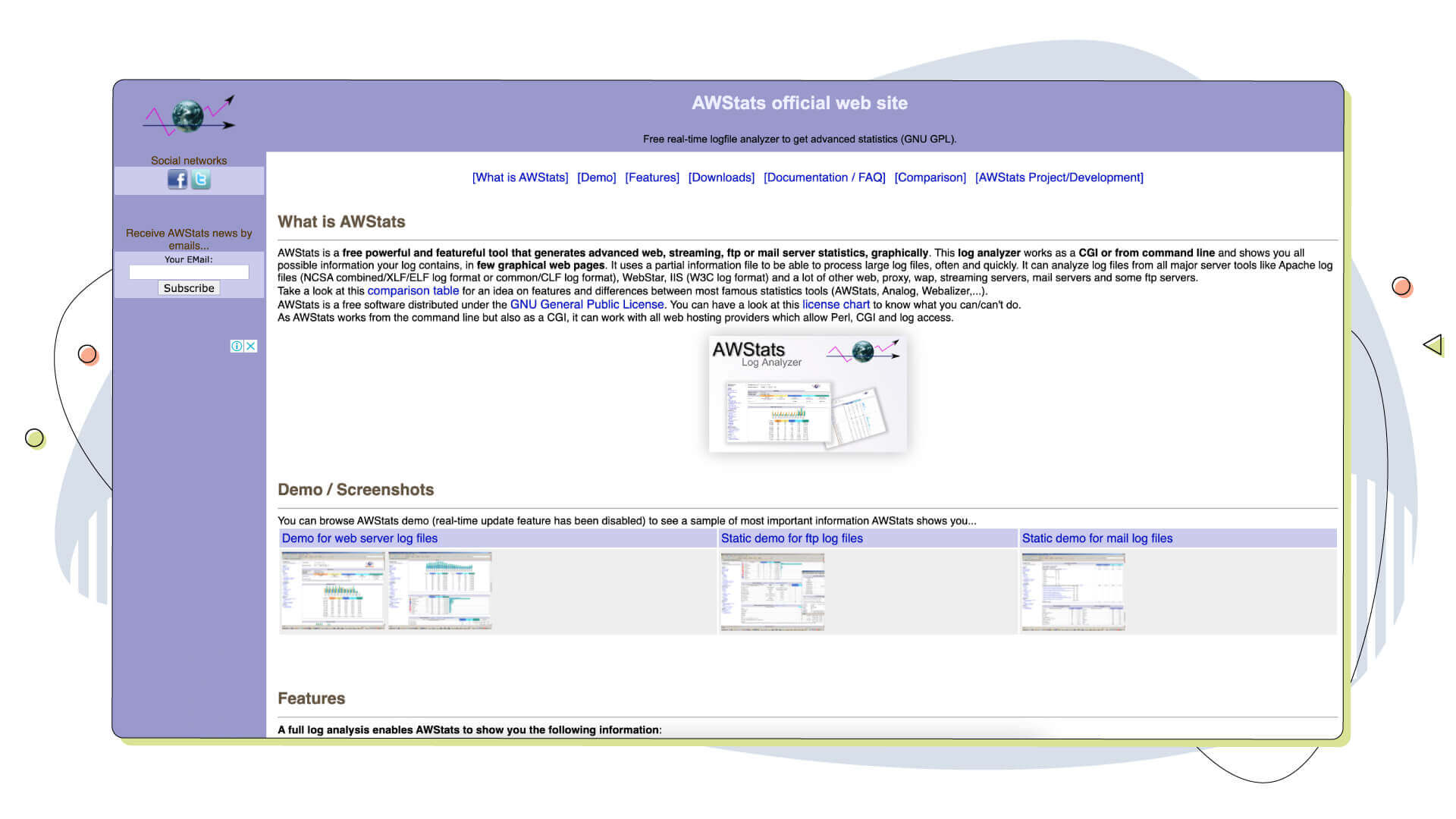 AWStats is available for both Linux and Windows servers. It also offers detailed information on traffic sources, search engine referrals, broken pages, and more, while you can access your data through a command line as well. Additionally, this tool allows you to track your website's performance over time, albeit with some initial complexity with its setup.
Pros and Cons of AWStats
Pros:
Free and open-source
Offers detailed web analytics tools
Tracks data over time
Cons:
Complex setup process
Limited reporting capabilities compared to other Google Analytics alternatives
Not ideal for websites with high traffic volume
Webalizer is similar to AWStats, and it aims to offer lightweight analytics software for websites that don't need any enterprise-grade features like funnel support and complex segmentation. One of its key features; it's free and open-source and available for many server operating systems.
It displays some valuable stats on hits, page views, bandwidth usage, and other metrics that can help website owners better understand their site's performance. Webalizer is ideal for those who don't need much more than lightweight tracking of user activity on their website.
Pros and Cons of WebalizerPros
Pros:
Offers simple analytics and an easy-to-use dashboard
Supports log files from most web servers
Cons:
No support for advanced segmentation or funnel analysis
Less feature-rich or visually appealing
StatCounter is a cloud-based Google Analytics alternative that offers website data tracking and analysis. It's easy to set up; you insert the code into your website and start tracking. StatCounter also provides detailed real-time reports to instantly view your website traffic.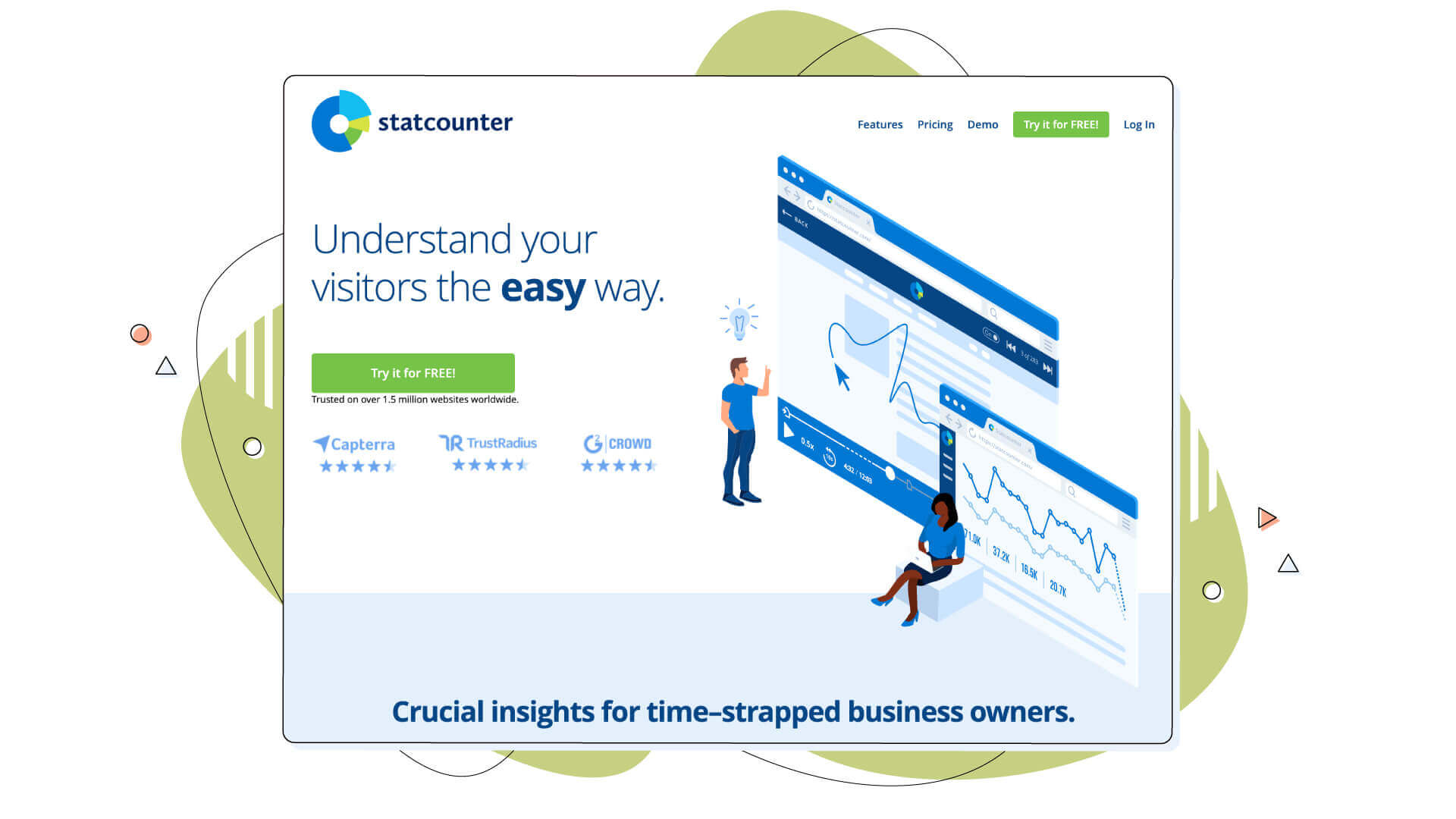 Conversion tracking and other website goals are also tracked with StatCounter, while you can add descriptive information about your visitors, making it great for eCommerce sites. There's a free version that supports up to 500 page views, but it's significantly limited in terms of features.
The paid plan starts at $16 per month, but for annual subscriptions, the cost is lessened to $166, which is ideal for many website owners and small businesses.
Pros and Cons of StatCounter
Pros:
Detailed real-time reports
Tracks website goals and conversions
Free version available
Works well with many platforms like WordPress, Squarespace, Blogger, and many more
Cons:
The paid plan is more expensive than some other alternatives
Despite its playful name, Crazy Egg is a serious website data-tracking tool. It's more oriented toward providing modern-style website data and gives you a helpful snapshot of your eCommerce website through many powerful tools. It offers heatmaps and scroll maps, which let you look at the behaviour of your website visitors by showing where they click and how far down the page they scroll.
It also provides A/B testing tools to help you further measure visitor engagement with different versions of your website's content. You can create visitor recordings, too, to see what visitors do on your website page by page.
Pros and Cons of Crazy Egg
Pros:
Comprehensive tracking capabilities
Heatmap and scroll map reporting
Cons:
No free trial option available
Expensive for small businesses compared to other Google Analytics alternatives
This alternative is to unlock the value in your content data, as the official website explicitly states. It does this by providing real-time analytics for content publishers. It's tailored to work with news and media sites, but other website owners can also benefit from it.
The platform displays real-time data and helps you identify pageviews to track what content is being shared and consumed. A notable case study of the Los Angeles Times is displayed on the website, stating that it's a robust platform that brings results.
Apart from reports, there are actionable insights regarding content optimizations and add-ons for an intuitive mobile experience. The real-time data pipeline, called 'Datastream,' measures important stats like how far the users have scrolled through your pages.
Pros and Cons of Chartbeat
Pros:
Easy to read dashboard
Image testing
Lots of integrations and insights
Cons:
Expensive for small businesses, with sources reporting an annual cost of $7000 per year
Lacks a free version
Regarding affordable and lightweight web analytics tools, we must include Plausible in our list. It's a versatile platform that tracks website visits and concisely records the necessary data. With Plausible, you have complete control over your data, and no collected data are given to third parties.
Simply put, it records the number of users, pageviews, and average session duration. As it's lightweight and open-source, you can easily customize it to fit your website's needs.
The paid version starts at $90 per year and gives you some cool features. It lets you create custom reports that track conversions which can later be sent via email or Slack.
Pros and Cons of Plausible
Pros:
Lightweight tracking code available on GitHub
Affordable pricing for more prominent websites needing more website tracking options
Cons:
Limited tracking options compared to other alternatives
No A/B testing or heatmap options
Kissmetrics is another analytics tool for tracking website behaviour and user engagement. It has a more in-depth reporting system than most other Google Analytics alternatives and is best suited for mid to large-scale businesses and eCommerce.
It helps you measure important metrics such as where the traffic comes from, how long visitors stay on the website, which pages are more popular, and more. It also helps you create A/B tests to measure how different changes affect your visitors and traffic.
The platform also compares itself to the most recent Google Analytics 4 platform, saying that it's simpler and offers configurable reports instead of only providing a limited list. However, the high cost of subscriptions may be a barrier for owners of small businesses.
Pros and Cons of Kissmetrics
Pros:
Comprehensive reports
A/B testing
Easy to integrate with popular platforms like WordPress
It's suited for SaaS as well
Cons:
Expensive for smaller websites (starts at $299 per month), so it may not be a viable option for all small business owners
GoSquared is a powerful web analytics tool that provides real-time metrics and insights. It helps you track the number of visitors to your website in real-time, see the entire user journey, and visualize their behaviour.
It also helps you identify customer engagement trends, analyze digital marketing campaigns' data, and track revenue. With the Pro plan, you get most of the Google Analytics data but with a more straightforward and intuitive interface and daily email reports to be on top of your website.
One of the key features of GoSquared is that no learning curve is required, and you can start immediately.
Pros and Cons of GoSquared
Pros:
Real-time website data
A/B testing, heatmaps, and funnel visualizations available in Pro plan
Easy to integrate with popular platforms like WordPress
Cons:
Not suitable for smaller websites (starts at $99 per month)
Limited reporting capabilities compared to other alternatives
One of the best Google Analytics alternatives comes from the creators of the Creative Suite. Adobe Analytics is a powerful, enterprise-level web analytics software that gives you detailed insights into the performance of your website.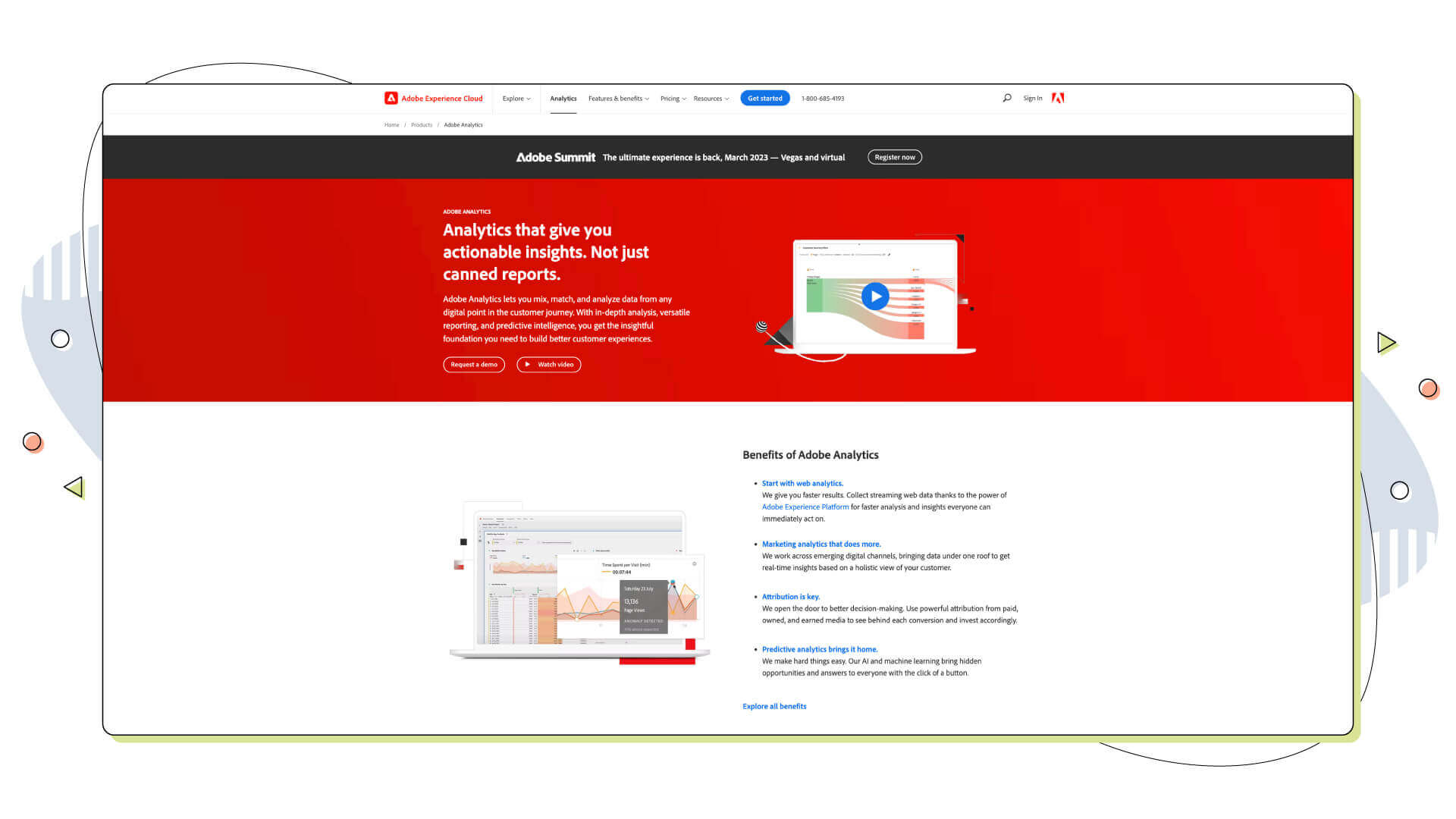 This analytics software provides in-depth details and predictive analytics for your site visitors with an added layer of AI and machine learning to give you a complete picture. Its key features include advanced segmentation and reporting features, as well as offering valuable insight into your website's performance.
Pros and Cons of Adobe Analytics
Pros:
Powerful, enterprise-level web analytics
Advanced segmentation and reporting features
AI and machine learning capabilities for the web and mobile apps
Cons:
Expensive for small businesses
Complex setup and implementation process
Fathom Analytics is considered one of the most powerful analytics tools that give you a clear, precise understanding of your website's performance. It's designed to be simple and easy to use, focusing heavily on privacy and the 'no-compromise' motto.
The service doesn't track or store any IP addresses or personal data and also supports custom events tracking practical information. At the same time, the cookie banner isn't necessary with this one. It allows you to track website performance, monitor your goals and user journey and even set up custom events to track specific items of interest.
Pricing starts at $14 per month, which isn't bad. Still, it must be said that the service is mostly aimed at bigger companies who need specific features out of their web analytics and a solid alternative to Google Analytics.
Pros and Cons of Fathom Analytics
Pros:
Privacy-focused analytics tool
Easy to set up and use, with no coding knowledge required
Custom events and UTM tracking are among its key features
Cons:
Limited reporting capabilities compared to other alternatives
It might seem pricey for smaller businesses
Which Alternative Is the Best for You?
Many alternatives to Google Analytics offer different features and pricing plans. However, we must point out that most options provide free plans, which is fantastic for testing the platform before shelling out your money. For a small business, that's an indisputable key feature that will reveal any issues you may have with the platform.
Depending on your needs and budget, these analytics tools could be the right choice. To find the best Google Analytics alternative, evaluating each tool based on its features, pricing plans, and customer service separately before making your final choice is essential.
For example, if you need more detailed insights into your visitors' behaviour and customer journey, Open Web Analytics and Kissmetrics might be your best options. On the other hand, if you're looking for a free tool that offers basic analytics features, then Matomo (formerly Piwik) or Woopra could be a good fit. Ultimately, choosing the analytics tool that best meets your company/business/website needs and budget would be best.
With the right analytics tool, you can gain valuable insights into your website's performance and make data-driven decisions that will help you grow your business and further enhance your digital marketing efforts.
Enjoyed this post? Head over to HostPapa Blog to read more exciting topics like this and get all the latest web hosting tips for your website!