Google Alerts is an amazing tool that detects content changes on the internet and notifies you when those changes are noticed by Google (usually immediately). Originally launched in 2003, Google Alerts allow users to pick certain keywords or search terms and will notify them when those search terms appear online and will direct them to the site that published the specified keywords.
For example, if you wanted to know when someone was writing about your business and what they were saying, you would set up a Google Alert to notify you of every instance. Notifications are sent to your email with your desired frequency.
Google Alerts has several applications for businesses of all sizes and can keep you up in the know and one step ahead of your competitors. Here are some of the ways that Google Alerts can help your business:
Mentions of your business
Whether it's positive or negative mentions, you can set up Google Alerts to notify you when somebody is talking about your company and interact with them as you see fit. Google Alerts will make sure that you are not in the dark with what people are saying about your business.
Once you have been notified that your business has been mentioned on a website you can interact with them quickly and can always be sure that your company is part of the conversation.
Title mentions
When you write an article or blog post you can set up a Google Alert to warn you when somebody mentions the title of your work on the Internet. With a Google Alert set up for the titles of your work, you can interact with the people who have taken an interest in what you have published online.
Industry research
Make sure that your business stays on top of the latest-breaking news by setting up a Google Alert to tell you when news for your industry appears on the Internet. You can set this up by choosing a few key phrases that have to do with your industry (like "industrial basket weaving" or "underwater weddings" or "luxury vacuums") and you will be alerted by email when those phrases are mentioned on the World Wide Web.
Checking in on the competition
You can set up your Google Alerts to let you know what your competition is up to. If they are releasing a new product, making a press release, or making headlines in some other way, Google Alerts will let you know. You can also see what people are saying about your competition, good and bad, Google Alerts will let you see every mention of whichever search term you choose.
Client research
Google Alerts is ideal for researching your clients. With the right search term, you can get an alert for every mention of people in your client base, or for clients you are pursuing. Google Alerts can help you understand all the needs and wants of your clientele.
How to set up Google Alerts
Google Alerts is free and easy to set up. You don't even need to have a Gmail account to use the service. Simply follow the steps below to get started with Google Alerts: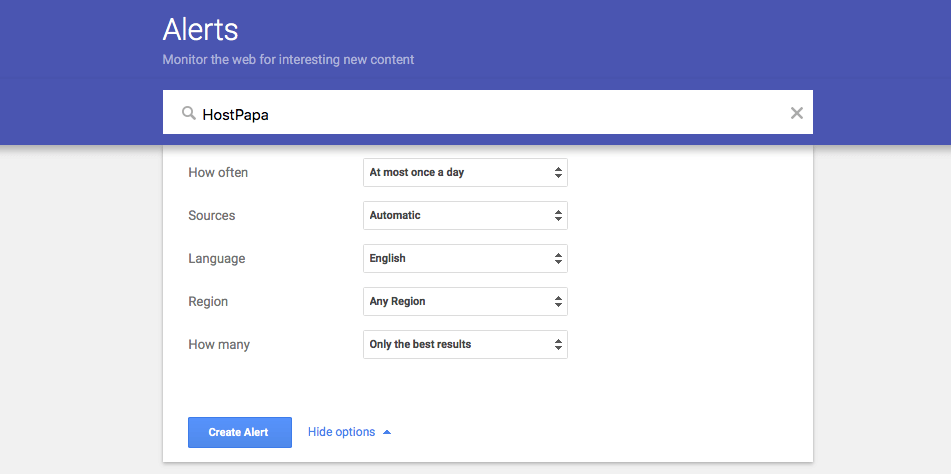 1. If you have a Google account, login. If not, no biggie. You can proceed with out on.
2. Go to the Google Alerts webpage
3. In the search bar type the keywords that you wish to receive alerts for. If you are not using Gmail you can select the email address that you wish the alerts to go to.

4. Click Show options and customize your alert to get them exactly how you want.
5. Click the Create Alert button
Setting up Google Alerts is almost as easy as opening your web browser and can be an incredibly useful tool for your business. Using alerts allows you to see online conversations that you might have never been aware of by alerting you of the key terms that you've listed within your own account. As your company grows it is important to see what is being said about you and your services and/or products. Don't be kept in the dark about the latest industry news, use Google Alerts, so that you always see breaking news as it happens.