There is nothing as beneficial as social media for small businesses. Every small business owner is looking for new ways to get their brand recognized by potential customers. If you aren't aware, social media is one of the best ways to engage with your existing customers while attracting new ones.
Small businesses have a massive advantage over huge organizations when using social media because social media effectiveness is determined by engagement. If an enterprise doesn't engage with its existing customers, it likely won't succeed as a social media marketer.
READ: How to Drive Traffic to Your Online Store Using Social Media
Social Media & Small Business
One of the most critical marketing strategies for small enterprises is consumer interaction. Using social media allows you to increase your customer base, build brand awareness, and connect with existing customers.
A study revealed that more than 80% of marketers consider social media an essential part of their business. 82% of the study participants run businesses with less than a hundred employees.
It's easy for small business owners to market their enterprises on social media if they post on their pages regularly. Some popular social media platforms include Twitter, LinkedIn, Facebook, Pinterest, and Instagram. To use social media effectively, you need to set a schedule and make a habit of engaging with your followers. Additionally, with the help of a social media aggregation tool, you can gather content from various platforms, consolidating all social media activity related to your brand or product into a centralized view.
Advantages of Using Social Media Platforms
Social media small business success isn't dependent on the number of followers an enterprise has but on customer engagement. Here are a few advantages that small businesses will enjoy while using social media platforms.
1. Small Businesses Focus on Individuals and Communities
There are a few key differences between small and big businesses, including the number of employees, legal structure, and revenue. However, these aspects aren't the only differences between small and big businesses.
Small businesses are usually focused on individuals and communities. Many small organizations choose to be involved in their communities, creating a connection and bond with customers. They can also partner with other local businesses on marketing campaigns.
Small businesses have a higher chance of responding to their existing and potential customers than big companies through social media platforms and respond to customer comments in a timely fashion.
Social media small business platforms allow people to talk about the company's various products and services. Entrepreneurs can increase engagement by asking customers to post videos and pictures on social media with the organization's products.
Small business owners can easily foster connections with individuals on social media platforms. Existing and potential customers appreciate and respect business owners who respond on time.
2. A Cheap Way to Advertise
While you can pay for advertising features on a platform like Facebook, most of the time, social media is free. You can target advertisements that will reach your target market in a specific geographic location. This means that you won't need to pay for advertising that doesn't reach your target market.
You need to set a budget and know your audience before advertising on social media. Instead of spending thousands of dollars on marketing to reach the entire nation, small enterprises only need to focus on their local area.
You can use social media to update your customers on sales, promotions, products, or any information related to your industry. Posting photos will help customers understand what you offer.
With social media platforms, you can easily advertise to your existing customers and get your brand out there. Your customers can also act as your brand ambassadors. Since many small business owners know their current customers personally, they can request that customers share their experiences on their pages. This will help to attract new customers.
3. Collaborating With Other Small Businesses
Small businesses can work together on social media to market each other's products or services and get more customers. For instance, you can post on your Facebook page that customers can get a 20% coupon to another enterprise if they purchase from you, or vice versa.
You can also consider teaming up with a neighbouring organization for a social media contest. Winners can be awarded products from both businesses. When you team up with other small businesses, you'll build brand awareness, encourage people to buy from both enterprises, and get potential customers.
4. Personalized Attention
When it comes to small businesses, personalization is key. Many customers look for a good buying experience when they walk into a small business. A study found out that 53% of consumers enjoy shopping at small businesses because they love personal service.
When customers walk into your business, take time to connect with them. You can tell them where your products come from, how long your business has been operating, and what inspired you to start the enterprise.
Personalized attention is not only applicable to customers who walk into your business but also on social media. Small business owners can do much more on social media than give scripted responses to their customers.
Big organizations that sell their products or services across the nation or world don't have time to personalize customer responses. On the other hand, a small business owner can respond directly to every customer on time. The direct connection between customers and small business owners gives small businesses a considerable advantage.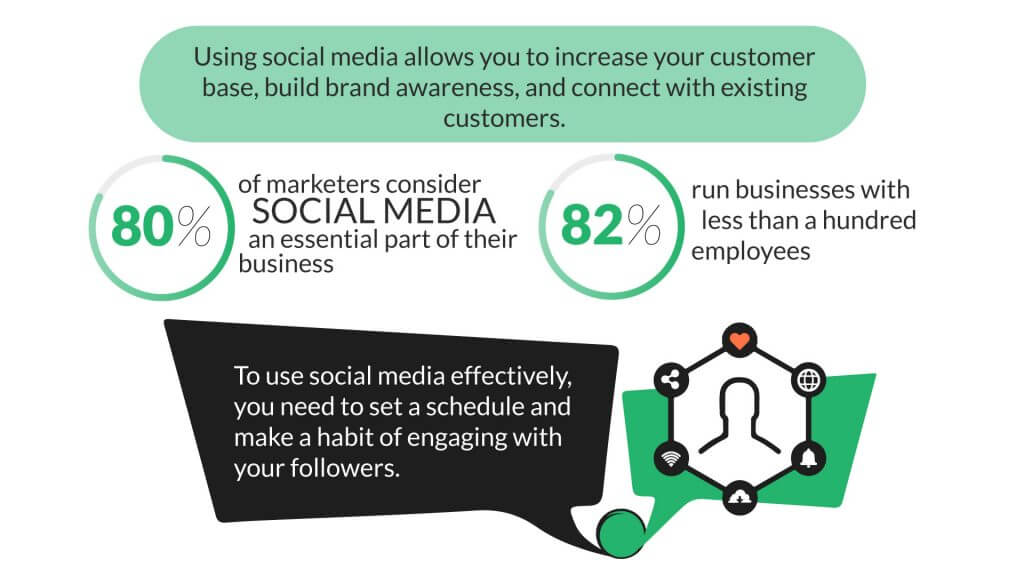 Social Media Marketing Tips for Small Business
If you have a small business, you've likely spent a lot of time looking for the latest tips on social media marketing.
As we saw earlier, most people are active social media users, and the numbers are increasing every day. Studies show that the average user spends close to two hours every day on social media platforms.
All this time online gives you a chance to promote your brand, develop relationships with customers, and make direct sales on social media platforms. Here are some social media marketing tips for small businesses that you can use to market your enterprise in 2021.
1. Always Start With a Plan
Most business owners get started on social media without a plan. Why? Most of us use social media platforms every day and feel comfortable using these tools. Plus, it doesn't cost anything to post on Instagram, create a Facebook page, or start tweeting.
When it comes to online marketing, there are two strategies you need to consider: SEO and SEM. Search engine optimization is an essential strategy for entrepreneurs who want to attract attention and grow their enterprises. SEO involves using organic strategy to appear in search results, while SEM involves paying to appear in search results.
SEO is ideal for business owners who don't want to pay anything and are comfortable with their posts being visible to everyone. On the other hand, SEM is ideal for business owners ready to pay and show their posts to a specific target audience. If you want immediate results, SEM is for you.
Before you leap, remember that every compelling business strategy starts with a plan. Even if social media is free, the time and effort you'll spend here are a huge investment. Without clear goals, you won't know what you're trying to achieve, and it'll be challenging to know if your investment is paying off.
You need to create a solid plan before you start marketing your products or services on social media. This ensures that all your efforts are aimed towards your business goals. To create a plan, you need to start with:
Setting Goals & Objectives
You need to create SMART goals. This means that all your goals should be Specific, Relevant, Measurable, Timely, and Relevant. You should measure your goals with metrics that have a real impact on your enterprise. For instance, you can aim to get more customers or increase your conversion rate.
Knowing Your Competition
How do your competitors use social media? Knowing what your competition is doing will help you figure out what works and avoid repeating mistakes. A competitive analysis will help you figure out what works for businesses like yours.
Social Media Audit
If you've been using social media for a while now, it's time to review your efforts. There are many social media audit templates that you can use to evaluate your performance and figure out what you need to change.
Take Inspiration
Now that you know what your competitors are doing on social media, you need to get inspired by other successful small business social media stories. Find exciting success stories about social media use by visiting the business section of social networks websites. You can also think of the things your favourite businesses are doing to make you want to be their follower or buy from them.
2. Create a Social Media Calendar
A social media calendar is an effective tool that helps you figure out what and when to post. You should focus on the 80/20 rule. 80% of your content should be used to inform, entertain, or educate your audience, while the other 20% should be used to sell your products or market your brand.
3. Know the Right Platforms
You should make assumptions when it comes to social media marketing. For instance, if your target market is Generation Z, consider skipping Facebook and spending time on TikTok or Instagram. You might think that TikTok is not the ideal platform for your brand. However, more and more well-established brands are marketing on this platform.
If Baby Boomers are your target market, Pinterest and Facebook are your ideal social platforms. Adults who are 65 years and above are the fastest-growing segments on Facebook.
Understanding each social media platform's demographics will help you figure out where your audience spends their time. You'll also need to conduct your research to use social media platforms effectively. You can use different social media channels to meet several business goals or reach different audiences.
Since most social media users have an average of eight accounts, you can use different social media platforms to reach them. For instance, you can use Facebook to generate leads and get more customers and Twitter to improve customer service.
4. Know Your Target Market
Social media is one of the best ways to market your brand because you can target your audience. To do this effectively, you need to know who your audience is. Start by compiling data on your existing customers. Then, use social media analytics to understand who you're interacting with online. Using analytics will help you uncover details like referral sites, top hashtags, and specific authors relevant to your business.
After defining your audience, you can create buyer personas to help you figure out the best ways to communicate with your audience.
5. Focus on Expanding Your Audience
Once you've known your audience, you should get back to your social media plan to find other effective ways to reach more people. By monitoring and responding to every conversation about the enterprise, you'll quickly reach more potential customers not only in your geographic area but also across the world.
6. Build Relationships
One of the most significant benefits of social media marketing is that it allows you to communicate directly to your followers and customers. Instead of focusing on making sales, you can choose to build relationships gradually.
Keep in mind that more than 40% of internet users use social media platforms to learn more about brands. These users want to know you and what you stand for. When users engage with your ads or organic content, it's always a good idea to engage back to build both trust and a considerable following.
When fans share and like your content, you'll rise and gain exposure. Establishing relationships with your followers will make it easier for them to see your posts. Nurturing relationships on social media platforms will help to build a community that will lead to more sales. Acquiring customers is as good as retaining them. So, how do you build relationships and keep customers in the long run?
Create a Facebook Group
Facebook groups are effective in building relationships and brand loyalty. Facebook groups allow you to connect with your audience, understand their problems, and develop practical solutions.
Connect With Influencers in Your Niche
Your business is not too small to work with other business managers and influencers. Influencers with as few as a thousand followers can make a significant impact in establishing brand trust. Also, they are usually within the budget range of small brands. Over time, influencers have helped many businesses improve their conversion rates and achieve their goals.
Mention Followers in Your Stories and Posts
Collecting content from users through branded hashtags and contests is one of the best ways to source quality materials for your feed. Sharing your followers' content on social media will help you build relationships and get more potential clients.
7. Know Social Media Trends
You don't have to change with every trend. However, it's always important to focus on social media trends to figure out what people are looking for when they log into their social media accounts. Research studies have shown that people use social media to stay up to date with current events, get entertaining content, fill their spare time, connect with friends, and share videos or photos.
Before posting on social media for small businesses, keep your audience's needs in mind. What worked a few years ago might not work today. Social listening will help you gather information to understand your followers and get more customers.
8. Focus on Quality
The number of marketing options on social media platforms for small businesses can be overwhelming. However, you don't have to use all of them. You need to create quality content on a few key channels. Also, ensure that all your posts offer valuable information. People won't be motivated to follow you if all you do is pitch and sell. Keep in mind that social media revolves around building and nurturing relationships.
Be honest and post valuable content. Focus on using one or two platforms well. When you do this, you'll quickly expand your efforts and achieve your goals.
9. Track Your Performance
When implementing your social media strategy, you need to keep track of what is and isn't working to refine your efforts. Using automation and analytics tools will help you get a clear picture of your efforts and track the most critical metrics.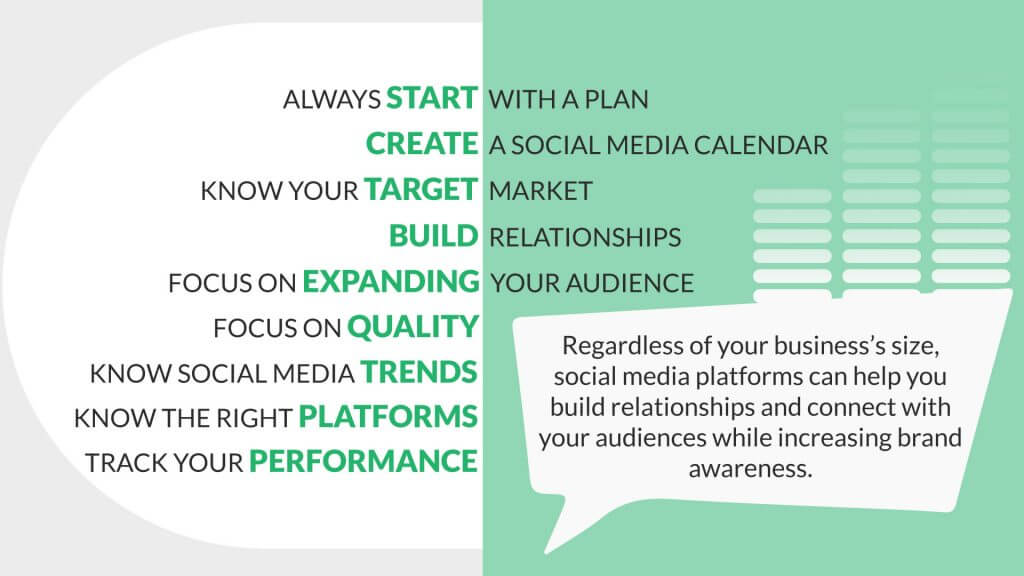 Conclusion
Regardless of your business's size, social media platforms can help you build relationships and connect with your audiences while increasing brand awareness. Start small and find out what works for you.
Author Bio:
Charlie Svensson one of the best essay writers in the world. He is skilled in content writing and blogging. The favourite topics of his posts are education, social media, marketing, SEO, motivation blogging and self-growth. Excellent adaptability of skills to reach diverse audiences.