Facebook ads are an effective way to increase revenue and grow your business. Millions of companies use the popular ad platform with great results, but many are missing out on a valuable feature: Facebook Custom Audiences.
This ad-targeting feature lets you present ads to specific customer groups, which can help you increase sales to existing customers and advertise to at-risk customers, like people who abandoned their online shopping cart. You can also push ads aimed at new, qualified prospects.
This article will explain what Facebook Custom Audiences are, review the types of Custom Audiences, and show you how you can use them. It also includes the creation steps required for the two most used types of Facebook Custom Audiences.
Read on to learn how using Facebook Custom Audiences can be the key to skyrocketing revenue and sustained growth!
What is Facebook Custom Audiences?
Facebook's "Custom Audiences" feature can be used to segment your customer base and then target the resulting groups with Facebook ads. You can identify customer segments with specific characteristics and present ads designed to resonate with each group.
Facebook Custom Audiences are effective for engaging your current customers and this advanced ad targeting option is like a shot of adrenaline for your growth initiatives.
For every Custom Audience based on your existing customers' characteristics, there is a Lookalike Audience full of new, highly qualified prospects. A Lookalike Audience is one with a profile similar to that of your current customers, but includes people that haven't been seeing your ads.
Facebook has made its Custom Audience feature flexible and easy to use. As we'll discuss in the next section, business owners can define a Custom Audience based on several factors, and all of them are linked directly to customer behavior.
Types of Custom Audiences
Not every business interacts with and tracks customers the same way, but Custom Audiences can be defined based on a variety of inputs. There are four types of Facebook Custom Audiences:
customer list audiences
website audiences
mobile app audiences
engagement audiences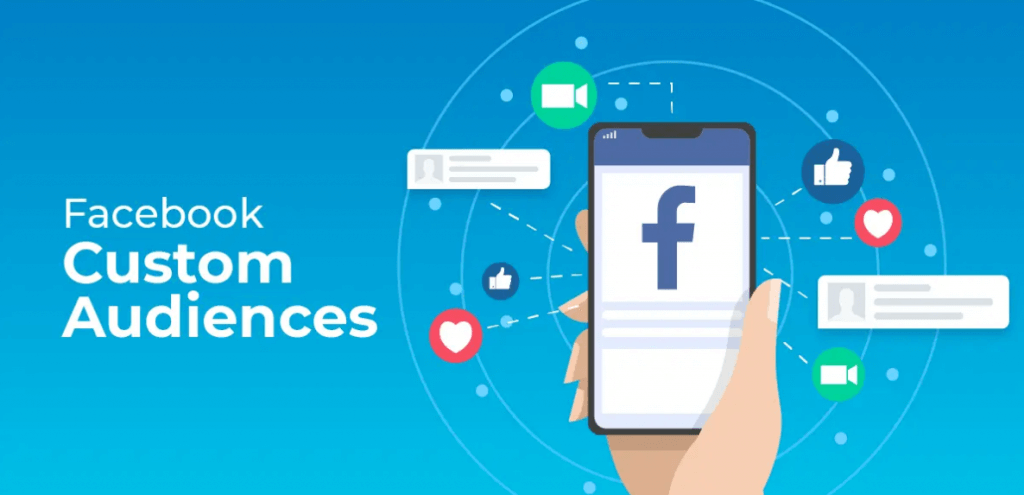 Creating a customer list audience or website audience should be high on your list of priorities, so we'll go into a higher level of detail for those two types.
A mobile app audience is based on app users. Some campaigns will perform better if they target customers who downloaded a business's app. It's common to target a segment of app users who have been inactive in terms of purchases and app usage in general.
An engagement audience is based on Facebook engagement. It includes customers who accessed a business's content on any of Facebook's apps and services. Specific behaviors on Facebook, like viewing your video content or accessing your lead form, are used to segment the customer base so you can target ads more effectively.
Using any of the four kinds of Custom Audiences can pay big dividends, but a customer list audience or a website audience is a good place to start for many small businesses. Let's look a bit closer at these.
Customer List Audiences
A customer list audience is made up of people from your customer database and on Facebook.
When you create a customer list audience, information about your customers will be matched with Facebook profiles. Customer details, like email addresses or phone numbers, are used to find matches—those pieces of data are called identifiers. You supply them in CSV or TXT format, with a file template, or directly upload them from Mailchimp.
Presenting ads to the highly qualified group that is your existing customer base can be instrumental in driving revenue and growth for your business.
Website Audiences
A Custom Audience can be based on the behavior of your website visitors. Using the Facebook pixel, the platform can match each of your website visitors with their Facebook identity, which results in a website audience.
This type of Custom Audience enables broad outreach to the entire set of site users as well as precision ad-targeting based on the response of some user segments. People who have visited the site but haven't made a purchase, for example, are prime candidates for an ad campaign designed to spur action from reluctant customers.
What Can You Do with a Custom Audience?
Facebook's Custom Audiences feature is a flexible ad targeting option with boundless potential to help optimize all sorts of campaigns. One of its strengths is targeting ads to people based on their current relationship with your business, their purchase behaviour and other interactions.
Nurture Loyal Customers
No group of people is more likely to respond to your ads than existing customers. Their status as "fully qualified" should not be overlooked, especially considering the high cost of qualifying new customers.
As it's based on your customer list, a Facebook Custom Audience is the perfect way to optimize your advertising, delivering it to your most loyal customers. You can also advertise differently to different subgroups of your customer base. That approach is mainly about exclusions—knowing who not to show a particular ad to.
For example, an online formalwear store runs two promotional advertising campaigns every prom season: one showcasing low-priced tuxedos and another that highlights the store's designer prom dresses. By starting with a list of all customers, the business owner could define two Custom Audiences, each excluding half of the customer list based on gender. This move will not only ensure that the right ad is delivered to each customer, but it will increase the business's advertising ROI.
Savvy business owners constantly come up with new ways to use Custom Audience to optimize advertising outreach that's targeted at their best customers.
Reach out to Reluctant Customers
When an eCommerce site crunches the numbers on cart abandonment, they often come up with a list of culprits—people who were about to buy something but decided not to.
A Facebook Custom Audience is the perfect way to send ads directly to those people. You simply generate a list of cart abandoners that includes the identifiers needed to match Facebook profiles. Once this list is processed, Facebook will display your custom ad campaign specifically designed to encourage reluctant customers to pull the trigger on a purchase.
Segmentation based on customers' purchase history or their interaction with your website is crucial when advertising to all sorts of at-risk customers. Facebook Custom Audience is an easy-to-use ad optimization tool that will get you the results you seek.
Target Prospects
Converting prospects into customers is the key to growth. One of Facebook Custom Audiences' main benefits is the ability to define and present ads to Lookalike Audiences. They're based on profiles of your current customers; effectively, they're lists of highly qualified prospects.
Creating a Lookalike Audience is a straightforward process. After you specify a source audience—one of the Facebook Custom Audiences you've already defined—Facebook identifies common characteristics among its members and then uses sophisticated algorithms to create a group of other similar Facebook users.
How to Create a Facebook Custom Audience
Facebook provided details about how to create all four types of Custom Audiences. This section presents a snapshot of the steps required, generally illustrating how simple Facebook has made it to create a Custom Audience.
Creating a Customer List Audience
To create a Facebook Custom Audience based on your customer list:
Create your customer list. Information about your customers, identifiers, will be used to match customers with their Facebook profiles. When your customer list is ready or you've opted for one of the other available input methods, move to the next step.
Log into Facebook's Ads Manager.
Go to Audiences.
Select Create Audience > Custom Audience > Customer list from the menu.
Specify the identifiers that will define the customer list and name the new Custom Audience.
Use the provided notifications to verify that the specified list criteria are valid—a yellow exclamation symbol indicates an unverified exclusion or an out-of-synch identifier. Make the needed corrections; you want all green checkmarks.
Select Upload and Create.
Create an ad targeted at the new group.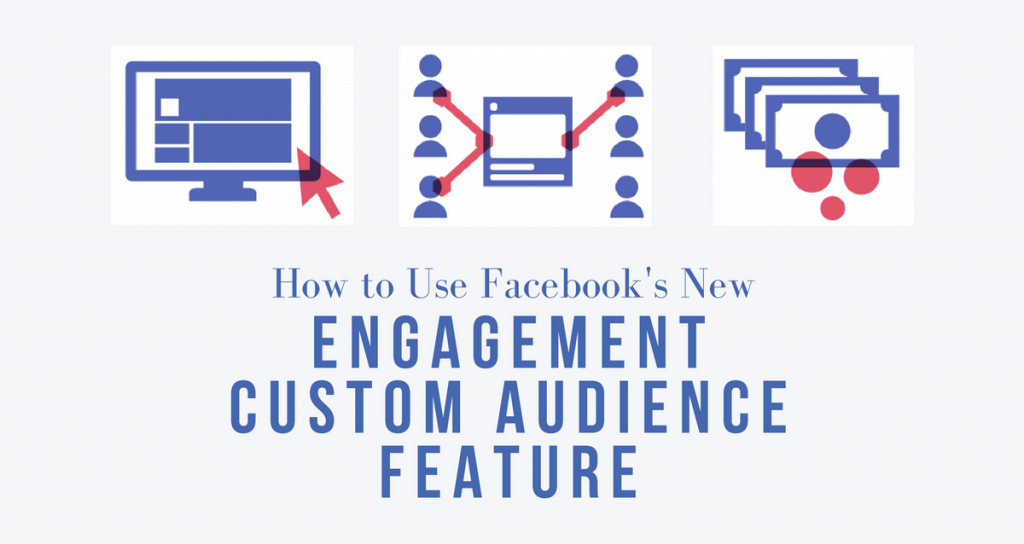 Creating a Website Audience
To create a Facebook Custom Audience based on your website visitors:
Log into Facebook's Ads Manager.
Go to Audiences.
Select Create Audience > Custom Audience from the menu.
Select the option to create a new audience and then choose Website traffic.
Beginning with an inclusive rule, define other standard rules and pixel event rules.
Specify a name for the audience and click Create Audience.
Create an ad targeted at the new group.
Optimize Your Facebook Ads with Custom Audiences
The intersection between Facebook's massive user-base and your customer list is a market segment you should pay special attention to.
Facebook Custom Audiences let you target loyal customers to sell more of what you sell, and you can use them to engage at-risk customers and attract highly qualified prospects.
We hope you found this look at Facebook Custom Audiences interesting and that you'll leverage the potential of this powerful ad targeting option. It can be a launchpad for soaring revenue and rapid growth for your business.