Today we're going to look at several marketing channels you can develop to advertise your online boutique.
If you're planning to open an online boutique, you should know that marketing will have a lot to do with the success of your business. Using the internet, small business owners can practice digital marketing to drive revenue consistently, even with a small budget.
While digital marketing is more measurable, cost-efficient, and accessible than its traditional counterpart, you should not dive in without preparing first. It's essential that you create a strategy for advertising your online boutique.
To thrive online, you need to know that your customers have a solid idea of your brand and what it stands for. That way, your presence will remain consistent and recognizable across channels. You should be aware of the marketing tools at your disposal. To generate traction and steadily grow your customer base online, you'll need to use multiple marketing channels.
In this post, we'll explore six marketing methods that online boutique owners can implement to grow their business. From SEM, SEO, and content marketing to customer outreach via social media and email, we'll give you a crash course in digital marketing for online boutiques. If you adopt all or most of these methods, you'll be on your way to a comprehensive and highly effective marketing strategy.
Search Engine Marketing
71% of online sales begin with a Google search. Many digital marketing strategies are focused on search engines, but search engine marketing (SEM) has a specific meaning. While it's sometimes used as an umbrella term for both non-paid and paid marketing efforts, SEM is usually about paid traffic.
SEO (search engine optimization) focuses on raising a website's ranking in search engine results and generating organic website traffic. SEM focuses on crafting a high-ROI paid advertising campaign. This type of advertising campaign is usually "pay-per-click" (PPC), where business owners pay based on ad performance. The price paid per click will depend on the business's niche and the keywords used in the ads.
Like any marketing effort, successful PPC campaigns are built on solid knowledge of your niche and of your audience's preferences and behaviors. You need to know:
The keywords that your competitors are using,
Your keywords' costs and conversion rates,
What your audience is searching for,
Your audience's search intent.
To maximize your results, set a clear budget, and put a lot of thought into your ads and landing page. Make your ads compelling—paying Google for high-visibility ad real estate does not guarantee clicks—the content of your ad plays a huge part. People who click an ad should be navigated to a highly relevant landing page. If the landing page is not directly related to the ad, users will move on and you'll miss out on sales.
Content Marketing & Search Engine Optimization
Content marketing and SEO are different, but due to the fundamental link that exists between them, we'll explore them as a single topic. A content marketing strategy is only as good as its corresponding SEO strategy, and your approach to SEO would be hampered without the right content to support it.
The Content Marketing Institute defines content marketing as "a strategic marketing approach focused on creating and distributing valuable, relevant, and consistent content to attract and retain a clearly-defined audience—and, ultimately, to drive profitable customer action."
Content can be a video, a blog post, an Instagram slideshow, or any format you choose. Content marketing reaps the most benefits when it's done on your own website. If you use your blog to answer common search queries for your niche, that can give your business a higher ranking in search results. This is where SEO and content marketing meet.
Good SEO is all about making your content easily findable by those who will benefit from it. Website owners seeking to improve SEO conduct keyword research to discover which words and phrases customers are searching for on Google. Aside from keyword optimization, SEO also considers structural aspects of your website, such as its sitemap and its load speed.
Backlinks, or links from another site to your site, will help your SEO. Part of your content strategy should include writing guest posts that will appear on websites that are relevant to your niche. The guest post can include a link to your site, and Google's algorithm looks for that—a website that's linked to from authoritative and trustworthy sources will rank higher in search results.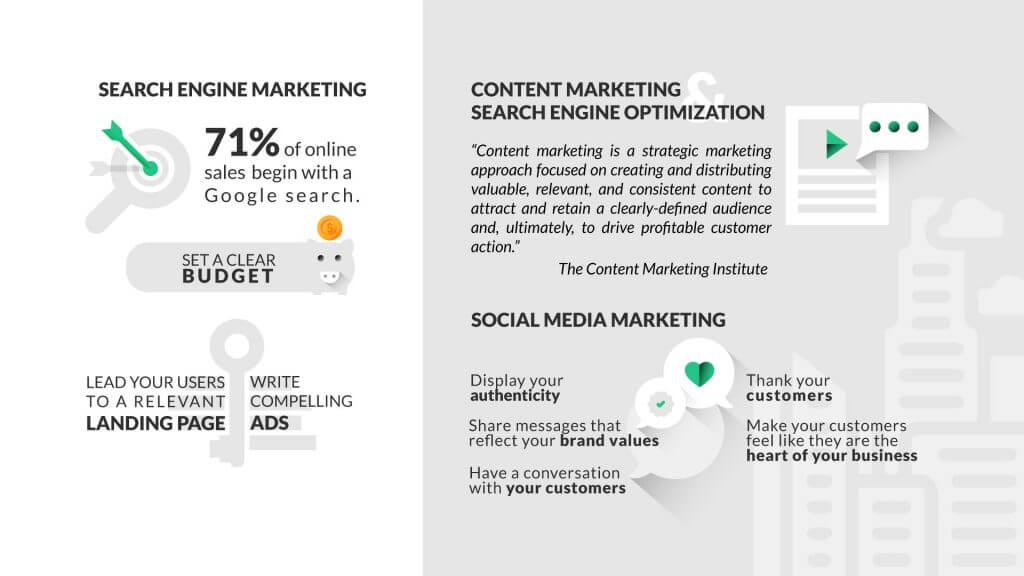 Social Media Marketing
For some small business owners, social media platforms have replaced search engines as the place where the customer's journey begins. Especially for online boutiques, having a vibrant and attractive presence on platforms like Instagram and Facebook is crucial.
Aside from promoting your products, you can use social media to tell the story of your brand and engage with customers and prospects. You should be using social media to:
Display your authenticity by sharing the everyday activities of running your business,
Thank your customers and share good news about your business,
Share messages that reflect your brand values,
Have a conversation with your customers,
Create a branded hashtag and invite your customers to share,
Make your customers feel like they're the heart of your business.
Use social media to communicate with your customers directly—it will humanize your brand and make it more memorable.
Affiliate Marketing
Affiliate marketing is an extremely common marketing method. It consists of inviting third parties (influencers, thought leaders, publishers, etc.) in your niche to drive sales for your business, in exchange for a commission. This commission is usually around 10% of the revenue.
By creating an affiliates program, you're rewarding people for advocating for your product. The more niche your product is, the more impactful that advocacy will be. Affiliate marketing is something you should consider when evaluating how to advertise your online boutique.
Implementing an affiliate program can seem technically complex, but if you're using WordPress, it's easy. You can create affiliate links with just a plugin. Consider Easy Affiliate Links, for example.
Influencer Marketing
Reposting your customers' pictures wearing your clothes is a way to provide social proof—basically, you're showing prospects that you have the seal of approval from people just like themselves.
Influencer marketing, on the other hand, is about using an influencer's platform to promote your product. Partnering up with an influencer will get you in front of their audience, with the endorsement of someone they follow and trust.
Of course, the influencer must be relevant for your niche—their audience is your target customer, and the influencer should have a following large enough to justify your investment. Trustworthy influencers will usually offer you a media kit, a document in which they explain their platform's composition, their services, and their previous partnerships.
Email Marketing
With an average ROI of 42 dollars for every dollar spent, email marketing is the most effective marketing method in existence. There are countless email marketing benchmarks for eCommerce that you should have in mind when creating campaigns.
Email marketing is a great way to reactivate relationships with your existing customers and keep them coming back.
Many small businesses grow their mailing list by offering gated content, that is, information that their customers will get access to in exchange for their email address. Creating this so-called "lead magnet" could work for your online boutique. If your lead magnet is relevant to your niche and better than the freely available content you post, you could collect a lot of new email addresses.
Once you have a considerable list, you can extend your content marketing strategy by creating a newsletter. It can be as easy as compiling the best posts from your blog, plus, it lets you inform your customers about new products and offer exclusive discounts.
Email marketing is powerful for two main reasons:
Email marketing feels more direct than its counterparts. At the end of the day, you're sending your customers what they want to know, straight to their inbox.
Email marketing is permission marketing. The client gave you their email address, so you know that your messages are welcomed.
Using an email marketing automation tool will save you lots of time. It's virtually impossible to conduct fruitful and scalable email marketing campaigns without one. It's also worth mentioning that these tools help you ensure that your emails comply with regulations. There are many options, from Mailchimp to ActiveCampaign. Explore their features to make sure you pick the one that best suits your needs.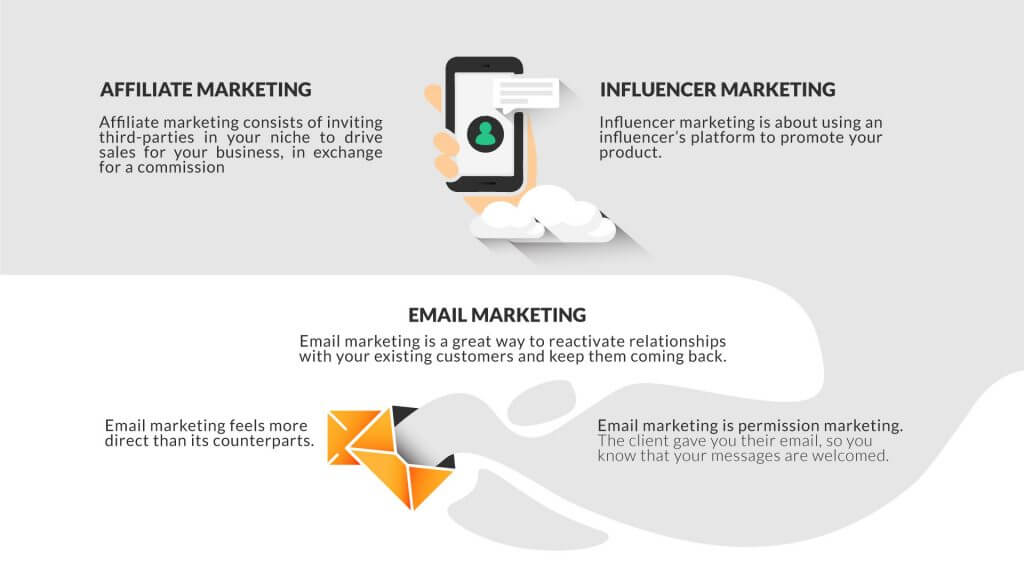 How to Advertise Your Online Boutique to Draw in More Customers
There's no "one-size-fits-all" marketing solution, and you shouldn't focus on just one strategy. The marketing methods we covered here are most effective when supporting what marketers call a "conversion funnel." There are different strategies you'll need to use to attract customers, depending on where they are in the funnel.
A conversion funnel is usually divided into 4 stages:
Awareness: The user discovers that the brand exists.
Interest: The user discovers that the brand is for them.
Desire: The user wants to buy from the brand.
Action: The user converts. They're no longer a lead, they're a customer.
Having a functional, optimized, and on-brand website is crucial for online businesses. Your website is your storefront. So, all your marketing efforts should lead customers to your website. The strategies explained above can only work if you have a platform of your own.
If you're in the planning stages of opening your business, you're probably suffering from decision fatigue. The idea of creating your website may be at the bottom of your list, but it shouldn't be, because the process can be incredibly easy.There are several available approaches that make it simple for a small business owner to create a fully functional and beautiful website. One of these approaches involves getting a WordPress hosting plan. A hosting provider that specializes in serving small businesses with WordPress-powered websites can be your greatest ally. HostPapa is offering a limited-time web hosting discount for online boutiques that you should take a look at!